Adidas recently announced its first natural running shoe collection with the adipure Motion, Gazelle and Adapt.  The adipure running range is engineered to promote pure and natural movement to help athletes safely and gradually improve their speed, strength and performance through minimalist running.

The three-shoe collection provides options for athletes who want just the right balance of protection while allowing the foot to act more naturally. The adipure range consists of varying heel gradients to help strengthen the foot's musculoskeletal system.  The adipure Motion, for beginners with a 11mm drop, is the first step to natural running. The adipure Gazelle, with a 7mm drop, supports intermediate level runners, while the 4.5 ounce adipure Adapt with a 4mm drop is for the advanced natural runner.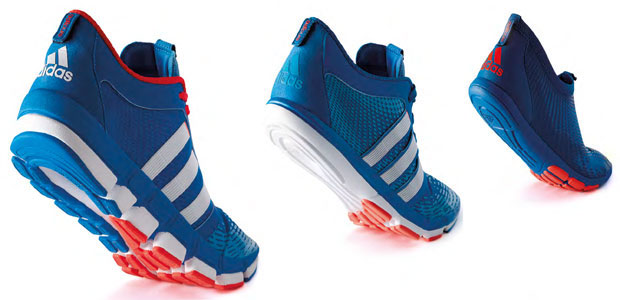 TECHFIT across the top of the shoe provides a structured sock-like fit and 360 degrees of flexibility.  A stretch mesh and polyurethane pattern, developed through years of research by the Adidas Innovation Team and athletic and medical specialists, allows the foot to function naturally while providing support exactly where it's needed.
The pattern's positioning was created through a stress analysis foot mapping system using 500 sensors on a bare foot that measure where the foot stretches on impact, where it needs the most freedom, and where it requires support. The result is an upper that provides a sock-like fit that's not possible with traditional running shoe construction and mesh.
adipure Motion – Beginner
Adidas adipure Motion is for runners taking their first step in Natural Running. Specifications show a 22mm stack height and a 11mm forefoot height for a 11mm heel-to-toe drop. The Motion weighs in at 7.2 oz. for men's and 6.1 oz. for women's.

Designed for the runner looking to improve their midfoot running gait, this is the most traditional feeling shoe in the adipure range. But it still accommodates heel strikers and the beveled heel promotes mid-heel strike.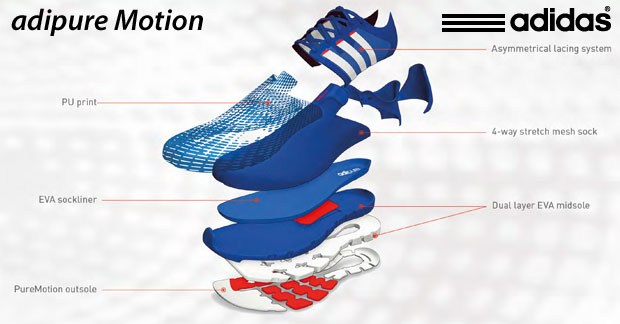 Dual layer midsole ensures that forces are distributed equally across the front of the foot and provides a level of cushioning for those new to natural running. The AdiWear outsole enables runners to gradually build up the foot.

The Pure Motion outsole mirrors the movement of the human foot and allows muscles, tendons, and ligaments to flex freely, push, pull  and grip.
adipure Gazelle – Intermediate
Adidas adipure Gazelle is the next step for runners already following a  Natural Running routine. Specifications show a 16mm stack height and a 9mm forefoot height for a 7mm heel-to-toe drop. The Gazelle weighs in at 6.3 oz. for men's and 5.1 oz. for women's.
The adipure Gazelle combines the support features of adipure Motion and the low profile adipure Adapt.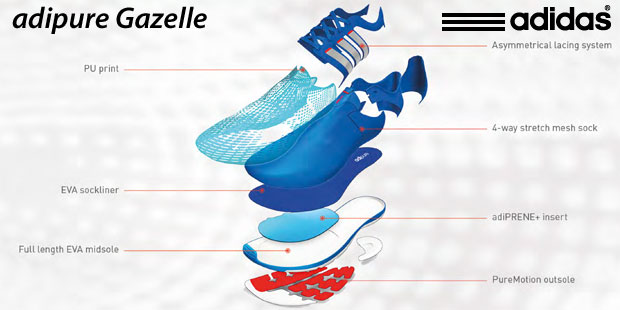 The EVA layer has a full length adiPRENE+ to provide cushioning for a smooth and soft ride. The minimalistic protection plate protects the foot from rough ground and sharp objects.

adipure Adapt – Advanced
Adidas adipure Adapt is for the select few who are in the advanced stages of the Natural Running routine. Specifications show a 9mm stack height and a 5mm forefoot height for a 4mm heel-to-toe drop. The Adapt weighs in at 4.5 oz. for men's and 4 oz. for women's.

Designed for the runner looking to take their strength and development as a natural runner to the next level. Being the lowest to the ground model of all the adipure running shoes, the adipure Adapt allows for the highest range of muscular activity and stimulation of the foot.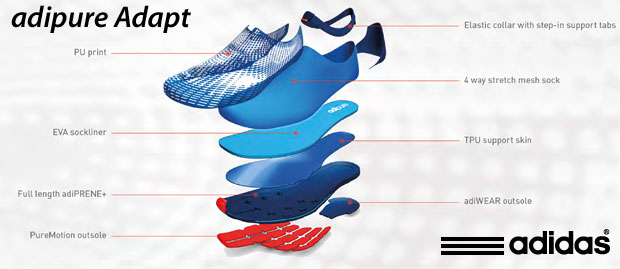 The full length adiPRENE+ guarantees a smooth and comfortable run without restricting the foot to unleash every runner's natural potential.

So did the adipure collection perform to expectations?
I've been wear testing all three models for the past two months for running (roads and trails) and walking in them. This is the first time I've tested an Adidas running shoe but I'm immediately impressed by the adipure design in fit, comfort, and performance.
A note about sizing. I'm a US 10.5 2E and the Motion & Gazelle fit nicely with super wide toe boxes because of the TECHFIT uppers. But I have to fit a US Size 11.0 for the Adapt not because of the toe box but due to the lack of laces – my feet does not slip in easily in my true size just like it did with the Altra Adam and ZEMgear Terra designs. The top of my foot get caught while putting them on.

Starting with the adipure Motion, a gateway or bridging shoe for those starting off or transitioning from traditional heeled-cushioned running shoes, it is surprisingly a shoe that I enjoyed running in – I usually hate shoes that have high heel-to-toe differential and cushioning! This is the exception. Even though it has a 11mm drop, I can run in these shoes without a noticeable change in my running form. And sometimes I miss that extra cushioning – excess cushioning is like a drug that one has to avoid. But I like these especially for walking. Maybe it's designed to accommodate the heel-striker and matches the walking gait nicely.
Wearing the Motion sockless, it is the most comfortable and unrestricted heeled running shoe I have ever worn. I can guarantee you that because of the lightweight and comfort of the Motion, beginners will have no problem transitioning to this model of adipure. Or use it as a recovery or walking shoe in addition.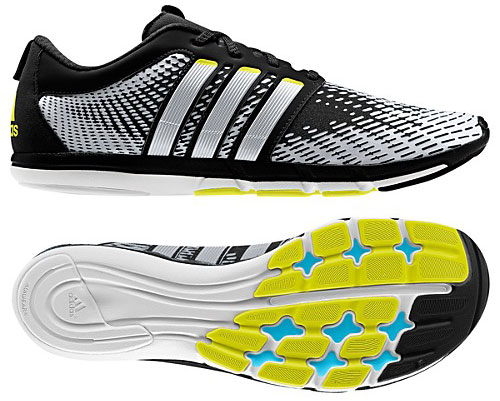 Moving on to the adipure Gazelle. This is my absolute favorite! It has a 7mm drop or less but you won't notice it. To me, anything 6mm or lower drop is close to the ground enough since I don't heel strike. With midfoot or forefoot striking, the midfoot or forefoot height is more important. At under 5 ounces, this has become my go to shoe for roads, trails, and tartan track. I use it for speed work as I rotate it with the New Balance RC 5000. The Gazelle reminded me of the second generation minimalist running shoes in the market today like the Altra Samson, New Balance Minimus Zero Trail, and Skechers GOrun 2.
As with the Motion, the TECHFIT uppers on the Gazelle with laces is ultra comfortable and breathable. In the hot and sometimes windy Northern California weather, I have no issues with the shoe breathability running sockless. For those already transitioned to minimal shoes or in the middle of transitioning, the amount of cushioning is just right – you'll appreciate it for long distances.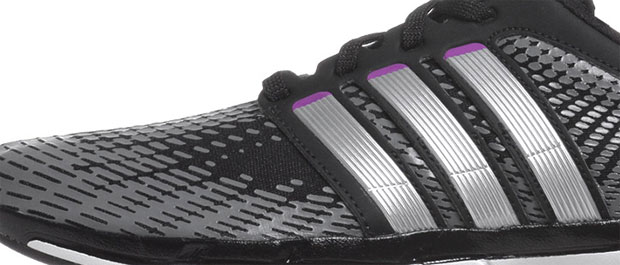 In the Gazelle, I also noticed the really nice and snug fit on the heel. A lot of minimal shoes that I have tested have a heel that is too loose. The adipure Gazelle feels like an extension of your foot. Of course, no hot spots or blisters when running sockless in both the Motion and Gazelle.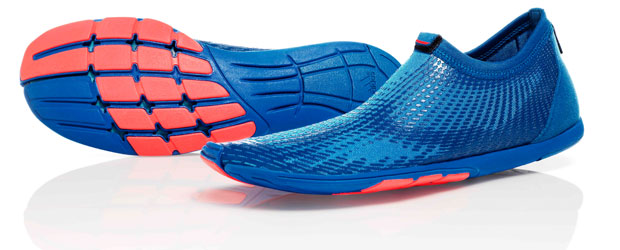 Last but not least, the adipure Adapt. Honestly, I was a little embarrassed by the look of the Adapt. This is true of similar slip-on minimal shoes like the ZEMgear Ninja, Saucony Hattori, and Teva Nilch – one expect them to be used for walking or water sports. They function really well for running but not always true for walking. The adipure Adapt has a 4mm drop (or less) and about 9mm stack height. When walking in the Adapt, I can feel the slight impact on my heel. With walking barefoot, I would not have such a heavy impact on my heel.
For running, the adipure Adapt works well but even though I sized up a half size, the Adapt felt a little too snug on my feet. For minimal shoes purist, they will like this shoe. If you like the Saucony Hattori (it has too much cushioning for me), you might want to give the Adapt a try.
I would have preferred laces on the adipure Adapt for the next version. This will make it look a lot nicer and less of a water shoe. And give me  a better fit and easier to put on.

Since I've already transitioned to running in minimal shoes only, I had one of my women's wear tester try out the Motion and Gazelle. She is a high school cross country and track & field athlete and have been running in a neutral/transitioning minimal shoe – Brooks Green Silence and Brooks Pure Connect, both more than 4mm drop. She likes some cushioning so here's her experiences (and my observations).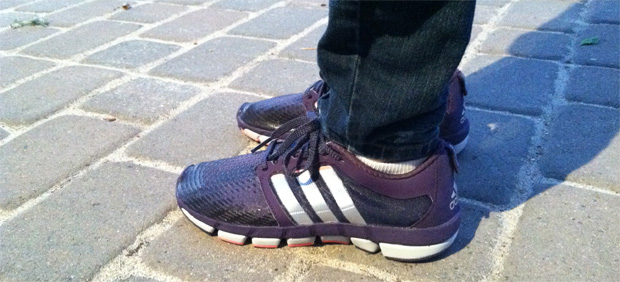 Her first impression is that the Motion is too bulky (reminded her of a traditional running shoe) and the uppers from both the Motion and Gazelle are too warm. But she is wearing cotton socks and without socks or with merino-wool socks, they're a lot cooler. And being a fashionista, she loved the Gazelle for both the design and comfort.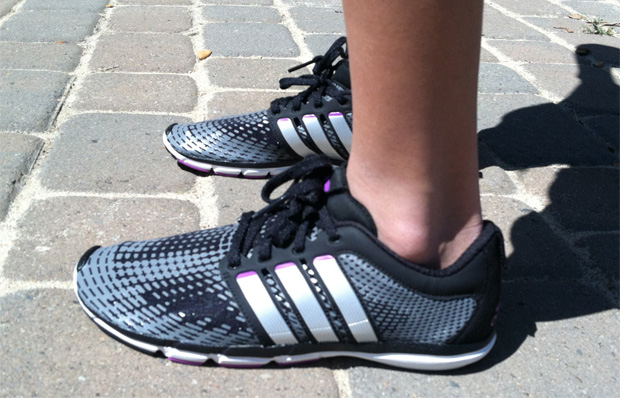 Running on both models on asphalt, she preferred the Gazelle over the Motion. I videotaped her running form to see if there are differences in her running gait on both models and there does not seem to be. My conclusion (based on my personal and my wear testers experiences) is that once the running form is adapted to the barefoot-style of running, a minimalist runner can run effectively on heeled and cushioned running shoes. It is however not a recommended long term solution as cushioning and high heel-to-toe drop in running shoes might increase the risk of back pains and other injuries. And I personally experienced the same with these adipure shoes and other minimalist running shoes. Although she is an intermediate to advanced runner in minimal shoes, her shoe of choice is: Gazelle.
As she was putting the shoes on, I noticed that the heel area is a little snug and she has some difficultly sliding her foot in. But after loosening the shoe laces a lot more, she got her foot into the shoes and it's a perfect fit. This may be because the wear test sample is a half size smaller than her true size but the TECHFIT uppers took care of the rest!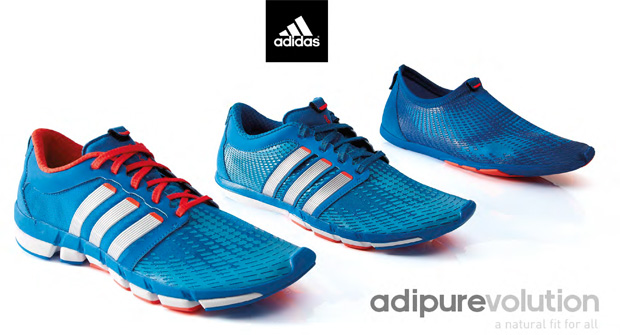 For Fall 2012, the Adidas adipure collection is available in a single colorway for each model and gender at most stores. More colorways in Spring/Summer 2013. Additional colorways available at Adidas web site.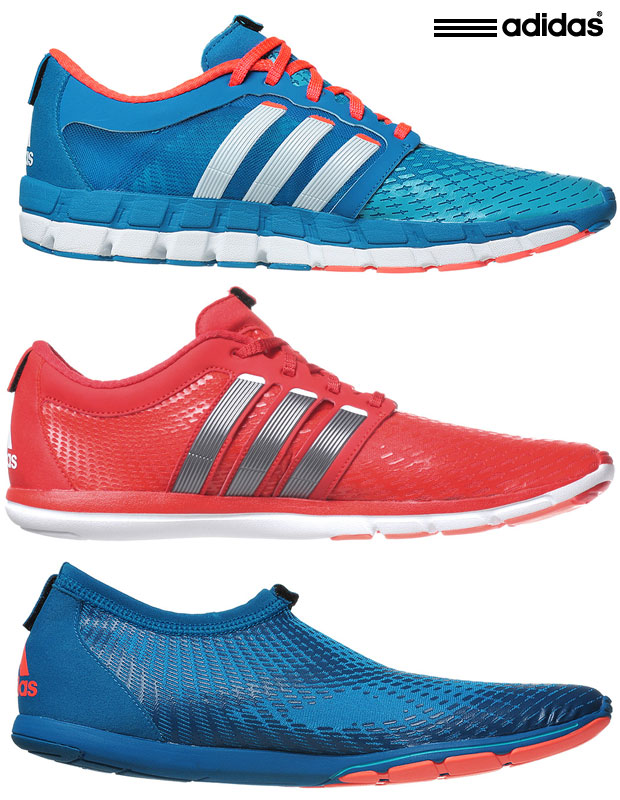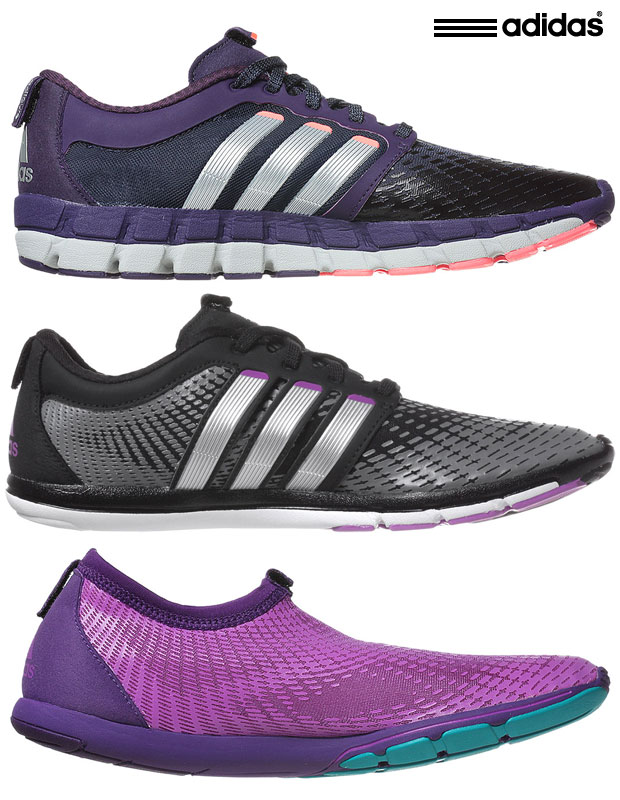 The complete Adidas adipure collection can be ordered online at: Adidas, Road Runner Sports and Holabird Sports.
*Product provided by Adidas (MSRP $110 for Motion, $100 for Gazelle and $90 for Adapt). CMP.LY/1 Review
If you have a product you'd like reviewed, contact me at info@weartested.org