The Saucony Hattori is Saucony's latest entry into the minimalist zero-drop racing flat category. It's also Saucony's lightest and most minimal shoe that is designed to be like an extension of your feet. I have written about Saucony's transition to minimalist shoes recently and this is their first zero drop shoe. Saucony is the first big footwear manufacturer to go into the minimalist running shoes category with a zero drop. New Balance started with 4mm differential for the Minimus line but will soon have zero drop shoes. Brooks Pure collection is starting at 4mm differential too. Asics 33 collection is at 10mm differential. Nike Free Run collection is at 7mm differential.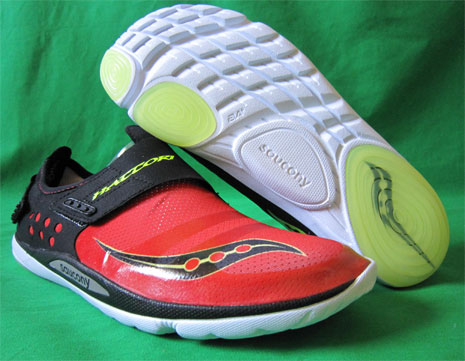 The shoe weighs only 4.2 ounces and has a wide toe box. And it is very snug even though I have chosen a size 10, half a size larger than my true size.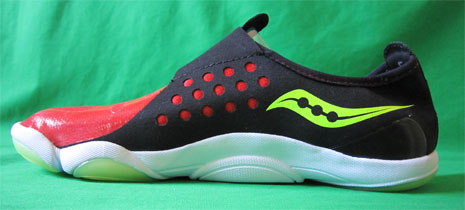 The mitten-like toe box gives your toes room to naturally arch, grip, and push off but lifting your knees instead of pushing off your feet is better form.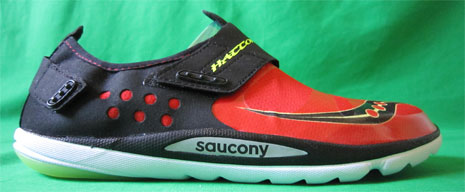 Runner's World called this shoe a 'strength training tool' and not a racing shoe. I personally think any shoe can be a racing shoe but a training shoe must have durability. To me, the Hattori is a minimal neutral shoe designed for speed work and racing.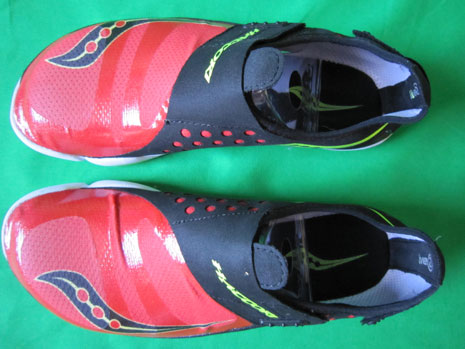 The stack height for the Hattori is 12mm and the shoe has no insole or outsole – just a firm EVA midsole with XT 900 reinforcements. XT 900 is Saucony's patented Carbon Rubber compound. It is extremely hard wearing, and is used on the vital impact points, such as the heel strike area and the toe off.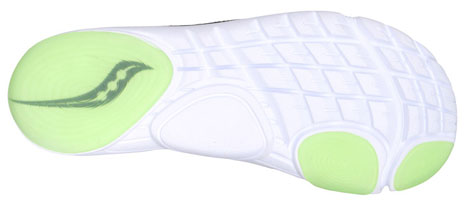 Based on my running form, I can tell you that the XT 900 reinforcements placed under the big toe, and right behind the big toe on the forefoot were perfect placements points for me! For long runs, I get chaffing on the bottom of my big toe on both feet uniformly. And most likely this will be where most of the wear and tear is concentrated on. So these are the areas where a forefoot striker or even a midfoot striker is going to push off from with the most force, thus making sense to cover it with a stronger material.

There's also extra cushioning around the outside of the arch that might be a problem for some depending on their arch type – mine was OK. This is probably a similar problem that runners have with the Merrell Barefoot glove-like fit of the Trail Glove.
The outsole also feature a visible flex groove in the back of the toes and in front of the metatarsals. The sculpted foam of the sole also includes strategically place impact cushioning and delivers a 'slight piston effect' without ever compromising natural motion.
There are no shoe laces on the Hattori and it uses a hook and loop closure Velcro strap system which locks the foot into the footbed. There is some synthetic suede located throughout the upper and is designed to keep the uppers snug.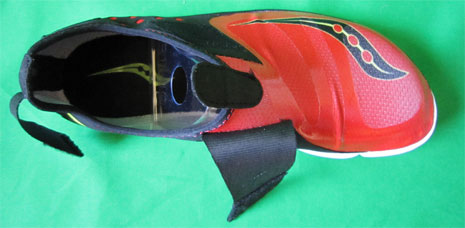 I did find it a bit hard to slip them on even though I had sized up by a half size. The fit is very snug and makes sense as you don't want your feet to slide around inside the shoe when running sockless.
As I had mentioned earlier, there are no inserts or insole on the Hattori. The uppers are made of an ultra-light and thin mesh that covers the entire upper and is a breathable ultra lightweight fabric. There is some overlay on the uppers which Saucony call 'Exoskeleton Synthetic Lockdown' and is intended to keep the upper snug to the foot. I did slip a little when running sockless (speed work) in them on many occasions.

The Hattori is also a great walking shoe (a lot of minimal shoes are not because of the lack of attention to the heel) and I believe that the rubber reinforcement pods on the heels are specifically designed for walking and not running. Of course heel strikers will still heel strike in the Hattori…
Similar shoes in this slip-on racing flat category includes ZEMgear 360 and ZEMgear O2. Also, the lace-less model from Skora and Altra Adam both have a strap on the forefoot that might secure the shoe more to the foot. Will have to see if the tech band overlay design in the forefoot from ZEMgear 360 does its job of securing the foot.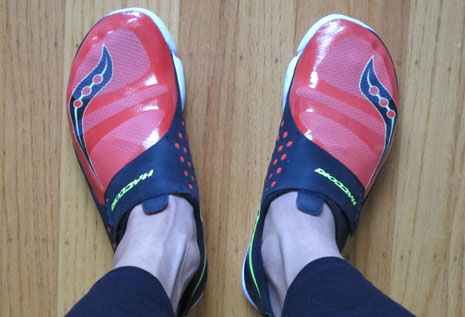 The color schemes are radical and may appeal to the young crowd of runners and active lifestyle youth. Because it is lace-less, super flexible, and ultra-lightweight, it will undoubtedly also become a great recovery shoe.
Five colorways are available for Men's (Black/Green, Black/Red, Green/Citron, White/Grey and White/Blue).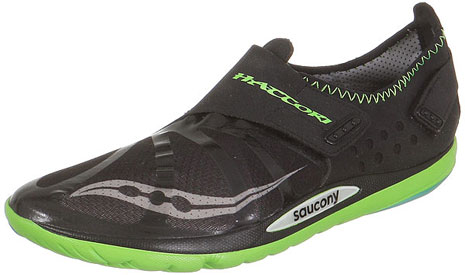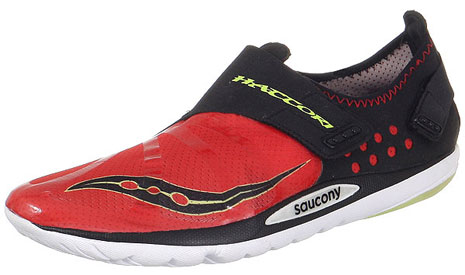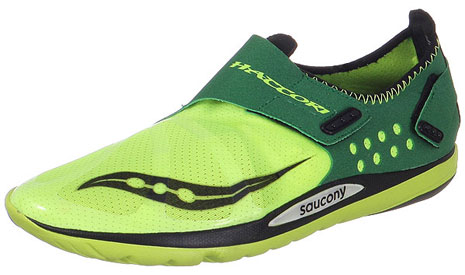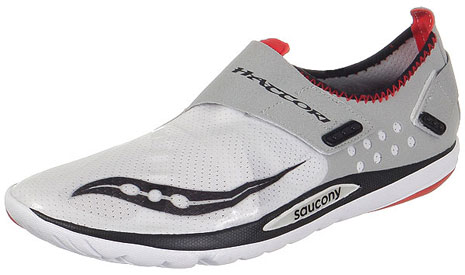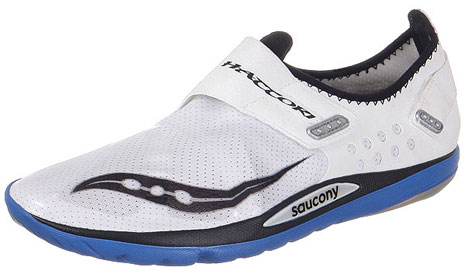 And four colorways for Women's (Black/Pink, Black/Purple, Blue/Citron, and White/Purple):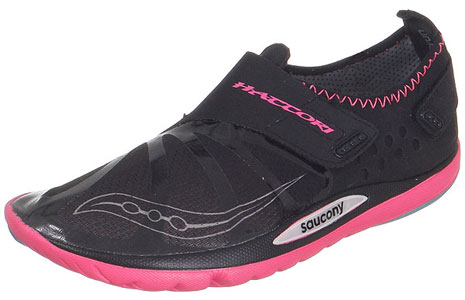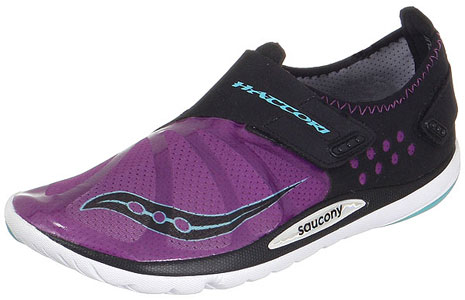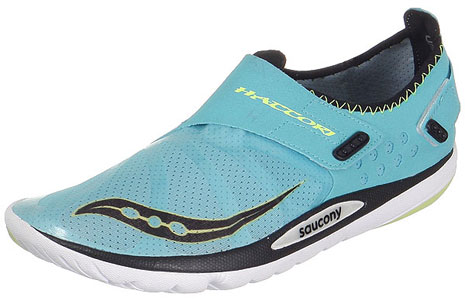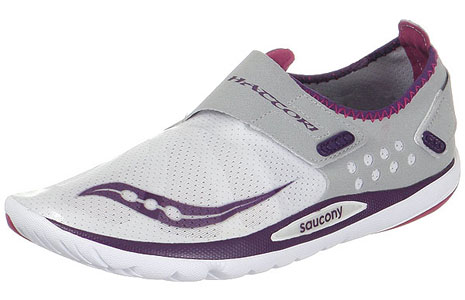 The Saucony Hattori is now available at Zappos, Road Runner Sports, and East Bay.
*Product provided by Saucony (MSRP $80). CMP.LY/1 Review
If you have a product you'd like reviewed, contact me at info@weartested.org