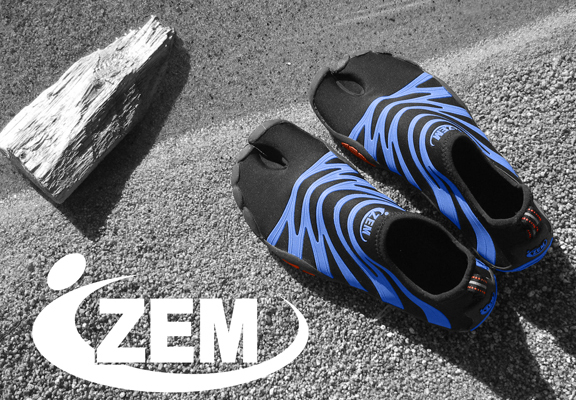 The new ZEMgear Terra is ZEM's latest addition to their Training collection of barefoot shoes. The ergonomically molded and separated toe guards promote barefoot agility and protect all your toes from the rugged environment. The split-toe pattern provides for extra grip-ability and barefoot sensation.
A distinctive barefoot last accommodates the sensitivities and fit of your natural feet. Enjoy the barefoot feel of the 'Green Grip' outsole and its super-traction where it's needed. Within a few minutes, your foot will experience the new barefoot feeling to the fullest. The Green Grip outsole is made from pliable and recycled rubber materials.
The tech-counter of the Terra cradles the heel and guards against the impact of exercise equipment and terrain in many training settings. Additionally, ZEM's patented and reflective tech-bands are welded into the upper material to provide strong lateral stability and enhance nighttime &  twilight safety.
The breathable and stretchable uppers and pliable sole materials mold to your foot to create that individualized fit and protection. The Terra is rugged but light weight – 6.8 ounces for a Men's US Size 11 and 5mm forefoot thickness.  Maintenance is a breeze – machine washable (place in pillow case or delicates bag) and air dry only.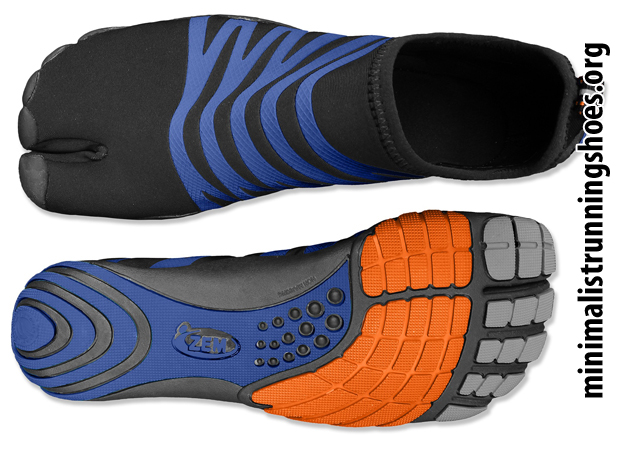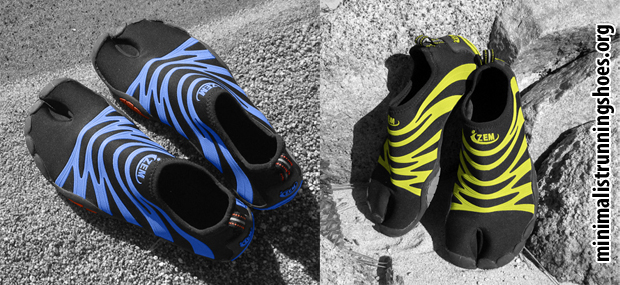 So did the Terra perform to expectations? It certainly did! The ZEMgear Ninja bootie (both round and split toe) that we reviewed more than a year ago did not have a 'runner' outsole – it was originally designed for beach volleyball. It was a great barefoot exercise tool for those starting out barefoot and I loved it for that sole purpose. The ZEMgear 360 introduced earlier this year worked for most runners but it was just too tight (even a US Size 11) and I had some hot spots from the split-toe version – it was not meant for me running sockless. And I have a 2E+ wide foot – it's probably growing to a 3E or 4E…
The ZEMgear Terra worked for me! It is great for all my running AND exercise needs. I use it for road running, trail running, and boot camp exercises. The Terra is rugged enough for non-technical trails and lightweight and close to the ground for road running. Most important of all, it is VERY comfortable running or training in them SOCKLESS. I think I found my perfect ZEMgear model for almost all my exercise needs – I still need to figure out how to train in them effectively for long jumps and triple jumps…
Summer vacation is approaching fast and I'm ready to take them to the beach and water next month with my kids. And poolside at the southern California and Arizona hotels. The Terra is also available for kids (round toe version only) for $30 less than the adult version – perfect for the whole family.
Available in many bright and eye-catching colorways for both Men and Women in the split-toe version.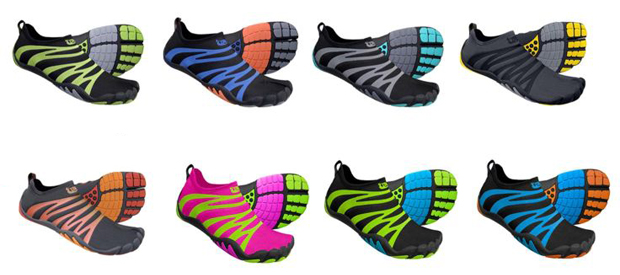 The ZEMgear Terra is now available at: REI and ZEMgear.
*Product provided by ZEMgear (MSRP $70). CMP.LY/1 Review
If you have a product you'd like reviewed, contact me at info@weartested.org