ZEMgear Ninja Low Split Toe Review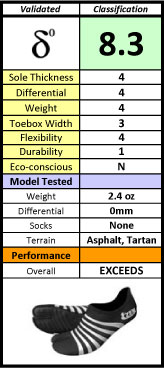 I was looking for a cheaper alternative to the Vibram Five Fingers KSO (VFF KSO) and ran across the ZEMgear product line. ZEM stands for 'Zone of Endless Motion' and ZEMgear creates performance protection for bare feet by delivering minimal footwear with maximum protection to men, women and children.
While wearing ZEMs you can spread, flex and articulate all parts of your foot – getting everything you need and nothing you don't.
ZEMs are designed with 4-way stretch Lycra uppers & soft molded rubber bottoms to allow the foot to move with complete freedom. They also have a soft molded rubber bottom to provide ultimate grip for many surfaces. Molded traction lugs have been added for secure footing when you need it.
Six unique high-frequency tech bands are welded across the top of the foot to keep the ZEMs securely in place around the foot. Designed to flex with the natural movement of the foot they provide ultimate stability and the needed comfort for many athletic activities.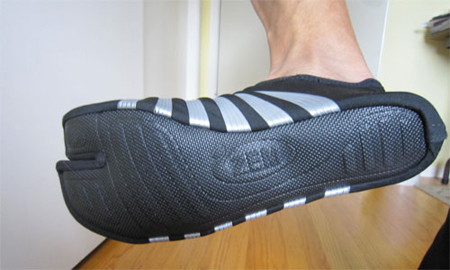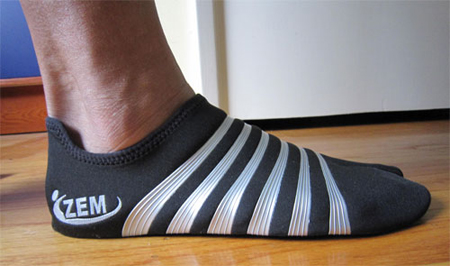 I was fortunate enough to have access to the split-toe and round-toe versions of their low top Original bootie. I prefer the split-toe version since my big toe is what controls my landing (absorption), take off (propulsion) and stability. And you get great proprioception with this minimalist shoe!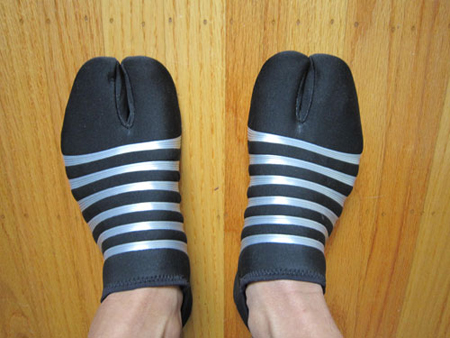 You might want the high top model if you run or play volleyball in the beach – it will keep the sand out. I've been wearing it everywhere around the house and doing my stretches & exercises with it. And I ran with both models on the astroturf and tartan track at the local high school. Surprisingly, it performed almost as well as my VFF KSO except when I was doing speed work. It has less traction than the VFF KSO so I had to slow down before getting hurt if I slip (like I did with the VFF KSO months back).
The fact that it weighs only 2.4 ounces as a training shoe is amazing – the VFF KSO is 6.8 ounces. Only the upcoming Vivobarefoot Ultra at 3.5 ounces can compete weight-wise.
My only concern with this minimal shoe (maybe it's a running slipper or running sock) is the sustainability. There are folks who have ran over 100 miles in them. In my situation, I use it strictly as a training shoe on astroturf and tartan track. There is not enough traction on the soles for fast wet track or fast road racing. As a training tool, it will last over 100 miles easily. For runners on different surfaces, your mileage may vary.
Overall, it is a great alternative for the VFF KSO and light on your wallet. I can feel the ground more than the VFF KSO! You will also get extra attention from runners who will ask you if you are wearing a pair of socks or a pair of hotel slippers. Or if you are self-conscious that you look like you have animal hoofs!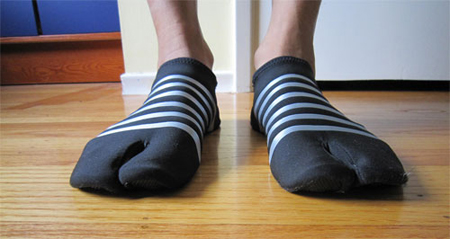 But hey, run fast and free like an animal in these booties!
ZEMgear is working on many new products for 2011 and I can't wait to see what they have cooking in the labs!
*Product provided by ZEMgear LLC (MSRP $30).
If you have a product you'd like reviewed, contact me at info@weartested.org