Altra Running Adam Shoe Review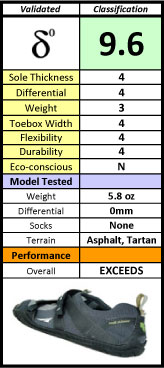 Christmas came early for me this year. I've been communicating with Brian Beckstead (one of three co-founders) for over 3 months talking about minimalist running and what Altra Running as a company is doing. And finally met Brian in person at the recent Running Event where they did an amazing company and product launch – major congrats also goes to Golden Harper and Jeremy Howlett too!
Being dominantly a road runner, I had decided to wait for the Adam to be available in my size for testing. It's finally here. And the wait was certainly worth it. Is this the Vibram Five Finger killer?
The Adam is truly a minimalists dream and runners can customize it with the two insoles.  If you are just starting out and want a little arch, then you can put in the 6mm Support arch insole with a full heel wrap.  If you are already transitioning to minimalist shoes and want just a little cushion, then the 3mm Strengthen A-bound insole with no arch support is perfect.  No cushioning wanted? Then with the See–No–Seam stitch, you can wear this with only a 3.4mm siped performance rubber outsole between you and the ground.

Vibram may be taking a page from Altra Running by offering removable insoles for some of their Spring or Summer 2011 models.
The breathable stretch upper is very soft and comfortable. The asymmetric lacing works pretty well with a fit that has less pressure points. It also has a see-no-seam stitch-free footbed for running without socks.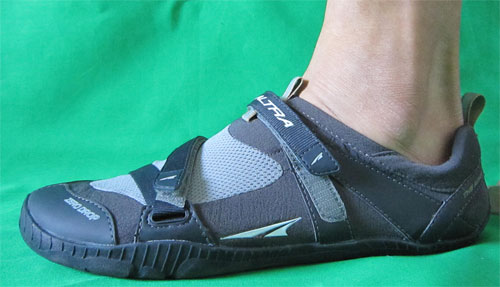 The heel design is very interesting. There is a heel claw that provides a snug fit without a stiff heel counter. And it also has an A-shaped midfoot wrap (called an A-Wrap) that gives a snug midfoot fit.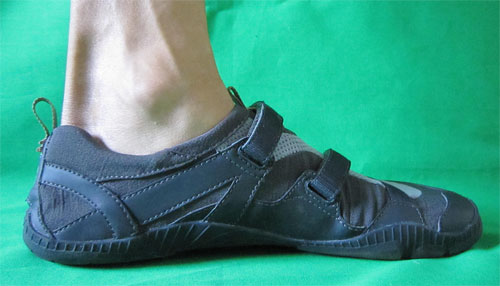 The A-bound material is an energy return compound with incredible resilience and protection from impact.  This compound sits directly under your foot to return energy back and dampen hard surfaces while still maintaining fantastic ground feedback.  A-Bound also retains only a 10% compression set (compared to 70-90% with traditional running shoe foam) so it won't deform over time.
My first run is a little over 3 miles on a tartan track in a cold and dark evening – clearing between rain storms. On the way into the track, I stepped on some small acorns and I definitely felt it good with the Adam on my feet just like I did with my VFF KSO! I ran without any insoles or socks – the see-no-seam footbed feels very comfortable and most important of all, the heel wrap worked like a charm. One of the problems I have with running shoes is that my heel slides forward thus bruising my toes on long runs. Not so with the Adam! It has a snug fit I had never experienced before but I can't pin point whether it's the heel claw or the A-Wrap or both that is performing the magic.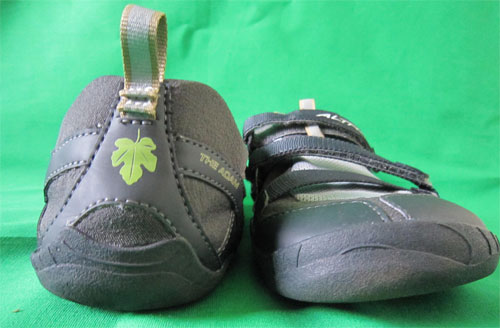 On that same night, I did another 2.5 mile fast walk with my dogs about 2 hours later. I did slip the support insole in as I'm walking (and heel striking). Awesome! I cannot walk with my Vibrams for long distances up and down hills without hurting my heels.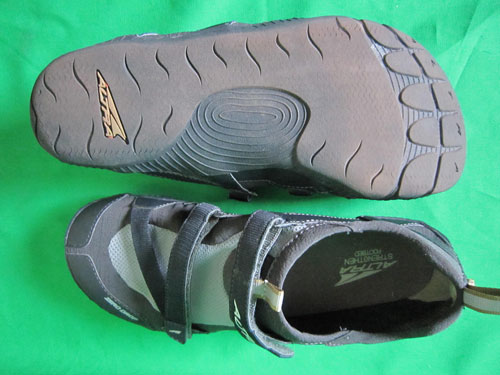 The next evening, I repeated the same run and walk as the day before after breaking in the Adam. It felt even better – the uppers were a little looser, the strap softer, and the footbed even felt smoother. It seems to get better with every run or walk.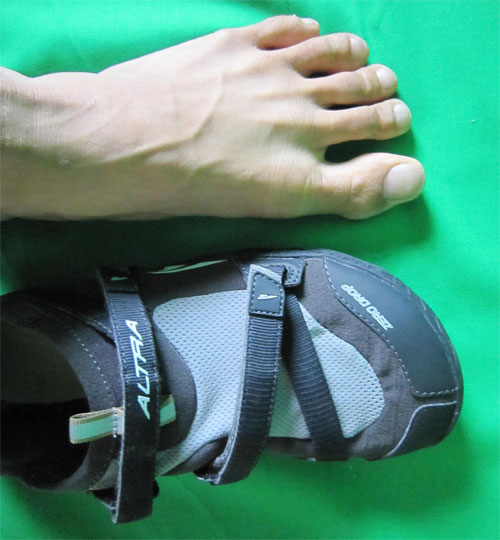 Speed work is more fun with the Adam. I was swapping different shoes as I test them for the same run session and with the Adam, it is definitely most productive and I don't worry about getting blisters with other narrow toebox lightweight racing flats.
One last thing about the technology on the Adam. The outsole designs are pretty innovative. Their Bare Sole siped performance rubber material allows for maximum proprioception. The Foot Pod design on the outsole maps the bones and tendons of the human foot. With canted lugs mapping your foot, it provides a natural traction system for a variety of surfaces.
I have not taken this to the trails as it is wet, slippery, and cold with all the rain. And even mountain lions sightings. I'll leave that to the experienced trail runners as they can give a much better review than I can. Maybe with drier weather, I can test out the foot pod design on the trails for traction even though their trail shoe, the Lone Peak, has a different outsole design.
Besides the Vibram Five Finger KSO, this is one true minimalist running shoe that I am willing to equip my whole family with (Eve for the women)! With all the minimalist running shoes I have tested so far, this is by far the closest to what a perfect minimal shoe should be. But you have to run AND walk in them to truly make a good decision for yourself. We all have different feet type, running gait, and transitioning level. And with a MRSP of $90, this is a no brainer for anyone who wants to start transitioning into minimalist running shoes.
The Adam is like four shoes in one:
With the Support footbed, you are transitioning slowly from traditional running shoes. Move away from heel striking and better your running form.
Swap out the support footbed for a thinner Strengthen footbed and build your foot muscles.
Once you are done with strengthening your feet, swap out all the footbed and run with the Adam as your trainer and racer. You are now a transitioned barefoot-style runner.
When you are done running, use only the Support footbed and use the Adam for all your other activities like walking.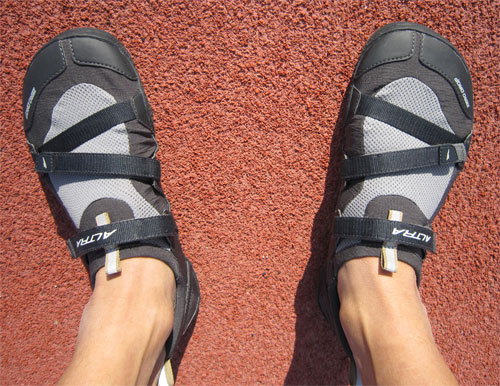 Your minimalist lifestyle is now in full swing. The Adam may not go with your suit or business casual clothing for your office but it pretty much handled everything else – walking, running, playing Frisbee, strength exercises, weight training, and many others. Coupled with a pair of zero drop Vivobarefoot Miles leather shoes, you're all set for the office!
The Adam is available in April late August 2011. A lace-up mesh version of the Adam, named 'The Samson' is planned for Summer 2011 Spring 2012.
The women's version of the Adam is The Eve. This is built specifically for a women's foot – a narrower heel, smaller instep, longer arch, and different metatarsal positioning. A lace-up mesh version of the Eve, named 'The Delilah' is planned for Summer 2011 Spring 2012.
If you like any of the Vibram Five Finger models, you'll love the Adam. If the VFF models did not work out for you, it's well worth checking out the Adam – you will be pleasantly surprised. I know it takes me half the time to put the Adam on versus my VFF KSO. And my Injinji toe socks fit much better with the Adam when needed on those cold nights!
If you plan on wearing socks (even liner socks like the Injinji Performance Liner) with the Adam, you may want to go UP a half-size just like you might have to for the VFF. And it is true sizing for me as did the VFF KSO. Without any insoles or socks, the Adam fits snuggly on my 2E wide feet. And I will not use an insole or wear any socks if I can avoid it – run natural.
*Product provided by Altra Running (MSRP $90).
If you have a product you'd like reviewed, contact me at info@weartested.org