Brooks Green Silence Shoe Review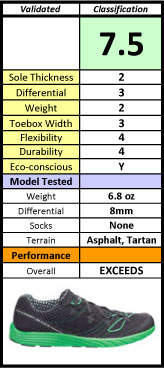 I stumbled upon the Brooks Green Silence primarily because of its eco-innovation but decided to look at it more for its minimalism – lightweight, 8mm drop, and 10mm midsole racing flat.
I haven't heard anything about a successor to the Green Silence for Spring 2011 so I decided to test out the current version. I didn't like the original red and yellow asymmetric colors and was glad to see a cool looking color upgrade.
This performance racing flat is constructed with roughly half as many parts as comparable shoes and is the greenest shoe available anywhere. The full-length midsole is made of BioMoGo – a biodegradable, high-resiliency foam with a non-toxic, natural additive to the MoGo compound that encourages anaerobic microbes to munch away once it hits the landfill. The outsole is made of eco-friendlier high-abrasion rubber (HPR Green) – dispersed silica resulting in wet-dry traction for excellent skid-resistance and a more environmentally friendly composition.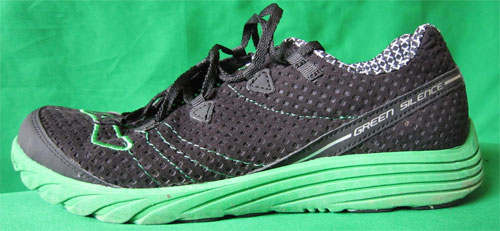 One of my pet peeve with the uppers in running shoes is the standard tongue – it always seems to slide to the left on both feet. The first thing I noticed on the Green Silence is the unique wrap-over tongue. The tongue never slides around and I love it! There are also fewer seams on the uppers and multiple eyelet options – for top tongue lacing customized fit and ensuring a snug midfoot wrap. I haven't fully understood how this work but the default configuration suits me fine as long as it provides a snug fit and the tongue does not slide around.

Water-based adhesives are used throughout and all dyes and colorants are non-toxic. All the eco-innovation is great. But does the shoe perform its basic function as a performance racing flat? I was pleasantly surprised and this shoe exceeded all expectations!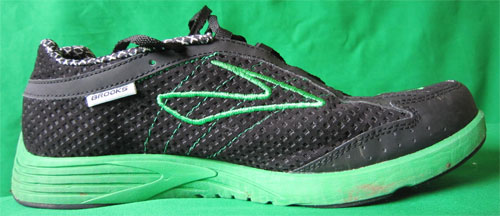 Out of the box, you can feel how light the shoes are (6.8 ounces in my size). After putting them on, I have the nice feeling of a snug fit and cannot feel the 8mm differential! It felt like my New Balance Minimus Road (4mm drop). Next, I took out the insoles but they were glued down to the footbed. Fortunately, I was able to remove them but find that the footbed is a little rough.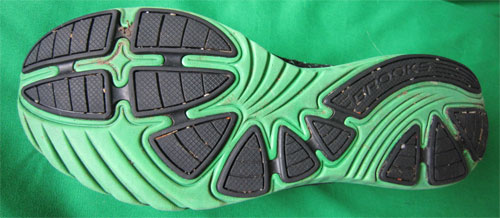 So I decided to 'smooth' it out by wearing my Injinji Outdoor Trail toe socks and walked over 4 miles in them. The weather wasn't cooperating the next day when I took it for a 3 mile run sockless – heavy rain, strong wind, and cold. Even is bad weather, I had a great run on the Green Silence!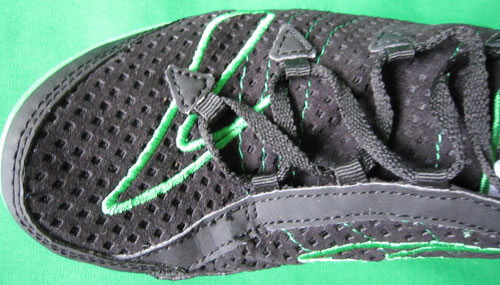 The toe box is wide but could be wider, no blisters or chaffing from the footbed, the mesh in the uppers are soft and breathable, the 8mm differential did not affect my running form, and I did not heel strike at all nor was I tempted. The shoe certainly exceeded all my expectations. I have since put in a lot more mileage doing speed work on the track, walking my dogs daily, and wearing it for work. This shoe is definitely multi-functional for my lifestyle – dress, casual, exercise.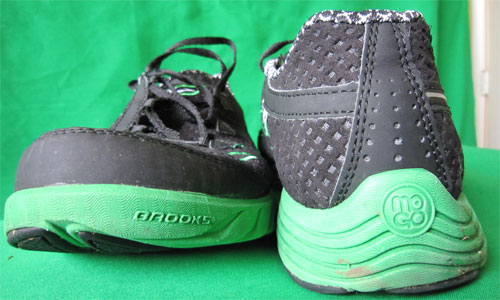 For a racing flat, the shoe is actually pretty flexible and definitely not stiff. The softness of the uppers really impressed me and the fact that they are 100% post-consumer recycled made me smile. I've always been doing my part to save the earth and Brooks have made that task easier. The heel counters are made of recycled compact discs; shoe laces, meshes, linings, gillies, and tongue webbings are made from recycled water bottles; and outsoles are made of recycled rubber. Hopefully this will inspire other footwear manufacturers to rethink their green strategy.
It seemed the 10mm midsole on the forefoot is just enough cushioning for transitioning runners and maybe a little too thick for running on tartan tracks. For asphalt and harder surfaces, this shoe is one that I'm adding to my running shoe rotation. I've already bought a pair for my son and daughter to add to their running gear this Christmas!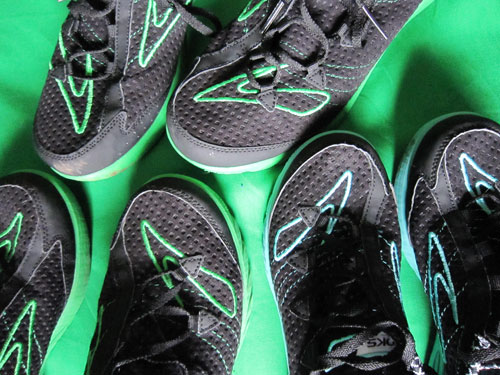 The women's version of the Brooks Green Silence is turquoise and black instead of green and black.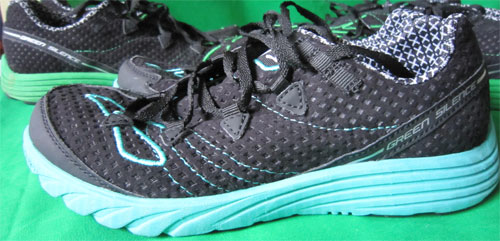 I get asked by many non-runners about the Green Silence. They liked the look and its green qualities but are shocked to learn that it is a performance racing shoe. It is silent when you race in these lightweight racing shoes but loud in its green statement and eye-catching design!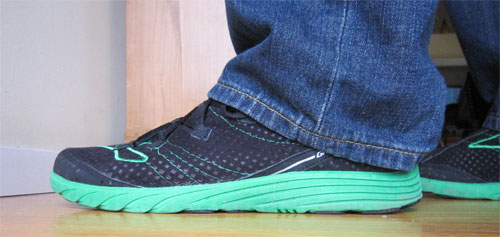 If Brooks can design and build an eco-conscious shoe like the Green Silence, I expect them to come up with an innovative minimalist running shoe in mid-2011.
Do your part for saving the earth. Reduce your carbon footprint now.
*Product provided by Brooks (MSRP $100).
If you have a product you'd like reviewed, contact me at info@weartested.org