Here comes New Balance second-generation minimalist running shoes! First up, the latest and greatest minimalist trail running shoe, the NB Minimus Zero Trail, a true zero drop trail shoe.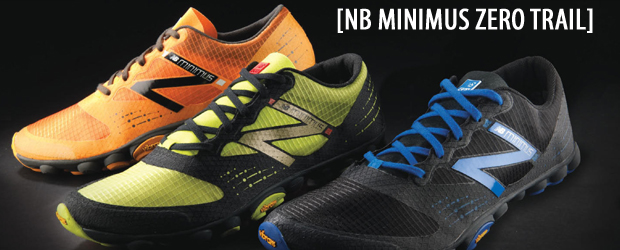 With the early media samples, only the standard D width is available and I had to size up one full size to fix my 2E+ feet into the NB Minimus Zero Trail. Now I have plenty of space to splay my toes and not worry about blisters or hot spots. The good news is that 2E width is available at launch in March for the complete NB Minimus Zero collection (Road, Trail, Wellness).

The shoe weighs in at 4.6 ounces and has a stack height of 10mm. There are only a select few minimal shoes less than 5 ounces, period. This is quite an achievement for New Balance.

This new generation of Minimus Zero Trail (0mm MT00) is very different than the first generation Minimus Trail (4mm MT10) or the follow up Minimus Trail (4mm MT20) or even the NB 110 Trail (4mm MT110).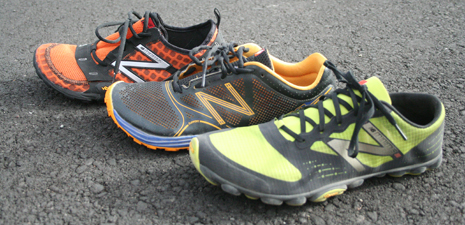 Key to the new NB Minimus Zero collection is the use of a new last, the NL-Zero, which mirrors the original NL-1 last used in the initial NB Minimus collection, but eliminates the drop from heel to forefoot (the original Minimus Trail 10 and 20 series features a 4mm drop), positioning the foot in an even more neutral stance, promoting a more natural stride, and encouraging a mid-foot landing.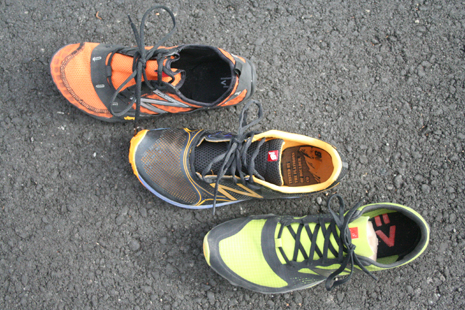 The new NL-Zero last also provides increased width in the forefoot that allows the foot to expand laterally on impact. Each shoe in the NB Minimus Zero collection uses minimal constructions that reduce weight and all of the shoes offer barefoot friendly interiors and no insert to encourage sockless wear.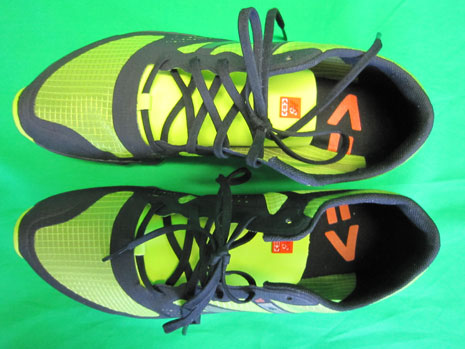 Even though the toe box is wider in the Minimus Zero Trail, the standard D-width was still too narrow for my 2E wide feet. Since I sized up a full size, the length of the shoe is a little too long for my feet. What puzzled me most is the curved tip of the shoe – I think it serves no function (design-wise or functionality-wise) and should at least be pared down like that of the original trail models, MT20 or MT10.

The new Vibram T-Lite outsole provided great traction and is super-flexible. This outsole, which was designed after methodical review of the lug wear patterns of the previous NB Minimus trail model (the MT10), features a "less-is-more" inspired lug placement and a unique webbed midsole pattern complete with small, cushioning pods that can move with independence. The unique webbed midsole pattern was designed to create small, cushioning pods that can move independently. The midsole compound is Acteva.

Notice that on the outsole, there are holes drilled to lighten the weight. Or are they water drain holes?  I ran the faucet over it and the water did not come through but I've read that folks have said that standing on wet terrains or asphalt resulted in their socks getting wet.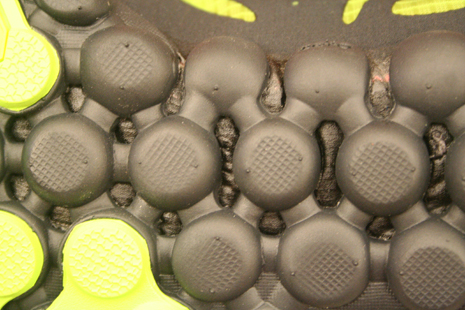 On non-technical trails and over 30 miles, this shoe worked real well for me and I like it even more than the original Minimus Trail (MT10 and MT20) and Inov-8 Bare Grip 200. But the Minimus Zero Trail only offer minimal protection (uppers and outsole) so cannot compare to the first generation Minimus Trail or newer MT110 on technical trails.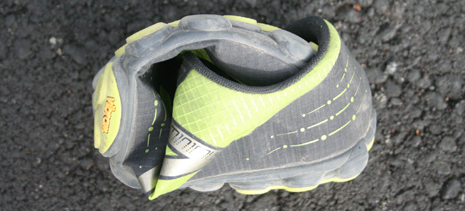 The two-piece upper is constructed using a lightweight, unlined mesh and an ultrathin, laser cut, fully-welded overlay. The tongue of the NB Minimus Zero Trail is a soft, single layer, form-fitting mono-construction. It is highly breathable and water does gets in. Additionally, small pebbles get in too because the tongue slides around when I'm running.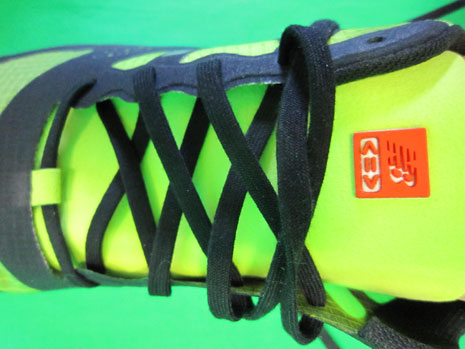 Unfortunately the tongue and lacing has and always will be one of my pet peeve on running shoes. They need to re-design the tongue a bit. It is thin and is like a piece of fabric that slides around when you put it on and during my runs, it slides down. It almost completely disappeared into my toe box when I'm done with a long run.
In cold weather, the ultra-thin and highly breathable uppers can be a problem since I always run sockless. Your toes might start getting cold, then numb, and all you can feel (instead of the ground) on your feet is a piece of hardwood underneath.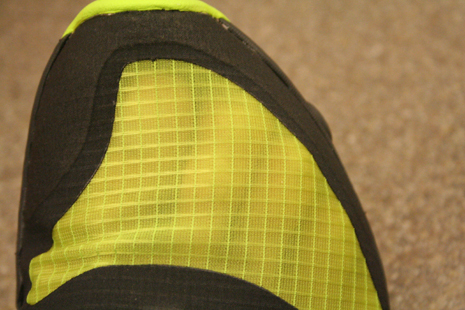 Other than the minor tongue complain, this is one of the best minimalist trail shoe I have ever ran in. And certainly one of the lightest. I will be spending more time running in them in between wear testing other shoes. And I will certainly try on a pair of 10.0 2E or 10.5 2E that is true to my feet for optimal performance!
Here's  a comparison of the weight and stack height for all the minimalist trail shoes (from New Balance).
| | | | | |
| --- | --- | --- | --- | --- |
| | MT00 | MT10 | MT20 | MT110 |
| Drop | 0mm | 4mm | 4mm | 4mm |
| Stack Height | 13mm | 15mm | 16mm | 18mm |
| Weight | 4.4 oz | 7.5 oz | 6.5 oz | 7.7 oz |
So with so many 'similar' trail shoes, how does one decide which model to purchase? Here's a quick guide based on the terrains a runner is running on and what stage of minimalism the runner is at.
| | | | | |
| --- | --- | --- | --- | --- |
| | MT00 | MT10 | MT20 | MT110 |
| Terrains | Moderate | Moderate | Moderate | Technical |
| Minimalism | Advanced | Transitioning | Transitioning | Transitioning or Advanced |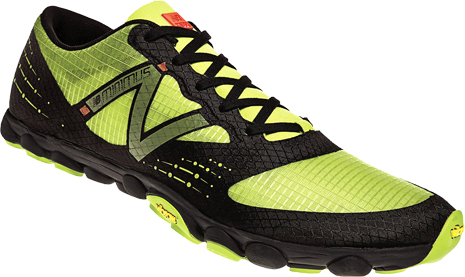 A closing observation. Each shoe in the NB Minimus Zero collection features a "Less is More" logo on the tongue, as well as the logo split across the sock liners of each shoe – you can see all of them in the pictures in this review. A "zero" call-out on the medial midsole creatively indicates the new zero drop last (see image below).

The New Balance Minimus Zero Trail will be available in February 2012 in many bright colorways for men and women on the New Balance web site and in running specialty retailers. I really like the new color schemes for the NB Minimus Zero collection and the best I have seen from New Balance thus far – make your statement now!
*Product provided by New Balance (MSRP $100). CMP.LY/1 Review
If you have a product you'd like reviewed, contact me at info@weartested.org