Running is just one of the tools in your fitness toolbox. Running form, nutrition, cross training, and rest/recovery are some of the others. But you need to also know your body and your personal health data in parallel to make sure there are no surprises or how you can maximize your performance over the long term.
With the drop in prices and miniaturization of sensors, wearable technology is booming. In 2011 30 million devices were sold in the US, up 37% from 2011, and sales are expected to reach 160 million a year by 2017. The important thing to keep in mind is how these devices make the experience personal, non-intrusive and relevant.
Activity tracking for personal use started becoming main stream this year and within months, we will all be wearing multiple sensors to monitor our activity from pedometers to heart rate monitors (HRM) to GPS sensors. Many large corporations are already offering extra perks and premium discounts for active employees wearing activity trackers like the Nike Fuelband and Jawbone UP. Research shows that active healthy employees are more engaged, more productive, and happier.

The majority of these devices measure steps, distance, and calories. Some measure your sleep quality, heart rate, blood oxygen, skin temperature, and elevation climbed. Most devices are focused on certain aspects of fitness, exercise, or health – there is not a single device that measure and track every aspect of your personal health.
The form factor varies from a wristband to clip-on to a watch. Battery life also vary considerably – from 14 hours to one year! Some have a display, some have just lights, some have no display (smartphone app needed to display data). Surprisingly, prices have dropped significantly and a simple activity tracker can be had for under $60 with a high end price of $199 for watches like the Basis and MIO Alpha Heart Rate.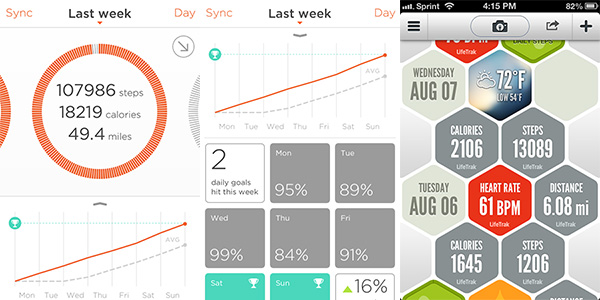 Model Form Factor Battery Life Display

List Price

LifeTrak C300
Watch
1 year
Yes
$59.99

Misfit Shine
Wristband/Clasp
4 months
Lights
$99.00

Amiigo
Wristband
6 days
No
$119.00

Fitbit Flex
Wristband
5 days
No
$99.95
Model Form Factor Battery Life Display

List Price

Basis
Watch
4 days
Yes
$199.00

Jawbone UP
Wristband
10 days
No
$129.99

Nike Fuelband
Wristband
4 days
Yes
$149.00

MIO Alpha
Watch
14 hours
Yes
$199.00
Model Form Factor Battery Life Display

List Price

Lark Life
Wristband
2 days
No
$149.99

Withings Pulse
Clip
2 weeks
Yes
$99.95

Zensorium Tinke
Attachment
iPhone
Yes
$119.00

Inner Balance
Attachment
iPhone
Yes
$99.00
We have already reviewed some of these devices or mobile apps earlier this year and started reviewing the rest over the next 3 to 6 months or whenever they become available. More will be added to the list as they are announced.
Physical Devices
Apple iOS Apps
A full comparison matrix showing all the major features on the devices and Apple iOS apps that we are covering in the next 12 months can be found at "Fitness Devices & Activity Trackers Comparison Matrix".