SPECIAL GIVEAWAY
Salutron is giving away two LifeTrak Move C300 devices to our readers. Please submit a short paragraph to our Facebook Giveaway tab by telling us how you plan to use the activity tracker to improve or maintain your health. The two best entries  selected by Salutron and their partners will be each awarded a LifeTrak Move C300 (MSRP $59.95). US residents only. Ends 10/7/2013 midnight PST. Good luck!
Salutron, Inc., recognized leader for the most innovative and scientifically accurate fitness and wellness products, recently launched its newest activity tracker, the LifeTrak Move C300.  The Move C300 activity tracker incorporates leading edge science, technology and design that set a new standard in activity trackers.  The device captures, holds and wirelessly transmits health-related data to Bluetooth Smart-enabled devices, including smart phones and tablets.
As the revolution in health, fitness and wellness continues to grow, LifeTrak Move C300 provides the most advanced, fashionable, and durable device for easily and accurately track daily activities.  Given its comfortable and waterproof design, whether you're at the office, at home, exercising, or swimming, you never have to manually track your heart rate, distance, calorie burn and steps taken again.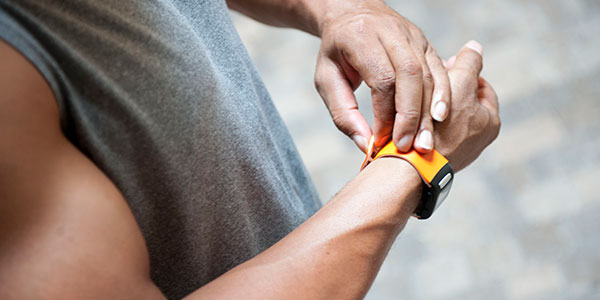 Style and ease of use make integrating the LifeTrak Move C300 into your lifestyle simple.  The full display right on your wrist and open API platform, which allows universal integration to some of the most popular health and fitness apps, keeps you motivated to achieve your goals.  With the touch of a button you can see your daily and weekly progress so staying on track with personal goals has never been easier, or more affordable.
LifeTrak Move C300 Key Features
The Move C300 automatically tracks your calories burned, steps taken and distance traveled. Your data displays on the home screen for easy viewing. No extra parts like a phone or charging cable needed (long-lasting coin cell battery). It's also waterproof (submersible to 90 feet) and all on your wrist with a reversible and interchangeable band!
The Move C300 also has the ability to connect and sync to compatible smartphones using Bluetooth Smart technology thus allowing transfer of data between the Move C300 and smartphones.

With automatic tracking, your all-day calorie burn, steps, and auto-calibrated distance is logged. You can review your results from the past seven days and also see your progress throughout the day with a 24-hour chart. A proprietary calorie algorithm integrates heart rate and activity data to provide a full day's record of calories burned while the patented pace-based calibration algorithm dynamically adjusts stride length based on identification of walking, jogging and running motions. An enhanced step filtering algorithm filters out false steps from the step count.
Besides the core functions found in standard activity trackers, the Move C300 also has an ECG accurate heart rate detector – your heart rate is measured with the simple press of a button. It also stores the last reading taken.
So how did the LifeTrak Move C300 perform?
I have written about the coming boom in fitness devices and activity trackers and also created an activity tracker comparison matrix showing all the features provided by each gadget. But I must point out that the key to all these fitness devices is to get you moving in addition to continuous wearing of these devices. If you bail out after a few uses, you have failed. So key to these devices are ease of use and ease of wear. Features also play here but those are targeted to specific demographics and not the general population. There are consumers who are leaning towards a bracelet-like form factor (e.g. Jawbone UP , Nike Fuelband) instead of wrist watch-like (e.g. Move C300, Basis, Alpha Heart Rate). Another preference is whether you want  a visible display without a smartphone (e.g. Move C300, Nike Fuelband) or only with a smartphone (e.g. Misfit Shine, Fitbit Flex). Personally, I haven't made up my mind yet of what I prefer…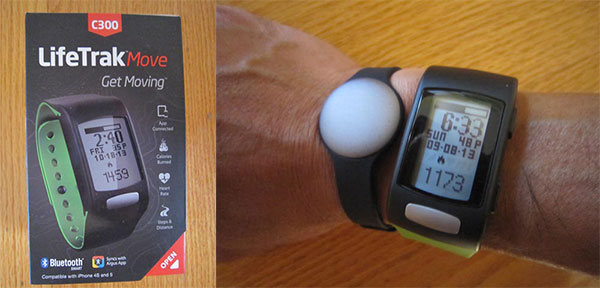 First off, the LifeTrak Move C300 primary goal is to get you moving. Because of its simplicity and ease of use, it already met its primary goal. By designing it as a fashionable everyday watch with no chest strap or charging required, the Move C300 has wide and mass appeal. It has time and day displays expected on traditional watches in additional to buttons allowing to display additional data like steps, calories, and distance moved for the day or for the week.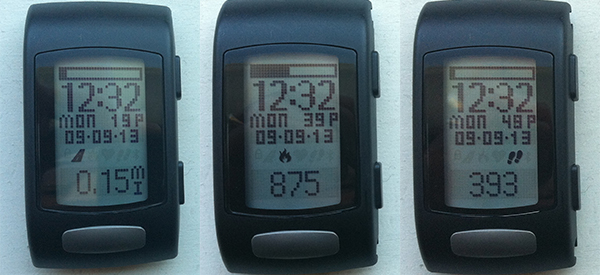 The bands of the Move C300 are reversible and replaceable. They easily slide off and can be reinserted. Additional band colors available at the LifeTrak store.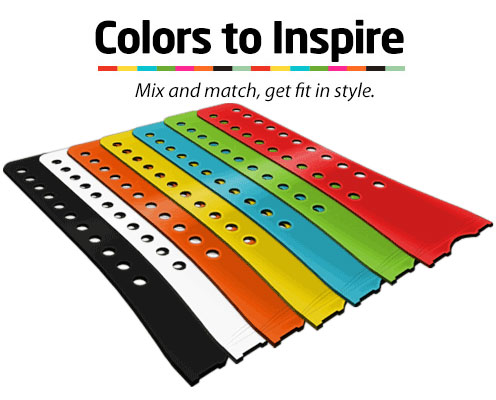 A quick heart rate measurement can be easily taken anytime. But keep in mind that the Move C300 must be snugly strapped to your wrist and the heart sensor button touched with fingerprint part of your fingers, not the tips. The back metal plate of the Move C300 has to be flat on your skin. The device utilizes the proprietary S-Pulse Technology of reading a user's ECG accurate heart rate. It relies on two points of contact to measure the heart's electrical impulse, and converting that signal into a numerical value to display to the user.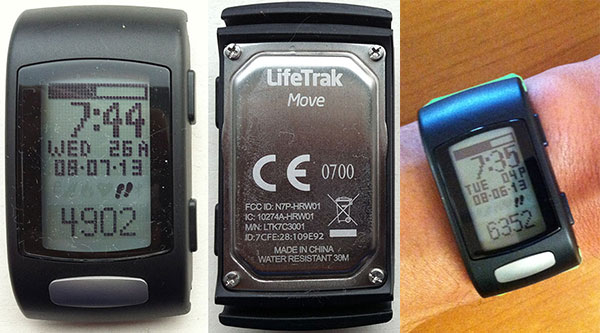 My only nit on the Move C300 is the backlight display which is not strong in contrast for viewing in dark conditions. Maybe they will improve this on future models. I'm not too concerned about the precision of steps, distance and calories as getting someone to move around is more important than an exact distance travelled or an exact number of steps taken. So to stay fit, you should move 30 minutes or more daily (American Heart Association) or walk 10,000 steps daily (Shape Up America). These exercise guidelines from the American Heart Association and other groups recommend that, for health purposes, people accumulate 10,000 steps or more a day, the equivalent of about five miles of walking.
In the health industry, staying mobile minimizes recovery time. In a recent Mayo Clinic study published in the Annals of Thoracic Surgery, patients with the shortest length of hospital stay walked significantly more than the patients with the longest stays. Additionally, patients who were later discharged to go home walked much further than patients who were discharged to a skilled nursing facility or home health care.
The American Heart Association last year published a study that regular physical activity may help older people reduce their chances of getting dementia. The effect of physical activity remained regardless of age, education or history of stroke or diabetes. Thirty minutes of physical activity three times a week had a significant impact on brain health.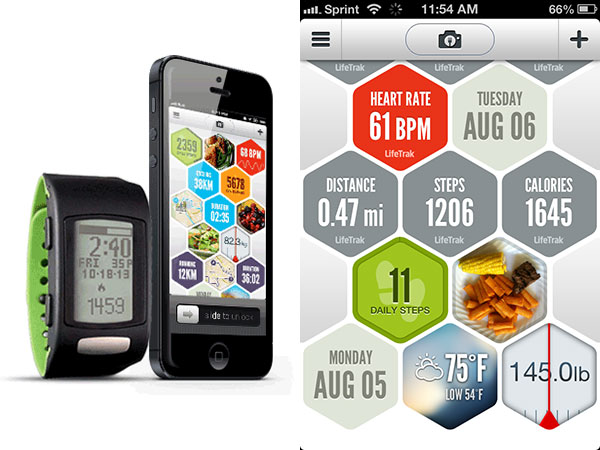 The Move C300 works with the Azumio Argus iOS app (we will be publishing our full review of Argus in a later post).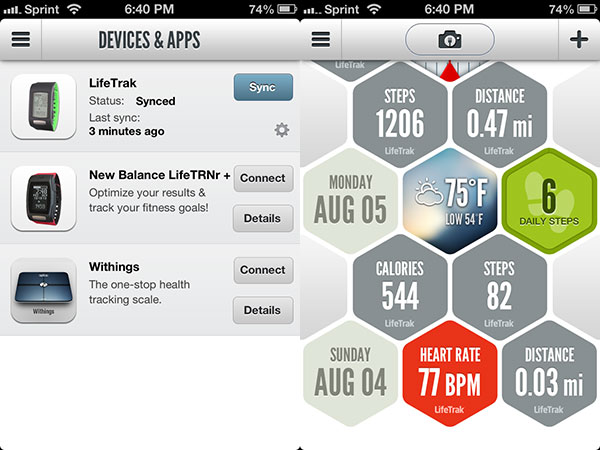 You can synchronize the Move C300 and upload the data from the device to the Argus app and visualize it in a different format. It is a lot easier to view the results and data on the Argus app timeline display than on the Move C300 monochrome display.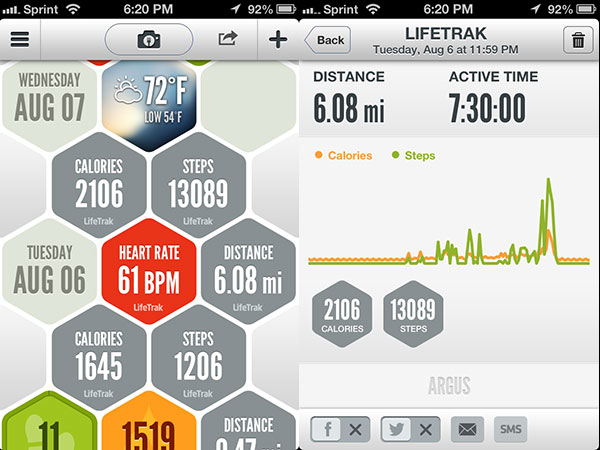 As a standalone iOS app, Argus does a lot of the things that LifeTrak is trying to do. But most of us don't carry a smartphone because of the size and weight when running so the LifeTrak Move C300 is a better alternative. Argus also allow you to set goals, track food and liquids intake, quality of sleep, etc. While some of these features are not currently available on the Move C300, they will be in future LifeTrak products.
LifeTrak recently announced that they will provide access to an open, non-proprietary app development platform, providing consumers greater choice in connecting to services and storing data. Open application programming interface (API) documentation is being made available through the Salutron website.

"We believe an open community of sharing in the world of personal fitness data is an important component of the future success of the activity monitoring industry," said Dr. Y. Jin Lee, Chief Technology Officer of Salutron, Inc. "We anticipate that providing access to our open API platform will drive further innovation in the developer community and allow consumers to have greater personal choice. We are pleased to extend our established leadership in the science of activity tracking to the future development of the industry, and believe expanding the community of sharing in the world of personal fitness will further advance our mission of improving global health."
Still not convinced that this is as simple and easy to use? San Francisco 49er's head football coach Jim Harbaugh wears one. Do yourself or a loved one a big favor and #getmoving with the LifeTrak Move C300!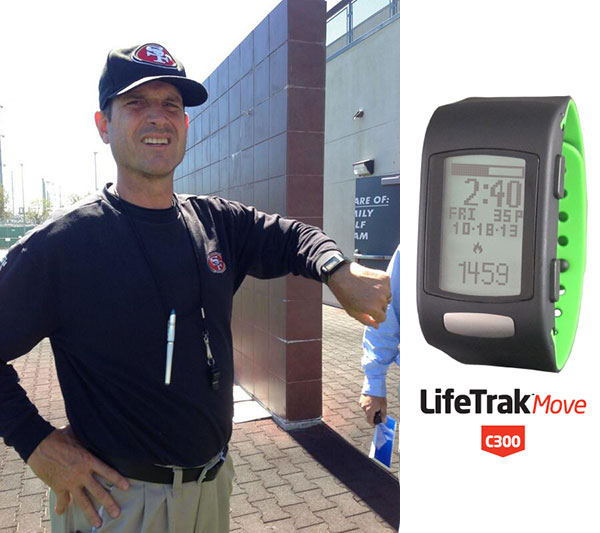 The LifeTrak Move C300 is now available for $59.99 from Amazon and the LifeTrak store.
*Product provided by Salutron, Inc. CMP.LY/1 Review
If you have a product you'd like reviewed, contact me at info@weartested.org