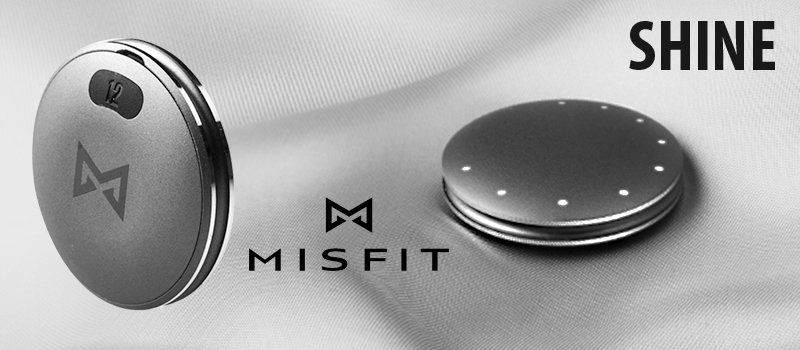 MISFIT SHINE GIVEAWAY
Misfit Wearables has donated a brand new Shine unit to Minimalist Running Shoes (MRS) Wear Tested. We are giving away this unit to one lucky fan! Please enter this giveaway by entering your full name and email address on our
Facebook Giveaway tab
. A random winner will be selected by MRS and awarded a Misfit Shine (MSRP $119.95). US residents only. Ends 10/23/2013 midnight PST. Good luck!
Enter Now
Misfit Wearables, was founded by Sonny Vu and John Sculley on the day Steve Jobs died and inspired by the "Here's to the crazy ones" Apple commercial.
the crazy ones, the misfits, the rebels, the troublemakers
Hence the name "Misfit". Misfit invents and manufactures highly wearable computing products. Misfit's first consumer product, Shine, is an elegant activity monitor that you can wear anywhere. Shine is designed to inspire people to become more active, and encourage people to set goals for how much they want to move in a day and complete them.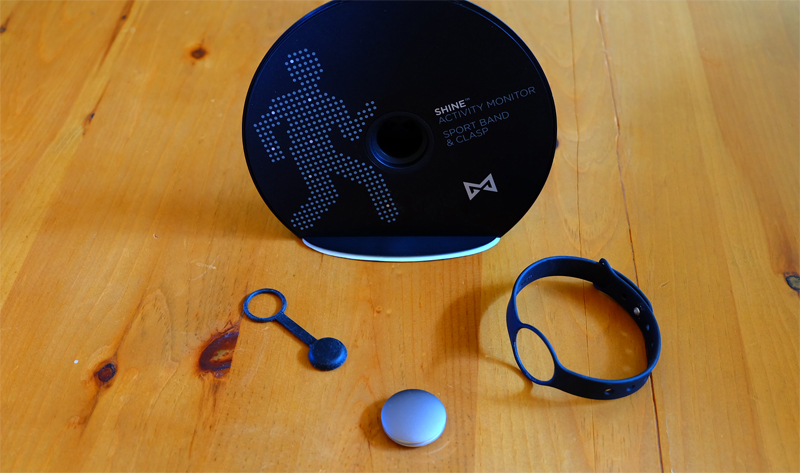 Misfit took a different approach that just creating another wristband or clip-based or watch-based activity tracker because one of the greatest shortcomings of wearable tech is that people don't wear it. Or they lose it, break it, wash it, etc. If you don't wear the product in the first place, there is no data to collect and quantify. You can wear the Shine with different accessories including a clasp, sport band, leather band, and necklace for different wearing locations and to different occasions (formal, business, casual, sleeping, swimming).

Misfit Shine is built to last a lifetime. The unit is made out of aircraft-grade aluminum and is water-resistant for swimming. The battery lasts about 4 months and easy to change – it uses a standard CR2032 coin cell battery. The Shine can be easily opened using the included special tool.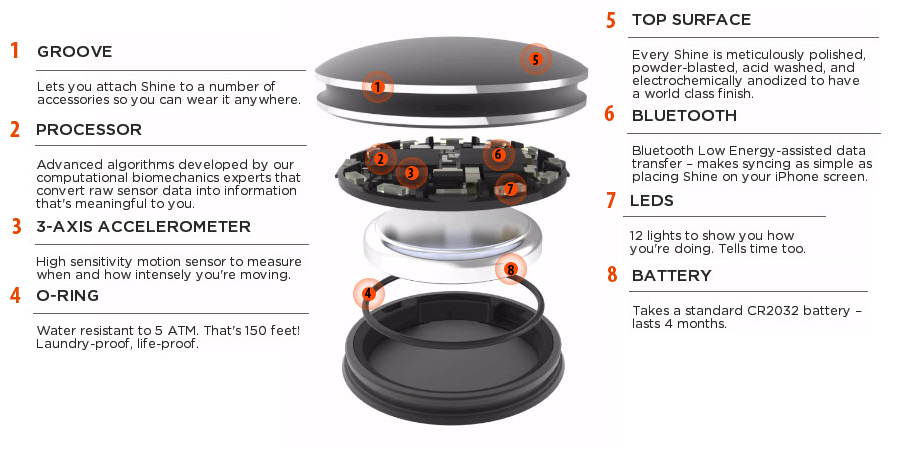 The Shine is a tiny disc with a beautiful halo of lights and crafted like jewelry for any occasion. It complements any fashion statement and you can wear it anywhere: wrist, shoe, bra, hip, neck, etc.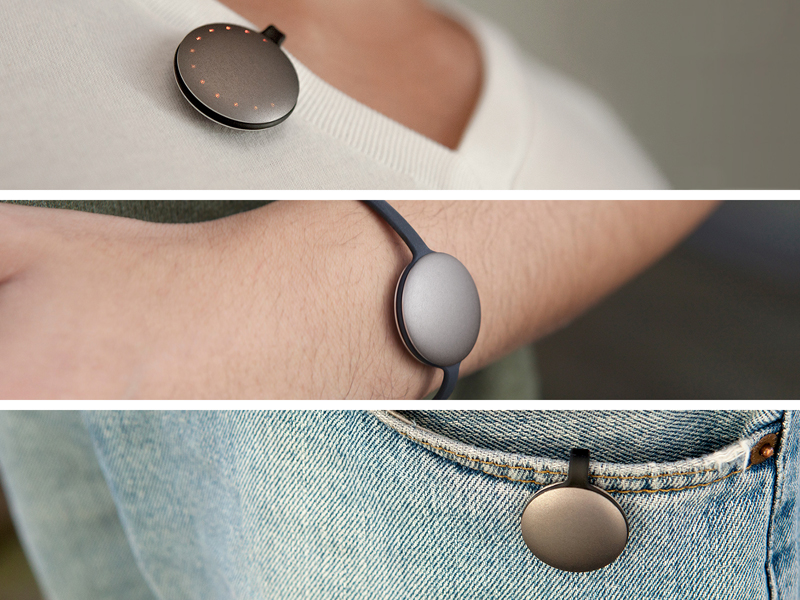 So how did the Misfit Shine perform?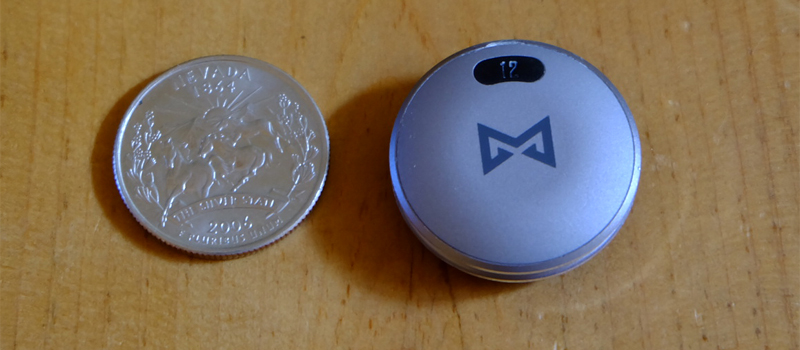 I wore the Misfit Shine activity tracker on my wrist for over two months before I wrote this review. In that time, I have seen how the software and firmware have significantly improved and continue to do. The more data is gathered and stored on the Misfit cloud, the more personalized and accurate the results and future suggestions are from Misfit data scientists. Accuracy is a secondary – continuous use is primary. I don't really care if my step count is off by 10 or the distance is off by 10 yards or my sleep is 10 minutes. It will get better over time and it's all relative anyway and to your own personal situation.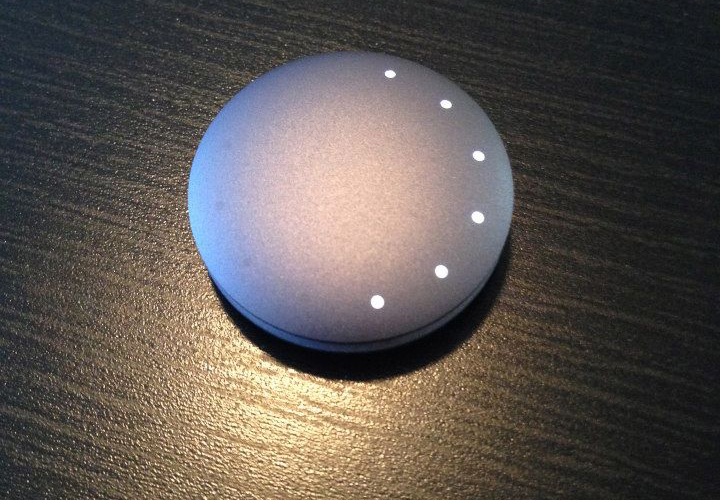 The Shine simply display your progress and time of day with a double tap. Triple tap to marks the beginning of sleep or cycling or swimming etc as set up in the mobile app preferences. The Shine will display 3 sequences of lights to confirm that. The sleep function currently works by selecting 'Sleep' as your bookmark activity in 'Shine Preferences'. You then 'activate' sleep tracking by triple-tapping Shine before going to sleep. Shine will automatically detect when you wake up by your movements.
The Misfit Shine works with the Shine iPhone app – for iOS 6.1.3 and above. Shine app works with iPhone 5, iPhone 4S, iPod 5th Gen, and iPad 3rd & 4th Gen. Daily synchronization is desired but Shine can store up to a month's worth of data. Shine uses Bluetooth Low Energy (BLE) in combination with sensors on the iPhone including the capacitive screen to detect that Shine is touching the screen to activate and execute data transfer.
The Shine app displays steps, calories, distance, and Shine "points". Points is Misfit's own metric of measuring activity that factors in repetition and intensity data. These points allow a user to set goals that applies to all activities.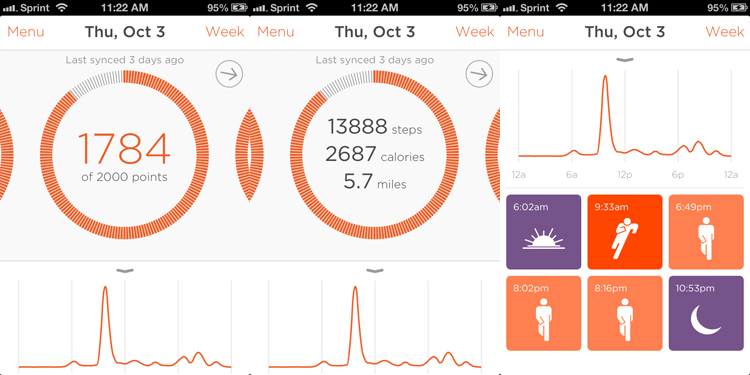 Currently, Shine displays your data in a Day view and a Week view. The Week view shows how many goals you have hits in the week as well as the trends in your activity level as compared to the previous week and your all-time average.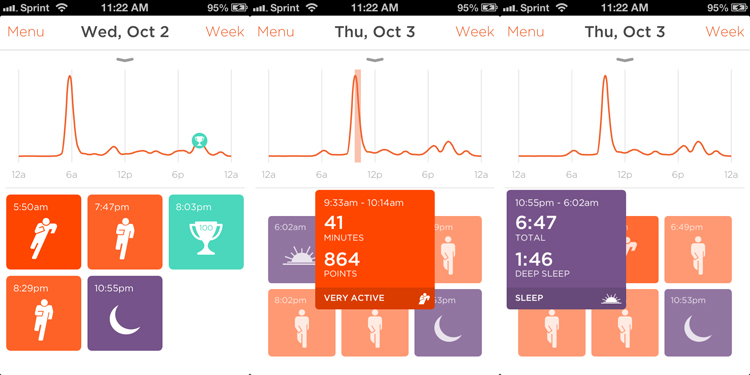 The tiles you see represent a notable activity in your day. Currently, these tiles are categorized as Activity, Sleep, and Milestones. As for the graphical display, the green dotted line shows your goal and the grey dotted line with the AVG label represents your average activity.
The key for any activity tracker is to collect extensive data. Once the data is available, it can then be data mined using powerful algorithms developed by data scientists. The results of the data processing can then be displayed to the user to help them with their health goals, not just what they have done but suggestions on how to improve or meet their goals. But the user have to be wearing the tracker everywhere, period.
If fashion fitness is important to you, we'd encourage you to try out the Shine. It's definitely not aimed at professional athletes, nor specialist runners or bikers, but a general audience that just wants a simple goal and fewer worries about batteries or durability.

Shine is very different from other activity trackers: all-metal construction, no charging required (replace battery every 4 months), water resistant, wear it at different locations on your body.
Minor improvements that are most likely already in the works:
Display battery life (in mobile app or on tracker itself)
Mobile app handling multiple trackers with single log in
Better sleep analysis with best time to wake up vibrate
Alarm (if it is to replace a watch)
In the longer term and with more companies required to provide insurance under Obamacare, business owners may look to offer employees healthy-living incentives and track them with wearable technology. Companies have been offering discounts on health insurance to workers who live healthier lifestyles by, for example, avoiding smoking or staying fit and gadgets such as Misfit Shine could play a part tracking activities and giving people personal goals. Future products from Misfit includes a highly wearable product that will measure a number of interesting health signals.
Summarizing, I want to share these thoughts on user and device retention of activity trackers (my dream list):
All activity data collected has to be relevant
Device have to be interactive and engaging
Device should provide instant gratification (without needing a smartphone)
User should be able to access quantified data from multiple channels (device, mobile, cloud)
Device User Interface (UI) should be intuitive and simple
Device should come in various form factors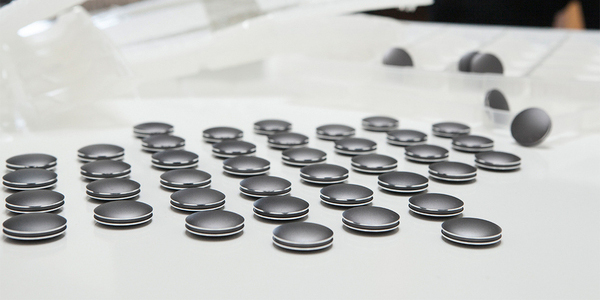 The Misfit Wearables Shine is now available for $119.95 from the Misfit Wearables Store.
*Product provided by Misfit Wearables. CMP.LY/1 Review
If you have a product you'd like reviewed, contact me at info@weartested.org