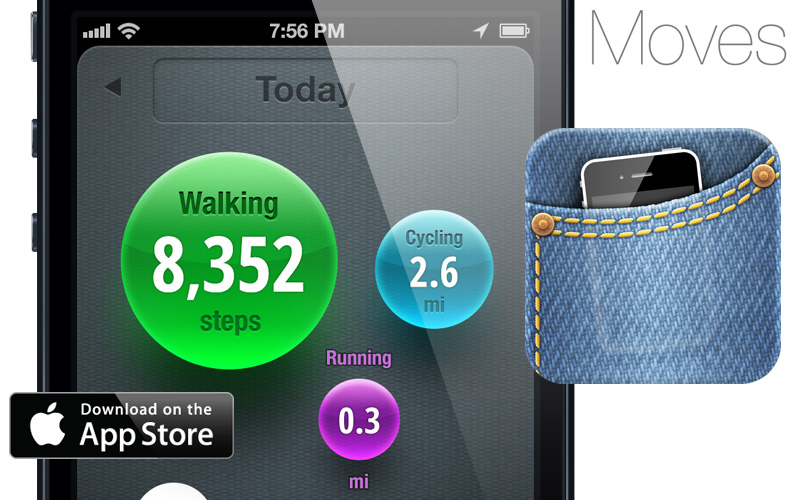 Being a technologist and gadgets fanatic, I'm always on the lookout for fitness devices for self-quantifying – specifically, digital health. The recently launched Moves App from ProtoGeo plan to replace fitness wristbands and gadgets by simply carrying your smartphone. According to Sampo Karjalainen, Designer CEO of ProtoGeo, "Moves is an example of how smartphones are becoming increasingly context-aware. Today, the mobile phone can constantly learn from its owner's real-time situations and habits. This information can help build better, personalized, end-user apps such as the physical activity recognition in Moves. Physical inactivity and obesity are big problems. They have a major effect on society as a whole and on the health of individuals. As the app is so widely accessible, we are excited by what the technology can offer, and how the information provided by Moves can positively impact the lives of thousands, and hopefully millions, of users globally."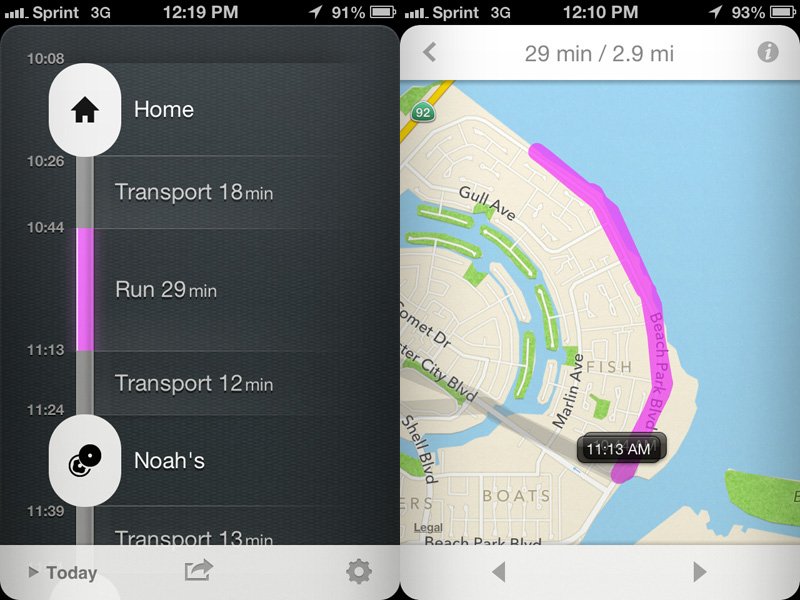 Moves is designed primarily for people who don't exercise much or exercise enough. The focus is on tracking everyday physical activity where walking and cycling can be in a major role. It is a new type of a product category called "casual trackers". The main idea is to make people mindful about their everyday activities and see which parts of their day contribute to their physical activity. Then they can consider walking or cycling to work, do lunch walks, etc.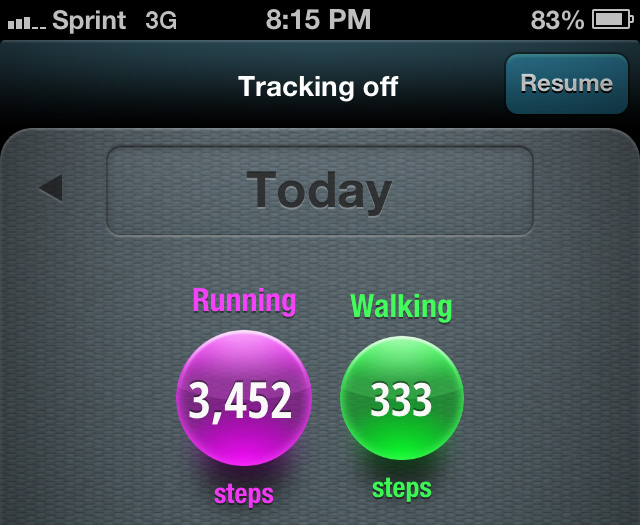 What is Moves?
Moves is an iPhone app used to track physical activity and encourage small daily changes to positively impact your overall physical health and well-being. The app automatically recognizes all your walking, cycling, running, transportation and places – no need to start and stop the app. Just carry your phone in your pocket or bag.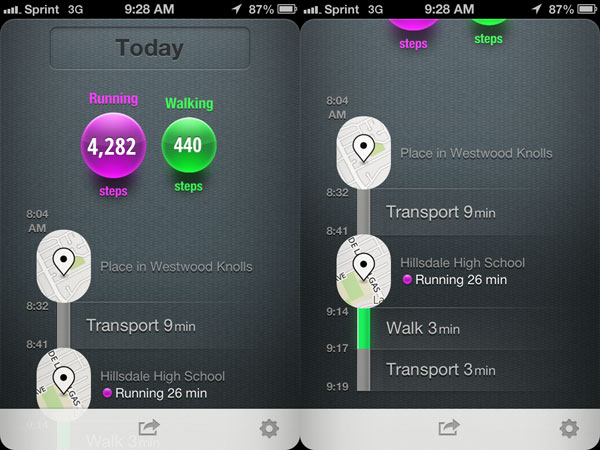 What problem does Moves solves?
Physical inactivity and obesity are big problems. They have a major effect on society as a whole and on the well-being of individuals. Moves tracks how much physical activity you undertake on a daily basis, shows all your routes on a map and creates an easily digestible storyline of your life. This information can help you take control of your habits, encouraging small daily changes that can positively impact your overall physical health and well-being.
Moves iPhone app tracks daily physical activity like Fitbit or Nike+ FuelBand, but there is no need to charge, carry and buy yet another device. Compared to current fitness wristbands and gadgets, the free Moves app is much more convenient and affordable, by having the functionality within the mobile phone. But unlike traditional sports tracker apps, there is also no need to start and stop the app, which continually works in the background. This makes Moves a more discreet and accessible health tracking option for the everyday casual user. Simple. Effortless.
Who is ProtoGeo?
Moves is developed and run by a company called ProtoGeo with a small team of eight people distributed between Helsinki (FI), London (UK) and Pittsburgh (US). ProtoGeo's goal is to make people more aware of how much they move, and hope to show how small changes to everyday activities and habits can positively contribute to the overall fitness and well-being of individuals.
What are Moves unique features?
Effortless
Moves automatically records any walking, cycling and running you do. The app is always on, so there's no need to start and stop it. Just keep your phone in your pocket or your bag.
Battery Use
Location tracking does consume battery power, so nightly charging is recommended. With typical phone use, an iPhone running Moves should have enough battery power to last all day.
Storyline
Moves is an automatic diary of your life. Your daily storyline and maps show where, when and how much you move.
Step Counter
Moves is a free iPhone pedometer that helps you get fit by walking more. See how many steps you take and aim for a healthy exercise goal of 10,000 steps a day.
So how did the Moves app perform?
Even though the primary target user of the Moves App is for people who don't exercise much or enough, I see great potential for this because of the ease of use and unique features. For the targeted audience, this app delivered on its promise and lots more. Even for those who exercise regularly, it's nice to see where you 'stand' in terms of the number of 'daily steps'.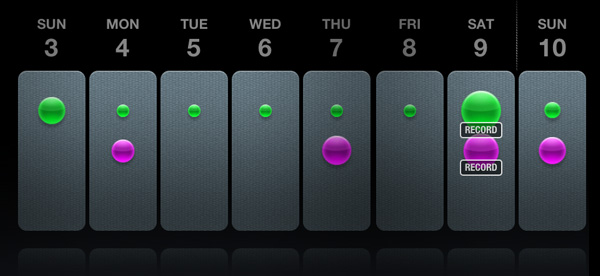 I see plenty of potential for senior citizens who needs to be mobile, period. Daily movement is key to staying fit and living longer. My 93-year-old father still walk briskly for over a mile daily. In the future, the data can be exported or via an API, I can see how active he is remotely on a daily basis. Maybe they will have a web platform like Garmin Connect by then.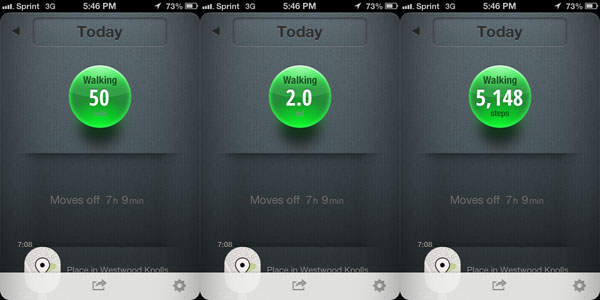 I've been testing the Moves app for over two months and have seen the improvements with each update in terms of accuracy. With all these activity trackers, getting correct measurements is key and what distinguishes between the various devices or gadgets in the market today. After getting accurate measurements, processing and presenting the collected data (big data) to the user in an easy-to-understand (hopefully visually) manner is crucial. Suggestions or habits on how to improve the user's health is also important for the user to continue using the app or device or plan versus quitting.
In earlier versions of the Moves app, the number of steps and GPS calculation for running on a circular track is way off. I've had various email exchanges with Sampo and he was kind enough to explain some of the finer details of the app to me. With the latest version (1.4.1) I'm using, it's within 0.2 miles for a 4 mile run compared to my Garmin Forerunner 610. Even though I'm not their targeted user, the Moves app can easily be used for running by active athletes if desired because of their state-of-the-art activity-recognition and place-recognition algorithms.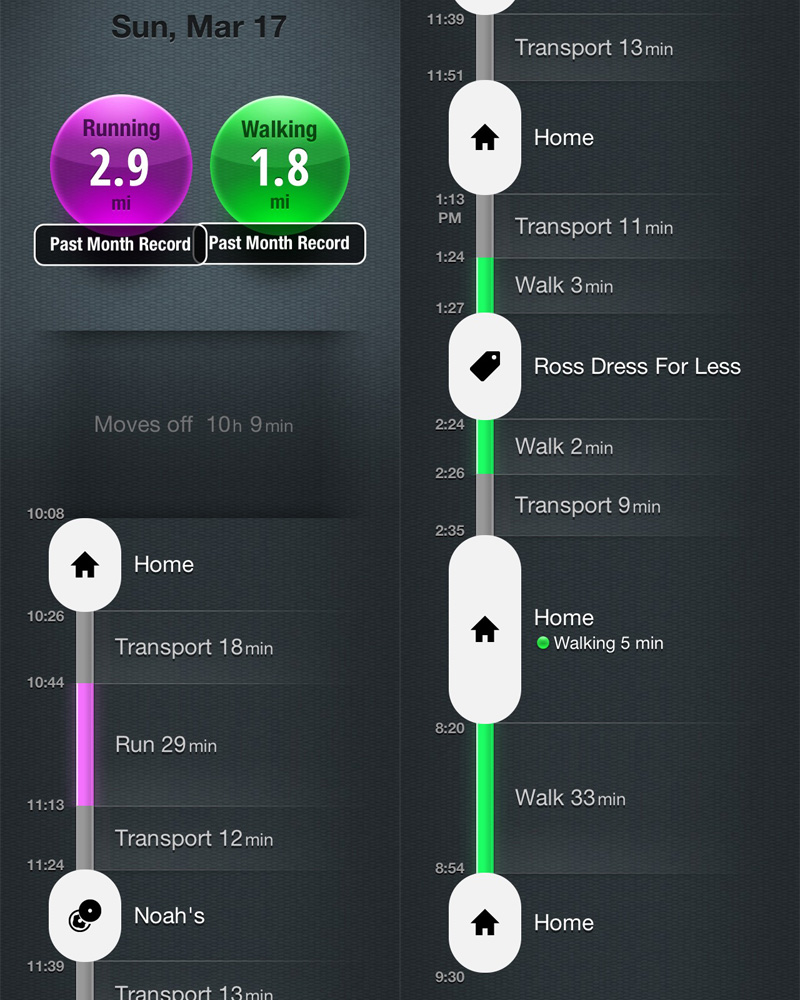 Moves works great while carrying your iPhone in your pocket, bag, purse, hand or armband – no need to change the way you carry your phone. The Moves app runs continuously in the background thus consuming battery power. I needed to charge my iPhone daily when I was testing the app. I was also worried about GPS battery usage but noted that GPS is not used when the phone is not moving at all, and it is used only occasionally to detect movement speed and routes.
Note that you can easily tap any of the 'activity bubbles' in the display to alternate showing steps, mileage, and time spent for the specific activity.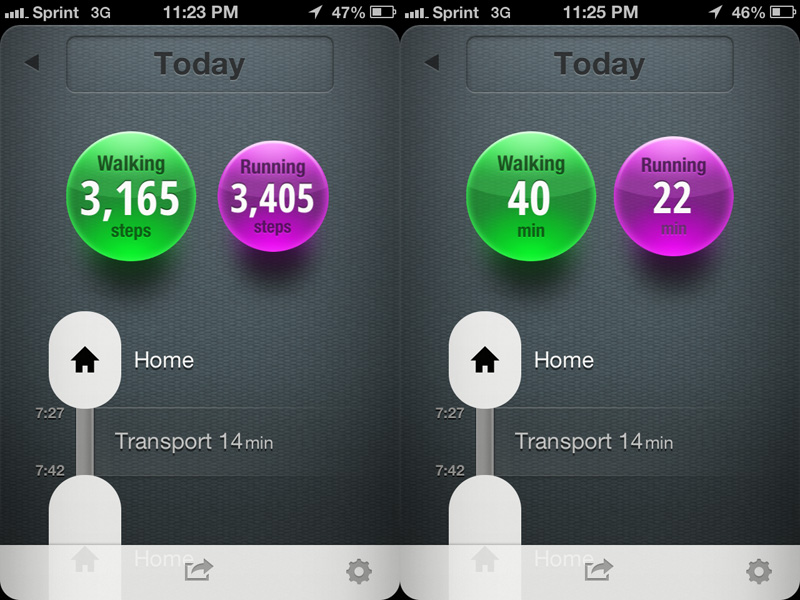 When the Moves app does not correctly recognize a location, you can easily correct these by tapping the incorrect part of your storyline and then tapping the pen icon. The app learns, so any corrections you enter will make it smarter in the future. It also uses the Four Square API for location identification.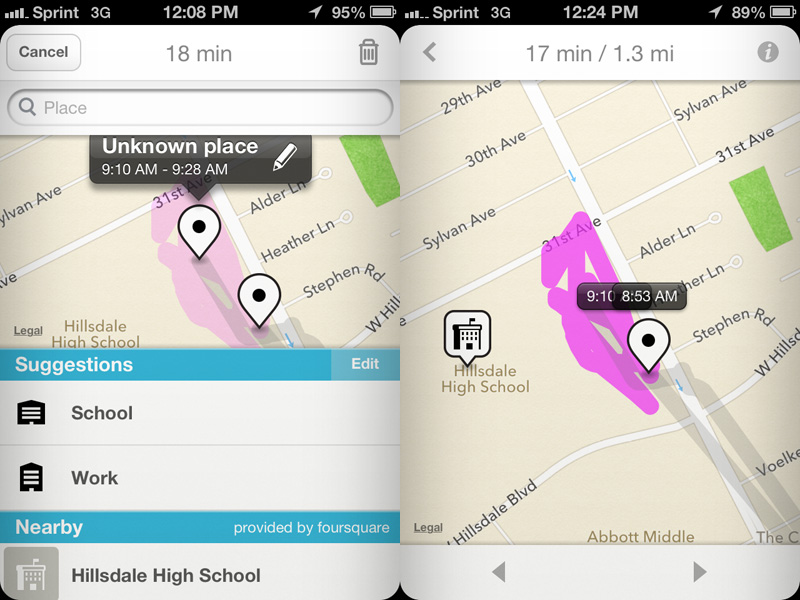 One hint. To get to the daily or weekly display, tap on the 'Today' or top navigation area. This will save you time looking for days that you have recorded data versus tapping the left and right arrows to navigate.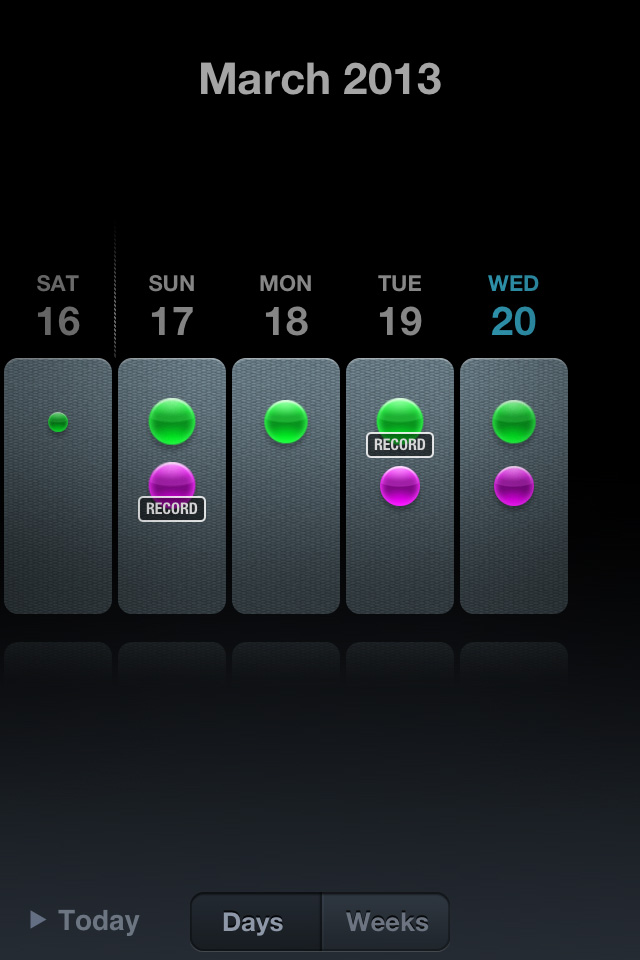 And never forget the importance of walking especially for runners. According to Olympian and author, Jeff Galloway, in his article, Walk to Strengthen Muscles:
Going for a "pure" walk (no running at all) allows your body to make small adaptations that strengthen your feet, knees, and hips. Long, brisk walks can help boost your endurance. And walking as a means of cross-training gives your joints and running muscles a well-deserved break, which can help reduce or eliminate the aches and pains caused by running.
In summary, the Moves app has a truly unique automatic activity-type recognition software with an innovative daily storyline display that is location-aware. You also don't need to purchase or carry additional devices, just your standard iPhone. In the future, they might be able to offer detailed information on your walking or running pace and other related data. Lots of potential in the explosive activity tracker category!
The Moves App is available on the Apple app store at: Moves App
*Product provided by ProtoGeo. CMP.LY/1 Review
If you have a product you'd like reviewed, contact me at info@weartested.org