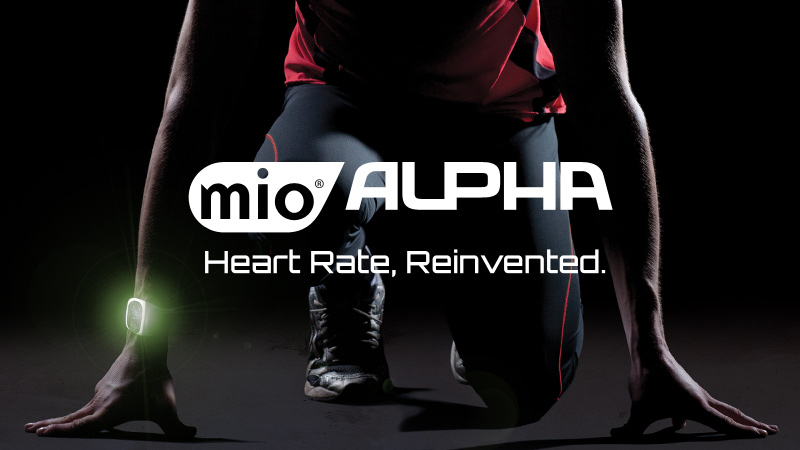 Don't you hate wearing a chest heart rate monitor strap? Worst yet, you forget to put one on – a common occurrence for me! I have tested the Garmin Forerunner 610, Motorola ACTV, and Magellan GPS Switch with a chest strap but because I wear the Garmin watch as my everyday watch, I tend to forget to put the strap on because I did not have to switch out the watch I am wearing.
Now comes the Alpha Heart Rate Monitor watch from MIO Global. The Alpha is the world's first performance level, strapless, continuous heart rate monitor you can wear on your wrist. Alpha uses ANT+ or Bluetooth Smart technology to transmit your heart rate data to smartphones and other compatible devices. It has been tested EKG-accurate even while you are running at performance speeds of up to 20km/h (12mph)!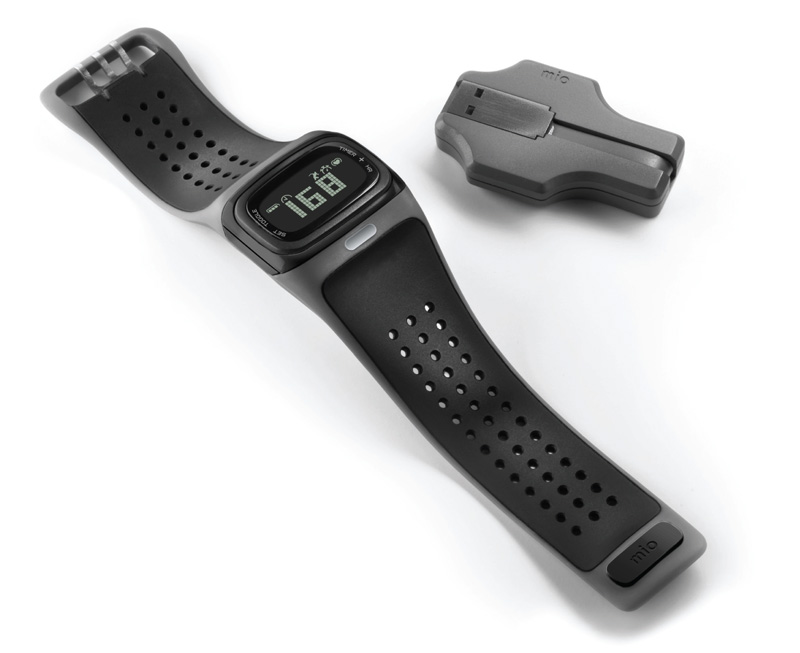 Before Alpha (and others like Basis), the most common way to get an accurate heart rate continuously while exercising was to wear a strap around your chest. With Alpha's innovative technology, the world of heart rate monitoring will be changed forever!
How does the Alpha work?
Two light beams and an electro-optical cell "sense" the volume of blood under your skin. Because the blood volume pulsates in the rhythm of the heart, so does the signal from the electro-optical cell. This signal is processed by an advanced electronics circuit and passed on to a highly specialized computer program that is embedded in the Alpha. To date, the stumbling block with this type of technology has been the arm movements while walking or running strongly interfere with the electro-optical signal to the point that it is no longer possible to extract the heart rate from it.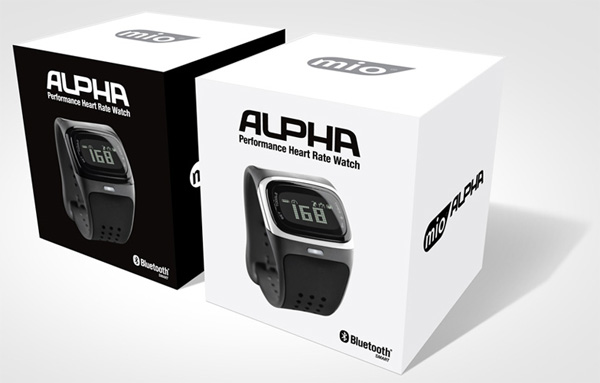 In order to solve this problem the Alpha has been provided with a separate motion detector. The computer program is able to use the information from this detector to compensate for the disturbance that is generated in the electro-optical signal by walking or running motions. As a result, the Alpha can display an accurate heart rate even during motion-intense activities.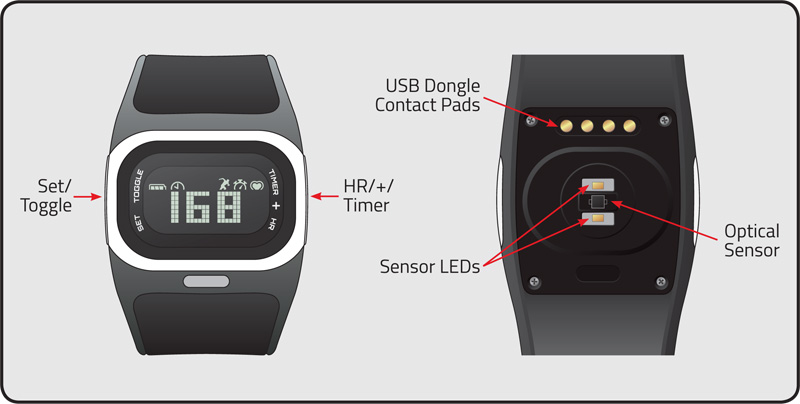 The Alpha watch singular purpose is to measure and display your heart rate continuously without having to wear a chest strap. The instruction for wearing your Alpha from MIO Global are very specific:
Fasten the watch snugly so the optical sensor on the back of the watch makes good contact with your skin
Wear the watch above – not on – your wrist bone; wear it higher on the forearm if you have a small wrist
If you often have cold hands or poor circulation, your Alpha's performance may be diminished. Try exercising for a few minutes to increase your blood flow before turning on the heart rate monitor
To get your heart rate reading, you simply:
Press and hold the HR button until the watch beeps and the display says FIND.
Hold your arm fairly still until the watch beeps again and displays your heart rate.
It takes a few seconds for your heart rate to register.
If you see '—' , the heart rate signal is not strong enough. Press the HR button to QUIT or END and try again.
If you still cannot get a reading, try these:
Tighten the watch strap.
Try wearing the Alpha on your other wrist.
Minimize wrist movement while using Alpha's continuous heart rate.
This happened to me many times – it does not always get a reading the first time round. It usually take me about two tries but never more than three times before it found my heart rate. Once found, your Alpha is considered to be in EXERCISE mode.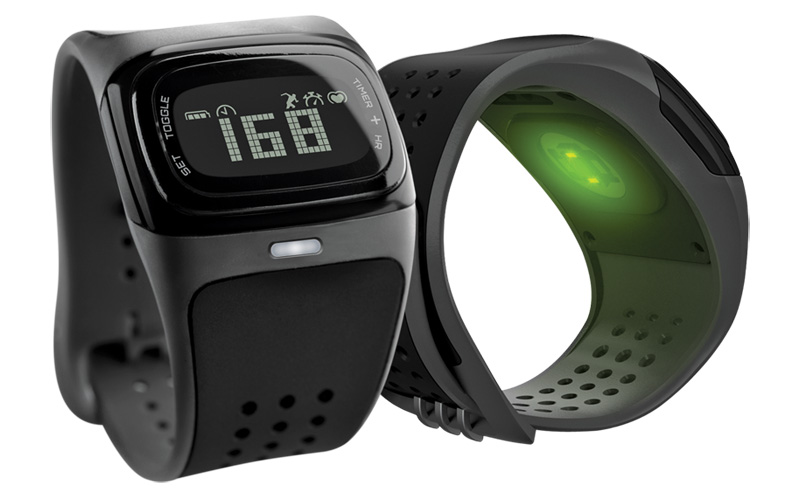 You can also set the low and high numbers for your target heart rate zone. The Alpha watch can notify you by beeping once when you are not exercising in your target heart rate zone. A double-beep indicates your heart rate is 10 BPM or more outside the target zone.
How does the Alpha function in normal usage?
With your Alpha in EXERCISE mode and the TIMER on, the LED light below the watch displays alerts.
Green flash: you are exercising in your target heart rate zone.
Red flash: you are exercising above your upper limit. A red double-flash means your heart rate is 10 BPM or more above the target zone.
Blue flash: you are exercising below your lower limit. A blue double-flash means your heart rate is 10 BPM or more below the target zone.
Without any other apps, the only thing you can do with your Alpha watch is to review your exercise session. The Alpha exercise log shows:
The length of time of your last exercise session (assuming that the timer was running for your entire session).
Your average heart rate during the last exercise session.
The amount of time you spent in your target heart rate zone in the last exercise session.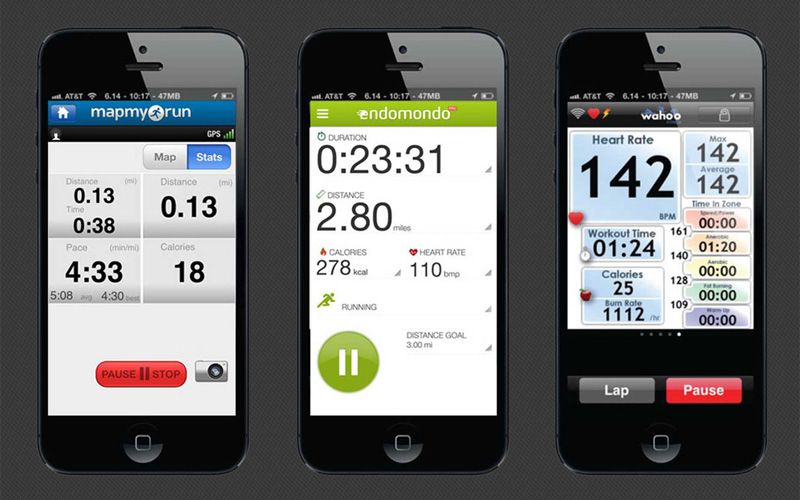 Since it does not store the complete data other than your current session, Alpha works with third-party apps (MIO Global is developing their own iOS and Android app) including Wahoo Fitness, Run Keeper, Map My Run, and Adidas miCoach. To find out which apps work with the Alpha, check out the full list here.
I struggled with the Alpha watch for a while trying to get it to work with my iPhone 4. It turns out that it currently only work with an iPhone 4s or iPhone 5. Armed with a borrowed iPhone 4s, I was able to get Wahoo Fitness paired with the Alpha watch (via Bluetooth). It does require that I carry my iPhone with me to capture Alpha's heart rate data in real time.
The Alpha starts transmitting your heart rate data as soon as it finds your heart rate thus becoming discoverable to your devices. Note to wear the receiving device on your arm, in your front pocket, or in front of you on a belt or bike handlebar. Do not position the device behind you (e.g. in a back pocket or backpack).
So how did the MIO Alpha heart rate monitor watch perform?
Upfront, I have to state that the primary target user of the Alpha heart rate monitor watch is for someone who only care about their heart rate in real time. This is not really meant for gadget lovers who want many features in a watch (like the Basis watch) or for the active athlete who wants to track more than just the heart rate.
With that in mind, I was still a little disappointed as the primary purpose for me is to have that and much more:
I don't want to wear a chest strap
I want GPS information
I want heart rate information
I want to store that data and upload it to Garmin Connect or MOTOACTV web
I want to use it as an everyday watch
I don't want to bring my smartphone
If I had to carry my smartphone with me all the time (sometimes I do for safety reasons), I would prefer the chest strap. Some runners have problems with chaffing from the chest strap on long runs but I have not experienced that yet.
For my test runs on flat terrains and rolling hills, I wore the Alpha watch with a Garmin Forerunner 610 and Motorola ACTV (separately), both with a chest strap to compare. Because it is freezing cold and windy when I started running, it took at least 10 minutes before I got a reasonable reading for my heart rate (usually between 8 and 11 minutes with my Garmin). The Alpha heart rate is within 5 beats per minute (BPM) of my chest strap (ANT+). In the best case such as walking or driving (running errands), it is within 2 BPM. Did you know that your heart rate can go up significantly while driving? The stress of getting your kids to school on time…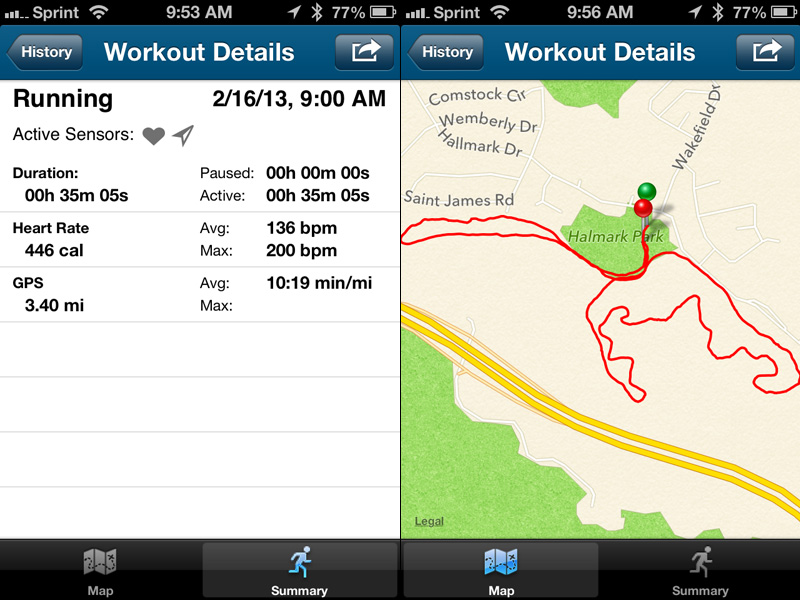 When running hills, the Alpha watch tend to slip a little when I get sweaty even though the strap was tight when I started – I prefer wearing my Garmin or ACTV loose though. The readings can vary significantly because of that – it drops and takes a few seconds to a few minutes before it picks up the correct reading again.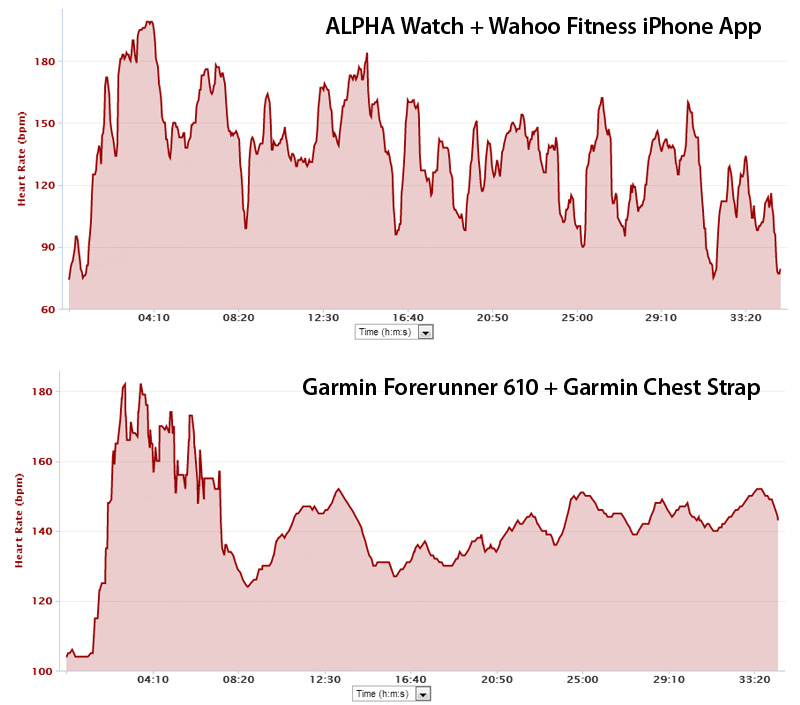 The Wahoo Fitness exported (via Dropbox) TCX file does not import to Garmin Connect (it gets  a format error). The automatically uploaded file to Garmin Connect via the app has no splits though – it must be using the GPX format. Bummer…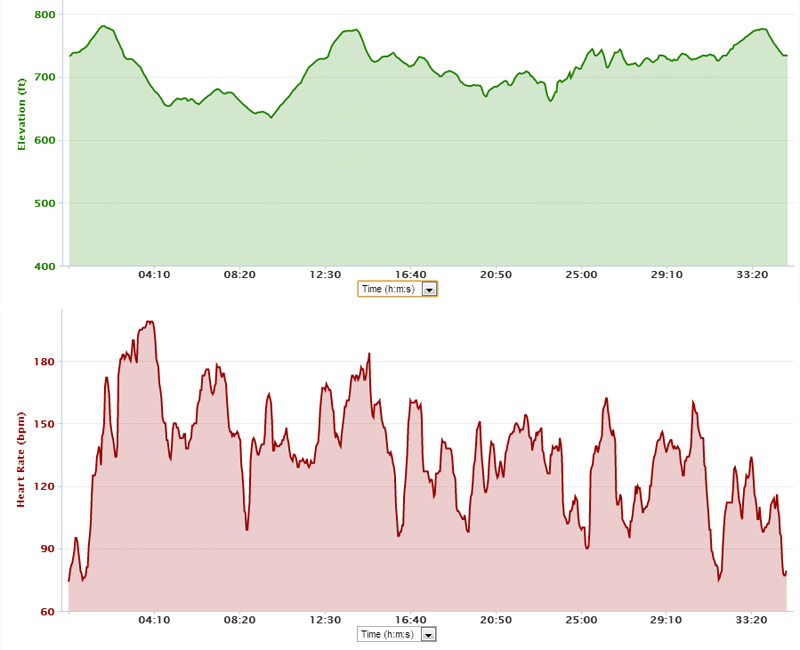 I'm not crazy about the buttons and prefer a touch screen. The display works real well in daylight but you may have a hard time reading it at night (I'm thinking of senior citizens who may be wearing the Alpha watch). Obviously having GPS and data storage on board makes it a lot more useful for runners. Basically, I want a Garmin Forerunner 610 or Motorola ACTV with the Alpha technology – maybe MIO Global can license their technology to Garmin/Motorola-Google/Magellan.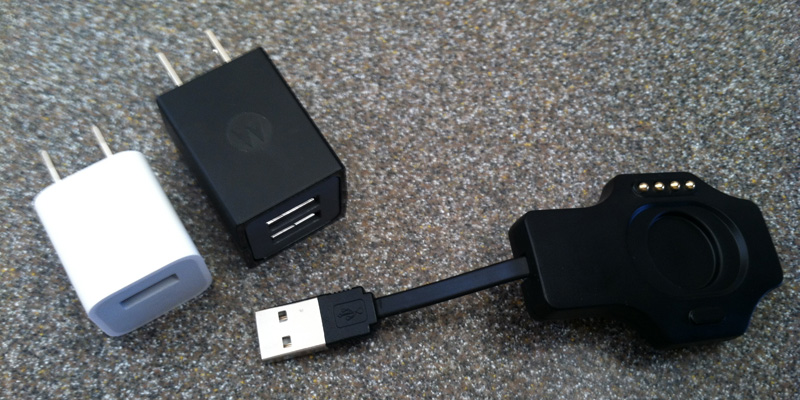 The included charger interface to a USB plug only. The USB dongle plugs into the USB port of your computer whereas the 4 connection pads on the back of your Alpha connects to the 4 connection pads on the dongle. The magnets in the connection pads will help the two pieces lock into place. It would be nice if they have included an adapter for charging via the AC outlet like those that come standard with the iPhone and Motorola ACTV.
As for the battery life, there is nothing out there that can take heart rate readings 24/7 with a single charge that lasts for hours. From Alpha's specifications, the length of time you can use the heart rate monitor while in EXERCISE mode varies from 8 to 10 hours – I get more than that, easily. I think I can run it 24/7 straight for many days, maybe a whole week, before it runs out of charge. But if you are just using it as an everyday watch, it will last at least a month. My Garmin 610 and MOTOACTV last less than a week on a single charge with normal use as an everyday watch. But with a few days of extensive heart rate usage (6 to 8  hours total), it lasts less than a week.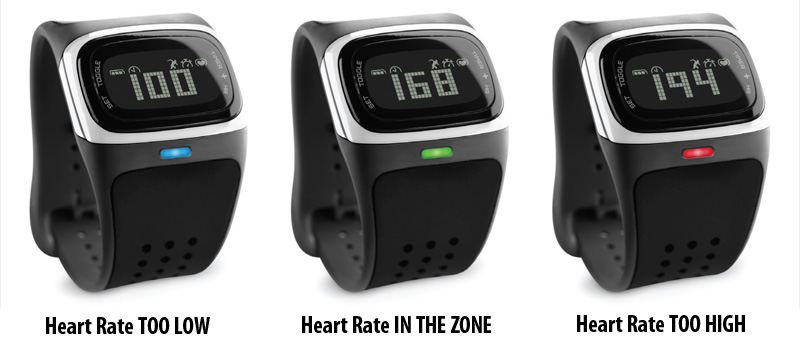 One thing that I really liked about the MIO Alpha, the watch strap. It is one of the most comfortable and well-designed strap made of soft silicone with a secure snap latching system. The MOTOACTV has a similar system but not as soft or comfortable as the Alpha.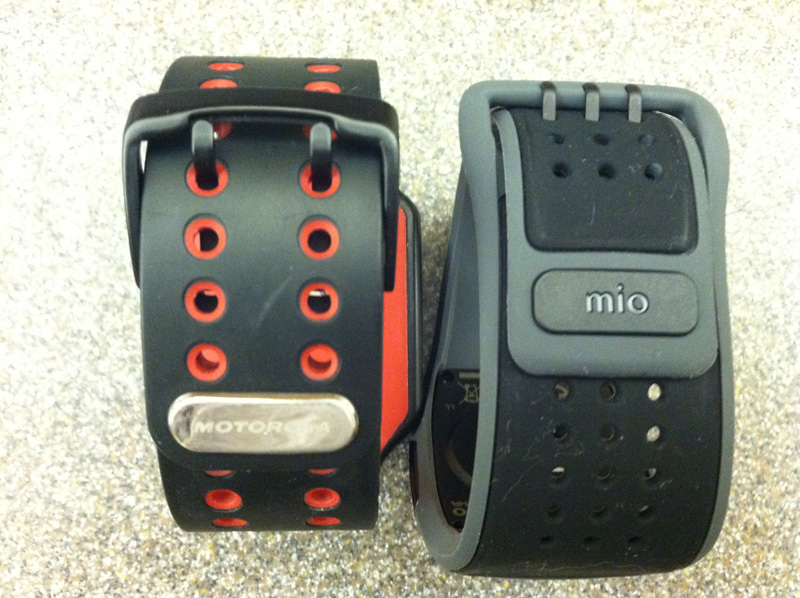 The MIO Alpha heart rate monitor watch is water resistant and great for its singular purpose. Simple to use and easy to read. But the price (MSRP $199) is a little steep when compared to other fitness devices coming into the market later this year. Some of these devices (bracelets) cost about $99 and measure heart rate in addition to dozen others useful readings like blood oxygen level.
The MIO Global Alpha Heart Rate Watch can be purchased online at: REI, Amazon, and Alpha
*Product provided by MIO Global. CMP.LY/1 Review
If you have a product you'd like reviewed, contact me at info@weartested.org