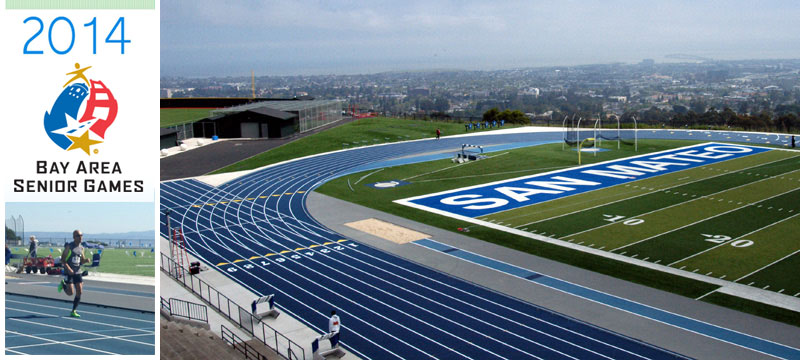 A few months back, I decided that in order to really field test various running and fitness products, I have to pick a race or meet that really bring out the best out of the products and myself. So I decided to test out my over 4 years of running and training exclusively with minimal shoes at the recent 2014 Bay Area Senior Games (USATF). Before I started transitioning to minimalist running shoes in 2010, I cannot even run a mile without lower back pains, knee pains, and plantar fasciitis – I was wearing 12mm heeled and cushioned traditional running shoes with orthotics. I have written a book, The Minimalist Runner, about how my journey started in 2010. Fast forward to 2014 – exclusively minimal shoes (road, trail, casual, dress), running 6 days a week, injury-free and pain-free, natural running form, short strides, midfoot strike, and low to zero drop wide toe box running shoes.
2014 Bay Area Senior Games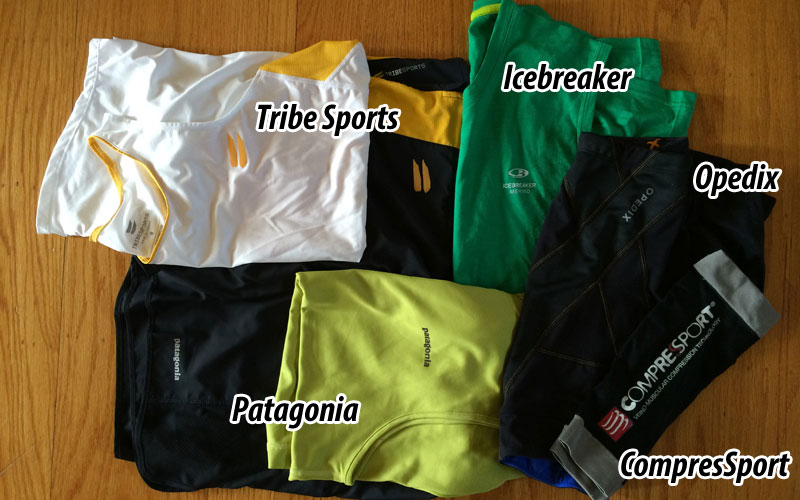 With all the tools (shoes, nutrition, gear, running form) in my toolbox, I signed up for six events: 100m, 200m, 400m, 800m, Long Jump (LJ), and Triple Jump (TJ). I normally participate in 3 or fewer events but since I turned 55 this year and in a new Masters/Seniors age group (55-59), I wanted to see what events I should focus on in the years ahead. Last year at the 2013 National Senior Games in Cleveland, OH, I represented the State of California in the 400m, LJ, and TJ. My performance was good and I was even more motivated for the next National meet: 7th in LJ finals and 4th in TJ finals. Did not make it to the finals in the 400m though…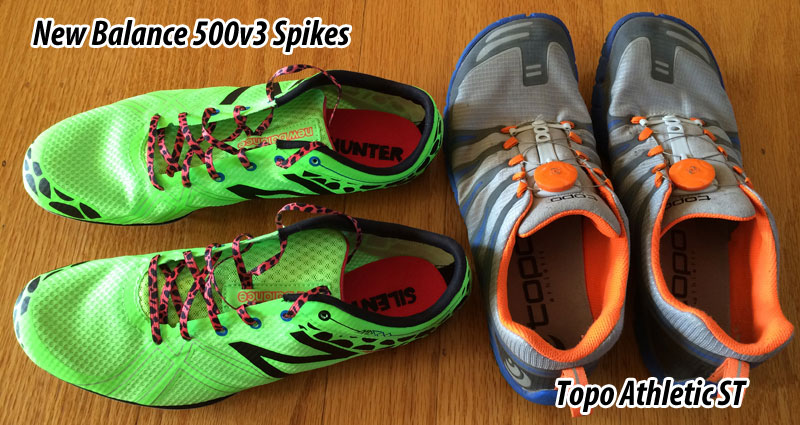 My 2014 Bay Area Senior Games goal is to do a decent job in all six events without any injury – six events over a three hour period. And that I succeeded. But my performance was a lot worse than I anticipated. All the lunges, squats, planks, hill sprints, quadruple leg hops, box jumps, plyometrics,  etc. that I trained in the months before to build my fast-twitch muscles helped but not enough. Here is what I did not expect:
I'm a lot slower because the many sprint events took out my stamina and strength early. The wind was also a factor at the College of San Mateo and I was not able to take advantage of it during my jumps due to the time constraints. Of course age might be another factor…
I witnessed two world records being set by 81-year-old Irene Obera in the 100m (17.07) and 200m (35.69) – I missed her world record Long Jump (10′ 1.75″) as I was running at that time.
| | | | |
| --- | --- | --- | --- |
| Event | BASG 2014 (Position) | Personal Record  (Year) | All-American Qualifier |
| 100m | 14.50 (6th) | 14.10 (2012) | 12.60 |
| 200m | 31.70 (5th) | 29.60 (2012) | 27.00 |
| 400m | 1:10 (3rd) | 1:06 (2012) | 1:02 |
| 800m | 2:53 (5th) | 2:45 (2012) | 2:25 |
| Long Jump | 12′ 10″ (2nd) | 14′ 10″ (2013) | 16′ 1″ |
| Triple Jump | 28′ 10″ (1st) | 29′ 10″ (2013) | 31′ 2″ |
You can see from the results that I did not hit any personal records (PR) or make All-American (55-59 age group). But I have some idea of what events to focus on in the next few years to improve and hopefully make All-American. Most important of all, being able to have fun but also compete injury-fee and pain-free mainly because of minimal shoes and natural running form (plus strength and core training, nutrition, etc.) is testament that for seniors, the competition never ends.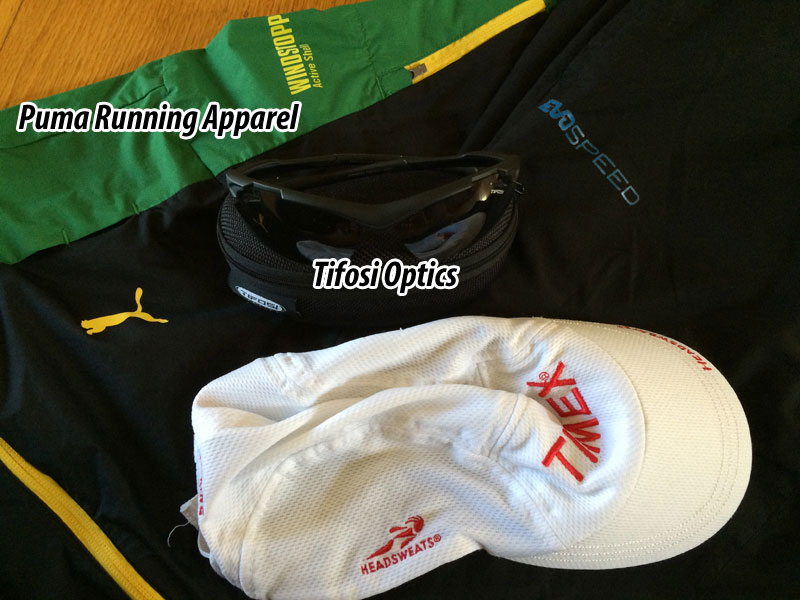 Some useful facts that the senior movement is HUGE. There are 10,000 of us turning 50 EVERYDAY! We are 100 million strong and we control 77% of the financial assets in this great country of ours. We are a powerful group of people that outspends other generations in nearly EVERY consumer category totaling over one TRILLION dollars annually. We spend over $7 Billion dollars in on-line purchases, an impressive 2 1/2 times more than the amount teens spend. Some of my partners and sponsors are well aware of these facts! And hopefully more will take the time to understand and serve this demographic! Here are my comments, feedback, and review of the products I used for training and competing in track & field events. And a BIG THANKS to all my partners and sponsors for the continued support!
Shoes & Gear Review
Here are some of the new and relevant gear that I field tested during my training and competition in track & field:
New Balance spikes (500 v3, 400)
Opedix, KT Tape, OSMO Nutrition
Tribe Sports, Icebreaker, Patagonia (tank tops and shorts)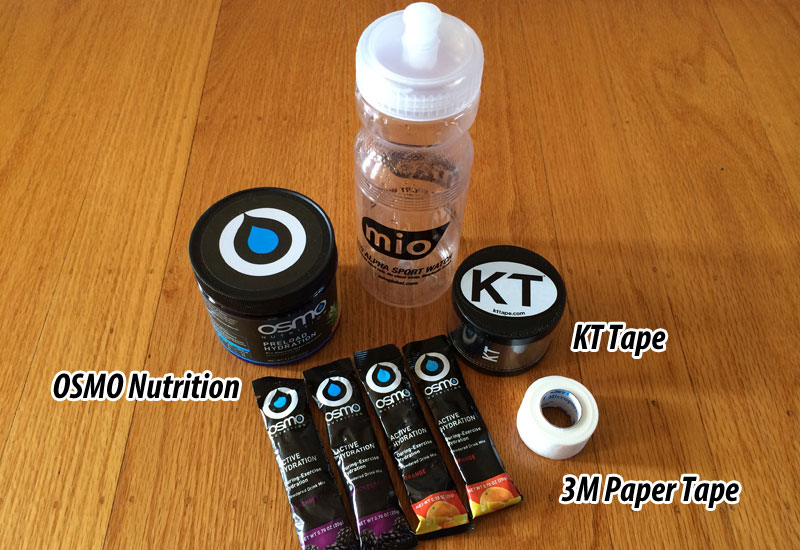 What follows are my latest reviews of the new gear and references to the ones I have already reviewed.
OSMO Nutrition
Before discovering OSMO Nutrition, I've only used water and GU energy gels for all my track & field meets. As athletes, we are always looking for nutrition that will improve our performance, or at least, not degrade performance, and worst yet, prevent the "bonk" that comes from competing hard and not refueling the body. I'm not one to experiment with different products but since my meet is going to be tough, I needed any help I can get. It may not help me but what have I got to lose?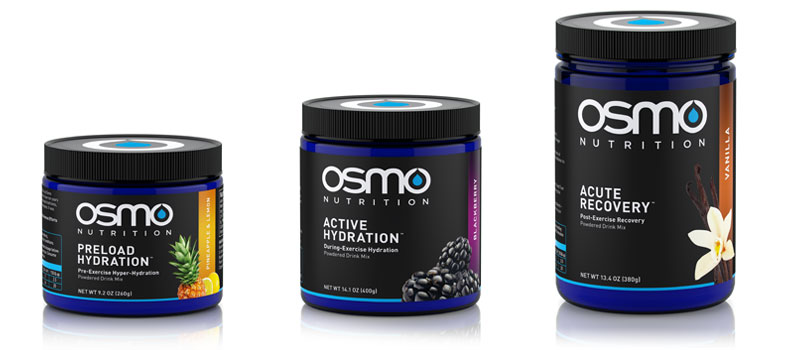 At OSMO, they want to enable people to lead healthy, active lives and feel and perform better than they ever have. Thus they develop products that work with the body's systems to optimize athletic performance. The magic formula is developed by Dr. Stacy Sims, who worked at Stanford University as an environmental exercise physiologist and nutrition scientist specializing in recovery, and nutritional adaptations for health, body composition, and maximizing performance. With all the science, we are all unique and it may or may not work for me. Best test is to put it into practice. And I'm glad I did!
I pre-loaded (hydrated) the night before and an hour before my first race with OSMO Nutrition Preload Hydration for men. The Preload formula is supposed to maximize sustained power, boost anaerobic performance, and reduces muscle fatigue. It takes a while to get used to the saline after taste but using cold water or adding ice cubes might help minimize that. During competition, I used OSMO Active Hydration for men. The Active formula is supposed to increase power output, endurance, and reduces cramping. Loved the blackberry flavor!
I can honestly tell you that I never felt dehydrated or have any muscle cramps, and did not feel overly tired during my competition. I did feel some muscle fatigue but that is because I'm not ready physically as I lacked training. To prove to myself that this is not a fluke, I did a trail recovery run the next day without Preload or Active (just water an hour before) and I already felt dehydrated after 2 miles!!! And it's too late to refuel after that…
I did not get a chance to try out OSMO Acute Recovery for men. It is supposed to speed recovery, optimize training adaptations, and rapidly restore glycogen. But I highly recommend trying them out. By the way, there is also a version just for women and formulated differently than the men's version – different formula for different bodies.
KT TAPE
KT TAPE is an elastic sports and fitness tape designed for muscle, ligament and tendon pain relief and support. Designed to give you pain relief and support, KT TAPE is applied along muscles, ligaments, and tendons (soft tissue) to provide a lightweight, external support that helps you remain active while recovering from injuries. Even though I did not get injured, I used the KT TAPE for my muscle soreness especially after the jump events. My hamstring and thigh muscles were extremely sore after 2 days. It gave me additional support while I ran a couple of 3 to 4-milers on the trails for recovery two days after the meet.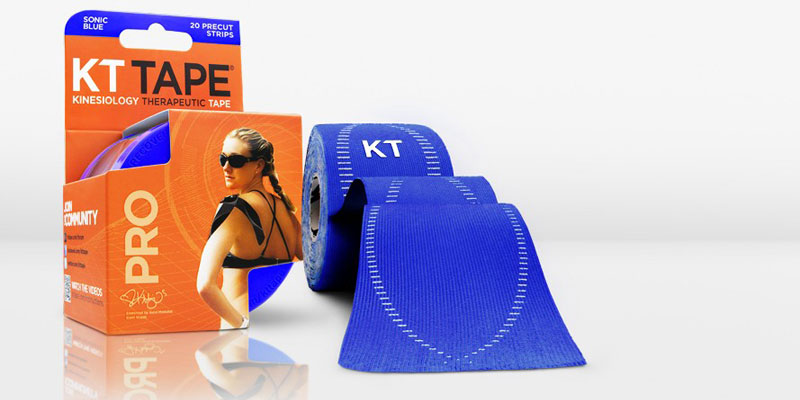 KT TAPE is made up of specially engineered, ultra-durable synthetic fabric designed to provide durability and increased strength. These materials provide unidirectional elasticity thus allowing the tape to stretch in length but preventing the tape from stretching in width. These fibers are made to provide stable support without restricting motion.
KT TAPE's unique Matrix Mesh also allows for moisture release which is critical for comfort and wear-ability. The more porous the tape's weave, the better it releases moisture caused by sweating or being worn in the water. The design provides more breathability and release of moisture so that it is comfortable to wear for up to five days at a time without itching, irritation or reactions with the skin.

New Balance 500v3 and NB 400 spikes
I've been searching many years for a pair of sprint and jump spikes that I can wear for training and competition for MULTIPLE events for MANY hours at a time. Going through many models from Saucony, Puma, New Balance, and Asics, I have finally found a pair that is 85% there – for me personally, that is. Welcome the New Balance 500v3.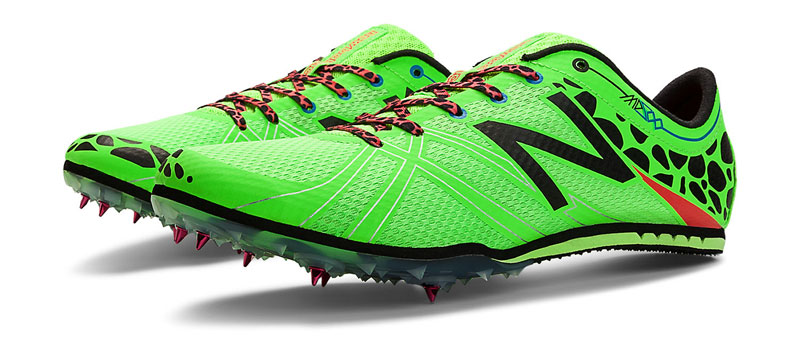 The soft synthetic breathable mesh upper is super comfortable sockless and is stretchable to accommodate my wide feet. Designed for sprints, jumps and middle distance events, the NB 500v3 has extra heel protection and a thermoplastic outsole for flexibility and durability. I wore the NB 500v3 for a full 4 hours without taking it off (other than one time to clear out the sand from the jump pit). With previous spikes, I can only wear them for about half an hour each time (sockless) before it becomes painful with hot spots or blisters. That alone is a major win for me!
For the 200m, 400m, 800m, and TJ events, the NB 500v3 is perfect. But for the 100m and LJ events, I needed a firmer outsole like that on the New Balance 400. Everyone is different but between the NB 500v3 and NB 400, I'm fully covered. I can wear the NB 500v3 for the majority of my training and competition. The NB 400 can be used for part of my training and in competition for the 100m and LJ. And I would even venture to recommend that the NB 500v3 is the minimalist spike for everyone!

Patagonia, Tribe Sports, Icebreaker Tank Tops & Shorts
I had the opportunity to test out various tank tops and shorts from Patagonia, Tribe Sports, and Icebreaker during training and competition. All three tops are lightweight, breathable, and anti-chafe. The Icebreaker Aero Tank is 90% Merino wool and totally comfortable. The Patagonia Fore Runner sleeveless is 100% recycled polyester that is fast wicking and provide UPF 15 sun protection. The Tribe Sport Performance singlet 4-way stretch moisture wicking (88% Polyester, 12% Spandex) fabric also has 360 degree reflectivity for enhanced visibility in low light. Each have their own strengths and I loved all three. But for someone looking for an affordable top, the Tribe Sports singlet price tag is a no brainer.

All three shorts are also lightweight and comfortable. I used them extensively for training but come competition time, I had to use a super lightweight pair from Under Armour because I wore the Opedix CORE-Tec shorts (see next section) under it. But I do want to point out that the Patagonia Trail Chase shorts can almost replace my all-time favorite shorts, The North Face Better Than Naked split shorts. It has all the features I love – lightweight, secure rear pocket, stretch air flow mesh, and extra storage pockets.

Opedix CORE-Tec Shorts
The Opedix CORE-Tec short incorporates patented Opedix Technology to enhance core stability while alleviating hip and back pain during training, rehab and everyday pursuits. Utilizing a 27-panel construction and a combination of stretch and non-stretch fabrics, the CORE-Tec short mimics the gluteus-medius muscle to align the pelvic region, promoting a neutral pelvis—giving you the ability to perform at your highest level and improving the way you move.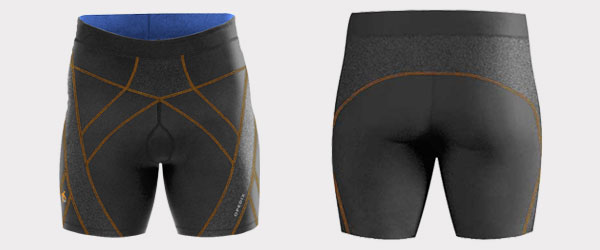 Opedix CORE-Tec Shorts have scientifically designed tensioning systems within a comfortable, form-fitting base layer to enhance the kinetic functioning of your body. The CORE-Tec Shorts helped support the core and enhance hip & knee joint function. I chose it specifically for my Long Jump and Triple Jump events. In competition, I never felt as much lower back pains that I get during training jumps (without wearing CORE-Tec) and absolutely no knee pains.
Used in conjunction with my compression calf sleeves, the CORE-Tec Shorts reduced or eliminated back and knee pains thus giving me a shortened recovery period! And preserving my muscles and joints for future events. You could probably wear it standalone for sprints but I wore mine under my UA sprint shorts. I still alternate between my CompresSport Quad sleeves and the CORE-Tec Shorts to switch it up.
Additional Secret Training & Competition Tools from Mio Global, ElliptiGO, and Tifosi Optics
I always wear a heart rate monitor during training as I truly believe in heart rate training. Personally, at my age of 55 and competing in Masters/Senior track & field events, injury-prevention is key. For endurance training days, using body fat as fuel is also key. The Mio LINK has permanently replaced BOTH my Magellan ECHO (Bluetooth) and Garmin Forerunner 610 (ANT+) chest straps. So train smart, train with heart with the Mio LINK!

The folks at ElliptiGO were kind enough to loan me one of their elliptical bike, the ElliptiGO 8C, for my training and recovery. But because of the wet weather and my hectic start-up 'day job' schedule, I have not been able to utilize and maximize its benefits for my training. For the limited runs I have on the ElliptiGO, I was able to work on my cardio intensely without stressing my knees and feet by doing sprint rides (fast bursts of 100m to 200m on the ElliptiGO on straight-aways). As we get older, pounding the pavements or trails more, and worst yet, getting injured, the ElliptiGO is the perfect training, recovery, and cross training tool! I try to preserve my knees, hips, and lower back whenever I can if I don't have to jump or run. Riding on the ElliptiGO gives me an intense cardio workout without stressing my knees and joints for long hours – how can you get a great cardio workout without muscle soreness the next day? P90X is great but I suffer muscle soreness for days. The only muscle pains I get with the ElliptiGO is on my triceps because I'm still not an expert rider yet! I grab the handle bars too tight…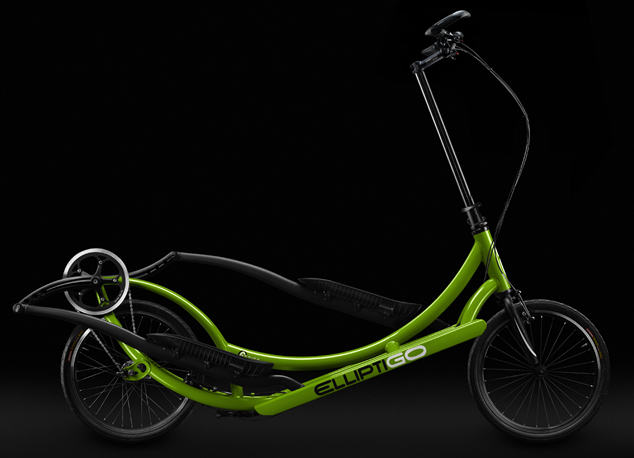 This is the first year I started wearing sunglasses DURING competition. I have finally found a pair that I'm comfortable wearing all day long. The Tifosi Optics Tyrant 2.0 Interchangeable sunglasses has a snug and comfortable fit that stay on my face while sprinting AND jumping. It is the only pair from any brand in my collection that I trust for competition wear. I broke a pair of my Tifosi  Optics Podium when it fell off and snapped in two – another athlete stepped on it…

Final Wrap Up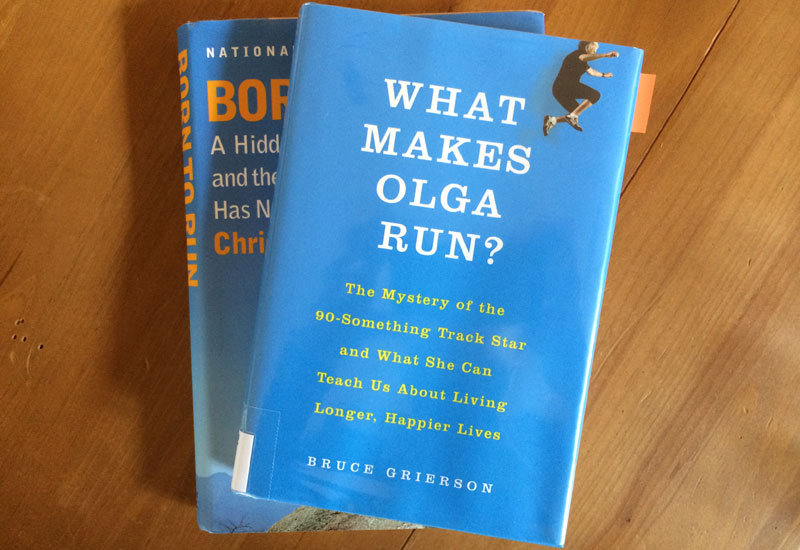 I've been participating in seniors track & field since 2011 and it is one way to stay motivated and stay in top shape for many more decades to come. If you haven't read the book, 'What Makes Olga Run?' by Bruce Grierson, pick one up. It is super-inspiring and I would put it as a must-have read in the same category as 'Born To Run' (BTR). It all started with BTR for me and that's how our Wear Tested web site was started. I read BTR at age 49 and started my journey to getting back to running and competing in seniors track & field. I have a similar motive as the author – what was Olga doing when she was younger so we could avoid any mistakes as we get older. Is it forward thinking for Olga or she just lucky? Is it training, food/diet, or sleep? One primary lesson learned from this book is that exercise is the best cognitive brain builder especially in the growth of the hippocampus, the brain region that senses stress and reacts to it. Medical studies have also found that exercise is better than Zoloft for treating depression. It is not clear what kind of exercise is best but as most research is done on aerobic exercise, it has the strongest supporting data. And a minor miracle is exposed. You can introduce exercise at any point in your life, right up into very old age, and reverse any decline you might have had. A secondary lesson learned from this book is to mix endurance activity with strength activity. Don't just run. Mixing the two allows us to continue train and get maximal benefits as we get OLDER.
Remember, Mix It Up, Run Natural, Run Free. The competition never ends!