It has been over a year since our annual sunglasses review and interchangeable sunglasses review. Rather than waiting for a group review, it is more efficient to not have to depend on availability and review vendors as they come into our pipeline.

In this review, we are testing out the Tifosi Optics Podium, a revolutionary frameless eyewear system that allows an unobstructed line of vision for the wearer thus providing a great advantage for triathlon, cycling, golf, and other active sports.

The Podium features a one-piece de-centered polycarbonate lens with an easily removable nosepiece and temples. The effortless lens-changing design eliminates stress on the eyewear components, avoiding damage to the lens, temples and nosepieces.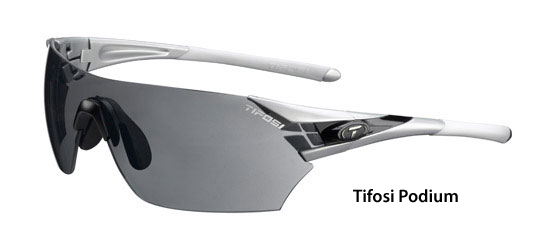 The Podium is available with a set of 3 interchangeable full-shield lenses or with a single Fototec shield lens (not reviewed here), which automatically adjusts to changing light conditions. Two sizes are available: the Podium, for medium to large face sizes, and the Podium S, for small to medium face sizes.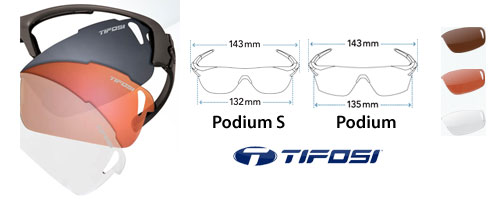 Hydrophilic rubber nosepieces and temples prevent slipping, even in sweaty conditions. A selection of temple colors are available, and all come with a zippered case and cleaning bag. All Tifosi lenses provide 100% protection from harmful UVA/UVB rays.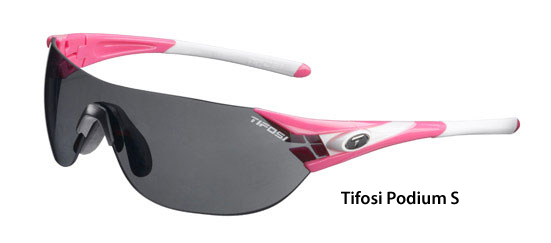 Frame
The frame is made of Grilamid TR-90, a homopolyamide nylon characterized by an extremely high alternative bending strength, low density, and high resistance to chemical and UV damage. Adjustable ear and nose pieces for a customizable, comfortable fit.
Store all your lenses, frame and cleaning cloth (bag) in a zippered case.
Lenses
The Podium unit we tested comes with 3 interchangeable lenses:
AC Red (all conditions red) with 27% light transmission (LT)
Clear with 98% LT
Smoke with 17% LT
*LT = Light Transmission: The amount of visible light, not UV light, that is able to pass through the lens and reach your eye. The lower the number, the darker the lenses.
All lenses provide 100% protection against harmful UVA/UVB rays.
There are also Podium models with EC (extreme contrast) and GT (golf/tennis) lenses for other sports like biking and golf/tennis.
Interchangeability
The best feature of the Tifosi Podium is the ease of changing lenses. I thought the Smith Optics PivLock V90 system was fast until we encountered Tifosi 's as shown in the video below.
Full lens change and nose piece adjustment in seconds!
Conclusion
The Podium performed very well in varying weather conditions in Northern California for the past few days. I also used the Podium for walking and driving to fully test out the slight hassle of having to change lenses and the comfort of various lens in different lighting conditions. I did not get any headaches!
For running, they stayed on my face and during hot sessions, some of the sweat got onto the lens and after multiple cleaning with my running top, the lens remain unscratched. It does not fog up easily due to the great air circulation in the design – a welcomed feature for before and after running.
I noticed that the difference between the Podium and Podium S is small (3mm) and both worked well on my medium face size. The bottom of the lens on the Podium did touch on my cheeks once in a while over long runs and I had to readjust the ear and nose piece. I did not have that issue with the Podium S style.
The Tifosi Podium and Podium S are available in 2 colorways each (running) for both men and women although the design of the Podium is more suited for men. Ladies might prefer the styling of the Podium S a lot more.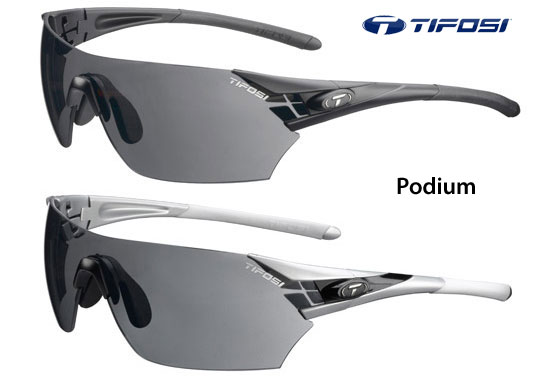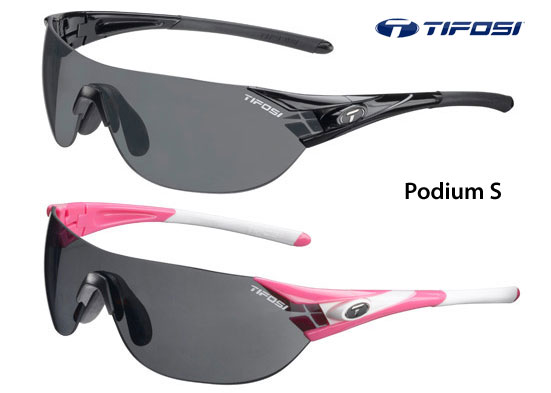 They are also available in additional colorways for biking, golf, and tennis (different interchangeable lenses or fixed single lens).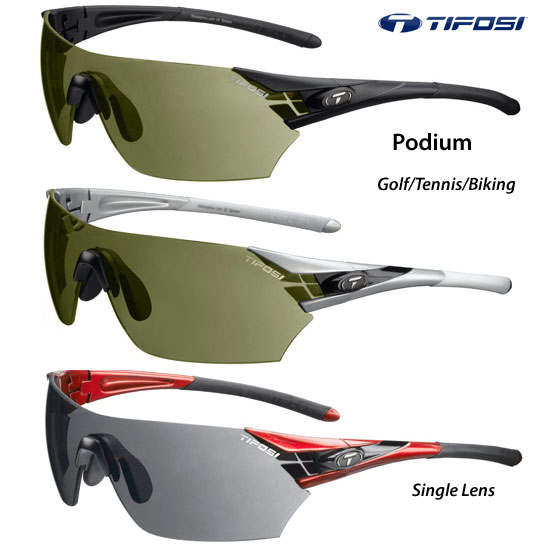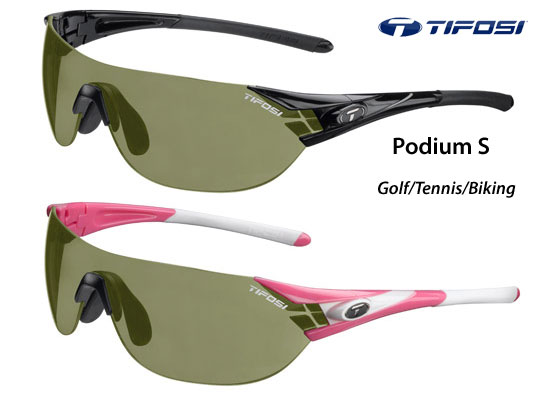 The Tifosi Podium is now available at Holabird Sports: Podium, Podium S.
*Product provided by Tifosi Optics (MSRP $70). CMP.LY/1 Review
If you have a product you'd like reviewed, contact me at info@weartested.org