Digital Only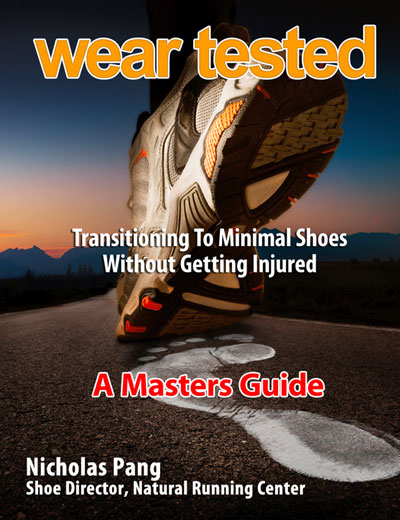 Wear Tested
Transitioning To Minimal Shoes Without Getting Injured
Wear Tested is available for download on your Apple iPad with iBooks 2 or on your computer with iTunes. To read this book, you must be using an Apple iPad with iBooks 2.
How would you like to be able to run 5 to 6 days a week and putting in 20 to 30 or more miles without back pains, plantar fasciitis, and orthotics?
How about running injury-free for the next 50 years and being able to compete in track & field and other sports?
That is exactly what I'm doing today (September 2012) at the age of 53. I've transitioned from traditional running shoes into minimalist or barefoot-style running shoes and changed my running form from heel-striking to midfoot/forefoot striking or the natural running form. But I learned it the hard way with many injuries along the way. Fortunately, you have taken the right step by reading this book and I will show you how to transition to minimalist running shoes, change your running form, and run injury-free, all without getting injured along the way.
Apple iBook Edition

Now available on Apple.
In Print & Digital
Tools For Developing Good Form & Running Injury-Free
A Practical Guide To Understanding And Using Minimalist Running Shoes To Develop Good Running Form
TMR eBook Edition
Now available on these eReaders: Amazon Kindle, Apple iPad, Barnes & Noble Nook, Borders Kobo, Lulu.com
TMR Print Paperback Edition
Now available at Amazon.com
Table Of Contents
1 – INTRODUCTION
What This Book Is About
What This Book Is NOT About
Resistance Is Futile
My Painful Journey
The Driving Forces
Shod Versus Un-Shod
Unlearn Everything
The Minimalist Lifestyle
What Kind Of Runner Are You?
2 – GETTING READY
What Is A Minimal Shoe?
Growing Pains
Minimalist Training Exercises
Common Running Injuries
3 – RUN NATURAL, RUN FREE
So Many Running Styles
Transitioning To Minimalist Running Shoes
Training Programs
Minimal Shoes Recommendation
4 – THE CRYSTAL BALL
The Six Pack – Companies To Watch
The Dirty Dozen – Minimalist Footwear Manufacturers
Going Forward
5 – APPENDIX
Books
Videos
Scientific Studies
Glossary
Author's Biography
What This Book Is About
Lessons Learned From My Journey To Minimal Shoes – How I discovered that I can run with minimal shoes after being unable to run with traditional running shoes.
Transitioning To Minimalist Running Shoes – My real life and detailed transition plan from 30+ years on running in traditional running shoes to minimalist running shoes.
Develop A Better Running Form – The secondary goal of this book is to take the best techniques from barefoot running and minimal shoe technology to develop a running style that reduces injuries and improves performance.
Minimalist Running Shoes – Latest shoe technology and line of minimal shoes from A (Altra Running) to Z (ZEMgear) footwear manufacturers. And what's coming in 2011.
Finding The Right Shoe – The primary goal of this book is to educate runners how to choose a pair of minimalist running shoe that offers a gradual transition towards a more natural running style that requires less cushioning and is very lightweight.
What This Book Is NOT About
Running Less – Minimalist runner is not about running as little as possible! There is already a book by Runner's World magazine called, "Run Less, Run Faster" that teaches runners at all levels how to improve their race times while training less, with the revolutionary Furman Institute of Running and Scientific Training (FIRST) program.
Barefoot Running – Barefoot running play an important role in your minimalist training program but this book's primary focus is on transitioning from traditional running shoes to minimal shoes, shod, but not barefoot (unshod).
Barefoot Running versus Shod Running Debate – Which is better? There are many benefits to running in barefoot. There are also many benefits to running in shoes. I will highlight the benefits and take the best from both but I will NOT debate which is better – that is left to the dedicated running blogs.
Injury Prevention Guide – There are many books out in the marketplace on this and related topics. I am NOT the expert or a medical professional or a coaching professional so I am not qualified to give such health and medical advice in this book.
Running Books Library
These are must-have books for your running library.
Where else can you buy books at a discount like Amazon? If you're with Amazon Prime (proud member for many many years), you'll get FREE 2 day shipping in addition to no sales tax!