I sit on my desk for long hours daily… The average knowledge worker spends more than 9 hours every day slumped in an office chair. Focal Upright challenges both the design of the traditional chair and the notion that you have to be seated to get serious about your work. Their radical standing desk seats, standing desks, and standing-height conference tables put you in an active and engaged position halfway between sitting and standing. It's never been this easy to get in the flow, inside the office and out.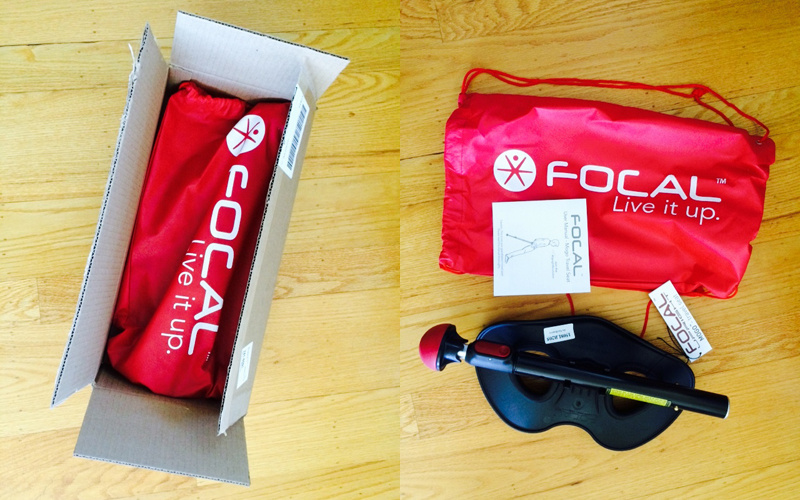 Sitting disease is a term used to describe the myriad health problems associated with long-term sedentary work and leisure activities. The deleterious effects of sitting on our bodies can begin within minutes. Focal's body-conscious approach, a neutral spine, open hip angle, and gentle motion, addresses these issues in a simple, easy-to-use way.
Focal Upright Mogo is a seat designed to let you take your upright lifestyle with you wherever you roam, indoors or out. It's a lightweight portable seat, ready to support you in any setting. Mogo will support you at the sideline of the soccer field on a Saturday morning, or relaxing on a warm summer evening at a music festival. Mogo is right at home in the conference room too, allowing all those outside-the-box ideas to fly. At just two pounds, it is fully collapsible to fit into your tote bag or strap to your backpack.
Primary Features
Mogo works both indoors and out. The soft durometer rubber foot works on non-slip indoor surfaces, while the reinforced-fiberglass turf tip keeps you stabilized on grass, dirt, and turf.
The pivoting seat leg has an impressive range of motion, empowering you to stay active and healthy. Whether you are working on a financial report or snapping a photo, Mogo keeps you energized, supported, and in the zone.
The seat fits users up to 6'8″.
The seat pan is designed to comfortably cradle your bum. The seat's durable, easy-to-clean cushion provides the optimal level of support, reducing pressure points.
Ergonomist tested and recommended.
Works in home offices, corporate offices, open offices, conference rooms, and co-working zones. Also can be used on the golf course, on the soccer sidelines, and more.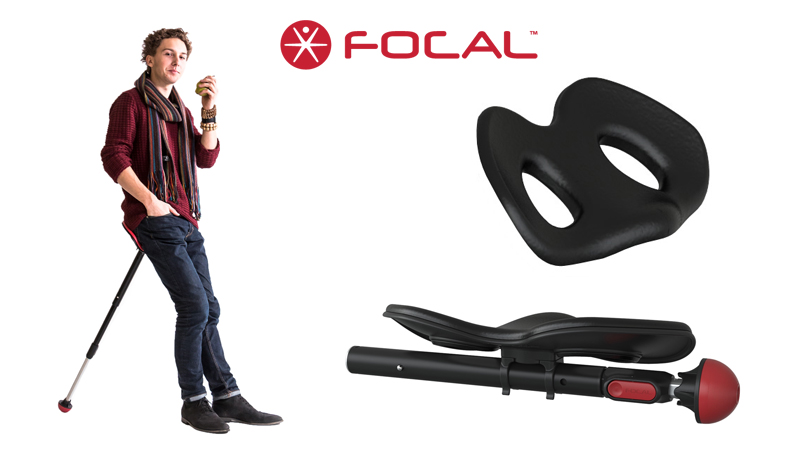 The Focal Upright Mogo is my dream chair, a minimalist's dream. Mogo is a leaning seat you can use anywhere but most importantly, it keeps me relaxed and upright with increased blood circulation, muscle engagement, and greater energy. Rather than taking breaks every 2 hours, I'm always on my feet now! I don't have to rely as much on my Backjoy Sit Smart anymore…
The Mogo is also the perfect complement to a standing desk like the Varidesk Pro Plus (I have a fixed desk) accommodating my dual monitors or the Focal Upright Sphere and Locus standing desks (these are beyond my budget but maybe in the future). You can move the Sphere or Locus around easily.
The telescoping leg is made of anodized aluminum with a 3 stage extension and multiple locks for various heights. Supports up to 250 lbs. The reversible foot is made of soft durometer rubber with fiberglass and easily screws onto the leg to adapt to hard or soft reinforced nylon turf tip surfaces. The whole Mogo unit weights less than 2.5 lbs. Wow!
Currently available in two colors for the seat cushion (Chili Pepper and Black) at Focal Upright online. You can also upgrade to the Focal Locus or Focal Mobis seat – not for outdoor use though.