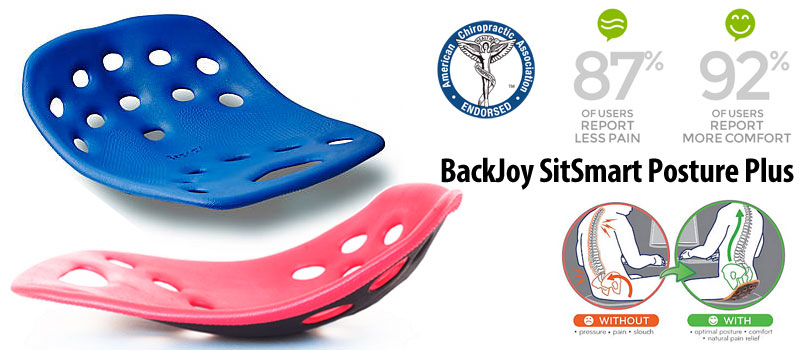 When you spend over 16 hours a day sitting in front of a computer like most programmers or technologists in Silicon Valley, you'll appreciate what I'm about to tell you. My back and neck hurts from long sessions on the computer. The 'minimalist' solution is the Backjoy Posture Plus – Dr. Mark Cucuzzella from the Natural Running Center recommended it a few months back but I wanted to test it out for myself. Dr. Mark even carry it with him on all the flights he goes on around the globe. I should have listened to him earlier…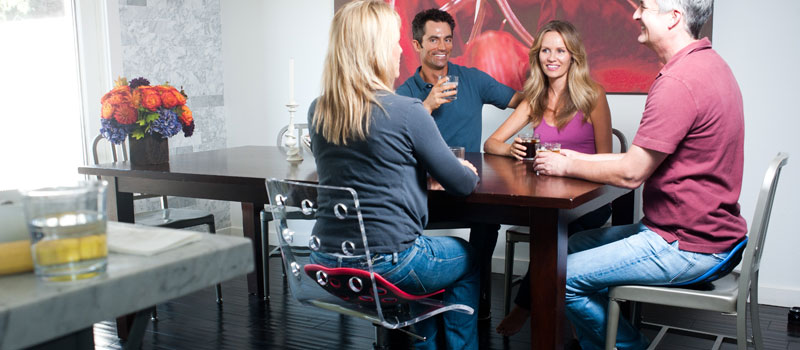 The Backjoy Posture+ patented design encourages optimal posture and engages core muscles so you can sit more comfortably, and correctly, to get more out of life. Posture+ is not a simple cushion.  It contains BackJoy's Active Stabilization™ technology.  It was designed so you can automatically sit with optimal sitting posture, anytime, anywhere.  And with the impact absorbing, all-conditions skin you can sit from the office chair to a rock hard surface with greater comfort, longer.

Simply put, here is how it works:
Backjoy Posture+ APS corrects your posture by automatically tilts, cups, and floats your pelvis upright so you can find your most balanced and comfortable posture.
Backjoy Posture+ naturally maintains your posture while you sit by automatically adapting to your movements to provide constant strain free comfort and optimal posture without having to even think about it.
BackJoy Posture+ engages your core muscles by dynamically supporting your pelvic floor to engage your core. With natural balance and support, you will feel comfortable, stronger and less fatigued after sitting for long periods of time.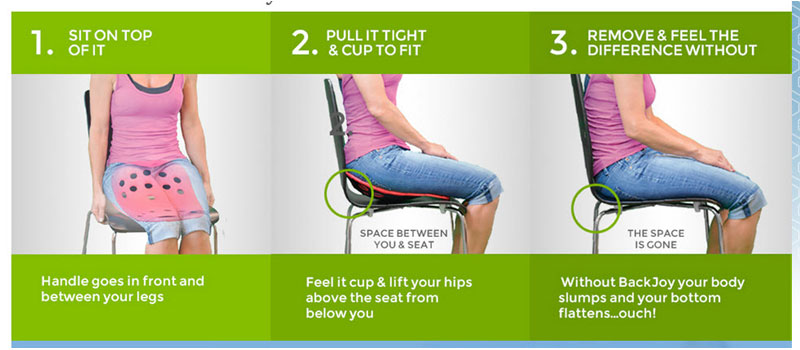 Here is how to use the BackJoy Posture+ in 3 easy steps…
Review Summary
The first question that came to mind when I received the Backjoy Posture+ is, 'How long do I have to use it to feel any results?'. My personal answer is three days. But many users experience immediate relief while some require several weeks of regular use to feel the benefits. Thus your results will depend upon your underlying conditions and how often you use your BackJoy Posture+.

Mine sits on top of my computer chair and I usually take the wallet out of my back pocket to get better alignment and balance. But I did find that when I took it for long drives (6 hours+ each way) to Southern California recently, I did not experience the benefits (my lower back and glutes had an uneasy feeling during the drive) probably because of bad posture due to the placement of my foot on the gas pedal or brakes.

The Backjoy Posture+ can be used in more places than you actually realize. Basically, anywhere you sit, it works!
The Backjoy Sit Smart Posture+ is available in over a dozen color combinations.

The Backjoy Sit Smart Posture+ can be purchased at Backjoy.
*Product provided by Backjoy. CMP.LY/1 Review
If you have a product you'd like reviewed, contact me at info@weartested.org