Natural running company Inov-8 introduces TrailRoc, a new range of trail running shoes designed specifically for running on loose, rugged and eroded trails. With three different options (Trailroc 235, zero drop; Trailroc 245, 3mm drop; Trailroc 255, 6mm drop) of varying cushioning, protection and differential, there is a new TrailRoc shoe for every trail runner's need.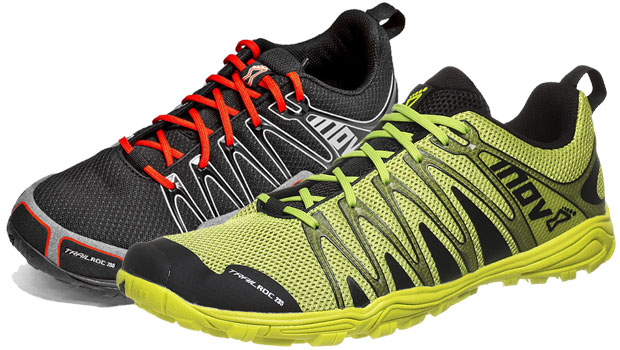 TrailRoc Fit
The Trailroc is designed so that any runner can run in total confidence and comfort. The anatomic fit allows the runner's foot to spread and grip the ground, promoting a natural running style and providing protection for long days out on the trails. The Met-Cradle lacing system ensures that the foot is held securely while ascending, descending and contouring.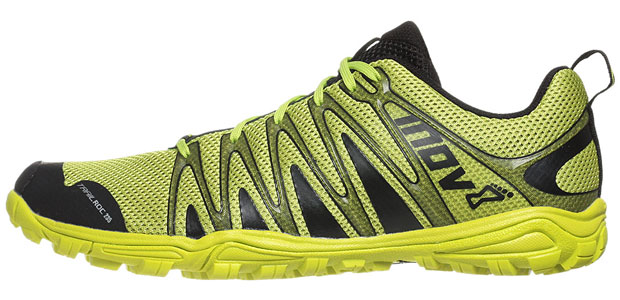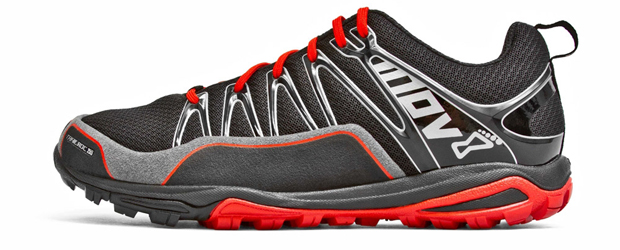 TrailRoc Protection
Inov-8 shoes offer a range of cushioning and differential named Shoc-Zone so that runners can choose the shoe most appropriate to their style and transition down the Shoc-Zone to a more natural style of running.
There are three shoes in the Trailroc range, each with varying levels of cushioning and differential. So whether it's a 5k sprint trail race or the Leadville 100, whether the user has a natural running style, or prefers more protection, there is a Trailroc for every trail runner.
Trailroc 255 (Shoc-Zone 2) – 6mm differential
Trailroc 245 (Shoc-Zone 1) – 3mm differential
Trailroc 235 (Shoc-Zone 0) – 0mm differential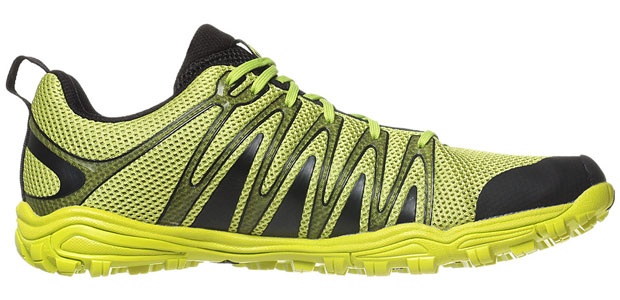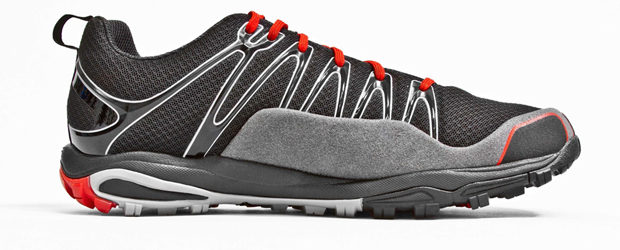 TrailRoc Grip
The Trailroc sole has been optimized for the loose, rugged and eroded terrain of the trails. It has been divided into three areas with different compounds (Tri-C compounds) and cleat sizes depending on how each section is used when running.
Endurance rubber and larger cleats are used in the highest wear areas. A hard sticky rubber compound and large cleats are used on the outer sections, the areas used for grip and stability. The toe and inner arch are made up of soft sticky rubber and smaller cleats to bite through the top terrain into the hard base below.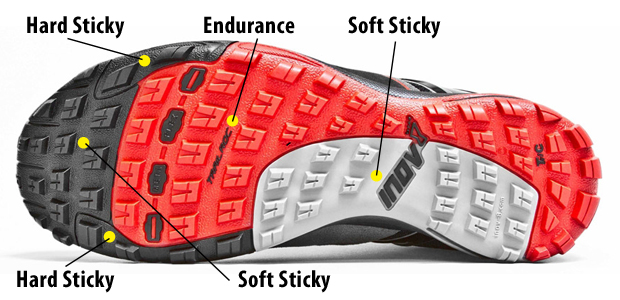 So did the TrailRoc 235 and 255 perform to expectations?
My TrailRoc 235 (US Men's Size 10.5) weights in at 9.2 ounces. My female wear tester Claire received a pair of TrailRoc 255. She is a cross country runner and wanted some protection on her feet. But her first impression is that the TrailRoc 255 looks bulky! Maybe I should have recommended the 245 for her instead.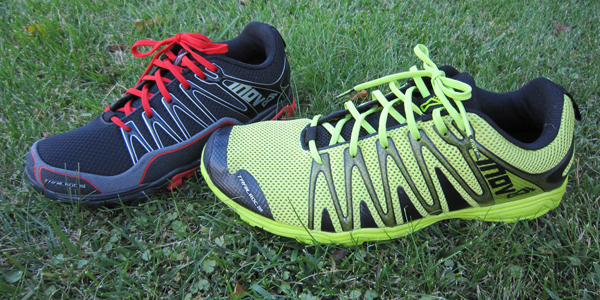 When I tested the first zero drop trail shoe from Inov-8 last year, the Bare Grip 200 had a really narrow toe box. I even sized up by one full size and it is still a little snug. But I loved it otherwise. So with a new anatomic last, the toe box is now a lot wider and even fit my 2E+ width feet – my toes can now splay out unrestricted for feel and balance.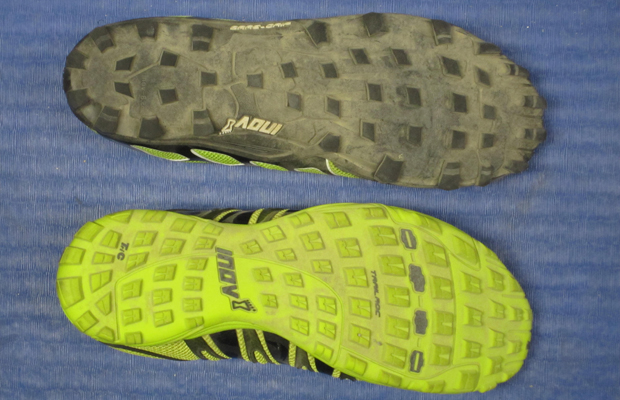 All around, the TrailRoc 235 is a lot wider but about an ounce heavier than the Bare Grip 200. The Merrell Mix Master 2 is a very comparable shoe to the TrailRoc 235 in terms of weight, comfort, fit, performance – only difference is a 4mm drop which is also unnoticeable. The uppers on the TrailRoc 235 is however smoother, softer and more comfortable than the Mix Master 2.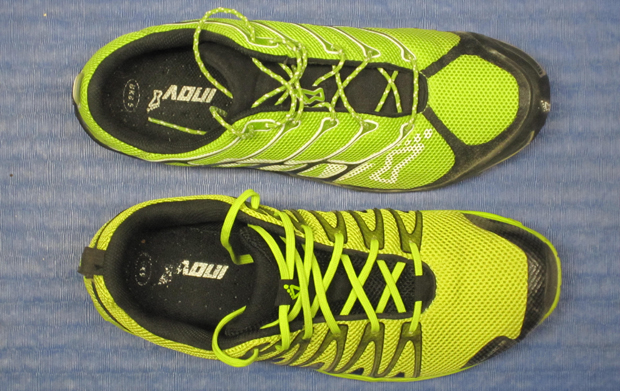 The Met-Cradle lacing system consist of lightweight overlays that keep the uppers snug on your foot and hold your foot securely to the mid/outsole for performance wherever the trail takes you. But I prefer it loose for most of my runs and having that option when racing is welcomed – perfect for ascending, descending and contouring.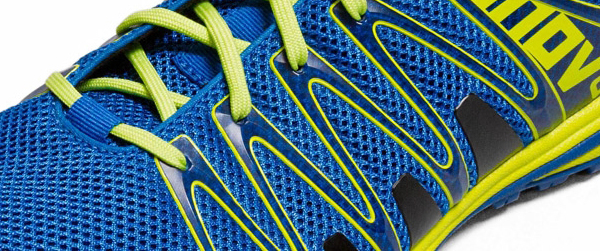 The Meta-Shank built-in rock guard is included in the 245 and 255 and offers added protection from rocks and other trail debris. With the 235, I can feel every rock and pebble that I step on. The traction is the same as the Bare Grip 200 – awesome. The cleat-like sole features numerous edges that offer additional grip that bites through any terrain!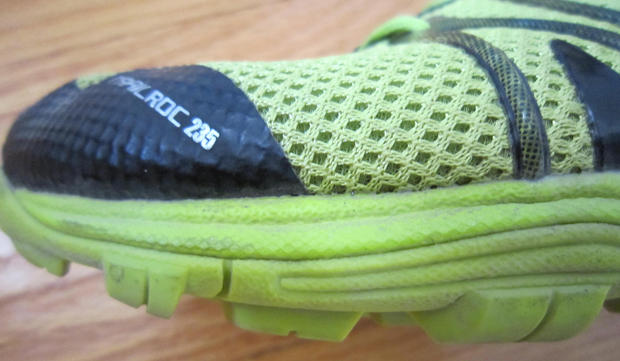 Running sockless, the footbed is smooth and the seamless uppers gave it a snug and comfortable fit with no hot spots or blisters. It is a joy running trails with the TrailRoc – the 235 Lime and Black colors reminded me of a banana slug!
How about the TrailRoc 255?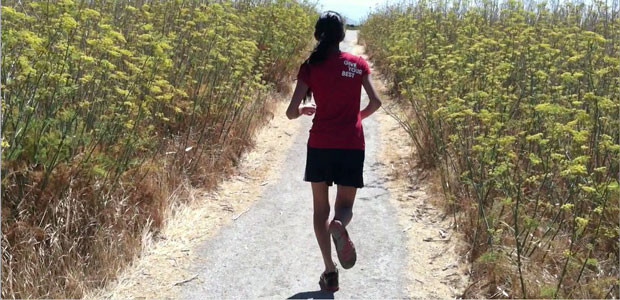 My wear tester Claire thought the TrailRoc 255 was too bulky compared to the Brooks Green Silence, Brooks Pure Connect, and Merrell Dash Glove that she runs in. But after taking the 255 out onto the trails, she confirmed it. It may have too much protection for non-technical trails or flat trails but for cross country training, it is fine. For racing, she definitely prefer a lighter and lower to the ground model like the TrailRoc 245.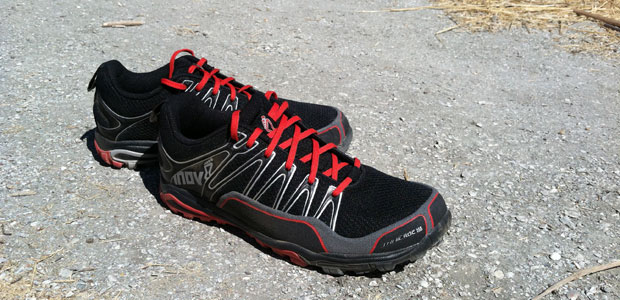 Even with a 6mm drop and higher stack height on the TrailRoc 255, she could feel the small rocks and debris under her foot – proprioception with this shoe is still there! That is a welcomed feature for those running on technical or gnarly trails for better response and balance. Even though the Brooks shoes she run in have some cushioning just like the TrailRoc 255, she still prefer something less. In hind sight, the TrailRoc 245 would have been a perfect model for her.
My prediction is that the Inov-8 TrailRoc 235 will become one of the top lightweight minimal trail shoe of 2012! It is my favorite trail shoe that I rotate with the Merrell Mix Master 2 and New Balance Minimus Zero Trail.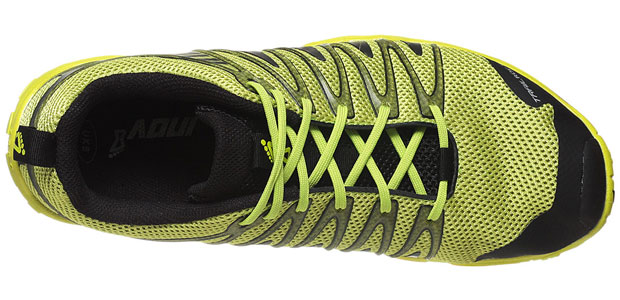 The unisex Inov-8 TrailRoc series is available in a single colorway each for Fall/Winter 2012. In Spring 2013, there will be women specific models (TrailRoc 226, 236, and 246) and different colorways.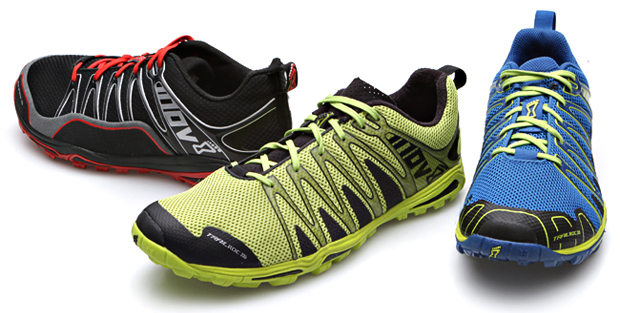 The Inov-8 TrailRoc 235, 245, and 255 are now available at: Road Runner Sports and Zappos.
*Product provided by Inov-8 (MSRP $120). CMP.LY/1 Review
If you have a product you'd like reviewed, contact me at info@weartested.org