Recently, I've written about how many footwear manufacturers have been publishing educational materials to help runners transition safely from traditional running shoes to minimalist running shoes and natural running form. Inov-8 published their 'Making The Transition To Natural Running' booklet last month. Newton Running have tons of articles on their web site on natural running. Now Saucony is showing runners how to step into minimalism through a series of shoes that they have already announced but coming into the market next month (two models are already available nationwide).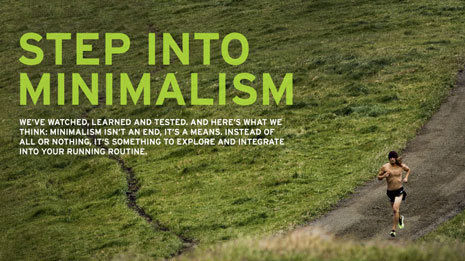 Saucony has  a simple three step process:
1. Strengthen Your Feet – Minimalist shoes let your feet react naturally by allow the muscles and tendons to flex thus resulting in increased foot strength.
2. Transition Slowly – Add a minimal shoe to your weekly rotation thus helping you strengthen your muscles gradually and safely.
3. Choose The Right Shoe – Every runner is different so Saucony is offering a range of minimal shoes for a variety of feet and training approaches.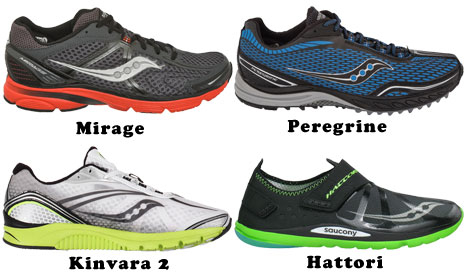 The ProGrid Mirage is a perfect road shoe to introduce a runner to minimalist shoes who requires some cushioning and stability. This is a lightweight (8.9 ounces) and responsive shoe with only a 4mm differential.
The ProGrid Peregrine is a perfect trail shoe for runners who runs dominantly on trails. This is a lightweight (9.1 ounces) low profile and responsive shoe with a 4mm differential. Multi-directional lugs and sticky rubber outsole provide for great traction and grip.
As the runner builds and strengthens their feet, they will next migrate to the ProGrid Kinvara 2 after transitioning from traditional running shoes with the Mirage, Peregrine, or other bridging minimal shoes. The Kinvara 2 is a stable 4mm differential lightweight (7.7 ounces) shoe with a carbon rubber outsole material that offers exceptional traction properties without sacrificing durability.
After graduating from the Kinvara 2, the runner will eventually get close to barefoot with the Hattori. The Hattori is Saucony's lightest (4.4 ounces) and most minimal shoe with a zero differential. Designed to be slipped-on with a hook and loop Velcro closure, the Hattori fits like a mitten and has a ultra-wide toe box.
We will be reviewing the ProGrid Mirage, ProGrid Peregrine, ProGrid Kinvara 2, and Hattori in the next few weeks – stay tuned. The Saucony Mirage and Saucony Peregrine are both already available nationwide whereas the Kinvara 2 and Hattori will be available next month.