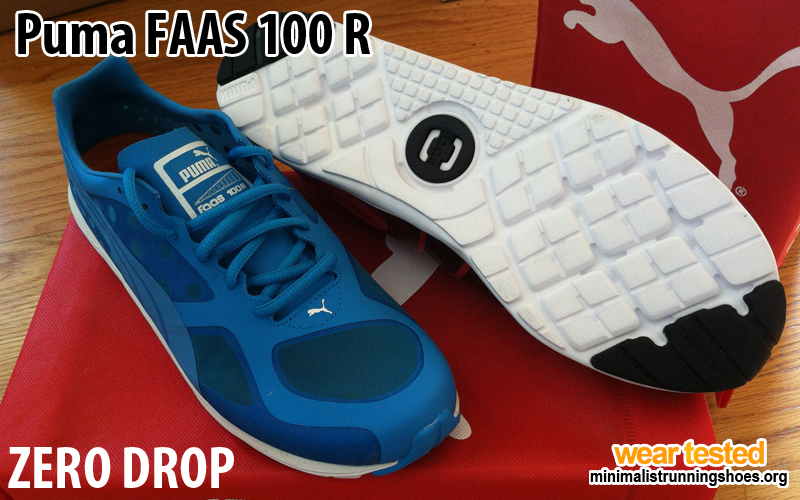 When Puma introduced the Mobium Elite earlier this year, they've started to move into the minimalist running shoes category. The FAAS collection has been around for a while and they are filling in the opposite end of the highly cushioned running shoes (1000 on the FAASFOAM scale) spectrum – lightweight and lightly cushioned shoes.

Now, the most minimal shoe in the FAAS collection, the FAAS 100 R is here! With the FAAS 100 R, Puma built this shoe for the runner who is looking to feel light and fast – a zero drop racer!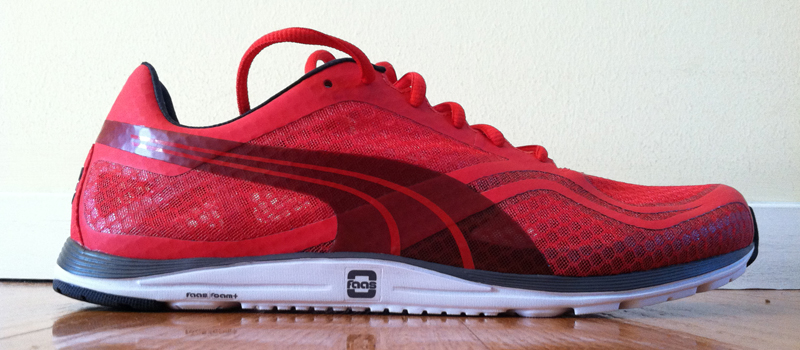 A minimal and highly breathable single layer mesh is sandwiched between bonded overlays and the internal suede forefoot support-structure to provide an extremely lightweight one-piece upper.

Midsole is FAASFOAM+, Puma's new proprietary blend of foam and rubber that is more resilient, springy, and 25% lighter. The outsole is made of high resistant carbon-rubber.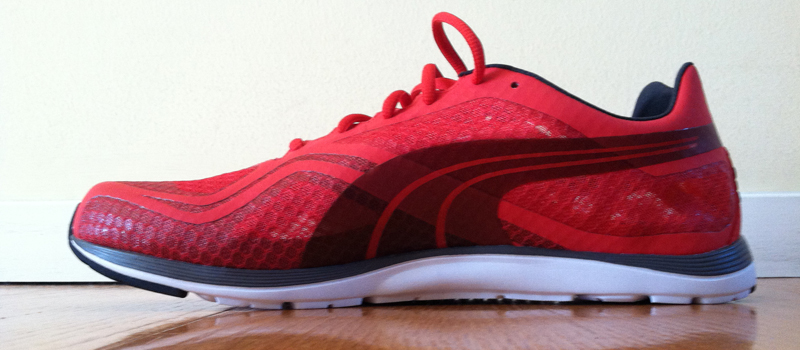 There is also a GLOW edition of this model shipping later in the month. On the outsole and the uppers are the glow and reflective materials, screen prints, and colors for 360 degrees of protection throughout the day and night.

Beside shoes, the GLOW elements are also in some of the running apparel including this Puma Night Cat jacket which I wear running and walking at night. What I love a lot about this is the slim fit not found in a lot of outer layers from other brands.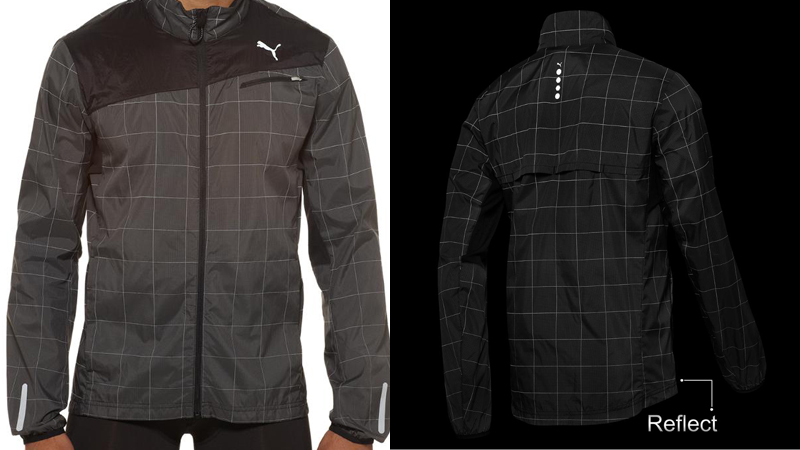 Here's an interesting video interviewing PUMA Designer Yurri Mial about the breathable, playful, thoughtful Faas 100 R.
So how did the FAAS 100 R perform?
My pair of Puma FAAS 100 R weighs in at 6.4 ounces (US Men's 10.5). Stack height is about 18mm and zero-drop. The second I put them on, I can tell it is very different from all the other FAAS models I have tested (road and trail versions). This one is just plain comfortable, lightweight, and super-flexible.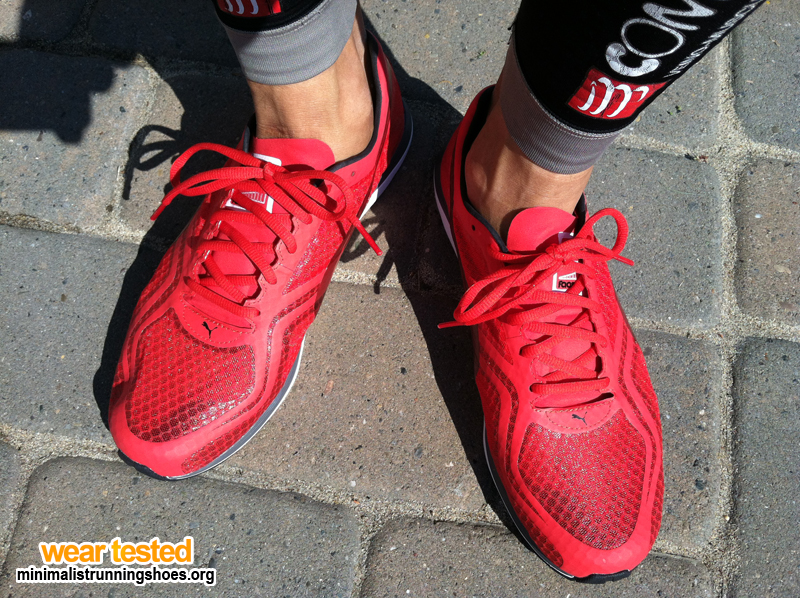 The standard width is just enough to accommodate my 2E wide feet sockless – no hot spots or blisters. It has a sockliner that is removable but you cannot run sockless without it – the footbed has visible stitching. The sockliner is about 3mm in the forefoot area so you can replace it with a thinner sockliner if you want to be even closer to the ground!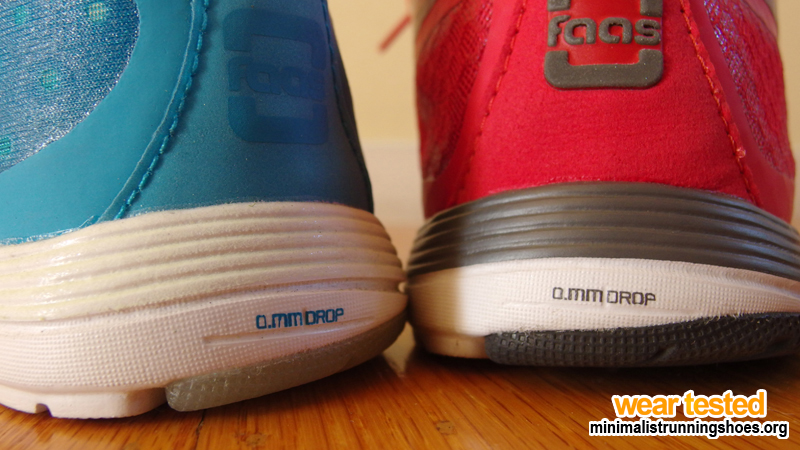 The uppers are highly breathable – even more on the Glow version (we only have the female version). You can see through the uppers if you look closely and see your toes. Running early mornings, I can feel the cool morning breeze on my barefoot!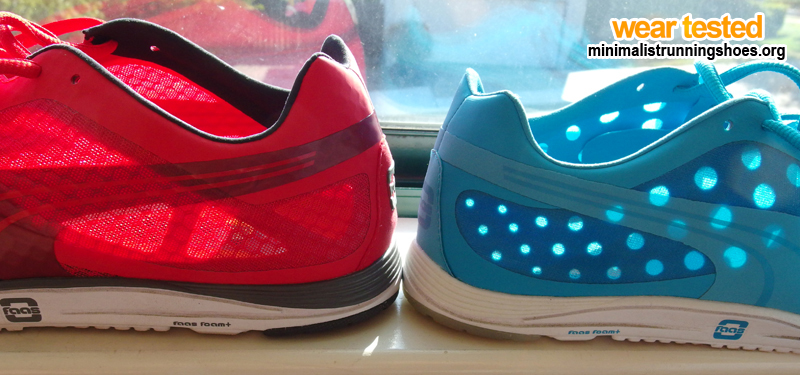 The light cushioning, light weight, and super-flexibility makes this a favorite of mine for racing and speed work. It has become part of my rotation with the Merrell Vapor Glove, Topo Athletic RR, New Balance RC5000, and Newton Running MV3.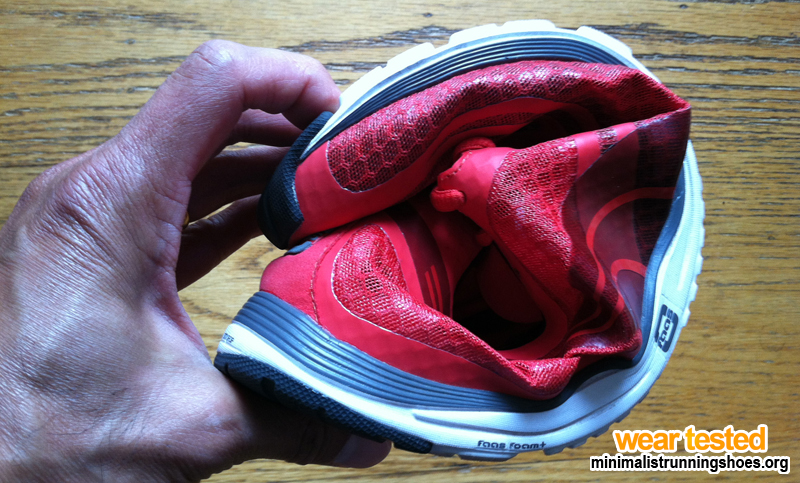 I even tested the FAAS 100 R with a 20 pound weight vest on a tartan track – I ran 2 miles with it. It is for strengthening my legs for jumping and sprinting but also a way to reset my body from just long trail running. Coupled with boot camp exercises, I hope to balance my muscles more.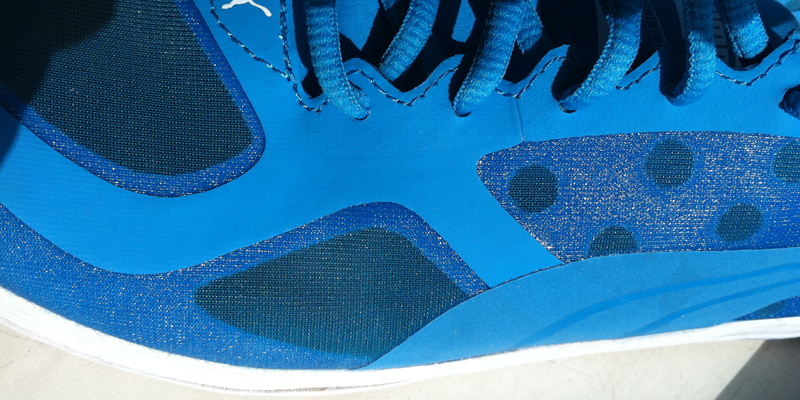 Contrary to traditional beliefs, heavy runners should be running with light cushioned running shoes rather than thick cushioned shoes. I did fine with the weight vest and FAAS 100 R. I had previously been using my Altra Zero Drop ONE with the weight vest.
A couple of nits but some are already addressed by the product team for early 2014:
The heel collar is a little too tall – I only feel this while doing long walks with the FAAS 100 R. Maybe it's just from the walking gait with heel striking.
The tongue slides around a lot for me. This is a pet peeve of mine but others might not be bothered by it. Maybe could integrate the tongue more to the uppers.
The toe box could be slightly wider. The uppers stretch a little but for those with extra wide feet (3E, 4E), it may not be enough.
Overall, Puma hit a home run with the FAAS 100 R. The FAAS 100 R is an awesome pair of minimalist running shoe for those transitioning from traditional running shoes for those already transitioned and looking for something with a little cushioning.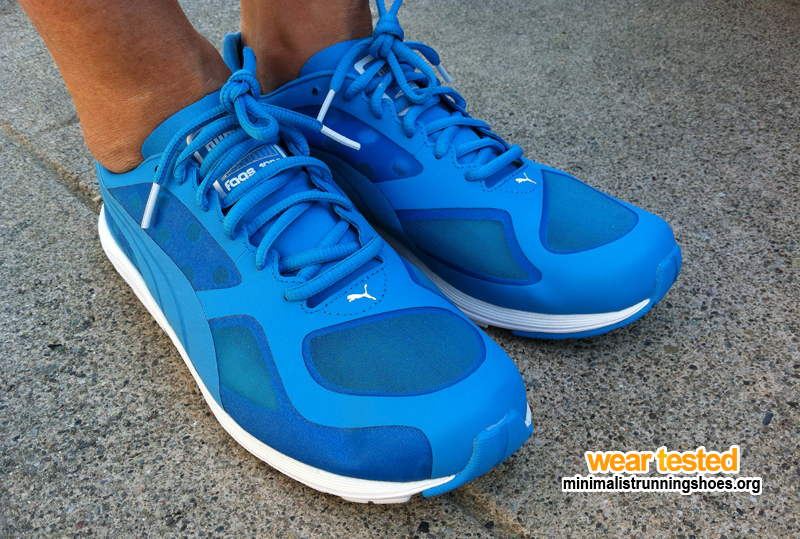 For those interested in a trail version of the Puma FAAS 100 R, there is a trail shoe coming this fall – the Puma FAAS 100 TR. We have just started wear testing that model and will have a full review here in the future.

The Puma FAAS 100 R and Glow edition is available in many colorways for both men and women.
The Puma FAAS 100 R is now available at: Puma Running and Zappos
*Product provided by Puma. CMP.LY/1 Review
If you have a product you'd like reviewed, contact me at info@weartested.org