Transitioning with the latest Merrell Barefoot running shoes
Merrell is launching their new M-Connect series of running shoes this month. It is a complete collection featuring running, training, and hiking shoes in addition to running apparel. This article will cover the road running shoes. We will have subsequent posts covering the new Proterra hiking shoes, the new Trail Glove 2 trail running shoe, and the new Merrell running apparel.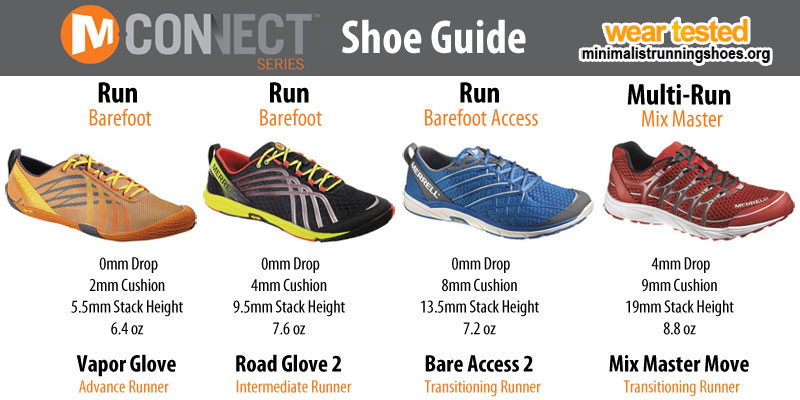 To get a bearing on what all these new models are, we've created the above graphic (shoe weights bases on US Men's Size 10.5) to give the runner a quick glance at what each model offers. They have everything for the beginning transitioning runner to the advanced minimalist runner. This is Merrell's biggest introduction to date and is a complete solution addressing the needs of every runner on both ends of the minimalism spectrum.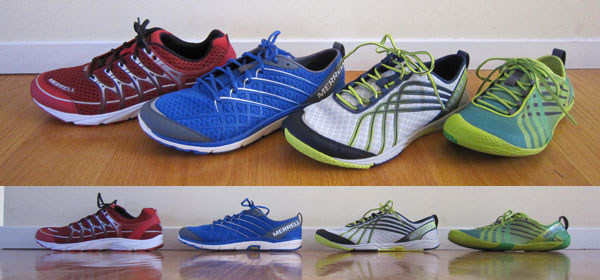 For those starting out, the Merrell Mix Master Move with 4mm drop and ample cushioning is the perfect starter shoe for those coming from heel-cushioned traditional running shoes.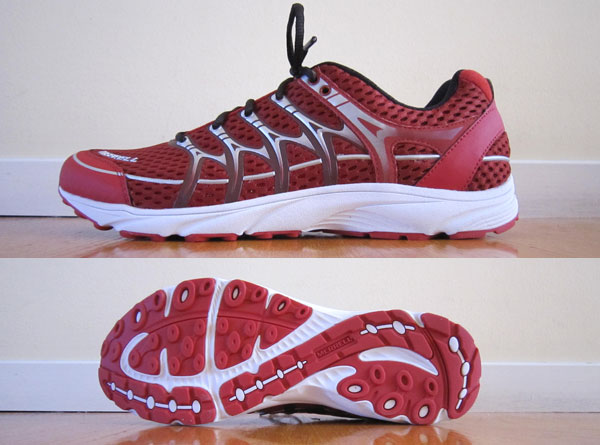 Or if you have been running in lightweight shoes like racing flats or closer to the ground shoes (8mm drop or lower), you can go with the Merrell Bare Access 2 with 0mm drop and light cushioning.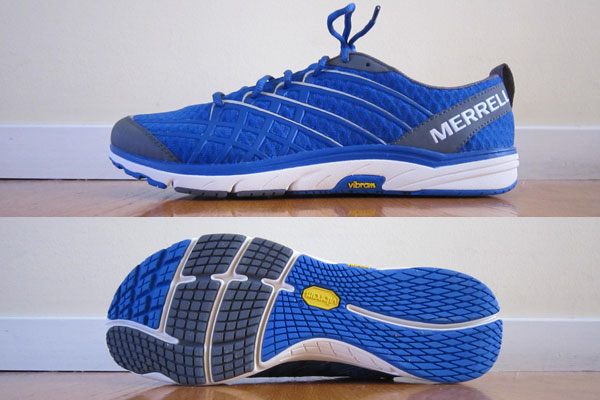 If you are looking for an upgrade to your current minimalist shoe (4mm drop or lower), the Merrell Road Glove 2 with 0mm drop and minimal cushioning is the next shoe for you.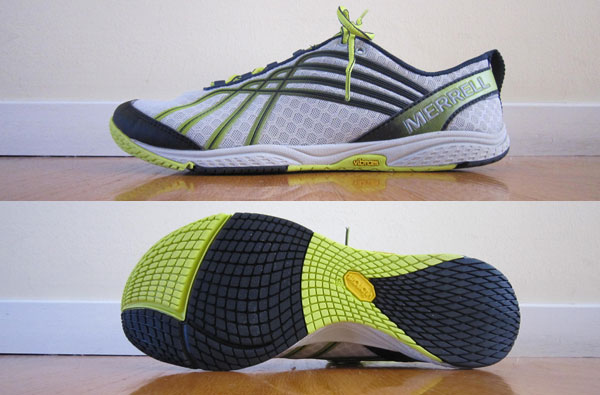 On the barefoot end of the spectrum, for those advanced minimalist runners, the new Merrell Vapor Glove is the ultimate barefoot-style running shoe. With 0mm drop and only 5.5mm from the ground, this super-lightweight shoe weighing about 6 ounces or less is the shoe minimalist runners graduate to.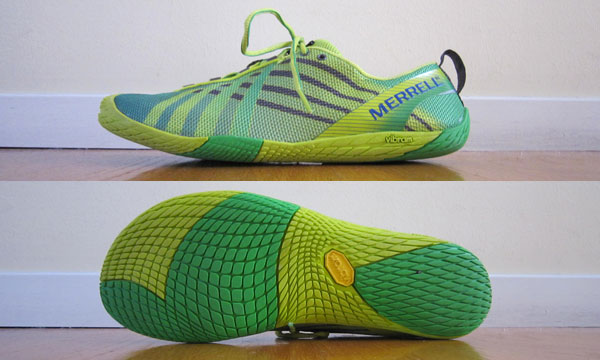 You can learn more about how to transition to minimalist running shoes with Merrell Bareform or Merrell's Barefoot Training Program. Of course, you can also see the two books that I have written on this subject: Wear Tested and The Minimalist Runner.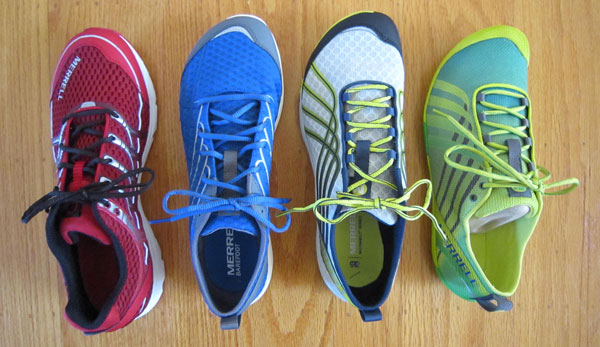 In a nutshell, starting with Merrell Bareform and Training Program, pick one of the shoes from the M-Connect collection depending on where you are in the transitioning program and follow Merrell's instructions.
Personally, whatever program you follow, let our body (and feet) tell you when to stop and rest. Always listen to your body. Slowly transition from cushioned shoes to minimally cushioned shoes like the Merrell Vapor Glove. The goal is to enjoying running injury-free. I've been running for over 25 years, 22 of those years in traditional cushioned-heeled running shoes with a heel-striking form that gave me knee and back pains. The last 3 years were the best running years for me – midfoot striking in minimal shoes with no pain or injury except when I transitioned too quickly in the early years. Sustainable injury-free running is my personal goal.
On to the M-Connect road running shoes…
Mix Master Move
My US Men's size 10.5 weighs in at 8.8 ounces. Unique in this shoe is the textile and synthetic leather uppers with molded eyelets for secure lacing. It also has reflective details for increased visibility. Also new to this shoe is a Merrell Float midsole that is 10% thinner and 25% lighter to provide more feel and ground control. For heel strikers, the Merrell Air Cushion in the heel absorbs shock and adds stability. Note that there is a removable EVA footbed.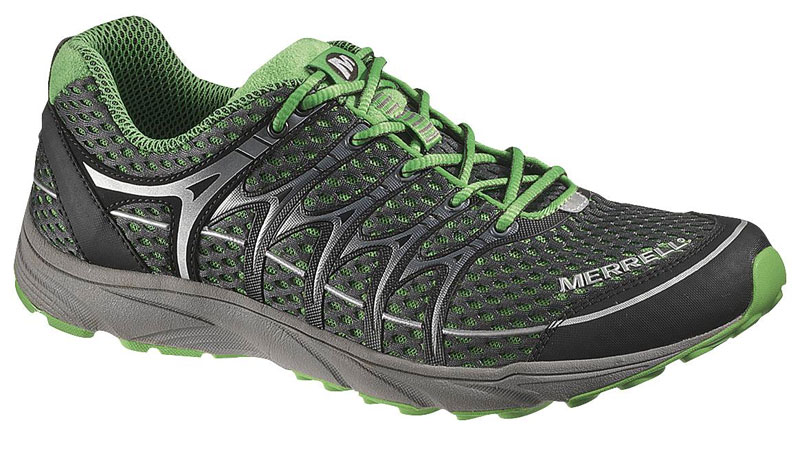 From Merrell's product page:
"For those who crave the ground feel, but like the idea of a little extra cushioning for longer miles or easing the transition to barefoot, here's your minimalist running shoe. Built for the road with reflectivity and a lightweight breathable mesh upper, our Mix Master Move features a low profile 4mm heel to toe drop, getting you closer to the ground to experience the benefits of a barefoot stride. Mix Move sticky rubber sole grips hard surfaces."
Bare Access 2
The Bare Access 2 is an upgrade to its original version with a new Bare Vibram outsole and a redesigned upper that is made of a synthetic mesh. It also has reflective details for increased visibility. My US Men's size 10.5 weighs in at 7.2 ounces.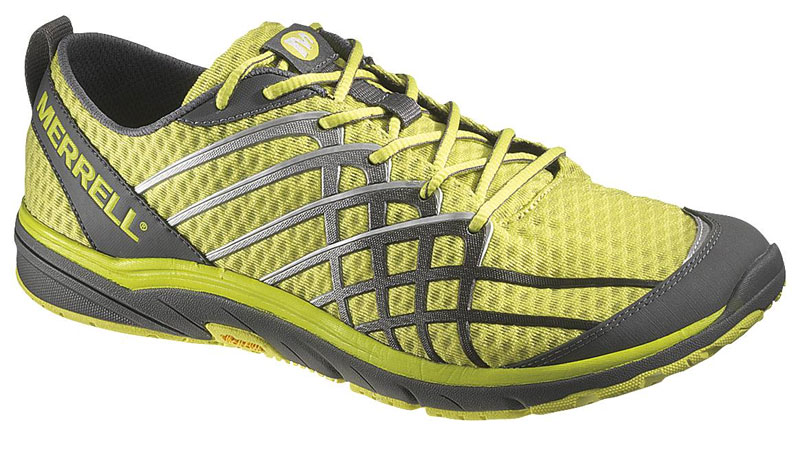 From Merrell's product page:
"Choosing a more cushioned men's athletic shoe is ideal for runners who like longer distances, train on harder surfaces or are transitioning to barefoot running. Plus, its breathable upper and feather-light construction adds to your foot freedom. Start your next adventure with men's barefoot running shoes from Merrell."
Road Glove 2
The Road Glove 2 is also an upgrade to its original version with a new mesh and synthetic leather uppers. It also has reflective details for increased visibility. My US Men's size 10.5 weighs in at 7.6 ounces.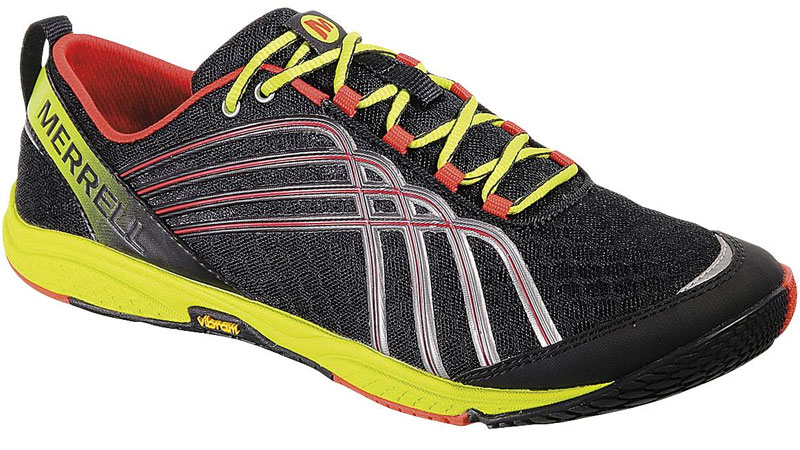 Vapor Glove
The Vapor Glove is Merrell's lightest, super-flexible, and most barefoot shoe. It has an all mesh washable and breathable upper that molds to your foot while ventilating heat and moisture. It also has reflective details for increased visibility. A new ultra-thin Vibram outsole and full toe wrap bumper completes this Merrell non-toed version of a Vibram Five Fingers. My US Men's size 10.5 weighs in at 6.4 ounces.
So how did the latest versions of the Merrell M-Connect shoes perform?
My female wear tester and myself tested all four models on the tartan track, asphalt, and non-technical trails. But we have both transitioned to minimalist shoes – the lightest, thinnest, and flexible minimal shoes. So we have a natural bias when the shoes are too bulky or have too much cushioning (high stack height). Or anything that can change our natural running form.
A quick word about sizing before I give my observations running in these shoes. For my 2E+ wide feet, the Mix Master Move and Bare Access 2 fit true to size. But I had to size the Vapor Glove and Road Glove 2 down by a half size. The Vapor Glove is the one to watch as it is at least half-inch too long for me. The Road Glove 2 is at least a quarter-inch too long. All have wide toe boxes except the Mix Master Move which is slightly more snug and narrower at the toe box.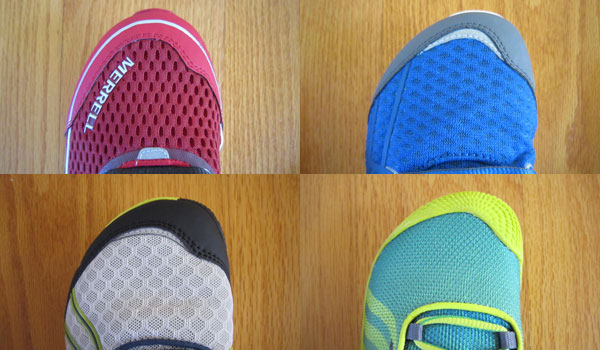 The Mix Master Move is an excellent shoe for those starting out in minimalist shoes and especially if you are currently heel-striking. I was a heel-striker and took at least 3 months before I transitioned to midfoot striking. And I didn't feel 100% comfortable and did not perfect it until at least another 3 months later. Habits are hard to change. In my personal situation, the Mix Master Move is a little narrow for my foot and has too much cushioning. It did not affect my running form but walking in them (heel strike) was a joy, especially on asphalt and concrete.
Moving on. The Bare Access 2 is a lot better with a little less cushioning and much lower stack height, wider toe box, and lighter weight. This is a perfect shoe in my opinion for those transitioning but not putting in a lot of miles. Having a wider toe box for your toes to splay to the max, zero drop, and light weight is the best way to start a transition program. My wear tester and myself like the Bare Access 2 much more than the original version. This model has even less impact on our comfort and running form but it does feel a little stiff – we prefer more flexibility. This could be a pair that we put on for longer runs because of the cushioning.
The Road Glove was my favorite Merrell Barefoot shoe. The Road Glove 2 has just replaced that! The uppers felt a little stiffer than the original model but everything else is on par or better. It is also slightly lower in stack height and lighter in weight. But it does feel closer to the Bare Access 2 than the original Road Glove in terms of feel.
I thought I was happy with the Road Glove 2 until I ran in the Vapor Glove. Same for my female wear tester – the Vapor Glove and similar super-lightweight minimalist running shoes is now her weapon of choice. Merrell is making it hard by offering so many options. But the Vapor Glove blew me away. It is now my favorite Merrell running shoe! I have taken it on all terrains for both short (speed work) and long runs. Great traction even on hilly cross country trails with dry hard pack dirt, loose gravel, and wet mud. It is my go-to shoe when I'm not testing new shoes!
Advance minimalist runners will love the Vapor Glove. If you run with racing flats or lightweight racing shoes (like Mizuno Wave Universe, and New Balance RC5000), you will feel right at home with this shoe. The New Balance Minimus HI-REZ super-light minimalist shoe is probably the only comparable shoe to the Vapor Glove but I would rate the Vapor Glove at least a half star above the Minimus HI-REZ!
There you have it. The complete collection of minimalist running shoes from Merrell – something for every runner in every stage of transitioning to minimalism. The Vapor Glove is Merrell's killer shoe for 2013.
The Merrell Barefoot M-Connect collection is now available at: Merrell and Zappos.
*Product provided by Merrell. CMP.LY/1 Review
If you have a product you'd like reviewed, contact me at info@weartested.org