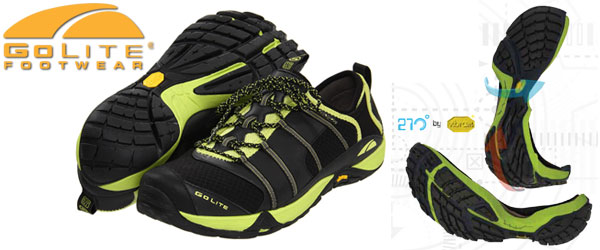 Take to the trail confidently in the new GoLite TR63 trail shoe. Engineered for the varying demands of single-track trail running, this pull-on men's outdoor running shoe features a breathable mesh and stretch nylon upper with a four-guide lacing system to ensure a glove-like fit.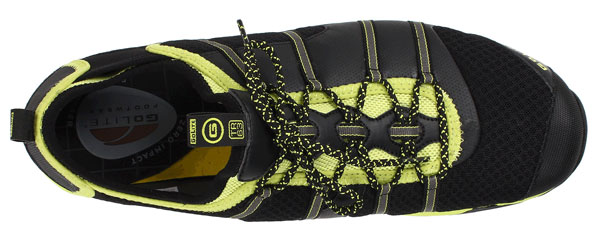 The Zero Drop construction keeps you low to the ground and feeling more balanced, while the Rock Absorber construction puts the soft, shock-absorbing part against the rocks and roots for traction, and the harder part against your foot for more stability.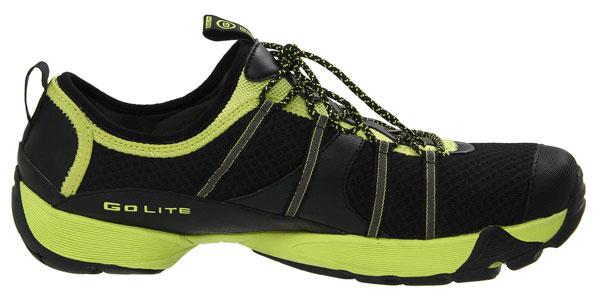 GoLite Footwear partnered with Vibram to create a no compromise patented outsole, that combines the best of GoLite technologies and Vibram's expertise into a high performance sole. Introducing GoLite 270° of Flex, a revolutionary performance outsole with Rock Absorber, Zero Impact and 270° of flexibility: torsional, lateral and longitudinal flex providing feedback and responsiveness from the trail.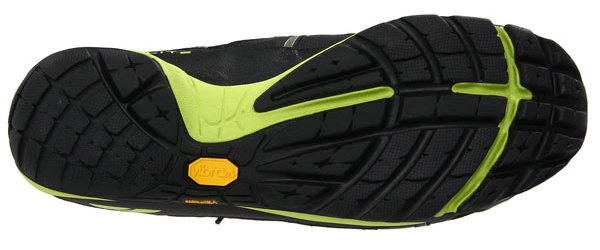 Rock Absorber technology provides a stable platform under the foot with soft shock-absorbing foams close to the ground. GoLite claimed that their shoes are 30% more stable as compared to conventional shoes.

The back and tongue webbing pull loops provide for easy entry and the protective toe and heel debris shield protects against abrasions while on the trail. And with all GoLite shoes, a Zero-Drop construction, or barefoot construction, is designed to work with the natural shape of your foot, providing a natural stride and balance, while allowing for ample protection from the rough terrain.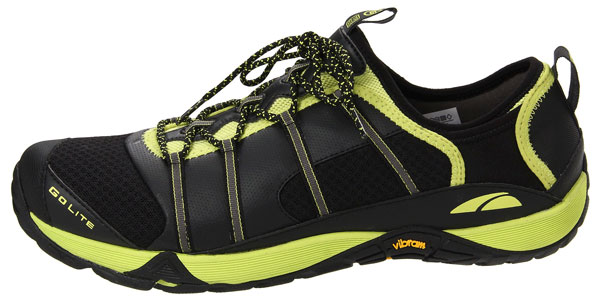 So how did the GoLite TR63 perform?
Previous trail running and casual shoes from GoLite Footwear (we reviewed Amp Lite and Tara Lite last year) have been plagued by two  problems in my opinion:
stiff and inflexible outsole
heavy and bulky
But by making all their shoes zero drop is the main reason why I'm holding out hope for GoLite Footwear. GoLite and Altra are two companies who went zero drop from launch and never looked back.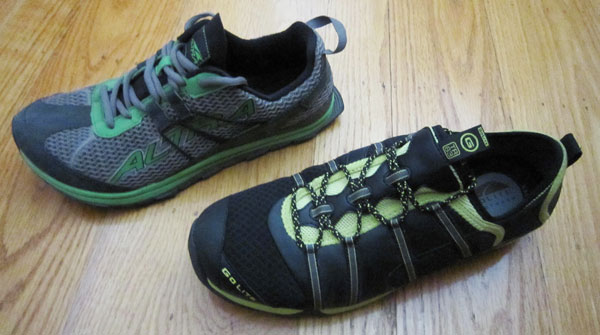 With the launch of the TR63, GoLite has addressed most of my concerns and delivered a decent trail running shoe. My pair (US size 10.5) weighs in at 10.4 ounces with a stack height of 28mm. However, it is still heavier and taller (stack height) than most lightweight trail shoes (averaging under 9.0 ounces and under 16mm for weight and stack height respectively).
The 270 degrees of flex by Vibram certainly addressed the stiff and inflexibility issue although not as flexible as I would have like as those found in the Inov-8 TrailRoc 235 or Merrell Mix Master 2, two top lightweight trail running shoes. It is at least a 2X improvement over previous GoLite trail shoes but could be made even more flexible, lighter/thinner, and softer. But the TR63 is designed for the rough conditions of technical trails so having a bulky construction is desirable – the majority of my runs are on non-technical trails though…
I look forward to improvements from GoLite Footwear in future generations of their zero drop trail running shoes! Hopefully in lower stack heights and lighter weights for those of us that does not require the extra protection for running on non-technical trails.
The GoLite TR63 is available in a single colorway for Men – Black/Lime.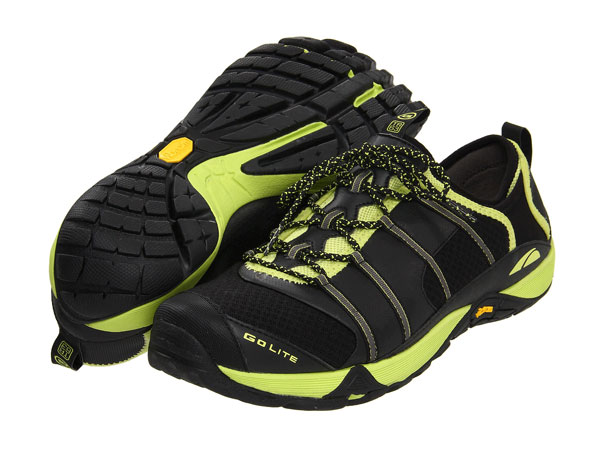 It is also available in 2 colorways for Women – Fusion/Black, Cashmere/Blue.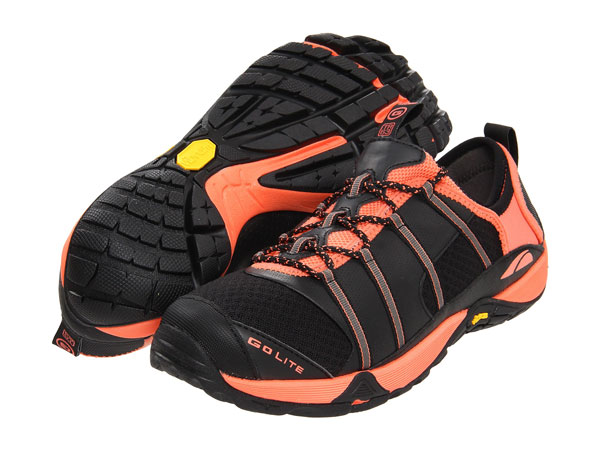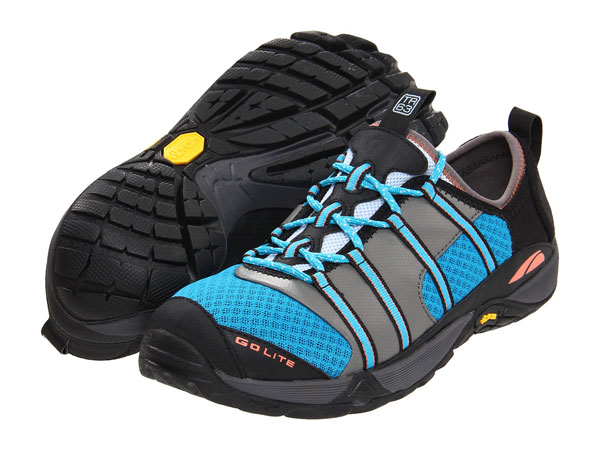 The GoLite Footwear TR63 is now available at: Zappos and Altrec.
http://www.golite-footwear.com
*Product provided by GoLite Footwear (MSRP $130). CMP.LY/1 Review
If you have a product you'd like reviewed, contact me at info@weartested.org