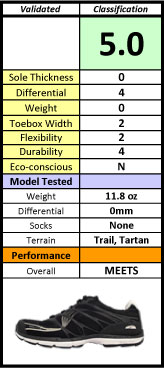 I'm usually a road runner and does some trail running in the weekends. So when I got my hands on a pair of GoLite's latest trail shoe, the Amp Lite, I decided to hit the official cross country course of high schools and colleges in the San Francisco Bay Area – The Crystal Springs Cross Country Course in Belmont, California. I ran this course on Thanksgiving Day last year in my Vibram Five Fingers KSO and decided to find out how a real zero drop trail shoe would perform.
But before I run in any new shoe, I wore the Amp Lite (with socks) and walked over 10 miles in them. I cannot do that with traditional running shoes that have an elevated or cushioned heel – like my ASICS GT 2140 – without getting plantar fasciitis and lower back pains during AND after my walk! The Amp Lite is smooth and being zero drop, just like my other casual and wellness zero differential shoes. And I liked it!
Amp Lite is the first of the Baretech Platform with a completely neutral last that spreads pressure evenly across the bottom of the foot, eliminating the need for thick midsoles.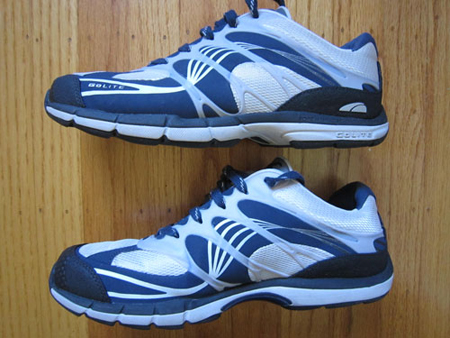 Starting with running for non-trails, I ran a 5K on the College of San Mateo tartan track with the Amp Lite. I definitely land harder than my VFF KSO or the Vivobarefoot Evo II because the midsole and outsole combination is over 20mm! I felt a slight soreness on my calf and thighs the next day because it affected my barefoot running form. I was not running as efficiently as I could because I am landing harder and the shoes were a lot heavier (50%). And I did get a blister on my right arch – I was playing with the insole components so may have not placed it in snugly.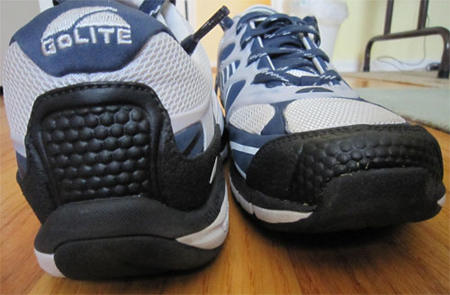 I had to test GoLite's Soft Against The Ground (SATG) technology. They have taken traditional footwear construction and turned it upside down by putting the soft part of the shoe close to the ground and a firm platform close to the foot. With SATG, the outsole of the shoes absorbs the shock of the trail instead of your body. And by removing the softer materials from the insole, the foot is more stable, cutting rear foot movement by 33% and minimizing ankle injury. The result is a smooth, stable, comfortable ride in all GoLite SATG shoes. I purposely ran over various sizes of rocks and pebbles (diameters of 0.5 inch to 1.5 inch). It works great (I don't even feel the hard object) until I ran over the 1.5 inch rock. That is too much to ask but for small objects, it's as smooth as a car ride!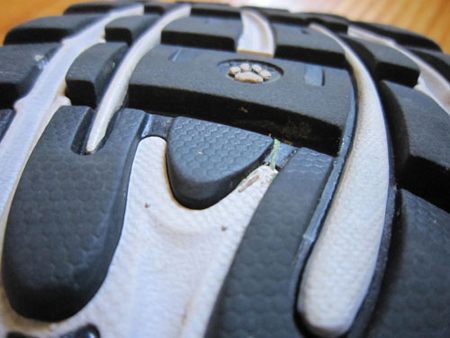 GoLite's Precise Fit system provides a customized fit for almost any foot. Using a patented adjustable insole, forefoot volume can easily be modified to accommodate narrow, medium or wide feet for a better, more comfortable fit.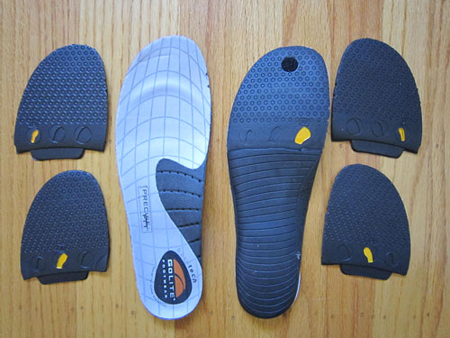 A word about the lacing system – complicated. I did not have to change it much from the configuration and setting that it came in. But it felt secure and comfortable.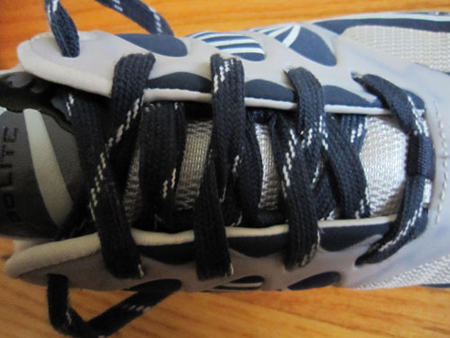 The toe box is narrower than other minimal shoes but I was able to splay my toes when landing. For runners with wider feet, this may be a little too close for comfort.
I've never owned a pair of trail running shoes. I've always used my road running shoes for cross country courses so this is a welcomed change. I ran Crystal Springs again after running it a year ago in my VFF KSO. I can say that I did not have to worry about slippery gravel or rocks as I did with my KSO – I actually focused on my running instead of what I'm about to step on. The Amp Lite performed great – better than my traditional running shoes and even better than my VFF KSO. The heavier weight did not bother me and the cushioning is welcomed! I had never enjoyed trail running before this – the scenery is great but I used to worry too much about what I'm stepping on so as to avoid injuring my ankles. I will definitely run this course again in the near future with a pair of New Balance Minimus Trail or Inov-8 Bare Grip 200 for comparison.
Given that the shoes weigh close to 12 ounces and a combined midsole/outsole thickness of over 20mm, this hardly qualifies as a minimalist running shoe. But being zero drop with SATG and Precise Fit, this is a great exercise shoe for walking, cross-training, hiking, and trail running – the Amp Lite is billed as a trail running shoe. It's just not the best shoe for road running in your barefoot running form. With minor tweaks, GoLite might just have a road running winner in their minimalist shoe collection in the near future. Maybe it's the Tara Lite that will capture that spot – I can't wait!
http://www.golite-footwear.com
*Product provided by Go-Lite (MSRP $100).
If you have a product you'd like reviewed, contact me at info@weartested.org