New Balance Minimus Road & Minimus Trail Review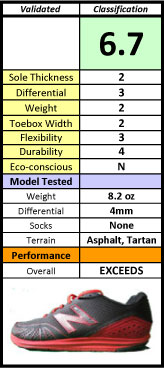 Since the Minimus Road and Trail samples have been out for a few weeks now, almost every running blog has covered this eagerly awaited shoe. So I decided to take a different approach here by providing information that other reviewers may not have covered.
New Balance Minimus Line Overview
First off, the black with red version of the Minimus Road is not the only color way that will be offered to the public – it's just the only color available for wear testers. The Spring 2011 Minimus colors are:
Minimus Trail – Men's (grey)
Minimus Trail – Men's (orange with black)
Minimus Trail – Women's (grey with dark grey)
Minimus Trail – Women's (black with light blue)
Minimus Road – Men's (black with red)
Minimus Road – Men's (blue with yellow/green)
Minimus Road – Women's (white with orange and blue)
Minimus Wellness – Men's (black with yellow)
Minimus Wellness – Men's (black with white)
Minimus Wellness – Women's (black with white)
Minimus Wellness – Women's (grey with salmon and dark grey)
Note: There is only one color for Women's Minimus Road.
Second, a misconception is that Vibram is providing the outsole for the whole Minimus line of shoes. Only the Minimus Trail gets a Vibram outsole. All the others in the Minimus line (Road, Wellness, Trainer, etc.) get New Balance's own outsole. The Minimus Road gets the Ndurance blown-rubber outsole and the RevLite midsole. The Minimus Trail gets the Vibram outsole (great traction & durability) and Acteva midsole (high flexibility). The Minimus Wellness gets an EVA outsole with rubber pods (durability) and a lightweight EVA midsole.
Third, all models have anti-bacterial treatment on the foot bed. They also all have a no-sew forefoot construction that minimizes weight and reduces seams. And yes, they all have a 4mm heel to toe drop (differential), weighs less than 8.5 ounces (US Size 9.5), and have an anatomically correct last.
The Minimus Wellness model is meant to serve as a recovery shoe for road and trail runners seeking to help their bodies adjust to a more natural stance and can also be used for commuting, daily lifestyle wear, or wearing in casual work environments.
Interestingly, all these shoes have tiny drilled holes in the outsole. These holes are there to reduce the weight of the shoe, increase the flexibility of the soles, and provide a better ground feel. It is more prominent and consistent on the Minimus Trail than the Minimus Road.

Now, let's get to the shoes. Since these early samples come in just a single width (D), I was worried that the toebox for the Minimus Road might be too narrow for my feet. It turns out I had to size up by half a size for the Minimus Trail only – the Minimus Road is true to size and had a wide enough toebox! Even with a half size larger for the Minimus Trail, it feels snug without socks. A thin performance running sock worked with both shoes and did not feel tight.
New Balance Minimus Road
I wore the Minimus Road for two solid weeks, for work (it has a retro look), walking the dogs, shopping, and of course running on both wet and dry surfaces in them. Ran sockless initially and also with half a dozen different performance socks (I was testing socks – review coming later). I prefer running sockless – the socks made my foot slide into the toebox more but no blisters or bruised toes. With over 50 miles in them, I can honestly say I love them!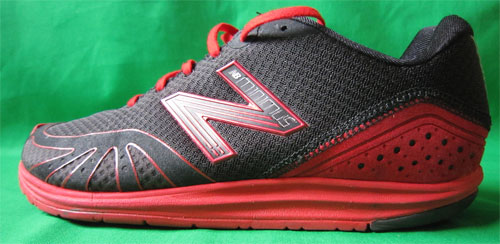 Note that the Minimus Road does not have an insole/insert and it has a no-sew forefoot construction that minimizes weight and reduces seams.
The shoe was lightweight (8.2 ounces in my size 9.5), has ample space for the toebox, the 4mm drop is unnoticeable, and very comfortable and snug (with and without socks). You can feel the ground (I prefer a little more) but have enough thickness in the midsole for a transitioning runner. The heel thickness is 11mm and forefoot 7mm.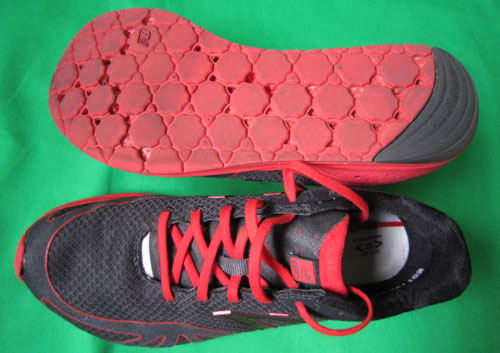 I think New Balance is going after the masses of runners who have not transitioned to minimal shoes yet and those who would like to transition slowly. As I mentioned on this web site and all my forum postings, you have to transition slowly without getting injured. Once you transition safely and develop a good running form, then you can run injury-free for life!
Less is More (< = >) but transition slowly is the mantra.
For those who have already transitioned to the Vibram Five Fingers or other minimal shoes, this may not be the shoe you are looking for. It is a great trainer but you might prefer a lighter and zero drop racer. However, it's a great walking, casual, and recovery shoe that should be part of your minimalist lifestyle.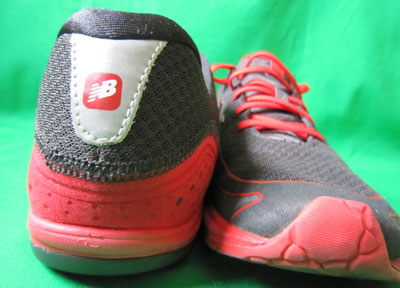 In summary, this is probably one of the best transitioning minimal shoes for someone just starting off in minimalist road running shoes or just started running again. It allows you to run lightly, feel the ground with a midfoot or forefoot strike and yet not overstrain your weak arches and cushioned feet. With an 11mm heel and 7mm forefoot midsole, you will only feel a minor change from your traditional running shoes. It is also a great recovery shoe.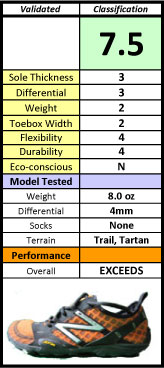 As I mentioned earlier, I had to size up by a half size with the Minimus Trail. Even with a US men's size 10, this shoe weighs less than the Minimus Road – only 8.0 ounces.
The Minimus Trail has a heel thickness of 9mm and 5mm forefoot – more minimal than the Road version. And you will feel the ground a lot more.
I tried running with the Minimus Trail on a tartan track initially in order to compare it to the Road version – it felt like too much cushioning because of the lugs on the Vibram outsole. Maybe like running with football or soccer cleats on the track.
The true test here is to run the trails. Three week ago, I ran with a pair of GoLite Amp Lite on the Crystal Spring Cross Country trail. So I headed for the same trail to do an apple to apple comparison. It was a blow out. The Minimus Trail is by far the lightest and most comfortable minimal trail shoe I have tested thus far – Inov-8 Bare Grip 200 is probably the only wildcard here and it should be available early next year.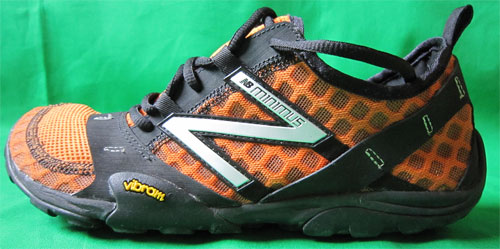 For trails, it's a matter of running to enjoy the scenery and environment. The total running time (without stopping) is not my primary goal but I do track all the miles and time that I spend running. When I logged my run, I noticed that I ran over 90 seconds faster with the Minimus Trail compared to the Amp Lite!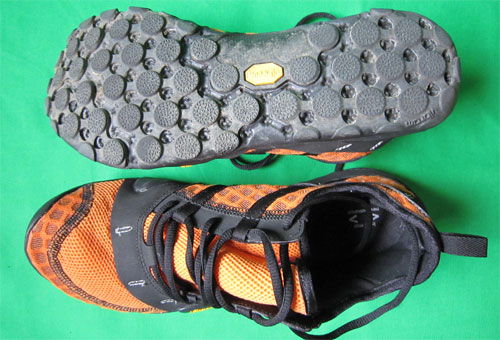 Here's what I noticed when running with these trail shoes. I ran the downhill fast and without braking – on the ball of my foot and no heel strikes. I had to heel strike downhill once in a while because of sharp turns and avoiding fresh animal droppings. But with the Amp Lite, I didn't feel safe running fast downhill – those shoes were over 50% heavier and not as flexible. The Minimus Trail hugs your feet and heel nicely and is just very snug – it just feels natural.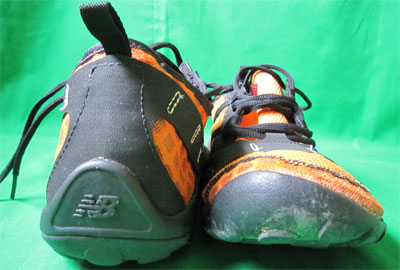 I did feel sore on my arches and thighs the next day because of the uphill and downhill running. I probably didn't lift my legs during those sessions and pushed off instead – these shoes do make you want to run faster and it will affect your running form! Hopefully for the better. Just have to slow down and take it easy sometimes.
Other than animal droppings, I also don't spend time worrying what I'm stepping on as I did when running with a pair of Vibram Five Fingers KSO in this course last year – the Thanksgiving Turkey Trot.
Summarizing, this is the best trail shoes I have tested so far. Barefoot runners will like the 5mm forefoot midsole – not too much and not too little. It can only get better with a zero drop version in the near future (late 2011). Kudos to New Balance and team Anton!
*Product provided by New Balance (MSRP $100 each).
If you have a product you'd like reviewed, contact me at info@weartested.org