An update to the award-winning New Balance MT 101, the New Balance 110 Trail, a minimalistic trail runner, offers many of the same features and benefits that made its predecessor successful, including a thin Rock Stop plate in the outsole that protects feet from punctures and disperses shock without sacrificing the natural running feel.
The MT 110 is intended for runners looking for a minimal shoe but aren't quite ready for a fully barefoot-inspired running experience – a transitioning or bridging shoe. The MT 110 is now built on the same natural running last (NL1) used in the first generation of the New Balance Minimus collection – it had previously used the racing last (RL3).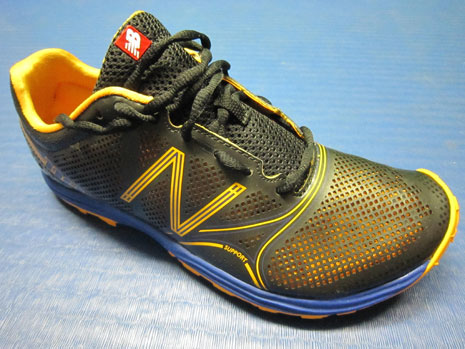 As a result, the MT 110 features a 4mm drop, bringing the foot much closer to the ground than the previous MT 101 (which had a 10mm drop). Also like the New Balance Minimus collection, the MT 110 encourages sockless wear with barefoot-friendly interiors and no insert.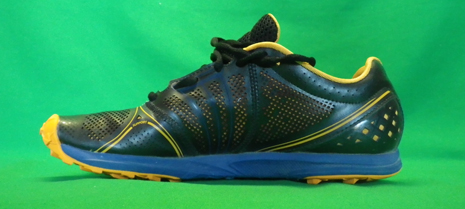 The New Balance MT 110 weighs in at 7.0 ounces (US Size 10) and has a stack height of 16mm – lighter and much thinner than the MT 101.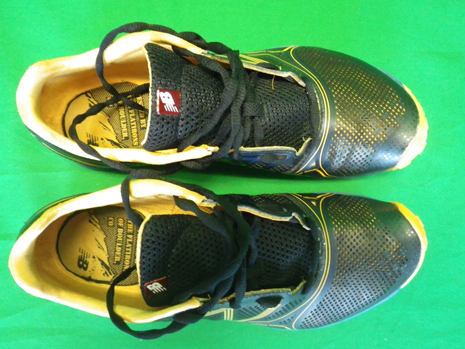 A new streamlined upper construction features a super minimal single layer of synthetic material all the way around the shoe. This single layer laser-cut synthetic has strategically positioned perforations offering the runner breathability and support where they need it most – it keeps dirt/gravel out at least as well or better than a standard mesh upper. The upper nicely wraps the midfoot area to comfortably hug and support the foot. And it is also very durable – Anton Krupicka has logged over 500 miles on a pair with zero breakdown in the upper.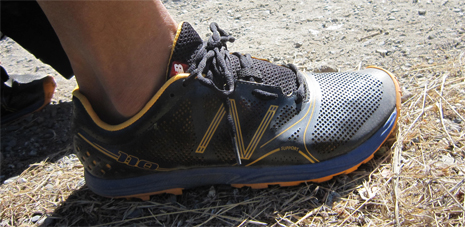 A redesigned heel counter sees the plush inner lining of the shoe wrap over the top of the heel counter to ensure a soft, luxurious feel and decrease any chance of irritation or abrasion as in the MT 101. The Rock Stop built into the footbed delivers protection from sharp rocks and debris. A sticky rubber outsole provides just the right balance of traction and durability.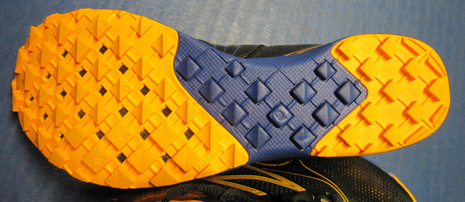 The MT 101 didn't have deep enough lugs for optimal traction and this shoe corrects that. The MT 110 also uses a softer rubber compound for better sticky rubber traction on rock and wet surfaces, which the MT 101 has trouble with.  The Euro version of the outsole is much better and I suspect the MT 110 is modeled after that.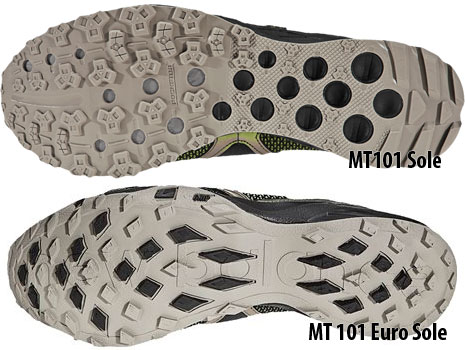 If you look closely, they have the phrase 'KEEP UP' on the lugs in the midfoot area of the sole.

Team New Balance ultra runners provided inspiration and design direction for the MT/WT110. Their insights and feedback helped in redesigning the outsole mold as well as tweaking the material package on the upper.

As a tribute to the New Balance Outdoor Ambassador team, every colorway of the MT 110 is unique to each athlete and the insert recognizes their respective training location of choice. Each version has a color code – 'AK' for Anton Krupicka, 'ES' for Erik Skaggs, 'BE' for Brandy Erholtz, and 'LH'  for Liza Howard.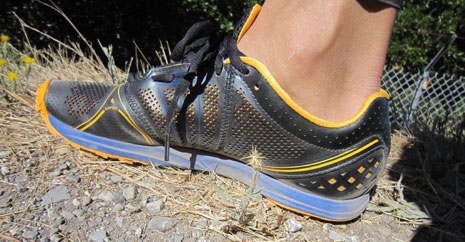 This is one of the best, if not the BEST minimalist trail shoe I have worn and tested – will have to wait for the New Balance Minimus Zero Trail (MT00) to finally decide. The toe box is just wide enough but I would have preferred it to be wider (2E or wider). The harder but flexible outsole  and short stack height sealed the deal for me – it even worked great when running on asphalt and that is rare for a trail shoe.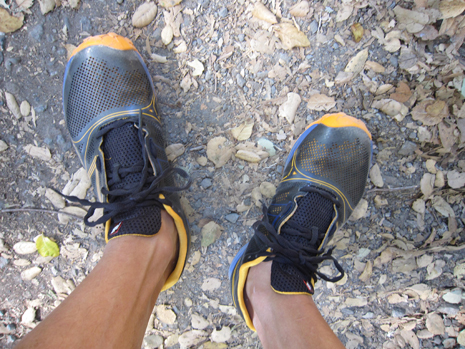 Some runners are concerned about the holes in the outsole thus minimizing push-through protection. I've ran on mixed trails with sharp small and medium size rocks but have not experienced any bruises.
Even though the MT 100 is positioned as a transitioning shoe, I still like it a lot. I personally think the New Balance Minimus Trail (MT10 Wide) is a better transitioning shoe as it has more cushioning and uppers that is similar to most traditional running shoes. To me, the MT 110 is a shoe you transitioned into and can be used for both training and racing!
I've also been using the MT 110 as a recovery shoe for a foot injury sustained while testing a very narrow minimalist racing shoe. The thin and rigid outsole is better than anything (besides being barefoot as much as I can) with any kind of cushioning for the trails – my stress fracture does not hurt as much while walking briskly and avoiding as much pounding as possible. Wished I had access to an Alter-G treadmill to continue running in the MT 110. I was fortunate to have put in over 30 miles on the MT 110 before getting hurt.
And no blisters running sockless as usual! Since the toe box is not as wide as I would have liked, for unknown reasons, it did not cause any chaffing or blisters and my toes were able to splay and they never feel constricted.
The 4mm drop did not make any difference to my feet, proprioception, or running form. It felt great on trails AND asphalt. I usually don't run with trail shoes on asphalt and concrete but the MT 110 was an exception. Again, will have to check out the New Balance Minimus Zero Road when it comes out. This new generation of New Balance trail and road shoes are darn well close to perfection.
Overall, the next generation trail shoe from New Balance is awesome and is one of my favorite trail shoe. I just wished they have 2E width for media samples – they WILL launch with both standard and 2E widths. Yeah!
Available in 2 colorways for Men's and 2 colorways for Women's – one for each of New Balance's Trail Ambassadors.

The New Balance MT 110 will be available in January 2012 on the New Balance web site and running specialty retailers.
*Product provided by New Balance (MSRP $85). CMP.LY/1 Review
If you have a product you'd like reviewed, contact me at info@weartested.org