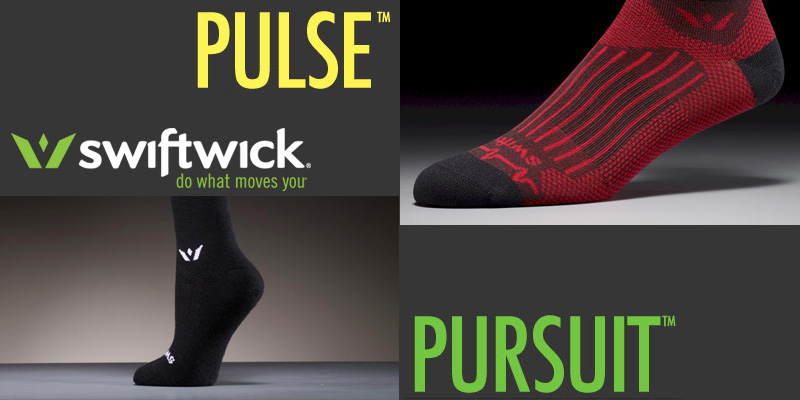 We have been long time fans of Merino wool and compression apparel for over 3 years so when Swiftwick sent us some of their latest compression socks and arm sleeves to test out, we were thrilled. Even though I don't wear socks for running, I do wear compression socks for recovery (walking), dress shoes, and compression arm sleeves for cold weather. As usual, I always wear compression calf sleeves for every run but Swiftwick does not have such a product yet (hint).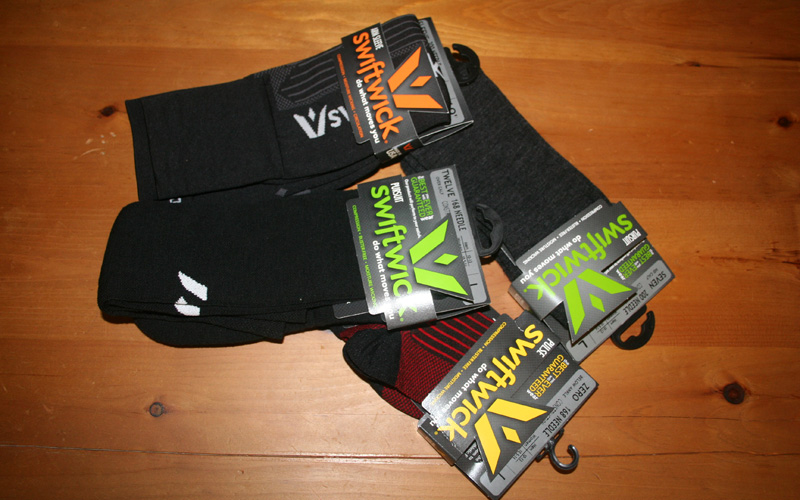 Swiftwick mission is to be an innovator in designing and producing the best active wear products on the planet. Swiftwick is also proud to employ an American workforce, with all of their socks made in Tennessee, USA.
For this review, we tested two compression sock models from the PURSUIT collection, one from the PULSE collection, and an arm sleeve.
Swiftwick PURSUIT
Constructed from Merino Wool from Australia, the PURSUIT sock line offers natural moisture-wicking and compression capabilities and is the only 200-needle compression wool sock on the market. With a slightly padded footbed, this is a great sock for people who enjoy extra comfort! Merino Wool, nature's original technical fiber, has proven insulating and wicking qualities. It keeps the skin dryer when sweating and cooler when hot. Swiftwick uses a 23.5-gauge Australian Merino Wool with 3-inch minimum staple length strands for its soft finish, no-itch feel, and durability. The most hydrophilic of all natural fibers, absorbing as much as 30 percent of its weight without feeling wet, Merino Wool has the ability to disperse electrostatic charge resulting in less lint and dirt collection on the sock.
Swiftwick PURSUIT Seven (Business)
When you're not training or in competition, you are working hard to keep food on the table and maintain the lifestyle that moves you. Swiftwick understands the importance of taking care of business and decided to construct a series of compression socks that hold up in the office as well as they do in competition. Suit up in Swiftwick's dress socks for the perfect match to your style AND your standards. The Pursuit Seven is a light compression sock with a 7″ single layered cuff and 1″ welt which hits mid-calf.

Swiftwick PURSUIT Twelve (Recovery)
This managed compression sock has Swiftwick signature 4″ double cuff which fits over the calf. Proven to reduce swelling, improve circulation and increases endurance.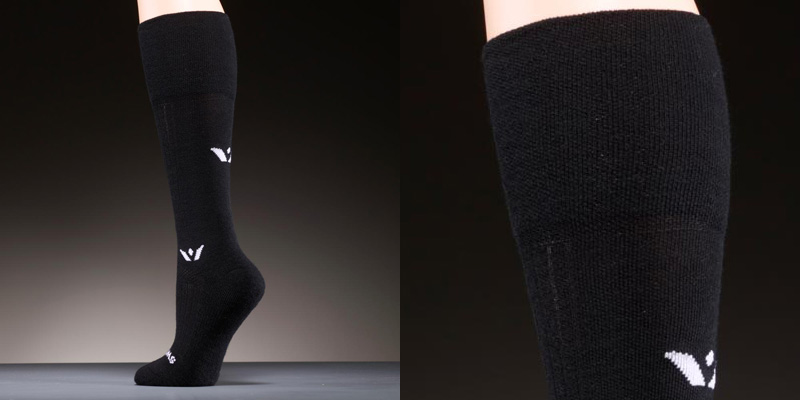 Swiftwick PULSE
Swiftwick PULSE compression socks have been worn by world-class athletes and Olympians. It is crafted for the skin-tight environment of your track spikes, or the highly formed cycling shoe, ski boots and skates –there is no compression sock thinner than the PULSE.

The PULSE features linked-toe construction on a 168 needle machine and is crafted for the skin tight environment of your track spikes, or the highly formed cycling shoe, ski boots and skates – no toe seams and maximum structure. The PULSE is the low volume sock of choice for speed. There is no compression sock thinner than the PULSE. The PULSE breathes, helps you avoid blisters and features Swiftwick new and exclusive micro silver bonding.
Swiftwick PULSE Zero (Track & Field)
The PULSE line is Swiftwick's first product to bring its patented, sweat activated anti-microbial technology to sports. The materials used are anti-microbial, but Swiftwick's exclusive bonding process links micro-silver partials to every fiber in a smoothly dispersed, universally applied anti-fungal and anti-microbial coating. The natural properties of Silver ions in solution will disrupt bacteria and actively kill odor causing microbes.
The addition of an "ankle compression zone" put weight back into the sock, but tireless testing proved this innovation helps keep the sock in place in demanding, race environments.
Swiftwick ARM Sleeve
The bicep cuff has no rubber banding but just a firm comfortable fit. A flat knit triceps and elbow finish provides freedom of movement and protection. The contoured shape construction gives a great fit while the half density mesh weave delivers air flow and wind breaking capability. A double compression cuff allows flexible sizing and vibration support on your wrist.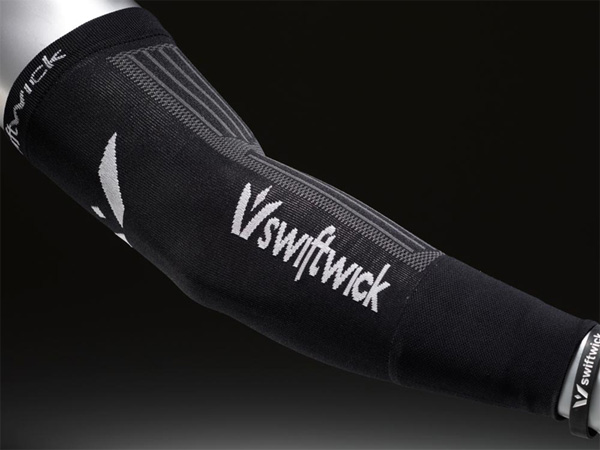 So how did the new Swiftwick collection perform?
We have already discussed about the benefits of compression apparel in our review of compression socks a few year back. One of the first thing you will find about full-length knee high compression socks is how to put them on quickly and easily. Swiftwick has a video featuring Max King showing you how to put them on in under a minute – trust me, it's works.
PURSUIT Twelve
The PURSUIT Twelve is very easy to put on and it is slightly thinner than other full length knee high compression socks that I have worn. The double cuff keeps the socks up when walking and running in them (even though I don't normally run with them but only for this test). In terms of getting the blood circulation going and warmth when wearing them, it performed just as well if not better than other brands. A big endorsement to Swiftwick!
PURSUIT Seven
I wore this mainly with casual and business footwear. I don't normally wear socks with casual shoes but did it for this test. When wearing business footwear with a suit or semi-formal, a pair of socks is required. The PURSUIT Seven performed well by keeping me warm on cold days and cool on warm days without sliding down my claves and bunching up throughout the day.
PULSE Zero
Tracks spikes are usually too narrow in the toe box and does not have soft lining for barefoot wear so sometimes socks are needed. I would only wear socks when required and especially during training. For competition, I alternate between running shoes and spikes so spikes and socks are only worn when it is my event. Being thin and form fitting, the PULSE Zero might be the only other pair of socks that I might wear with my spikes – I previously wear the Injinji performance micro liner toe socks.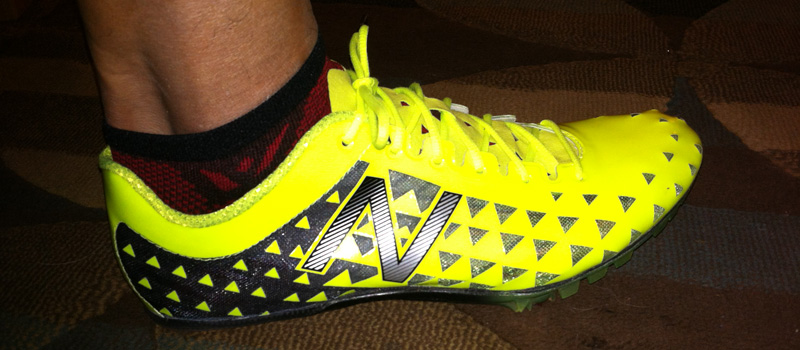 Arm Sleeves
Very easy to put on and kept my arms warm immediately on cold morning runs. I like the double compression wrist cuff but would have liked it a lot more if the bicep cuff were longer and held the sleeves up longer – at least 2 inches slippage. I also noticed some bunching on the forearm.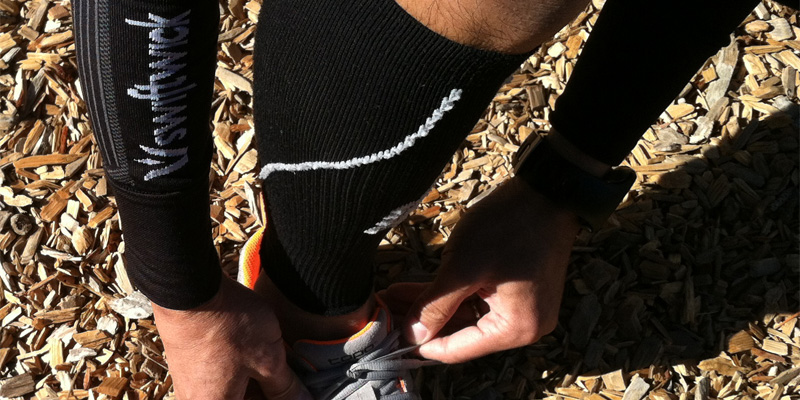 Honestly, I prefer wearing short sleeve running tops with arm sleeves over long sleeve running tops. The combination feels lighter and faster!
In general, the Swiftwick products held up pretty well on multiple laundry cycles – it did not lose its compression abilities. That is the ultimate test for any compression apparel. If over 6 months of wear and tear plus laundry twice a week, and the compression apparel is still performing as day one, you've found a winner.
The latest Swiftwick collection is now available for purchase at Amazon.
*Product provided by Swiftwick. CMP.LY/1 Review
If you have a product you'd like reviewed, contact me at info@weartested.org