CEP, CW-X, Injinji, RecoFit, Recovery Sock
Do compression socks work? That is one of the most frequently asked question runners including myself ask when I see elite runners wearing them before, during, and after races. I started searching for answers about two months ago.
A Little Backgrounder
Compression socks are designed to act like an external layer of muscles that gently squeeze stretched vein walls to circulate blood efficiently back to the heart. With properly circulated blood, your muscles gets the much need oxygen and nutrients needed to speed lactic acid removal.
A faster lactate recovery rate after exercising means a speedy recovery after a tough workout or run. Wearing compression socks in a race aids the calf muscles in pumping the blood back to the heart thus increasing endurance capacity. There is also the belief that compact muscles results in better balance and proprioception while reducing muscle fatigue.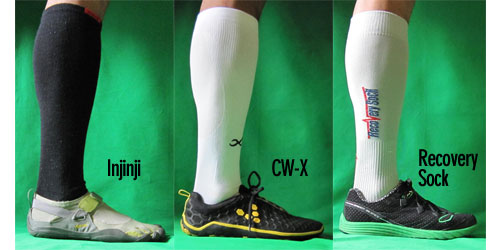 Compression apparel including socks and suits have been popular with runner and athletes (especially triathletes) looking to boost blood flow and running faster. Saucony has a new line (Amp Pro 2) of compression racing suits that utilizes responsive fibers to improve circulation, promote healing, and enhances oxygen levels. US Olympians Wallace Spearmon and Lauryn Williams swears by it – it gives them the edge to work harder. And every tenths of a second count for these sprinters.
Compression socks have been widely accepted in clinical and post-surgical settings for the treatment of edema, lymph edema, phlebitis, varicose veins, spider veins and deep vein thrombosis. Compression socks also help diabetics improve their blood circulation.
Scientific studies have shown that compression socks are used in promoting recovery by moving the blood that is pooled in the feet and lower legs. Gravity plays a big role and the feet is where the blood needs to be moved back up to the heart.
Improved blood flow after running results in enhanced nutrient delivery and removal of waste products to and from muscles thus creating an optimal condition for muscle repair, reduced stiffness, and less soreness. Several studies have demonstrated that post exercise blood lactate levels were lower with compression socks used both during and after running.
Testing Procedure
My approach is to wear each pair of compression socks or compression calf sleeves in a daily rotation for about a month with at least two washings a week. The wear and tear especially in the compression and elasticity in addition to the primary goal of  performance will be closely examined. I am not using a scientific approach like Steve Magness at the Science of Running does nor do I have measurement tools. If it helps a competitive recreational middle-age runner like me, a large portion of the running community can also benefit.
I will be wearing compression socks for both training and recovery whereas compression calf sleeves will only be worn during actual running sessions.
Since the performance of these socks are hard to quantify, highly subjective, and takes time to test, my running partner and spouse mirrored everything I did. Then we discussed how our muscles and body felt, with and without compression socks, hours and days later.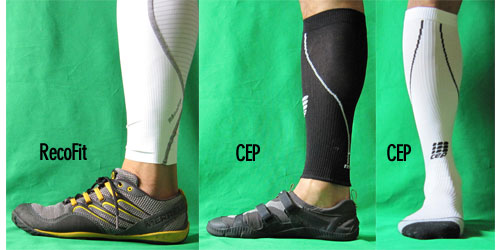 CEP Compression Sportswear
We tested out CEP's Running Sport Socks and also their AllSports Progressive Sleeves products.
According to CEP, there's a published medical study showing that runners in CEP compression socks experienced 5% better performance and a 40% increase in blood flow.
Unique Features:
Anatomically-shaped left and right inline seams adjusts to the anatomy of the foot for a perfect fit.
Achilles heel support protects and prevents irritable tendons.
Ventilation channels create a pleasant foot climate.
Padded sole helps prevent blisters.
Comes with a 30-day money back guarantee AND 6 months compression guarantee.
Made of 85% Polyamid (Nylon) and 15% Elasthan (Spandex).
MSRP: $60 (product provided by manufacturer)
CW-X
We tested out CW-X Ventilator Compression Support Socks.
Unique Features:
Torex® four-way stretch fabric gives you graduated compression to increase circulation and help prevent lactic acid buildup.
Patented Kinesio Support Web™ provides support to the calf muscle, ankle joint, and arch.
Strategically placed mesh panels ventilate where you need it most.
Roomy toe box.
Made of 60% polyester, 11% cotton, 10% acrylic, 10% nylon, 9% polyurethane.
MSRP: $45 (product provided by manufacturer)
Injinji
We tested out Injinji's Ex-Celerator Performance Toe Sock.
Incorporates its AIS technology in its graduated lower leg compression system with their unique and patented 5 toe design.
Unique Features:
Race & Recovery Toesock
Pumps Up Circulation
Guards Against Blistering
Allows Proper Alignment Of Toes
Accelerates Recovery Of Muscle Force Capacity
Reduces Delayed Onset Muscle Soreness (DOMS)
Made of 65% CoolMax™ freshFX, 20% Lycra, 15% Nylon.
MSRP: $38 (product provided by manufacturer)
RecoFit Sports
We tested out RecoFit's Compression Components Calf.
The RecoFit calf sleeves are right- and left-specific, which is necessary to ensure proper fit and optimal benefits.
Unique Features:
Left/Right and Front/Back Specific.
Gradient Recovery Exercise & Activity Technology delivers gradient compression where it's needed most to reduce negative exercise and travel effects and maximize recovery.
Flat-seam construction keeps component in place but does not bind or inhibit circulation.
Made of 62% Nylon, 35% Spandex, and 2% Carbon for primary fabric. Secondary fabric made of 86% Nylon and 14% Spandex.
MSRP: $45 (product provided by manufacturer)
Recovery Sock
We tested out Recovery Sock's Graduated Compression Sock.
An interesting tidbit from the materials used is Silver DryStat. Italian company,  Arcos Spa, developed a patented polypropylene fiber, adding silver ions in the manufacturing process, creating Silver DryStat. The use of silver as an anti-bacterial and healing agent goes back to ancient Greece. Long before modern pharmaceuticals, it was even used as an antibiotic and germicide.
Because silver ions are built right into the core of the fiber, they inhibit the growth of bacteria and moulds reducing unpleasant smells and keeping biological skin balance during athletic activities.
Unique Features:
Exclusive wicking and antibacterial fiber
Improves oxygen delivery to muscles
Lactic acid production reduced
Proven cramp relief
Boost your performance
Stimulates blood circulation
Made of 75% Silver Drystat, 15% Spandex, and 10% Nylon.
MSRP: $35 (product provided by manufacturer)
Our Conclusions
Does it work? There is no question that compression socks helped in our recovery after every run – we run 6 days a week. Without wearing compression socks after a run, our muscles are stiff an hour or so later and slightly sore the next day. Note that we warm up our core muscles for at least 15 minutes before running and also cool down with the same exercises. By wearing compression socks right after we finish running and keeping them on for at least 4 to 6 hours after that, we experienced no muscle stiffness or sore muscles the next day. At our age, this is a required running accessory!
I dominantly wear compression calf sleeves during our runs and speed workouts on the track. Whether they help during the run maybe purely psychological – you feel faster and you don't feel your calf muscles getting tired. But I haven't seen any time improvements in the time frame I've tested them. At the very least, it helped minimize muscle vibrations during running – this will reduce wear and tear on my body.
As for wearing compression socks before running, this was insignificant because I always spend at least 15 minutes warming up the core muscles needed for running or speed work. If you don't warm up before running, wearing compression socks will certainly help. There are many sports professionals who believe that not warming up before a run can prevent injuries. It did not work for me.
You can tell that in my situation, I prefer the sleeves over the socks. With calf sleeves, you can also wear whatever your current favorite running sock is. It also allows you to switch between different types of shoes (huaraches like Luna Sandals, toe shoes like Vibram Five Fingers, or minimalist shoes like Altra Adam) without worries.
Caution: Compression Calf Sleeves
Compression calf sleeves are not meant to be worn for long periods of time – 2 to 3 hours maximum time is recommended. They are designed for short runs and field sports.
If you notice that your feet is swelling because the blood is pooling there, take them off. Do not wear them for long car rides or airplane rides – wear full compression socks instead.
Always listen to your body.
Putting on compression socks takes time and is sometimes frustrating when you're in a rush. This video from CEP Compression on YouTube shows you a great trick on putting them on quickly (under 20 seconds!).
Finally, if you are travelling light and needs to wash your compression socks frequently, the RecoFit is perfect – light and dries quickly.
Our Recommendations
As for my experiences with these socks, here's what my recommendations are. For running with toe shoes like Vibram Five Fingers (VFF) or you want your toes to be able to splay, I highly recommend calf sleeves from CEP and RecoFit – I would rotate between them.  I run sockless 99.9% of the time and calf sleeves are my best options. The Injinji compression socks did not perform as well as the other brands – decreased compression over time and sometimes too thick for my VFF.
Performance Ranking For Toe Shoes
CEP
RecoFit
Injinji
For running with non-toe shoes, I highly recommend CEP and Recovery Sock – again, I would rotate between them.
Performance Ranking For Non-Toe Shoes
CEP
Recovery Sock
CW-X
Injinji
I did notice slight wear and tear in the Recovery Sock and decreased compression. As you can see, CEP ranked top on both types and with their money back and compression guarantees, you have nothing to lose!
Most compression sock have a lifespan of 6 to 8 months if you wear them daily. For the majority of us, one pair should last about one full year. It is a cheap and great investment for pain free recovery!
If you have a product you'd like reviewed, contact me at info@weartested.org