The wait was excruciating for minimalist runners like myself. But the wait was worth it. SKORA Running has launched two models for men's (women's in Fall '12) – the SKORA BASE and SKORA FORM.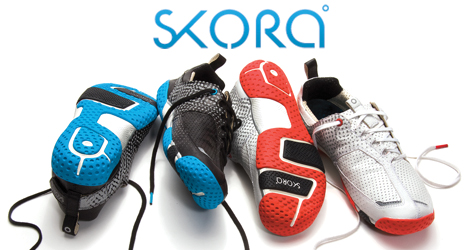 We will be reviewing the SKORA FORM. I want to acknowledge the 'seed' planted in my brain (from the movie 'Inception') from my blogger friend, Zak Branigan, of Average Guy Hits The Road. Zak's article, 'The Apple of Running Shoes', had me comparing SKORA to Apple, Dyson, Ferrari, etc. sub-consciously. And he is right! When I first saw the FORM, I had ECCO BIOM Yak leather in mind but that is no comparison. This is true innovation from  technology to design to functionality to packaging.
The quality starts with the retail shoe box. This is no typical shoe box (the wear test shoes were sent in traditional boxes, not retail shoe boxes). The materials used is of the highest quality and the top flap includes magnets for a easy opening and secured closing. A collector's item at the very least.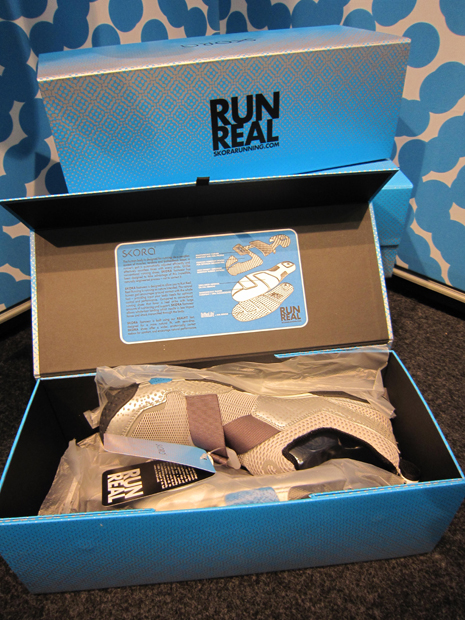 There is even a touch of class in the shipping boxes reminiscent of those from Amazon.com, Dell, and Zappos – not your everyday vanilla brown box.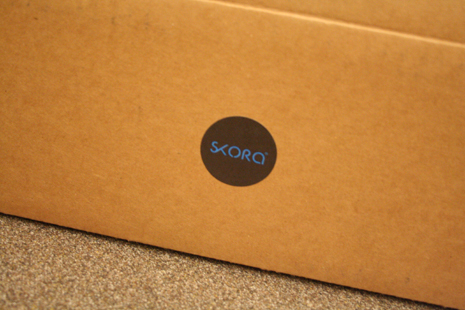 It is truly amazing to see the journey David Sypniewski (Founder/CEO) and SKORA Running has taken since I first talked with him for hours on the telephone more than a year and a half ago. From one of the many prototypes (Model B from Oct 2010) to the final product: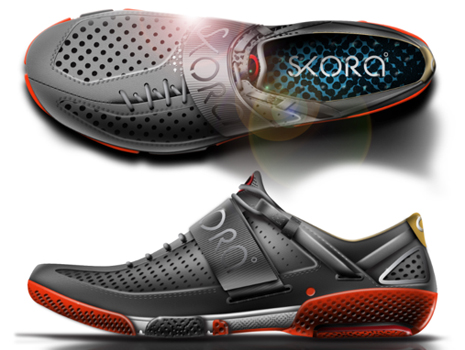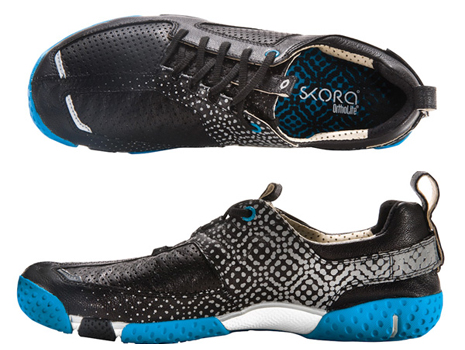 From the SKORA web site, here's the complete specifications on the SKORA FORM for those interested:
FEATURES
REALFIT last
Pittards Armor-Tan Goat upper
Pittards WR100X Sheepskin lining
Asymmetrical lacing
Anti-slip microfiber heel pad
No-tongue design
Elastic heel strap
Reflective details
4mm Ortholite sockliner
High abrasion rubber
Zero-drop construction
Stitch-down construction
9mm forefoot/heel stack height (13mm with insole)
The shoe weighs in at 9.6 ounces (US Size 10.5), 8.2 ounces without the insert/insole. What stands out immediately is the full leather upper that features Pittards Armor-Tan Goat Skin Leather (durable and breathable) with Pittards leather lining for improved permanent water resistance. Ordinary leathers take over 24 hours to dry and are usually hard and prone to cracking. Pittards leather dries in around 6 hours, and is as soft and supple as on the first wearing.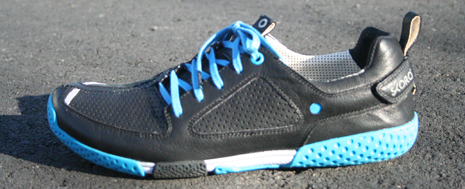 Rarely found in any of the latest minimalist running shoes, the SKORA FORM comes with an elastic heel strap. And there are a few pairs of shoes that I have tested that I wished had this feature.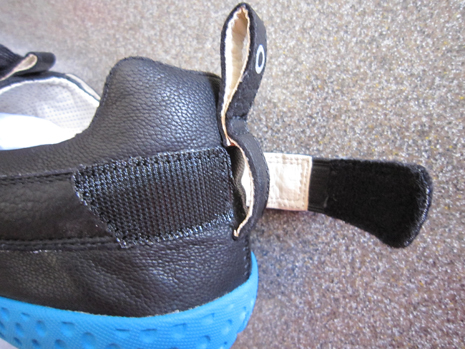 SKORA FORM is also designed with an asymmetric lacing and an engineered one-piece tongue to provide a glove-like fit and premium performance. What more can I ask? My pet peeve has been the tongue and lacing on road running shoes and two of the better ones previously have been that used on the Brooks Green Silence and New Balance Minimus Zero Road. Now SKORA FORM topped it all.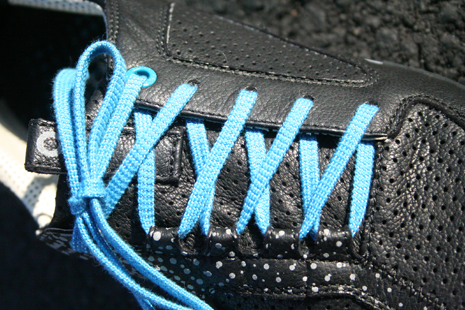 Bonus: Extra set of high quality shoe laces. The shoes come laced with black laces and the Black colorway comes with an extra set of Blue laces. Here's my lacing strategy:
Black laces – for casual and office wear
Blue laces – make that statement for running or super-casual activities
With such high expectations for SKORA running shoes, how did they perform? With any minimal shoe that I test, I take it out for an inaugural 3 mile walk with my dogs on asphalt/concrete before taking it out for a long run. This will give me a good indicator if I will get hot spots or blisters when running sockless in them. No problem here! The Pittards leather is wonderfully soft and highly breathable whereas the reflective markings are highly visible at night. Normal and natural walking gait – the shoe just lets my feet walk naturally. It did take about a mile to get used to the curved outsole heel when walking.

Next up is a 3 mile run on a rubber track. My first run feels like wearing a VIVOBAREFOOT Evo II but with a little more cushioning and better fit. With my laces tightened, I'm able to do speed work on a tartan track – great traction, snug fit, super feeling all around – I love it!
When I first wrote my review of the VIVOBAREFOOT Evo II, I had mentioned that 'Going from the Vibram Five Fingers KSO (VFF KSO) to the Evo II is like upgrading from coach to first class.' Well, the same is true for SKORA FORM except that it is like an upgrade to Business Class.
With a longer run on asphalt and non-technical trails, the SKORA FORM performed just as well as the Merrell Barefoot Run Road Glove and Altra Instinct – the SKORA FORM certainly secured a spot as one of the few go-to road running shoes in my rotation. The leather uppers was originally a concern for me (nice and warm) but it is very breathable in both cold and warm weather. But in the recent cold weathers, my toes felt cold though.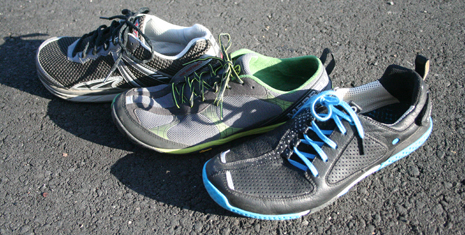 The more I run in the SKORA FORM, the less I worry about blisters and comfort – I can fully focus on improving my running form and heart rate conditioning instead.
One big advantage that SKORA FORM has over the Merrell Road Glove and Altra Instinct – STYLISH DESIGN. It's a winner hands down! The attention to details and the quality of materials used for the entire shoe is simply worth the money. I've also been wearing this as a casual and business casual shoe (I swapped out the blue laces for black laces in some cases). And they're great with jeans!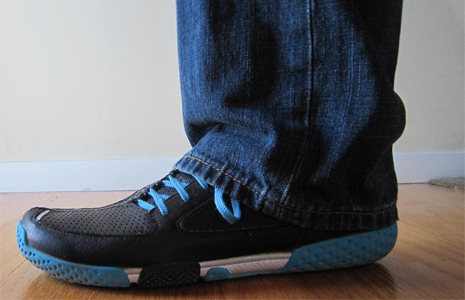 From the Retail Front:
The Team at Skora has definitely created something special with both the Base and the Form. Both runners and walkers alike will enjoy these high quality and stylish minimalist shoes. When I look at testing a new minimalist running shoe it must meet my 4 criteria points: zero drop, overall flexibility, thin/firm midsole, and most importantly a wide toe box. And in all departments the Form and the Base did not disappoint.
Although they are built on the same platform, expect very different ride characteristics with each shoe. The Base has more of a glove-like fit when you first slip it on; around the toe box it automatically offers full toe splay. The simplicity of the Velcro strap was something I had never considered in a running shoe before and I think would be a good consideration for the Triathlete for quick transition times. The Skora Form however has a very snug feel across the entire foot and after one week of running in the Form, I could feel the shoe upper begin to mold to my foot and fit with that glove-like fit as well. I wear the Form almost on a daily basis now goes great with any attire.
Right out of the box, the Base and the Form both featured flexibility in all the right places to promote the ultimate goals of the natural runner. I'd consider them as quintessential minimalist running shoes. I do remind anyone who is beginning natural running to exercise caution and have a gradual progression into minimalist style shoes.
Tom Louderback is the General Manager of Two Rivers Treads; The Nation's First Minimalist and Natural Running Center in Shepherdstown WV. He is an accomplished ultra-runner with 5 JFK 50 Mile Ultras under his belt and a recent graduate of the Virginia Military Institute in Lexington VA.
What didn't I like about SKORA FORM?
If I have to find any faults with this minimalist running shoe, it has to be its weight. Anything in the 8.0 or less ounces weight class (US Size 10.5) is highly desirable. And here is how it compared to my go-to road running shoes.
SKORA Running FORM

Altra Instinct

Merrell Road Glove

NB Minimus Zero Road

9.6 oz

(8.2 oz w/o insole)

9.4 oz

(8.8 oz w/o insole)

7.8 oz

6.0 oz
How about the $195 pricing?
With new technologies and high quality materials for shoe construction come high prices. SKORA Running is a small start-up and cannot manufacture these shoes at bulk rates like Nike or New Balance or Saucony – SKORA will eventually get there though. The SKORA FORM uses premium Pittards goat skin leather on the uppers and Pittards sheepskin leather for the inner lining. A simple pair of Pittards leather travel slipper goes for over $85! A pair of Dexter bowling shoes with Pittards leather goes for $170 at Sports Authority. Quality leather commands a premium.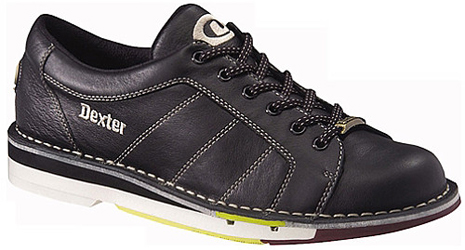 Look at your investment with the SKORA FORM in another way – you have two shoes in one: running and casual. This will replace two pairs of shoes. If you have a pair of Merrell Barefoot Road Glove ($110) and a pair of Merrell Barefoot Tough Glove ($120), your investment is $230. Compare that to $195 for the SKORA FORM. Or New Balance Minimus Road ($105) and Minimus Life/Wellness ($80) for a total of $185.
Finally, I noticed that after testing minimal shoes for the past two years, I haven't seen any shoe that may qualify for use in tennis courts (grass and clay) in most clubs (private and public) especially in Europe. The SKORA FORM in both Black or Natural (white) might just be the ticket. It may not work well on clays courts though as the outsole tread design (see the pimples in forefoot area) won't allow too much sliding. But it's worth trying!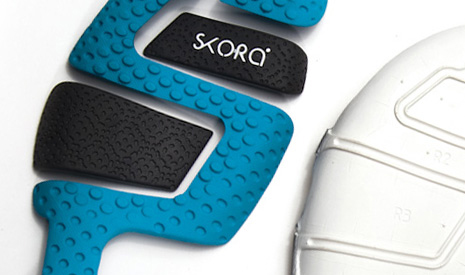 The SKORA FORM is available in 2 colorways for men's: Black and Natural.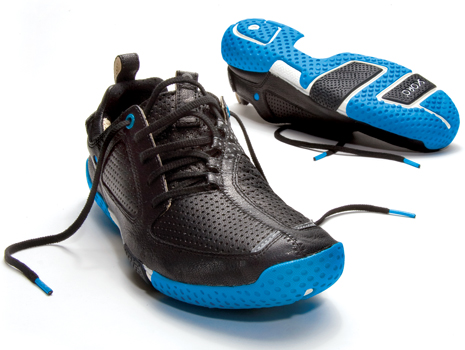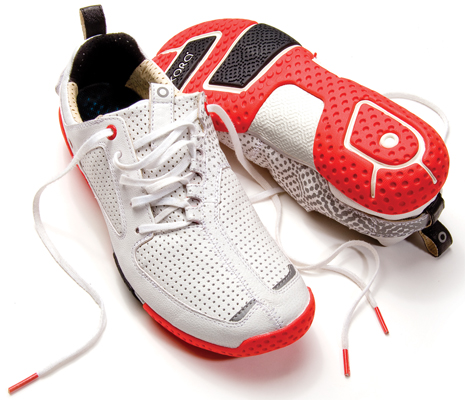 The women's version will be available in Fall '12 in Royal and Natural.
The SKORA Running FORM is available for pre-ordering NOW from SKORA. Get your pre-orders in before the initial shipment runs out.
*Product provided by SKORA (MSRP $195). CMP.LY/1 Review
If you have a product you'd like reviewed, contact me at info@weartested.org