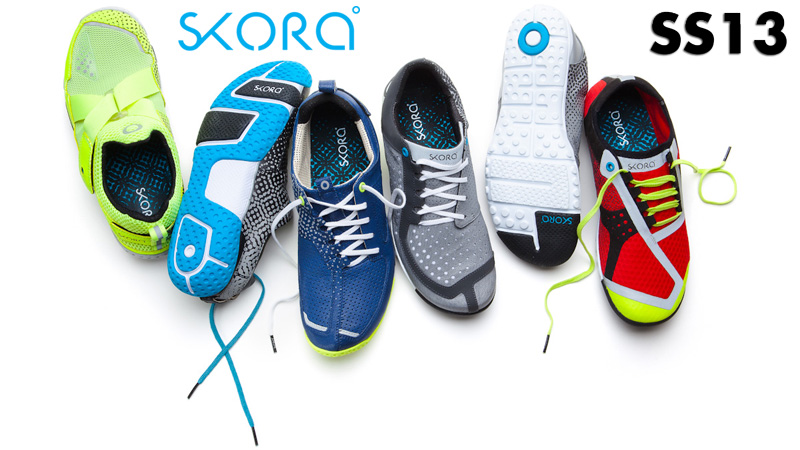 SKORA is launching their SS13 collection with two all-new models featuring groundbreaking midsole & outsole technology and construction techniques plus fresh new colorways for FORM and BASE. The two new SS13 models, PHASE and CORE, are both built on the revolutionary new R02 unibody outsole platform, featuring IBR (Injection Blown Rubber) that provides the function of both midsole and outsole.
Pushing the boundaries of material technology, IBR offers better abrasion resistance, grip and compression-set than injected EVA, at a much lower density and weight than rubber. This provide runners with an ultra-supple ground feel and outstanding durability, longevity and running comfort in a flexible, lightweight single unit. The new SKORA PHASE and SKORA CORE are zero-drop for the perfect blend of feel and function, featuring an 8mm forefoot/heel stack height for incredible ground feel with needed protection.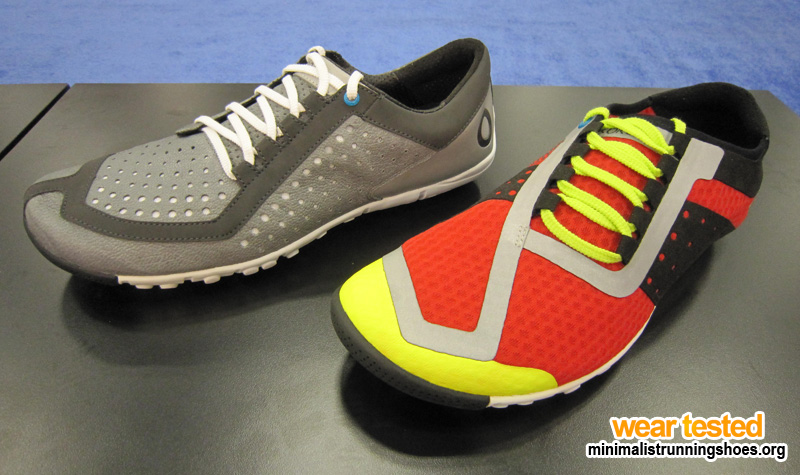 SKORA PHASE

SKORA PHASE is constructed using the latest lamination techniques, with a minimal single-layer mesh upper and laminated reflective details. With an asymmetric lacing system, and a unique unibody IBR outsole, PHASE provides barely-there performance and lightweight responsiveness. Zero-drop, 8mm forefoot/heel stack height. It also has a no-tongue design and a removable 3mm anti-microbial sockliner. MSRP: $110.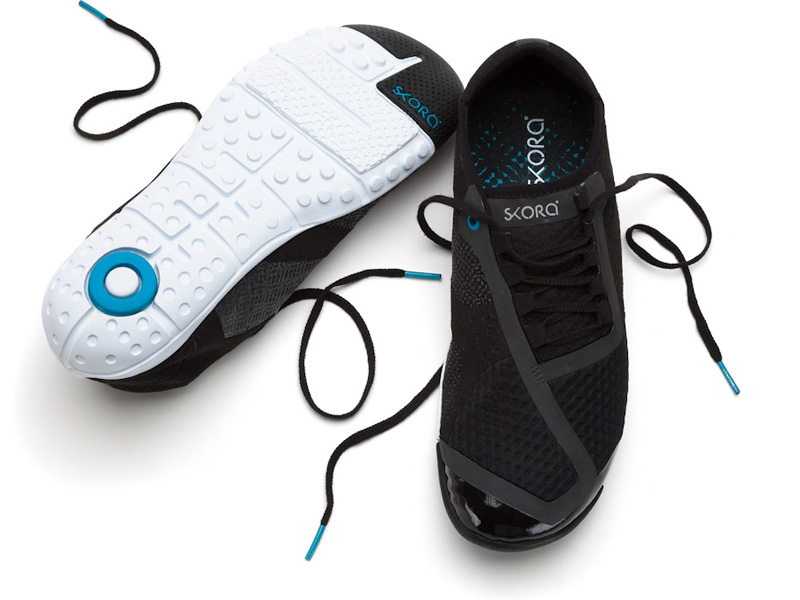 SKORA CORE

SKORA CORE features a perforated Pittards® Armor-Tan® Goatskin leather upper, a combination lining with WR100X® leather and antibacterial Agion mesh, and an asymmetric lacing system. With a unibody IBR outsole, CORE offers incredibly supple road feel, and superior anatomical fit. Zero-drop, 8mm forefoot/heel stack height. It also has a no-tongue design and a removable 3mm anti-microbial sockliner. MSRP: $155.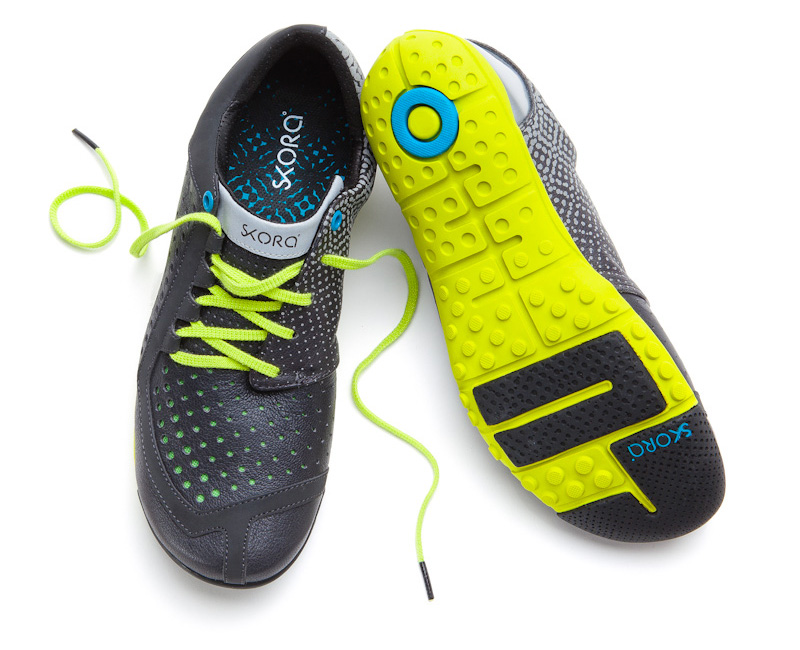 So how did the SKORA PHASE and SKORA CORE perform?
My early test pair of PHASE (US Size 10) weighs in at 7.0 ounces and the CORE (US Size 10) weighs in at 8.6 ounces. The CORE is lighter than the FORM (both Pittards leather) and the PHASE is the lightest of all the SKORA shoes. The PHASE is also the most flexible model in the collection – longitudinally and laterally. Both shoe fit like the previous models. I've been wearing them in various situations and terrains for walking and running over the past 3 months.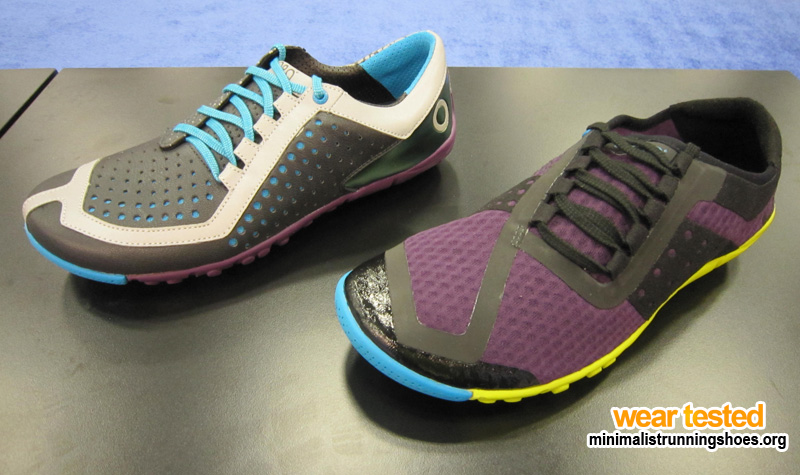 My female wear tester and I tested the new SKORA models sockless and I had the sockliner removed in mine. At only a 8mm stack height, you can seriously feel every rock or pebble running on non-technical trails. We both love the excellent proprioception but fortunately our feet did not get bruised on the trails. The CORE kept my feet really warm (sockless) in cold weather and did not make me sweat on warm weather. The PHASE is the perfect warm weather running shoe with great breathability.

Doing speed work on the tartan track, the super-lightweight PHASE is in my shoe rotation with racing flats – I honestly think it qualifies as a lightweight racing flat even though it is over an ounce heavier than the Merrell Vapor Glove and over 3 ounces more than the New Balance RC 5000.
We both loved the PHASE for running on the track and asphalt. The CORE is slightly heavier with more protection on the uppers but is great for trail running in our opinion. If you already own a pair of SKORA, upgrading from the FORM to the CORE or from the BASE to the PHASE is a no brainer. My wear tester runs exclusively in a pair of SKORA or Merrell M-Connect ever since she transitioned to minimal shoes a year ago. She is also slowly converting her traditional casual shoes to ones that are minimal or at least zero drop – maybe a pair of CORE for her casual wardrobe. I only wear minimal shoes for both running and casual/business wear – anything that is more than 4mm drop for walking hurts…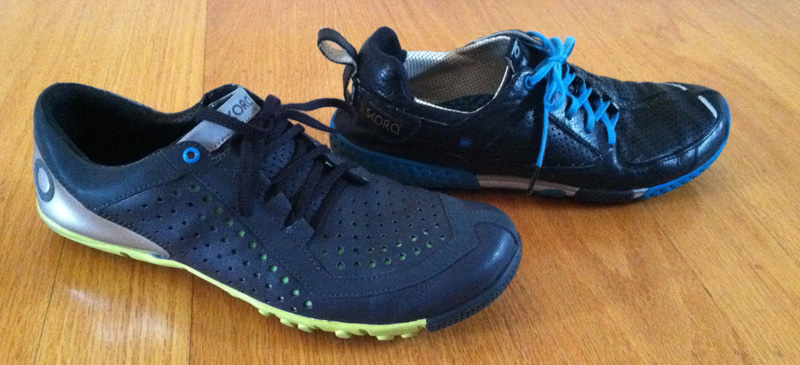 One of the most noticeable improvement for the PHASE and CORE versus the FORM and BASE is in the actual design and look of these new models. If you think the design of the FORM is awesome, the CORE will blow you away – think of it s the next version of an Apple product like the 'new iPad' or 'iPad Mini' or 'iPhone 5'.  The color combinations and design details are simple stunning and I wear both my CORE and PHASE with business casual and casual apparel for meetings and social occasions. [UPDATE 3/8/13] Some early samples/prototypes came with 2 set of laces. Production pairs does not.  Note that with the CORE, you get two sets of laces. For the Charcoal CORE, it comes with a set of matching black and a set of matching green laces. I swap them around depending on what outfits I'm wearing them with. Having two pairs of CORE might be the best solution as I try not to run with them on trails so they stay clean…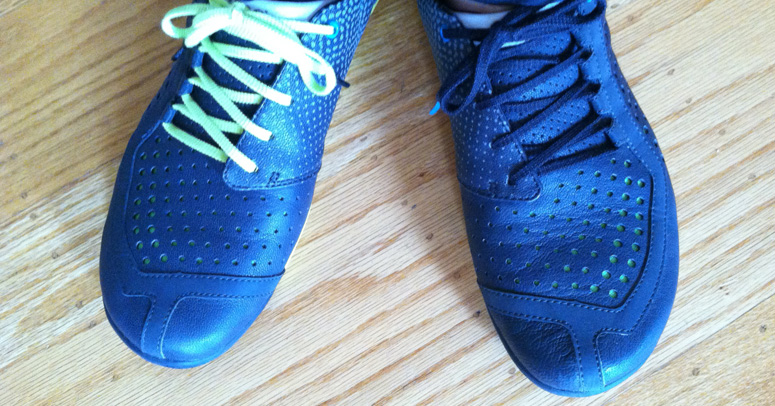 Obviously, the PHASE (Black) can also be worn with casual outfits. For me, both the CORE and PHASE double as running and casual shoes. How many of your running shoes can do that seriously? And I mean it. I always wear a pair of comfortable running shoe whenever I can for walking or hiking. The SKORAs are not your typical dull looking pair of sneakers. Most minimalist running shoes are now available in bright or flashy colorways but none have taken it to the level of design that SKORA has.
The new R02 platform (CORE/PHASE) is a significant improvement over the R01 platform (FORM/BASE) in terms of better traction and durability, especially for forefoot and midfoot strikers. Note the additional presence of the pimples or circular lugs in the outsole forefoot and midfoot area. The arch area is also getting extra protection – it was exposed in the R01 platform where it is without the low profile tread.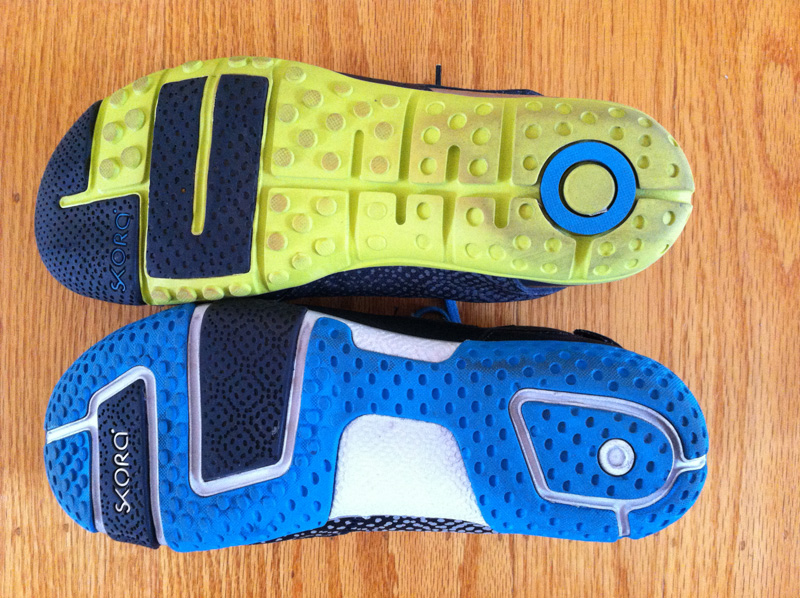 SKORA SS '13 Colorways
The SS'13 SKORA PHASE is available in two colorways for men:
And three colorways for women:
The SS'13 SKORA CORE is available in two colorways for men:
And two colorways for women:
The SS'13 SKORA FORM is available in two colorways for men and women:

The SS'13 SKORA BASE is available in two colorways for men and women:

The complete SKORA SS'13 collection is now available for online purchase at: SKORA
*Product provided by SKORA. CMP.LY/1 Review
If you have a product you'd like reviewed, contact me at info@weartested.org