The Mizuno Wave Universe 3 (MWU3) is one of the best selling running shoe and racing flat from Mizuno. The updated Wave Universe 4 (MWU4) kept the same midsole and outsole and focused on making the design even better. And loud with a vibrant orange and anthracite uppers!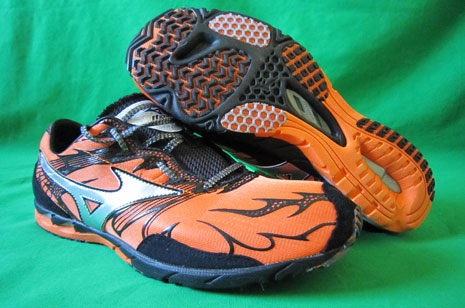 This is my first pair of Mizuno running shoes and I questioned myself why I waited so long to try a pair! The MWU4 weighs 4.4 ounces (US Size 10 – unisex), has stack height of 18mm, and a heel-to-toe differential of less than 4mm according to my digital calipers.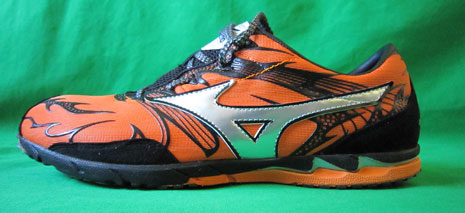 The toe box is super-wide and the midsole/outsole is very flexible. There is thin and firm cushioning and comes with traditional lacing.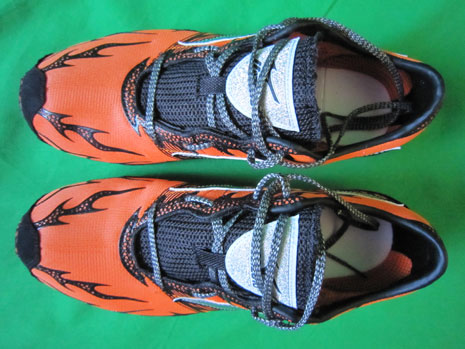 I didn't care for the super-thin laces as they might break over time.  The uppers are made of super-fine air mesh with great breathability and comfort. The heel collar is  padded with a fabric lining for comfort. There is no insert or insole and the footbed is covered with a soft white terry cloth-like material just like the MWU3. It is very comfortable and I only run sockless in this shoe without any blisters or chaffing at all.
Update 6/12/11: The laces are made out of a combination of polyester and Dynema. Dynema is a super lightweight and strong thread used in dynamite netting (to control the after effects of dynamiting a tunnel, road, etc.). So no worries about them breaking!

There are welded black flame overlays to help hold the foot in place. Gone are the silver (reflective?) printed overlays.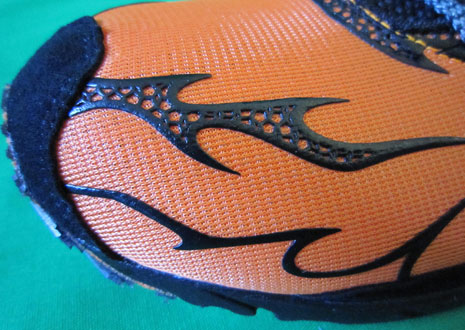 As with the MWU3, the MWU4 includes Mizuno Wave technology in the midsole. Mizuno Wave technology "disperses impact forces uniformly over the length and width of the midsole, providing unrivaled cushioning. It resists over-pronation and relieves stress on the ankle and knee joints while minimizing excessive midsole collapse as the foot lands and rolls medially providing superior motion control."
The AP+ (Acceleration Polymer Responsive) midsole improves the quality of the running experience by offering increased rebound and a bouncier feeling run while maintaining the light weight performance.
The MWU4 also incorporates their Smooth Ride technology. Smooth Ride minimizes the rapid acceleration and deceleration of the foot during transition thus creating the smoothest ride possible – a rocking-chair-like motion in every step.
The G3 outsole provides superior grip with less weight as it is made of blown rubber or cushioning and flexibility. It is primarily located at the forefoot and is a rubber dot pattern that provides increased grip and flexibility. I doubted this when I first looked at the outsole out of the box but after a single run, I was convinced and my doubts went away permanently.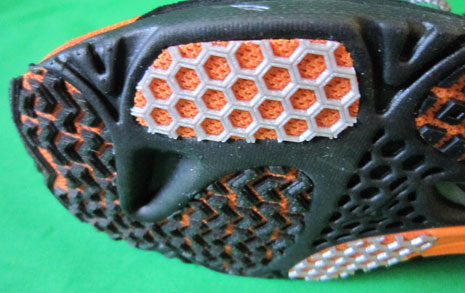 The flex grooves and flex controllers in the forefoot work together to smoothly continue the roll forward to give your foot a more solid platform at toe-off. It all adds up to a more fluid, enjoyable run, every time you head out.
I have taken the MWU4 for long runs on various terrains: asphalt, tartan track, soft trails, hard trails, and everything in between. To my surprise, this shoe performed well on ALL these surfaces – traction, lightweight, protection, running form. I was worried that I might slip on trails since the outsole does not have big lugs like in most trail shoes. I cannot say this for many shoes I have tested.
Even on loose gravel, I can sprint for 800 meters without slipping or worrying about my running form. This is definitely a shoe you can use for both training and racing on all terrains.
The shoes run true to size even though I sized up by half-a-size due to my wide feet. And it has plenty of toe box space for me to splay my toes!
And the MWU4  will make it an easy choice for someone who own multiple shoes for different terrains or multiple shoes for racing versus training. You just need to buy only one, the Mizuno Wave Universe 4, and you would have addressed all, if not the majority, of your concerns!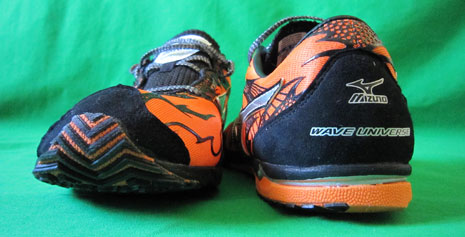 The Mizuno Wave Universe 4 vibrant orange and anthracite tie in perfectly with Mizuno's new Global Elite apparel line-up of lightweight, high-tech, race-inspired apparel, which is also available in orange and black.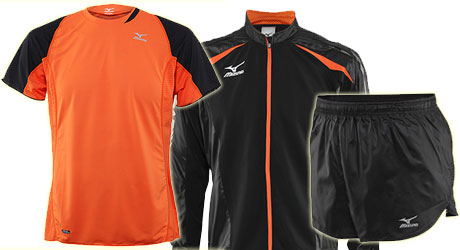 From head to toe, you'll have a good looking running outfit!
One last word. I'm ready for Halloween! Is this a trend?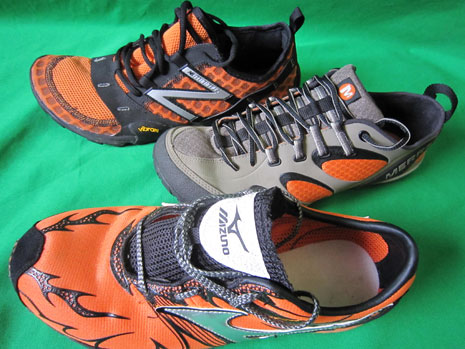 The Mizuno Wave Universe 4 will be available in July but you can pre-order yours at Zappos and Road Runner Sports.
*Product provided by Mizuno (MSRP $120). CMP.LY/1 Review
If you have a product you'd like reviewed, contact me at info@weartested.org