I had done an early review of the Merrell Barefoot Road Glove a few months back after running in a pre-production model. The Merrell Barefoot Run Road Glove (Dash Glove for women) will be available online at Merell.com and in running specialty stores this month.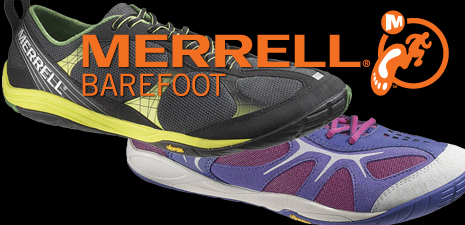 Since I wrote the initial review in October 2011, the Merrell Road Glove and the Altra Instinct have been my "go to" road running shoes in my minimalist running shoe rotation. Dominantly a non-technical trail and road runner myself, I favor road shoes over trail shoes.
Minimalist running shoes have been accepted in trail running first and lately followed by road running – VIVOBAREFOOT Evo, New Balance Minimus Trail, GoLite Amp Lite, etc. were early minimalist models hitting the scene first. Then came Merrell Barefoot – Trail first, now Road!
Two Rivers Treads Offer
For a limited time only, get 
FREE
SHIPPING
 and 
10%
OFF
 your ENTIRE order from
Two Rivers Treads
using this code: 
NRC10
.
Quick Recap
The latest version of my Merrell Road Glove weighs in at 7.8 ounces (US Size 10.5) and have a stack height of 10mm. Like the Trail Glove, there is no removable insole and is zero drop. Again, I can wear my Correct Toes and fit into the Road Glove – can't do that with the Trail Glove.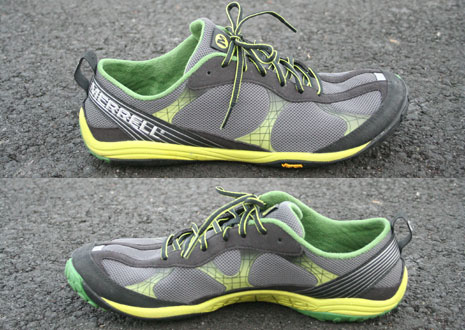 The Road Glove has the same fit for me as the Trail Glove. The uppers of the Road Glove seemed identical to the Trail Glove – soft, light, breathable.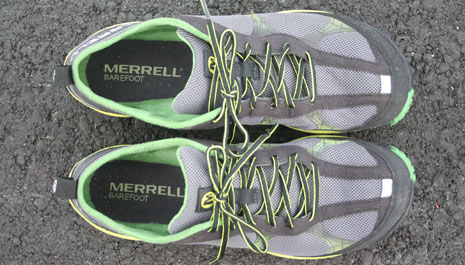 The lacing system is very different than the Trail Glove – the Omni-Fit lacing is no longer available. It is not needed for regular runs on the road but for speed work, this is something that might be needed. Again, this is part of Merrell's 'reductive design' approach – take out any unnecessary technology in the shoe that does not help with the performance of the runner.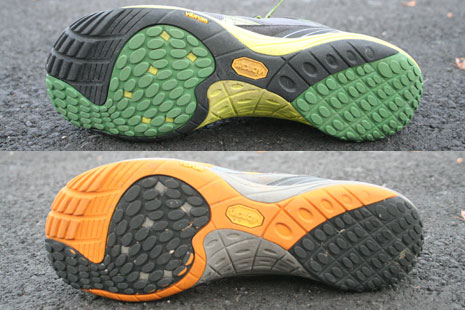 From the Merrell web site, here's the complete specs for those interested:
UPPER / LINING
Barefoot Strobel construction offers flexibility and comfort
Synthetic leather and breathable air mesh upper
TPU overlays secure the foot
Fused rubber toe bumper provides durability and protection
Synthetic leather rear foot sling provides ultimate stability
Internal support construction secures the midfoot for optimal fit and support
Integrated microfiber footbed treated with Aegis antimicrobial solution resists odor
MIDSOLE / OUTSOLE
4 mm compression molded EVA midsole cushions
0mm ball to heel drop keeps you connected to your terrain
Vibram Road Glove Sole / TC-1 Rubber
Wash as needed in cold water, gentle cycle and air dry
What changed between my last review?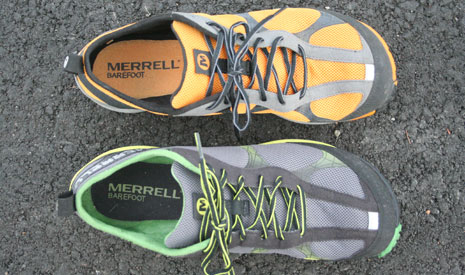 The version that I've been re-testing is a production model with no visible changes but better quality control at the factory. If I have to look closely, only the outsole has an indicator of a pre-production model – see the misaligned coloring on the first metatarsal (big toe) and midfoot area of the outsole on the Dark Cheddar color (extra orange paint in the black rubber area).
In terms of performance, the Road Glove is exactly the same and STILL one of my two road running shoes of choice. I've been using it for asphalt, concrete, non-technical trails, and tartan track (mixed in with barefoot). For shorter technical trails, it should perform well but I think my body will give out before my shoes on longer technical trails!
Compared to the Trail Glove, it is much more forgiving on the concrete with the Road Glove on my body. With compression calf sleeves, I get almost no muscles soreness running hills on concrete/asphalt.
What hasn't changed also is the fact that the heel to midfoot section feels elevated compared to the forefoot. Again, after walking a couple of miles in them, it flattened out. Just a minor annoyance for some but not a problem for me.
Is there anything I don't like about the Road Glove?
I had complained about the lacing system in my previous review. But because the toe box is super wide and I sized up by a half-size, I did not have to go with the alternate lacing system. Thus no exposed areas on the upper/tongue like before.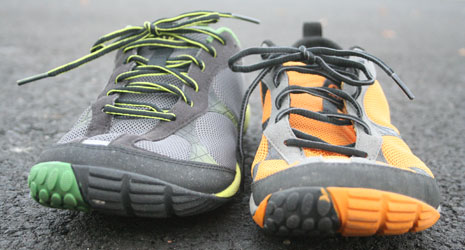 Another side benefit of going with a traditional lacing system is that it is now a lot more snug and I can do speed work with the Merrell Road Glove (short of putting on my upsized narrow Asics spikes). I'm still waiting for wide toe box spikes! Merrell? New Balance? Mizuno? Brooks? Please…
Conclusions
After wearing the Merrell Barefoot Run Road Glove for ALL my walking and running extensively for over 3 months on asphalt and concrete but at least 50+ miles on non-technical trails, this is the only minimal shoe that I have put so much mileage on considering how many shoes I have to test in my pipeline. As I have written earlier, I tend to grab a select few that know I don't have to worry about blisters or hotspots or comfort for whatever weather is ahead in the day for me – storming, thick fog, windy, or dark outside.
The Merrell Road Glove is a long awaited minimal shoe for road runners. And it is probably the perfect shoe for almost everyone including those who do not fit on the Merrell Trail Glove. If you are not running technical trails, the Road Glove will perform just as well as the Trail Glove or other minimalist trail shoe.
Looking ahead, Merrell is building additional products based on the Road Glove platform just in time for the Winter months. The Pulse Glove and Pulse Glove Mid both have integrated water-resistant uppers (gaiters) for those unpredictable rainy, cold, and icy days. Additionally, it uses Vibram Ice Trek technology, thus providing the best grip on very cold, iced, or snowy surfaces!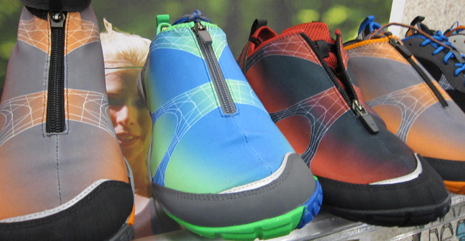 The Merrell Barefoot Run Road Glove is available in 5 colorways for men's: Black/Lime (my favorite color), Twilight, Dark Cheddar, Smoke, and Ash/Gold.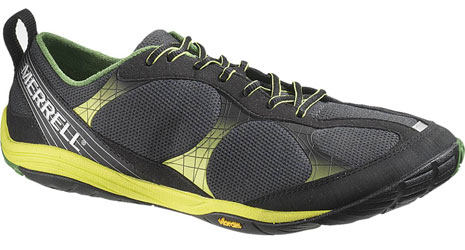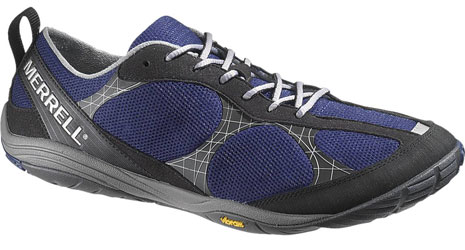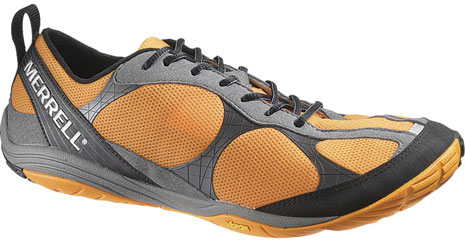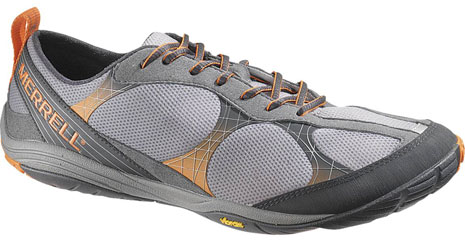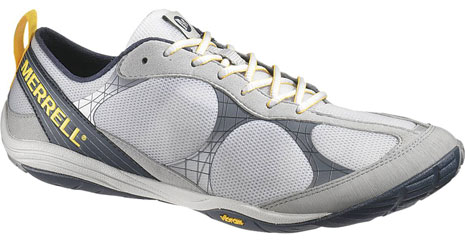 The women's equivalent, Merrell Barefoot Run Dash Glove, is available in 5 colorways for women's: Ultra Marine, Lime Zest, Black, Lychee, and Calypso.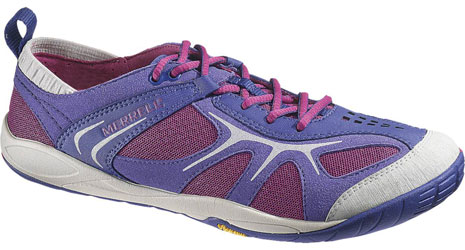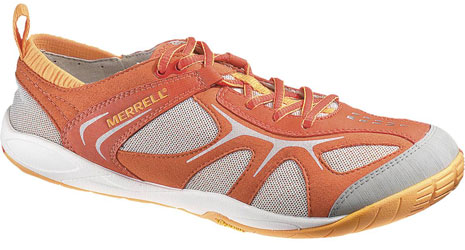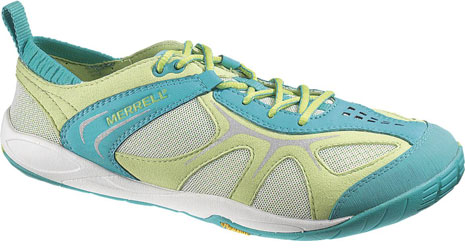 The Merrell Road Glove is now available from Merrell and Two Rivers Treads.
Two Rivers Treads Offer
For a limited time only, get 
FREE
SHIPPING
 and 
10%
OFF
 your ENTIRE order from
Two Rivers Treads
using this code: 
NRC10
.
*Product provided by Merrell (MSRP $100). CMP.LY/1 Review
If you have a product you'd like reviewed, contact me at info@weartested.org