What Is The Minimalist Shoes Rating System?
The Minimalist Shoes Classification System
This is our in-house system designed specifically for minimal shoes. It is different from other reviews because we focus on the following features of the shoe:
Sole Thickness – best shoes should have a sole thin enough to allow proprioception and yet protect your feet from dangerous objects
Differential – heel to toe drop of 4mm or less but zero drop preferred
Weight – shoes must be lightweight at 8 ounces or less
Toebox Width – wide or extra wide with almost no toe spring
Flexibility – shoe allows toes and feet to move naturally including flexing at midfoot
Durability – can you put more than 500 miles on these shoes?
Green – is the company Eco-conscious?
Expectations – does the shoe feel good running? does it exceed, meet, or fall below expectations?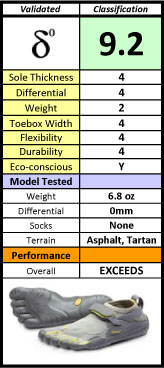 Our minimalist running shoes classification radar is a weighted average of the first six features. We classify a shoe once we have it in-house. Then we rate it's performance after we run in it on asphalt, tartan, and trails (if trail shoes).
Since the Vibram Five Fingers (VFF) KSO is my first minimalist running shoes and I have ran over 500 miles in them, the VFF KSO will be the basis that all other minimal shoes will be measured against.
The Details On The Numbers
Sole Thickness
4 =< 3mm
3 =< 6mm
2 =< 9mm
1 <= 12mm
0 > 12mm
Differential
4 =< 3mm
3 =< 6mm
2 =< 9mm
1 =< 12mm
0 > 12mm

We believe 3mm is the magic number based on our running tests on these minimal shoes. Studies by footwear manufacturers indicated between 2.5mm to 4mm differential.
Weight
4 =< 4oz
3 =< 6oz
2 =< 8oz
1 =< 10oz
0 > 10 oz
Toebox Width
4 = Very Wide
3 = Wide
2 = Standard
1 = Narrow
Flexibility
4 = Very Flexible
3 = Flexible
2 = Stiff
1 = Not-Flexible

Twist in opposite directions. Bend the shoe in half, pushing the heel towards the toe. Should flex most at the arch or midfoot.
Durability
4 = More than 500 miles easily
1 = Less than 500 miles