Inov-8 Road-X 222 Shoe Review
The new road running shoe offerings from Inov-8 is off to a great start with the Road-X 222. Inov-8 is well-known for its trail running shoes and they are launching a couple of new minimalist running shoes for Spring 2011. As I write this review, the Road-X 222 is being redesigned to make it even lighter (5.5 ounces) with a thinner midsole (no more outsole) – it will be renamed Road-X 155.
The Road-X 222 is a hypersonic minimalist racing flat that promotes the most efficient, natural running style. The 1 Arrow Shoc-Zone™ gives maximum proprioception feedback and minimum cushioning and as such, this shoe has been designed for elite runners, those with a refined natural running style and runners wanting to experience a minimalist shoe. It is not zero drop but has a 3mm differential. The shoe weighs 8.2 ounces and 7.4 ounces without the inserts.
Inov-8 Shoc-Zone system allows a runner to transition at their own pace from heel striking to forefoot striking by choosing heel to toe differentials ranging from 12mm (4 arrow – maximum underfoot protection for heel strikers; best for running on hard trails) to 0mm (0 arrow – least underfoot protection for forefoot strikers; perfect for anyone wanting to experience minimalist running).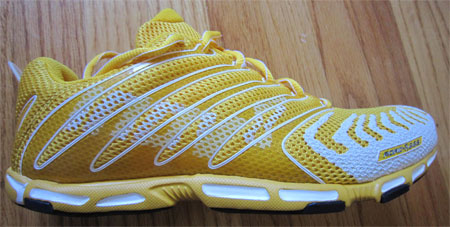 The 222 is the only Road-X that does not feature the Dynamic Fascia Band (DFB) technology. DFB replicates the fascia band and amplifies the natural 'windlass effect' in the foot (for propulsion). Instead relies completely on the strength of the runner's foot.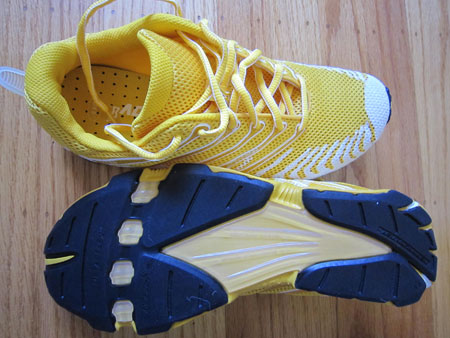 The narrower performance fit is meant to provide a great fit to both men and women. When I first looked at the shoe, the toebox looks narrow and I expected to get blisters or bruises on my toes when I run in them. With a 3mm differential, I was also thinking how this would affect my running form. So I took it out for a 3 mile run. WOW! No blisters and no impact on my running form. And it is so light! This is a total surprise to me – pleasantly.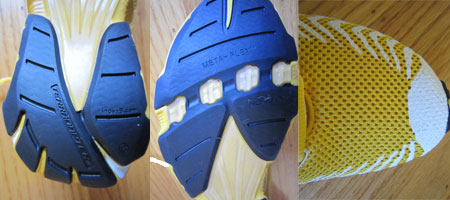 The nylon mesh is light, stretchable, and breathable and allows my toe to splay on impact – the toebox is wide and tall enough for my feet.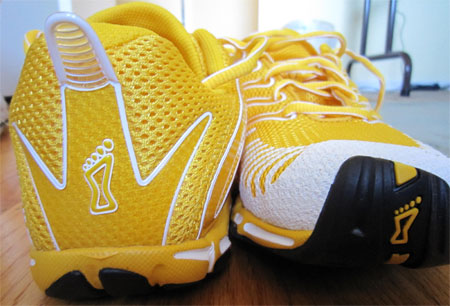 It also has a protective polyurethane laminate on the upper mesh that doubles as the lacing system. The lacing system is standard but the shoe lace material and eyelets seem to keep the tension intact after you adjust the laces.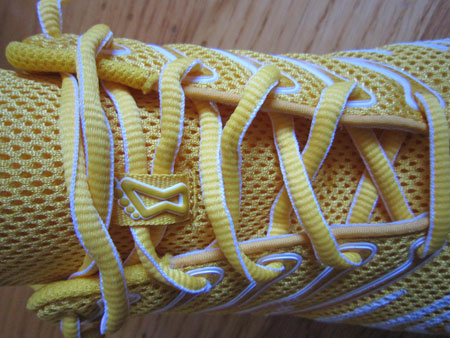 The bright yellow and white is certainly an attention grabber!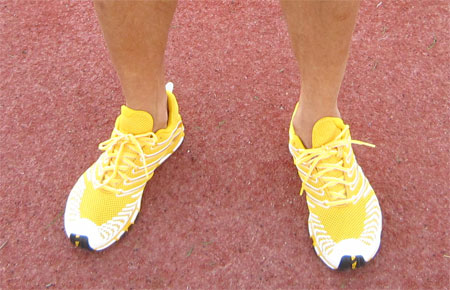 The next day, I did speed work with the racers. Amazing! It is so light and comfortable that I did not feel the shoes as much as I did when doing speed work with the Vivobarefoot Evo II. It certainly lives up to its name – hypersonic minimalist racing flat!
Loving it so much, I ran with it again the next day and put in about 4 miles on the track. Again, no blisters so the toebox is actually wide and tall enough for me. But my thighs and calves are a little sore because I might be landing harder than usual – probably because the midsole and outsole are about 8mm and 5mm respectively.
In the following weekend, I even ran a rolling 5K in heavy rain with the 222 – no slipping even going down hills! I am truly amazed.
For Inov-8, this is an amazing accomplishment. Although it is not a zero drop shoe, it is still one of the best minimalist running shoe I have run with. I can't wait to try the updated version (Road-X 155)!
NOTE:
The rating is based on the future release product, redesigned to be Road-X 155 with a lighter and thinner sole. Even though it has a 3mm differential, I did not feel a difference thus gave it the zero drop seal of approval.
*Product provided by Inov-8 (MSRP $100).
If you have a product you'd like reviewed, contact me at info@weartested.org