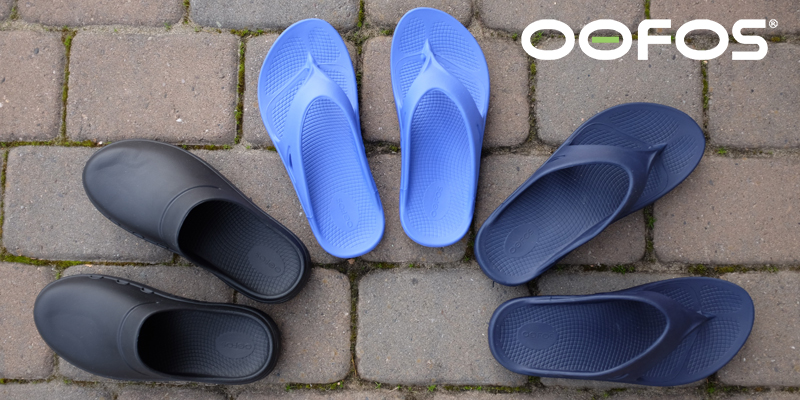 OOFOS has a singular mission – to make you feel better. It doesn't matter if you run, walk, stand, or skip. Starting with OOFOS OOfoam technology and a patented footbed design, OOFOS collection is designed to jumpstart the recovery process. OOfoam is a technology that absorbs 37% more impact than traditional foams use in footwear. It is also a closed cell foam thus waterproof with no bacterial build up in the footbed. The biomechanically designed OOfoam footbed allows your foot to move on all planes and the material flexes with your foot and the surface you are walking on simultaneously – equivalent to walking barefoot on natural surfaces!
OOFOS footwear offers unparalleled impact absorption and arch support. Whether you've just finished running, playing, lifting, or just a long day, keep in mind that the last step is the most important. Take yours into a pair of OOFOS. We're intrigued so we decided to wear test the OOFOS OOCloog and OOriginal models.
OOFOS OOCloog

The OOFOS OOCloog (think Crocs on steroids) is their classic design that takes on a serious comfort factor with their OOfoam technology.  The remedy for every day walking, give yourself an equal dose of vibrancy and sole support.  Make your transition from work to play and back without missing a step.

The OOCloog is also available with a glossy upper (shine from heel to toe) called Luxe – the standard version is Matte.
OOFOS OOriginal

The OOFOS OOriginal (think sandals on steroids) is the OOfoam in its purest form and is the best selling OOFOS shoe. Features a bioengineered footbed, a soft upper and arch support. Slip them on in, let them be a part of you.

So how did the OOFOS OOCloog and OOriginal perform?
In terms of sizing, we recommend sizing down by a half size since they run wide and only available in full sizes. This is true for both women's and men's sizes. With sizing out of the way, I've been wearing Sazzi Decimal for recovery and my wear tester uses her Crocs.

At first glance, the OOFOS shoes are thicker than most sandals and clogs. It has a measured stack height of 29mm (heel) and immediately reminded me of maximalist running shoes from Hoka compared to the Sazzi minimalist sandal. When I first put them on, it immediately felt like a high heel-to-toe drop (about 9 mm) but after wearing them about two to three times, the heel area reduces (or my mind adapted) and it does not feel like there is a high differential. Maybe it molded to my foot like memory foam…

What surprised me most is how quickly my feet adapted to the OOFOS footwear and after wearing it for more than a month and as much as I can for walking my dogs and short errands, I never felt any muscle or joint pains or plantar fasciitis  as I would have when running in thick, narrow, cushioned running shoes with more than 6mm heel-to-toe drop. As a matter of fact, I've stopped wearing my Sazzi and favor the OOFOS OOriginal instead.

The only negative I find is that the colors are kind of bland – single tone and subdued. If I remember correctly, Crocs and a couple of other shoe manufacturers started out that way too. The OOCloog Luxe is a good start but the OOriginal needs a boost. But don't fear! In the next few weeks, other models will also be available including the OOlala which we are very excited about. The OOlala is the OOriginal with a glossy upper and comes in two tones thus bringing fashion flair at last.

The OOFOS collection is available in many colorways and available for purchase at: OOFOS, Amazon.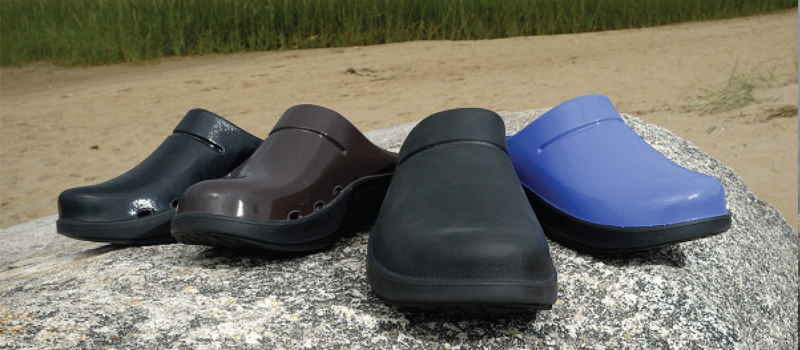 *Product provided by OOFOS. CMP.LY/1 Review
If you have a product you'd like reviewed, contact me at info@weartested.org