I was aware of On-Running shoes at last year's The Running Event in Austin, TX. Their 'Run like on clouds' tagline sort of turned me off as I was more interested in minimal shoes with less cushioning. I did not pursue them for more details at the event because of that.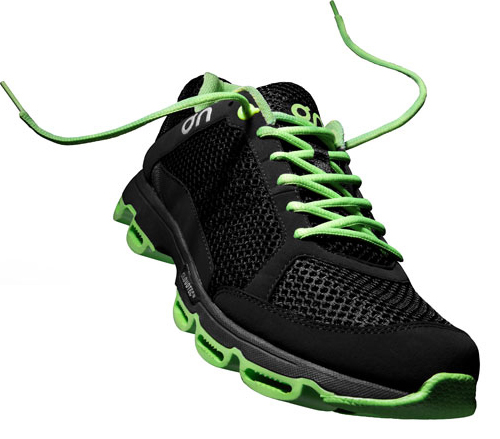 But after reading about elite athletes and coaches endorsing and winning races successfully with these shoes, I decided to find out more. Tegla Loroupe of Kenya, the four-time World Record holder and winner of various marathons as New York, Berlin, Rotterdam or London, is on Team On. She is also the United Nations' Ambassador for Sport, Development and Peace. Olivier Bernhard of Switzerland, the three-time World Champion and six-time Ironman winner is the founder of On Running. Top Ironman contenders like Scott Neyedli (United Kingdom), Eva Dollinger (Austria), and Simone Benz (Switzerland) are on the team too. The list goes on.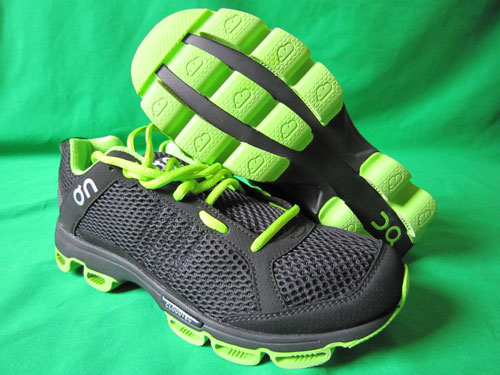 Most interesting to me is who else in the USA is involved. Cyle Sage is the first test wearer in US. Cyle is  a two-time US Olympic Committee Developmental Coach of the Year. Cyle is also a student of Nicholas Romanov and is part of his POSE Elite group. Because of Cyle's involvement with On Running, I decided to test out this shoe to see for myself.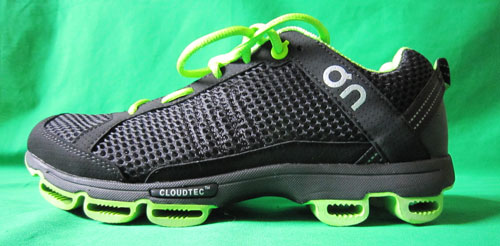 There is a lot of talk out there about zero drop and cushioning in shoes like the ones from Hoka One One. It may be that the key to better running form and injury free is zero drop, wide toe box, flexible shoes, and no cushioning for some or those competing in short distances (10K or less) but cushioning for others or those doing longer distances than 10K. Time will tell so I didn't want to rule anything out.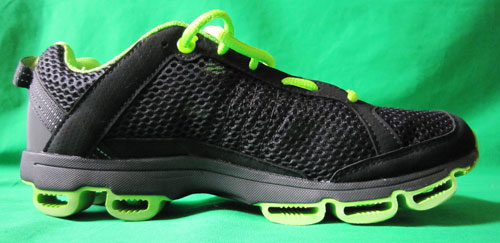 CloudTec™ Technology
On Running utilizes intelligent cushioning, both vertically and horizontally. Traditional running shoes only have vertical cushioning. According to the Biomechanics Lab of the Swiss Federal Institute for Materials Testing and Research, CloudTec™ reduces vertical AND horizontal impact forces by approximately 30%. This means that the stress on muscles and ligaments is greatly reduced during the crucial first impact phase.
Swiss engineers discover that it is the horizontal impact which causes the most damage to muscle cells, ligaments and joint. And traditional running shoes only absorb the vertical impact. On engineers wanted to create a running shoe, which would allow a runner to land as softly as on sand and to push off as effectively as on concrete.
A piece of circular rubber, called elements or pods, absorbs both the vertical and the horizontal impact. As the foot hits the ground with forward momentum, the CloudTec™ element folds back, effectively allowing the foot to glide to a softer halt. After landing, the element is compressed by the weight of the runner, locks together and is fully firm for the push-off.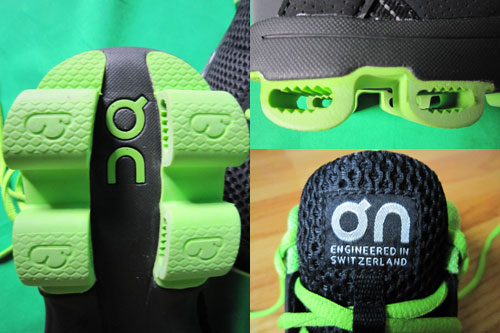 The 3D flexibility of the 13 CloudTec™ elements are responsible for the astonishing sensation of running light 'on clouds'. The subtle, subliminal instability stimulates the postural muscles, regulates muscle tone, improves posture, and activates the metabolism. As a result, runners or walkers feel more awake, experience less pain in joints, ligaments and muscles, strengthen their muscles while toning and slimming their upper thighs and buttocks.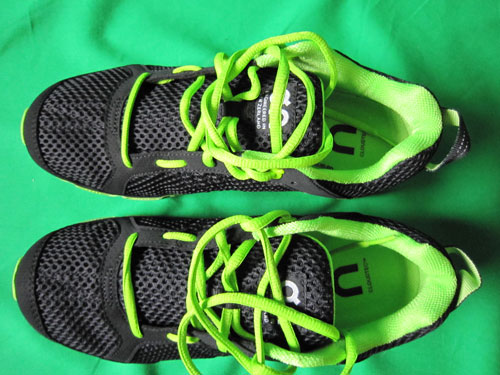 The uppers are made of 3D air-mesh that optimizes air-intake and cooling. They reminded me of the air mesh used on the Newton Running Distancia. There are also many reflective materials on the shoe to provide visibility at night.
On Running wants to fosters an efficient running style thus allowing the runner to land more forward on his or her foot as well as to adopt a centered and energized running position. An Integrated Transition Bridge (ITB) flexes over the whole length of the shoe, making it one of the few rolling shoe on the market. The ITB and firm push-off transfer energy into forward momentum. Combined with the Cloud-activated muscles, this results in a shorter ground contact time – efficiency in running.
Some runners have likened cushioning as a drug. It sure feels great wearing a pair of shoes that have cushioning after running in minimal shoes for so long. But I always remind myself to only do that for long runs for the sake of my body. And I always wear compression calf sleeves to minimize vibrations and maximize blood circulation.
How Does CloudTec compare to Newton Running energy return system?
Newton's Action/Reaction  technology absorbs and then returns energy back to you. The four external actuator lugs are pressed into hollow chambers inside the shoe's midsole via an elastic membrane. This movement absorbs shock. The lugs release their stored energy and propel you forward. But Newton only take care of the vertical forces. And adapting your running form and feet to a pair of Newton takes time.
CloudTec™ however handles both vertical and horizontal forces in addition to letting the shoe adapt to your feet (rather than vice-versa).
Observations
Runner's will feel the benefits of CloudTec™ especially when running on  hard surfaces – your muscles does not tighten up as much and you will experience less fatigue.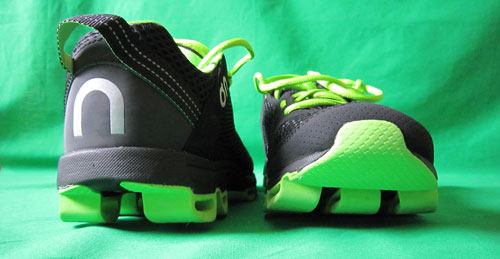 I sized up my pair by half a size because I wanted more space on the toe box. I couldn't tell from their web site if the toe box was wide enough. It turned out that between my favorite wide feet lacing technique (from Altra Running) and the air-mesh on the uppers, the toe box was more than sufficient for my wide feet and ample space for my toes to splay.
First surprise – the pods does not equal extra cushioning!
I ran with the Cloud Surfer on gravel, asphalt, concrete and trails and came to the conclusion that over all the different surfaces, the CloudTec™ pods did not add extra cushioning that it affected my running form! To my delight, they felt like minimal shoes and if you don't heel strike, you may not even notice the pods. These pods are shock absorbers!
I don't think I changed my running form much running in them versus running in my Merrell True Glove minimal shoes.
I even (accidentally) ran over thick and wet mud on the trails with the Cloud Surfer – not a shoe to be wearing for such conditions. You'll need something like Inov-8 Bare Grip 200 for such conditions.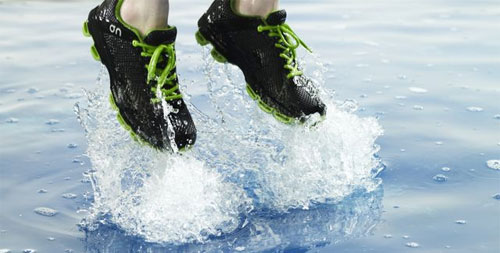 Gravel or small pebbles did not get caught in the pods but thick mud stayed there and I had to clean it off – not that it affected the performance but just made the shoe extra heavy!
Second surprise – the pods does not squeak on running!
When walking with the Cloud Surfer, the shoe makes a squeaking sound, like you're walking on bubble wrap. That's because on my walking gait, I'm heel striking. The sound comes from the four pods on the heel. These pods have a bigger air gap (3mm vertically) than the nine on the midfoot and forefoot. Additionally, the front pods are 10mm longer horizontally. When running with a midfoot and forefoot strike, you won't feel or hear the pods squeaking. This is nice as you don't want to let the runner in front of you know you're gaining ground or passing them  in a race.
Last surprise – the pods last on the average of 500 miles!
At first impression, it looks like the pods might wear out quickly. But after walking and running in them for over 20 miles, the pods still look brand new. For On Running team of athletes, it averages between 400 and 600 miles running in various terrains in Europe. Some pods will wear out faster than others because of your running and wear pattern – that's when you need to replace your shoes.
A note of caution – wearing and running with the Cloud Surfer on wet and rain on concrete and asphalt can be a problem. With less surface area (but less time on the ground in every stride),  the pods does not provide enough traction and I slipped many times running and walking on hills – it has been storming like crazy in Northern California…
I ran across this interesting quote from Olivier Bernhard, the founder of On Running, World Champion and Ironman, about finding the right shoe.
"Don't chose a shoe, let it chose you; by trying several pairs for a short spin around the block, and your feet will tell you, which is right for you, because you will never want to stop running with them."
I could certainly identify with that after testing so many minimal shoes for the past year. Once you put on a pair of shoes, you've pretty much made up your mind after walking in them for a short distance. Once you run in them, it reinforces that decision. I felt the same about the Altra Adam, Merrell Trail Glove, and Bare Grip 200. The Cloud Surfer is a good candidate given more time running in them in the near future.
Cloud Surfer is available in three colors – black/lime, silver/azure, and rose/pink (women).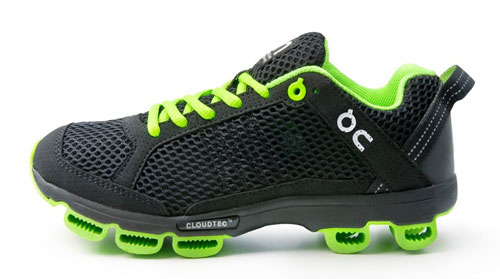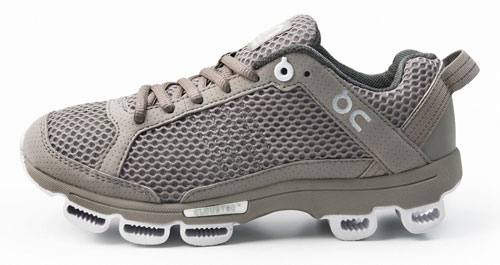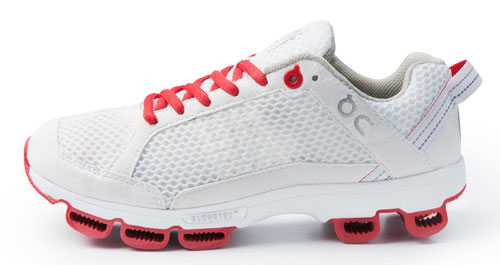 A variation of the Cloud Surfer is the Cloud Runner. It is designed for high-impact runs, long training sessions and endurance runs. Weights slightly less than an ounce more than the Cloud Runner and is available only in aquamarine/cyan.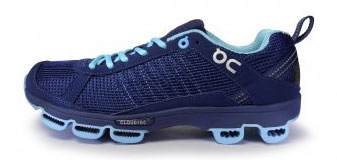 *Product provided by On Running (MSRP $150). CMP.LY/1 Review
If you have a product you'd like reviewed, contact me at info@weartested.org
If you are looking for a dressier but comfortable shoe, check out the latest oxfords from Colehaan.