When I had my women wear testers review minimalist running shoes, both of them were still in the early transitioning stages. They're still not used to the lack of cushioning as they both ran in stability shoes before. They are forefoot strikers since they started running so I thought it would not affect their running form that much. They loved the lightweight and flexible shoes but the lack of cushioning on road surfaces affected them both. However, on trail running, they did great with minimal shoes like the Merrell Pace Glove and would not run in any other shoe.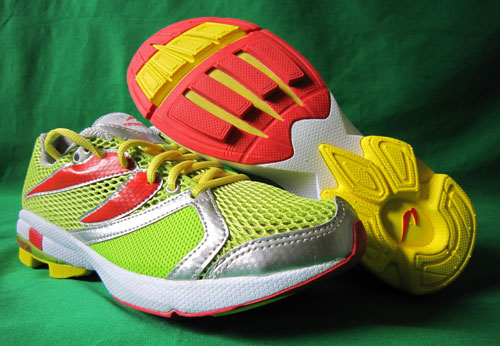 Let me officially introduce one of my women wear tester. She is Sophie and she started running over 10 years ago. She runs mostly track, about 15 to 20 miles weekly, and is a forefoot striker. It turned out a great bridging and maybe final minimalist shoe for Sophie turned out to be one that I haven't tested mainly because of my reluctance to extra cushioning from their shoe technology. The Newton Running Distancia neutral performance racer with a 2mm drop and weighing it at 8.6 ounces (Women's Size 9.5) was the exact ticket for Sophie.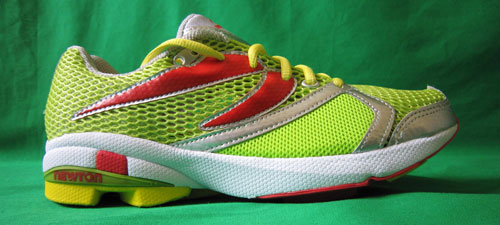 The Distancia is Newton Running's top-of-the-line neutral performance racer and is the ultimate shoe for Natural Running. Engineered for speed, distance and performance, it is the ultimate "PR in a box" according to Newton.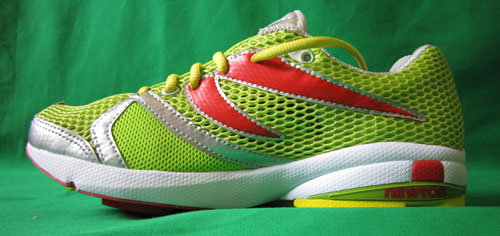 At first glance, the Newton Distancia (or Distance) looks like a traditional racing shoe – heeled, bright colors, mesh uppers, and standard lacing. But the similarities end there.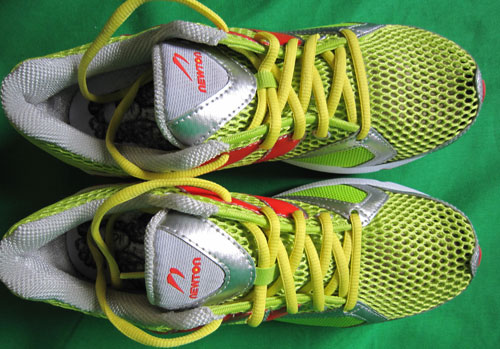 The shoe has a wide toe box (Sophie has narrow feet and it did not bother her) and is lighter than most shoes. The uppers open air mesh is highly breathable and fast-drying – it looks more like a fish-net and you can see your toes from the outside!

The outsole is made of recycled high-density rubber and the heel uses a lightweight carbon blown rubber. The midsole is made of high rebound EVA with their patented 'Action/Reaction Technology' in the forefoot and heel of the shoe. When using the ultra-efficient Land-Lever-Lift natural running gait of a midfoot or forefoot strike, the technology absorbs and then returns energy back to you.
Sophie loved that feeling – she feels lighter on her feet and uses less effort for each step. However, she does not lift her knees to begin a new stride after landing and striking. The energy return system is actually impacting her running form. Whether that is good or bad remains to be seen. It will delay her transition to a running form where she lifts her knees instead of pushing off her forefoot. It will only take time for her to adjust to the new-founding 'excess' energy she now harnesses on the fly!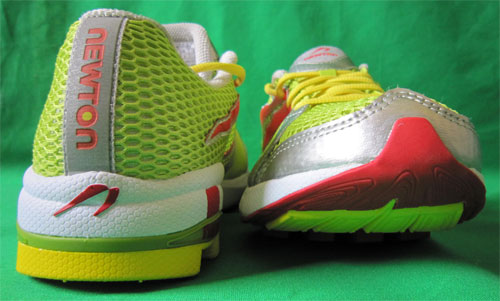 Cushioning in running shoes is like a drug – it always feel great to have cushioning when running long distances. But it also affects your natural running form. The actuator lugs is a great invention – more cushioning and less time on the ground thus less energy required from the runner. Maybe 'PR in a box' is attainable.
For walking long distances, this turned out to be a great shoe too. It is comfortable, light, and cushiony. Her first impression when she tried on the Distancia is that it felt like the original Masai Barefoot Technology (MBT) 'rocker shoe' or Skechers Shape Ups – a multi-layered shoe with a curved sole. But after walking and running in them for less than 5 minutes, that concern went away. And she walks in them naturally. Maybe Danny Abshire is right – Newton shoes encourages natural running and natural walking!
Which shoe does Sophie prefer? For trail running, the Merrell Pace Glove is her go-to shoe. For road running, she is rotating between the Distancia and  Pace Glove but is leaning towards the Distancia for now. Time will tell as she adjusts to the extra cushioning and leveraging the energy return system. For those of you who have not looked at Newton Running recently, you might be missing out on a secret weapon for attaining a personal record (PR) or personal best (PB) in road running!
Important Note:
I had to size her up by a half size as they run smaller AND  it's important to have your forefoot centered over the red actuator lugs. You need a full thumb's width of space in front of your toes to provide room for the dynamic foot movement that takes place when the levering action takes place.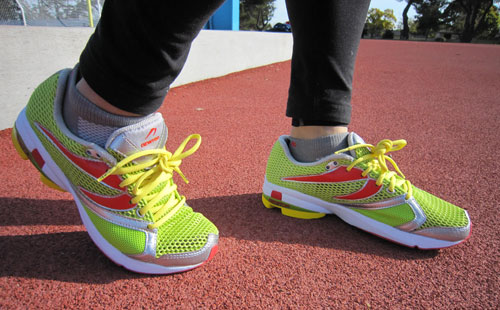 *Product provided by Newton Running (MSRP $155) – CMP.LY/1 Review
If you have a product you'd like reviewed, contact me at info@weartested.org