From Motorola Mobility comes the world's first GPS fitness tracker with smart MP3 players all-in-one: the MOTOACTV.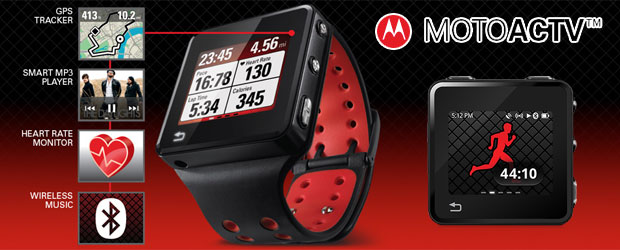 The MOTOACTV immediately reminded me of the iPod Nano and Luna Tik watch strap. And also of the latest Nike GPS watch. These must have been the inspiration for MOTOACTV.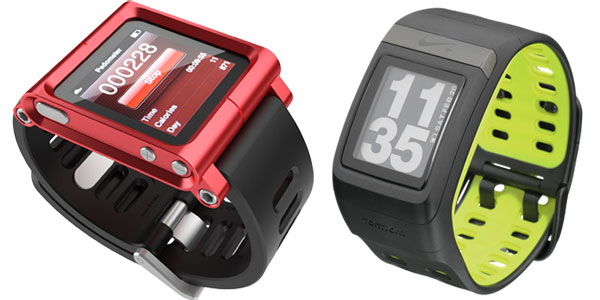 The design of MOTOACTV, both front and back, are amazingly similar to a hybrid of the iPod Nano, Luna Tik watch strap, and Nike GPS watch. Here's a cool Motorola YouTube video presenting the MOTOACTV:
MOTOACTV is as light as a feather (1.2oz) and small enough to fit in the palm of your hand (46 x 46 x 9.6mm).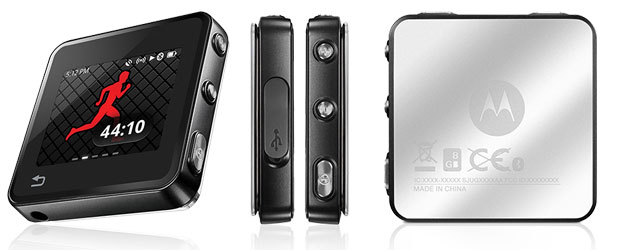 I'm not going to dig into the nitty gritty details of all the features of the MOTOACTV. I tend not to read manuals (typical of a lot of early adopters and especially engineers like myself) and I just like to get a gadget configured quickly and use it for whatever situation I think it is supposed to help me with. The advanced features can be explored and used after the core features are mastered. I did the same for the Garmin Forerunner 610 and it's currently my go-to unit for most of my heart rate training and shoe wear testing projects.
Installation & Setup
The basics like Time Zone, Date/Time, Height, Weight, etc. needs to be set up the first time. Software is downloaded from the device itself (via USB) to the PC desktop. Think of the device as a smartphone. Install MotoCast (connects MOTOACTV device to the music and workout plans). Set up device to sync wirelessly with MOTOACTV.com web site. Set up MotoCast USB to sync music, workout plans and fitness data via USB cable to MOTACTV device.

Touch Display
Just like the Garmin Forerunner 610, MOTOACTV's touch screen display is totally clear, indoors and out. But in color and a lot bigger! The MOTOACTV device is also sweat proof, rain resistant, and scratch resistant.
Smart Music Player & FM Radio
The MOTOACTV plays music but only when you have the headphones plug-in. For wristband use, the headphone connector should be angled – it is hard to use standard iPod headphones. The included headphones are awesome. But you can also upgrade to Bluetooth wireless headphones for under $125.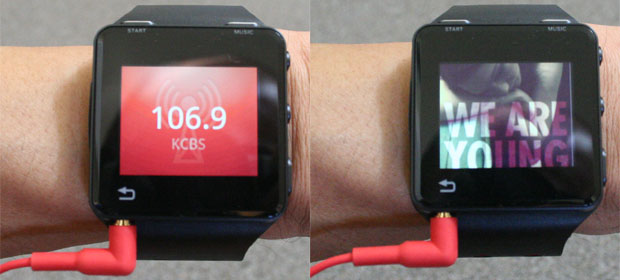 Again, your headphones have to be plugged in before the FM radio functions. The FM radio is great for long runs and walks. Never miss the breaking news, latest scores or the hottest songs. And you can put it those miles without knowing it because you're enjoying the music or news broadcast while running or walking.
MOTOACTV's smart music player learns what songs motivate you the most by tracking your performance against your music and creates high-performance tracklists based on the results. Need an extra kick? Choose a fit song to give yourself a power boost. For those who does not play music while exercising, this feature might motivate you to start doing so!
Connect With Motorola Smartphones
MOTOACTV also lets you stay connected to your latest Motorola Android smartphone so you can receive texts and get calls in between rocking out and working out. I do not have the latest compatible Motorola Android smartphone so is not able to test out this feature.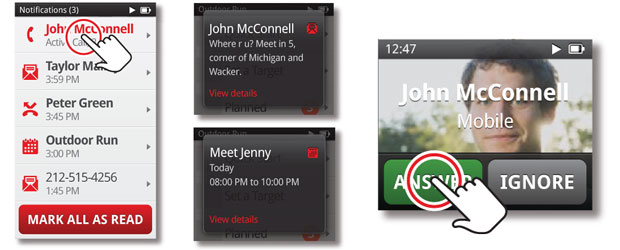 Lots of amazing features including receiving a call while on the move, alerts from text messages, and calendar.
Heart Rate Monitor
MOTOACTV works with the latest wireless sensors:
Bluetooth Low Energy (BLE) heart rate monitor
ANT+ heart rate monitor, bike sensors, or foot pod
Note: You can connect MOTOACTV with different ANT+ devices at the same time or with BLE sensors, but not with both ANT+ and BLE devices at the same time.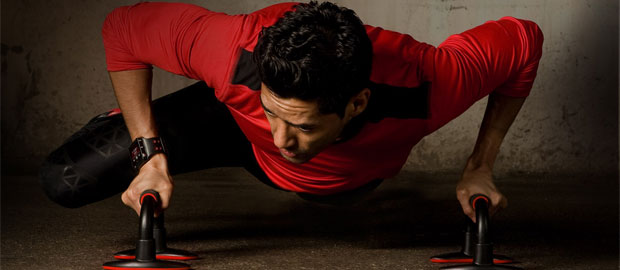 A heart rate monitor was not provided so I used my Garmin HRM strap, an ANT+ body strap with MOTOACTV. You just have to set up the pairing once with MOTOACTV. MOTOACTV automatically connects to it the next time you begin a workout.
GPS and Satellite Locking
There are many occasions where on clear sunny days, the MOTOACTV cannot locate any satellites. It is very frustrating waiting for over 4 minutes trying to find a satellite when you're ready to take off running. One really need to plan ahead by allocating 5 to 10 minutes for getting a GPS satellite located.
A trick that I found is that if you cannot find a satellite after waiting is to do a reset by starting another activity rather than retrying from the same screen. Unless you are somewhere without direct access to the open skies, you should be able to find satellites. And I've tested with both the MOTOACTV and Garmin Forerunner 610 simultaneously and the Garmin locked on at least 5 satellites whereas the MOTOACTV didn't.
Running & Walking With MOTOACTV
My primary tests with the MOTOACTV is for running and walking. Once you have selected an activity, the satellites have to be locked in otherwise the GPS will be incorrect.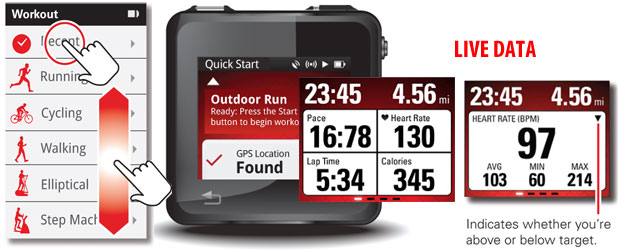 My favorite LIVE display has the Pace, Heart Rate, Calories, Mileage, Current Time, and Elapsed Time display. You can customize it to show from one to four metrics in addition to time and distance on the top of the screen. Touching a metric shows you additional data. Tap it again (detailed screen) to return to the Live data screen.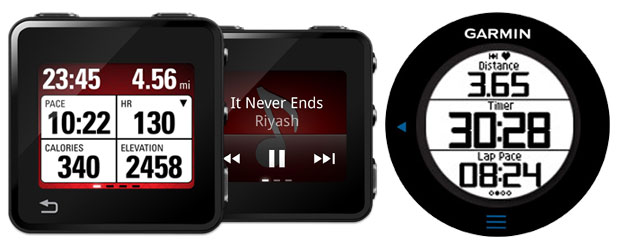 The MOTOACTV display is much easier to read than the smaller Garmin 610. One does not need to tap the screen to see other screens – everything I need (your 4 customizable metrics) is on one display at a glance. In addition to your music!
Syncing With MOTOACTV.com
This has been my biggest problem. Because of the protection on my wireless network, I cannot access the portal wirelessly or even able to log in to the portal after creating an account there. I was truly disappointed that it is not easily done as with the Garmin Connect portal. I should be able to log into the portal after creating an account there, period. And upload my data. It can't be harder than that?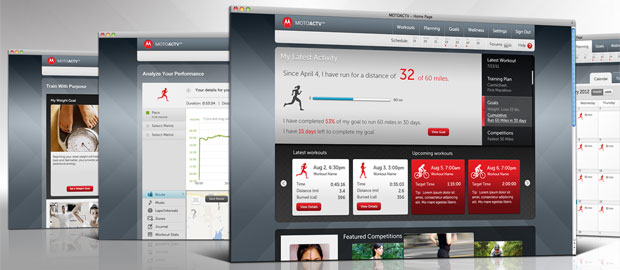 The only way I can review my workouts is within the MOTOACTV display.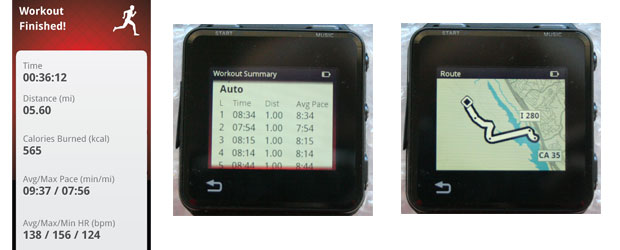 Recent Upgrades
Motorola recently released an upgrade that unlocks 40 new trackable activities from basketball to yoga to skiing, and a number of exciting new features like wrist-motion detection and Wi-Fi setup on the device to enhance the fitness experience and offer unmatched tracking capabilities.

The new list of activities helps more MOTOACTV users reach their fitness goals and includes everything from basketball and baseball to field hockey and gardening. The full list includes: Run, Walk, Elliptical, Outdoor Bike, Stationary Bike, Aerobics, Badminton, Basketball, Boxing, Dancing, Fencing, Gymnastics, Handball, Indoor American Football, Indoor Field Hockey, Indoor Soccer, Jump Rope, Martial Arts, Racquetball, Squash, Table Tennis, Tennis, Volleyball, Zumba, Other Indoor, Heavy Bag, Ice Hockey, Indoor Ice Skating, Indoor Inline Skating, Pilates, Punching Bag, Rowing Machine, Weight Training, Yoga, Baseball, Cricket, Outdoor American Football, Outdoor Field Hockey, Outdoor Soccer, Rugby, Yard Work, Cross Country Skiing, Downhill Skiing, Kayaking, Outdoor Ice Skating, Outdoor Inline Skating, Rowing, Snowboarding and Other Outdoor. WOW – that's a lot of different sports that the MOTOACTV supports.

Note however that you can only have three additional custom activities added to the 'Custom Activity' menu. If you need more or want to change them, you're out of luck for now – at least I couldn't figure out how to do it!
My Conclusions
Before testing the MOTOACTV, the Garmin Forerunner 610 is my favorite heart rate monitor and GPS running watch. After testing the MOTOACTV, for GPS, HRM, and Music, the MOTOACTV is my go-to unit IF it can pick up a signal from the satellites. The music and radio are great features that I would love to have on the Garmin. I'm also getting spoiled by the larger display on the MOTOACTV. My Garmin has been super-reliable in picking up the satellites for all my runs.
Other than the problem locking in satellites, my only other nit is the battery or lack of power and juice. For outdoor use, the battery only last up to 9 hours of use. This means I have to charge the battery too frequently…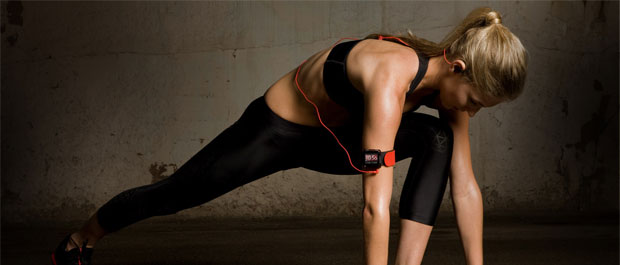 Besides the main unit, the MOTOACTV has many fancy accessories like armbands, bike mounts, clip, watch straps, and wireless headphones that makes a true fashion statement.

The MOTOACTV GPS Fitness Tracker & Music Player with additional accessories are now available on Amazon.com web site.
*Product provided by Motorola (MSRP $250). CMP.LY/1 Review
If you have a product you'd like reviewed, contact me at info@weartested.org