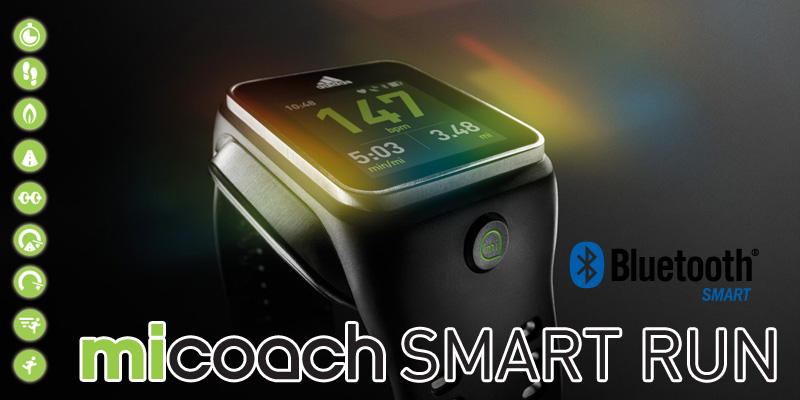 Adidas recently launched the miCoach SMART RUN smart watch, the most advanced and intuitive wrist based running device on the market. For the first time, runners will be able to track their runs using GPS mapping, monitor their heart rate off their wrist, listen to their favorite music and get real-time coaching – all in a simple color touch screen running watch.
Key features of the Adidas miCoach SMART RUN watch includes:
Real-time continuous heart rate measurement from the wrist
GPS for pace, distance and route logging
Built-in accelerometer for stride rate measurement
WLAN sync with miCoach platform for training planning and history/lifetime stats tracking
TFT LCD color screen
Intuitive touch screen navigation
Bluetooth audio for music and coaching
Customizable training data screens
Strength and flexibility coaching videos
Watch and timer function
Manual and automatic laps
Over-the-air (OTA) feature updates
4GB data memory for music (3GB usable) and workouts

For those interested in a little more technical details, this is an Android watch running Jelly Bean 4.1.1 and has a 1.45" full color transflective TFT LCD, 184px x 184px with capacitive touch.  The watch weighs only 2.8 ounces and has 5 sensors: GPS, Wi-Fi, Bluetooth, accelerometer, MIO Global continuous optical heart rate.

There is only a single multi-function push button mainly for power, lock, backlight, and wake control – it goes into 'hold' mode to prevent accidental button presses or screen swipe/tap. The wide rubber strap has two teeth-like pins on one end in addition to the regular clasp mechanism for a tight and secure fit. The back side of the watch is where the optical heart rate monitor and charging pins are located. You need to fasten your watch snugly so the optical sensor on the back of the device makes tight contact with your skin – you want it close fitting, but not too tight.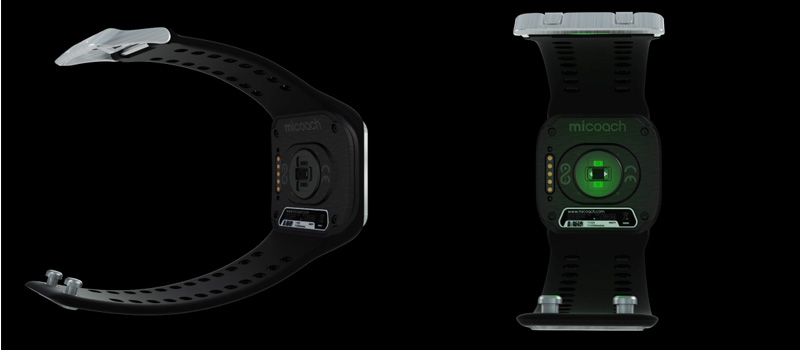 Since there is no mobile app associated with the miCoach SMART RUN watch, you will need to create an Adidas miCoach account ahead of time to configure and sync workout data from your watch.
Entering text information on the SMART RUN watch is done using intuitive swipe and tap gestures. Once your watch is configured, there are four main menus: Clock/Date (casual mode), miCoach, Music, Settings. Swipe left/right to navigate menus and swipe up/down to navigate sub-menus. The transflective screen makes the watch face visible in daylight without the need of a backlight.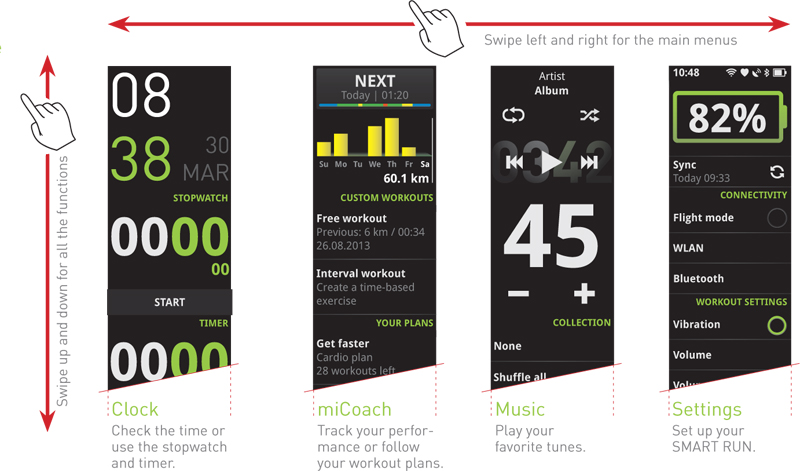 The video below shows exactly how easy it is (other than a Wi-Fi problem I had) to configure and use the miCoach SMART RUN watch.
So how did the miCoach SMART RUN watch perform?
The miCoach SMART RUN is a chunky power pack smart watch that has the look and feel of quality. The only problem that I have during the initial configuration is connecting to a secured Wi-Fi network. My wireless network uses WPA2 Personal security and I cannot get it to work with the miCoach SMART RUN – I gave up after about 6 tries as entering the 64 character key is tedious. So I ended up finishing configuring my watch using a WPA or non-password protected wireless network at my cousin's house.
It is frustrating entering 64 alphanumeric characters over half a dozen times to find out that it does not work. An improvement would be for the firmware to also remember password/key for WLAN connection retries. The micoach web site should also enable users to enter the password for alternative WLAN connections – much easier and less error prone than using swipe and tap on the watch itself.
Other than the minor roadblock in configuration, it is great having the MIO Global optical heart rate monitor integrated into the miCoach SMART RUN as I wanted more than just a continuous heart rate monitor from the MIO Alpha Heart Rate watch that we reviewed recently.
In a typical free workout running session, the first problem that I encountered is locating a GPS signal from the satellites. Using my Garmin Forerunner 610 as my reference at two different locations, the Garmin picked it up in about 30 seconds while the miCoach SMART RUN took over 3 minutes. Even after running in the same location, locating the GPS signal sometimes still took over 3 minutes or cannot locate any compared to less than 30 seconds on the Garmin. Adidas support is working on more updates to improve the GPS signal and its accuracy.

One factoid while we are on the subject of GPS. The GPS signal strength is represented by the number of bars around the satellite icon and accuracy is based on how many bars are shown in the icon.
0 bars: ≥ 100 m
1 bar: 99–77 m
2 bars: 76–53 m
3 bars: 52–29 m
4 bars: 28–6 m
5 bars: ≤ 5 m
The more bars you have, the more accurate your GPS measurements will be. In the majority of my runs, it does not matter but when doing speed work, you want to be able to get as accurate a pace as possible.
Here's a time saving tip on changing the display data as it took me a while trying to find it on the micoach.com dashboard. The User Manual has the link buried and it does not have a link to it from the miCoach dashboard or home screen. Use this URL: http://micoach.adidas.com/start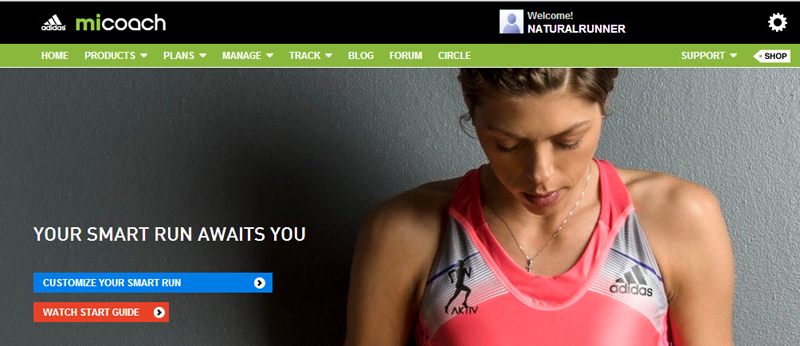 Click on the 'Customize Your Smart Run' link, customize up to three screens, save it, and finally, synch with your SMART RUN watch. Done.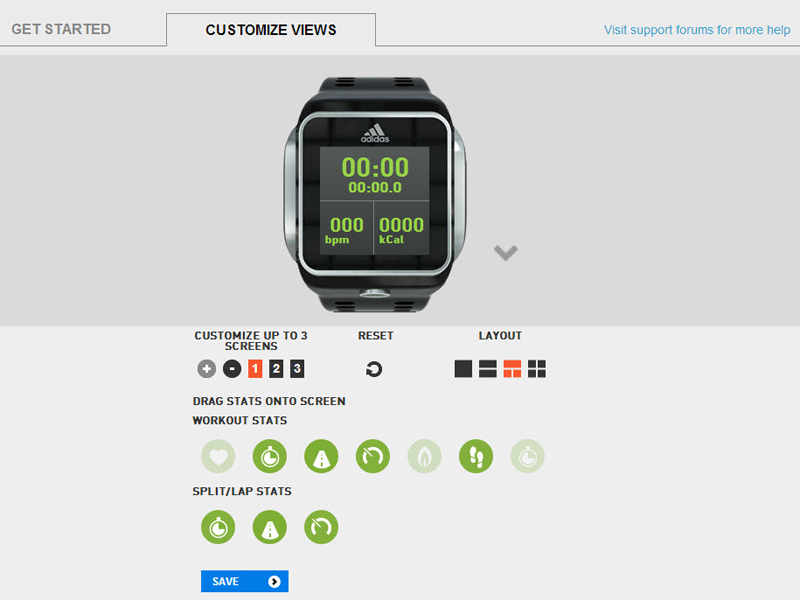 You can also change the display data by scrolling down with your finger. Try it and you'll see different displays with different data. You can display up to four data views into one screen or keeping things simple with a large easy to read metrics by adding more pages with 2 data views per screen. This feature is very useful for those migrating over from another GPS sports watch that had things just how you preferred them.

The Adidas miCoach web site is your miCoach dashboard on the cloud. It also offers both Cardio and Strength & Flexibility training plans to improve your strength, power, speed, agility, flexibility, and more. There for plans for all athletes and sports including Running, Training, Basketball, Football, Soccer, etc. In the Running category, cardio plans include running a marathon or finishing a faster 5K. Strength and flexibility plans include strengthening your stride or reducing injury risk.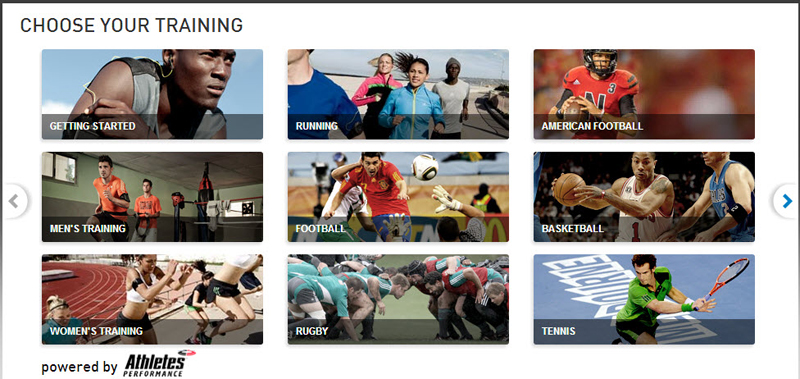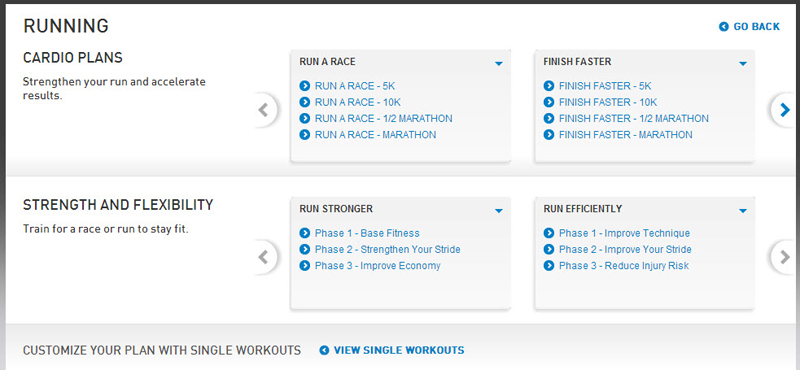 For most strength and flexibility plans, exercise animation videos are included illustrating how it is done. I don't recommend watching the videos on your watch as it will eat up your battery quickly. Only use it if you forgot how – the web site is the viewing platform of choice.

After synchronizing your miCoach SMART RUN watch with your miCoach account, all your workout data is on the miCoach.com cloud. The miCoach dashboard is the portal to all your uploaded or synched workouts. Instead of viewing it on the smaller screen of your miCoach SMART RUN watch, you can easily get the full details of each workout in a larger screen.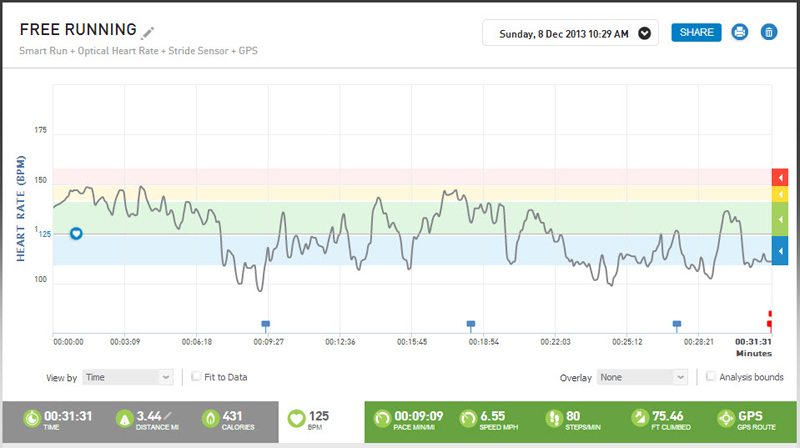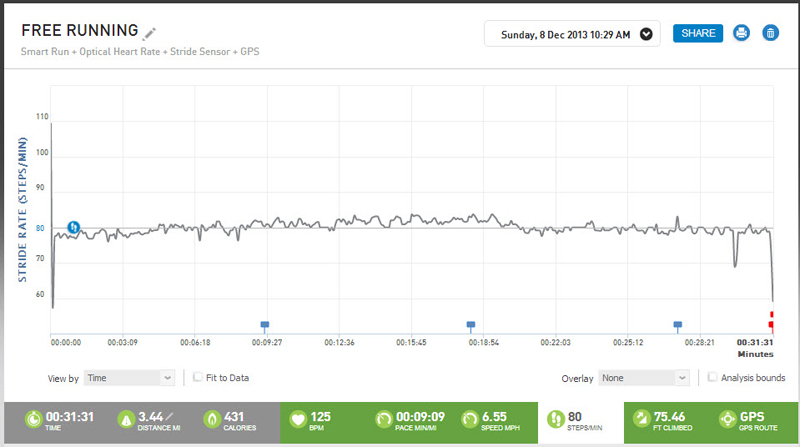 One unique feature from miCoach web site is the Run Score. Run Score can rate every run, regardless of distance, so you can easily compare the different routes you run day-to-day and see your improvement. You'll be assigned a Run Score between 0 and 1000. 0 is your walking pace and 1000 is world record pace. The Run Score also highlights your running potential by predicting race finish times and ensuring you have the perfect training plan for your level. A coached run from a miCoach training plan does not get a Run Score.

So if I decide to train for a 5K race using a miCoach training plan, that is conveniently available right on the screen. It defaults to the appropriate Ability level based on your current workout pace – you can change it to any level of your choice. Pick the training days and timeframe and you're good to go!
You can also visualize your training schedule in a calendar view so you can plan ahead for all your workouts.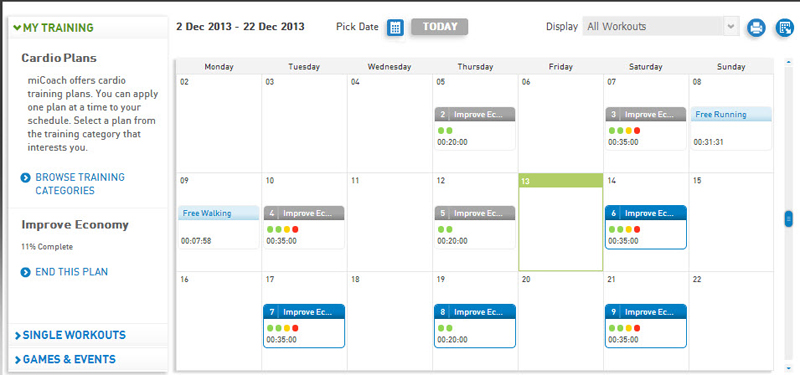 Another feature on the miCoach web site – Achievements. These are nothing more than milestones like 'Fastest 1 Mile' and 'Longest Distance' but serves as motivational and mental tips for the athlete. Click on any of the personal best icons and you can see which workout that performance is from.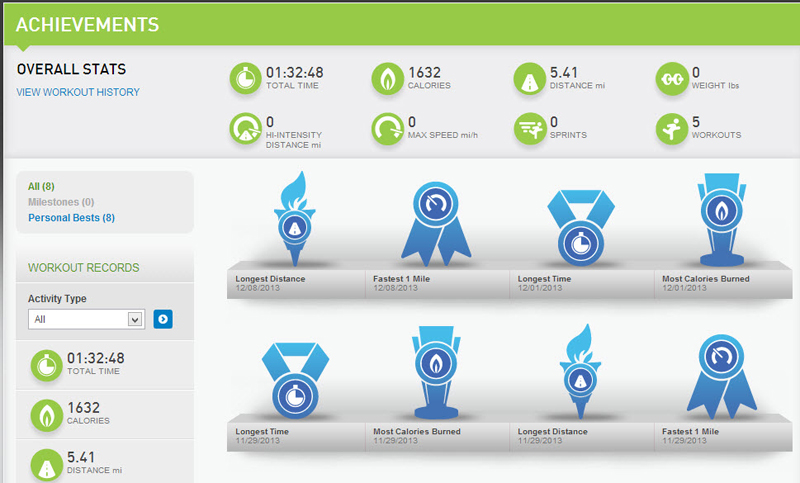 One last feature of note is My Shoes, an area where you add your shoes to track wear and tear. Match them up with your miCoach workout and receive alerts when you've logged 300 miles. There are other ways to track this with a foot pod like the Milestone Pod. These foot pods are getting smarter and provide useful recommendations with more built-in sensors in the future – much easier than having to always remember to select the right shoe for each workout.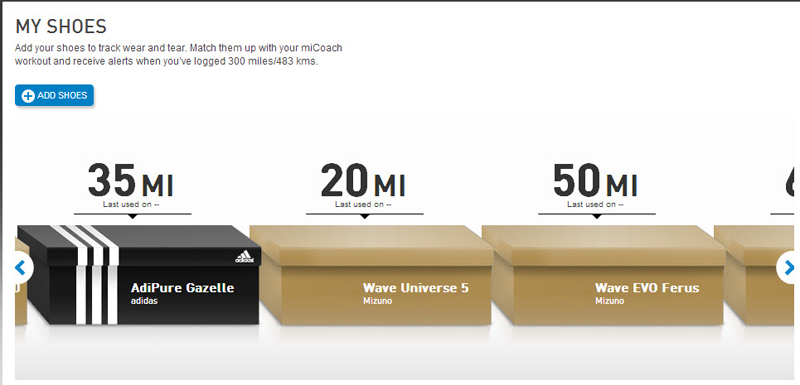 In casual mode (normal everyday use watch mode), the Adidas miCoach SMART RUN displays time and date only in a power-saving dim display but you might have a problem reading it in bright daylight. You can also change the clock faces (e.g. analog) but the selection is limited. A simple feature that is nice to have when wearing the watch in casual mode  is a daily alarm. This could be added via firmware and use a combination of sound (Bluetooth) or vibrate.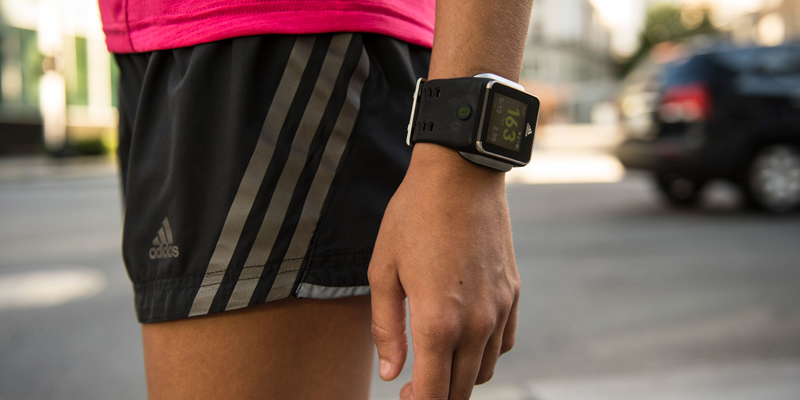 In terms of heart rate accuracy, the Adidas miCoach SMART RUN is within +/- 2 BPM, just like the original MIO Global Alpha watch. What I really like about a wrist-based optical heart rate monitor is that in cold weather, it is more accurate than a chest strap if your body is not warmed up yet. I tested this theory with multiple heart rate monitors (one chest strap with Garmin Forerunner 610, miCoach SMART RUN, LifeTrak Zone C410 finger) 30 degrees weather. The chest strap was way off by at least +/- 20 BPM initially! After I started warming up, it was within +/- 5 BPM.
For those who listen to music while running, the miCoach SMART RUN also has a music player that play MP3, AAC, Ogg, Vorbis files. Load music files onto your miCoach SMART RUN by connecting the watch to your charging cradle and attaching the USB cable to your computer. The miCoach SMAR RUN watch is treated as a removable hard drive. Drag and drop the music of your choice onto the music folder within your miCoach SMART RUN. Once you're done, eject your device and disconnect your miCoach SMART RUN from your computer. Now you're ready to go! The music player also has standard features including shuffle and repeat.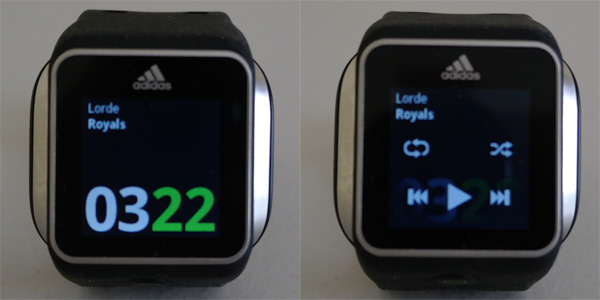 Having Bluetooth connectivity is a godsend. I don't normally listen to music or news but with the Motorola ACTV smart watch, I tested out the FM Radio and MP3 music player with wired headphones. With the miCoach SMART RUN watch, I paired it up with a Red Fox Wireless EDGE Bluetooth headphone. The EDGE can also handle calls if you use a smartphone – hands-free cell phone use and a single button call-answering feature. These wireless headphones stayed in place during my runs and gave me the freedom to go wireless while still maintaining an ultra-high quality of listening clarity and power. Major convenience and improvement over wired headphones hands down!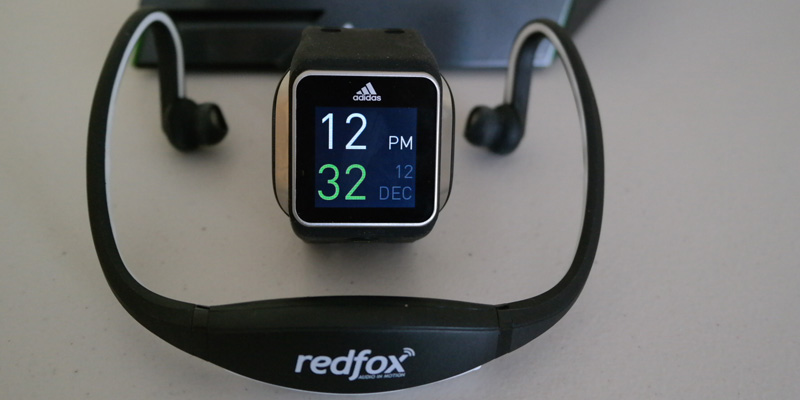 The only other problem and a big one is the short battery life. Adidas has quite a long way to go with their firmware upgrades to make major improvements to battery usage so be sure to upgrade as soon as you can. Here are some ways to minimize battery usage:
Transflective Display – turn off the backlight
Casual Mode – disable the stand-by clock option
Workout Settings – disable vibration
GPS Locate – Start your workout outdoors to minimize satellite search time power usage
Flight Mode – Switch to Flight Mode when Wi-Fi and BTLE (Bluetooth headsets) are not in use
According to Adidas, one of the biggest battery consumption element is GPS. It can have a higher power drain based on the environment (location, weather, buildings etc.). The longer it takes to find the GPS, the more battery power will be consumed. Try in an environment where you have a clear view to sky and no high buildings are around.
For those doing long runs, here is what Adidas miCoach published lab test results are regarding battery life for various scenarios:
Coached Workout with HR and GPS On and MP3 player in use: 3.1 hours
Free Workout with HR Sensor, GPS Sensor and MP3 Player in use: 3.2 hours
Free Workout with Speed Cell, HR sensor and MP3 Player on (indoor so no GPS): 4.1 hours
Free workout with HR Sensor and GPS Sensor on. No music. 4.5 hours

The results are calculated when using backlight set at 10% through manual settings and with GPS power consumption set at a level associated with a good environment for GPS measurement and these results are based on the battery being charged to 90% capacity before usage.
My typical scenario is a free run with just the heart rate sensor and GPS enabled.
POSITIVES
Basic everyday watch and running features
No chest strap required for heart rate
Music via Bluetooth headphones
Extensive collection of workout and training plans
GPS and activity tracker
Wi-Fi sync
Customizable screens
Standalone unit
NEGATIVES
Short battery life
Pricey at $400
GPS signal lookup very slow
Touchscreen not as responsive
Wi-Fi WPA2 security does not connect
No FM Tuner yet (there is one built-in but disabled)
Cannot export workout data
I loved the data sync via Wi-Fi and not having to wear a chest strap. The Adidas miCoach SMART RUN is almost the perfect combination of features for a typical runner- all-in-one sports watch, GPS, music player, heart rate monitor, and training coach. Adidas just have to fix the battery issue and they have a big winner!
The Adidas miCoach SMART RUN is the first device that brings together various sensors and other external device functions and features into one running watch. In the past, these various sensors or tertiary devices such as HRM, GPS and MP3 players have all had their own power source and the wrist based display unit has had a much smaller role. As Adidas bring all these features together and miniaturize them to the maximum there is the belief that Adidas can positively change training habits and rituals in a positive way. No more extra straps, no more putting MP3 players in pockets. One device for pure simplicity.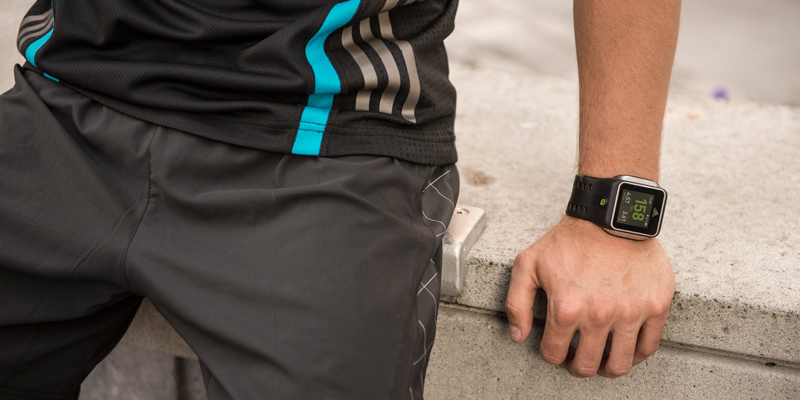 To ensure that this device is always able to deliver the best for the running experience, Adidas believe that daily charging of the product is necessary. This may be a change to existing habits. This will also be evident with smart watches that are developed for other non-sporting needs. The trend will be to give greater features and functionality in a new, compact format but there will be the requirement to charge such devices on a more regular basis than anyone has ever done with a standard watch.
The Adidas miCoach SMART RUN watch is now available for $400 from the Adidas Store.
*Product provided by Adidas. CMP.LY/1 Review
If you have a product you'd like reviewed, contact me at info@weartested.org