The EDGE is Red Fox Wireless flagship Bluetooth headphones system that is the perfect listening device for going mobile. These wireless headphones are designed to stay in place during all activities. Bluetooth headphones give you the freedom to go wireless while still maintaining an ultra-high quality of listening clarity and power. They run on a rechargeable lithium-ion battery.

These may be the very best Bluetooth headphones on the market, combining a built-in microphone for convenient, hands-free cell phone use and a single button call-answering feature. In addition, the EDGE incorporates easy-to-use controls for regulating your audio listening device, including play/pause, track forward/back. Lightweight and comfortable, these Bluetooth stereo headphones will fit in perfectly with your active lifestyle. They are light weight, comfortable to wear and will not fall out. A custom hard case is also available for protective storage.
Features
Make and Take Calls
Listen to Music
Built-in Microphone
Never Falls Out
Range up to 32 feet
Rechargeable Battery
Technical Specs
Built-in microphone
Controls for music and phone
Bluetooth V2.1+EDR with AD2P & ACVRP
5-7 hours of continuous use – 1 hour re-charge time
Li-Ion 3.7V, 150mAH rechargeable battery
Use With: iPod, iPhone, Android, Smartphones, PC, Tablets and Bluetooth TVs
USB to mini-USB charger
Limited One-year Warranty
Here is a video showing 4 Time Olympian Hunter Kemper, a Red Fox athlete, how and why he chooses the EDGE.
So how did the Red Fox Wireless EDGE perform?
I have been using corded headphones when running with my Motorola ACTV or listening to music on my iPhone and iPad. I was mostly focused on keeping the headset to stay on me with solutions from YurBuds and Earhoox. When I heard about the wireless headset from Red Fox Wireless at the Running Event, I had to try them out with some of the other devices I'm testing.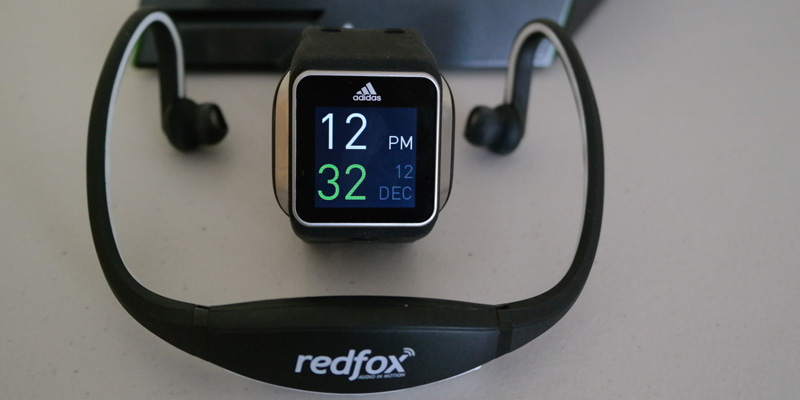 Once you turn Bluetooth on your iPhone, iPad, or smart watch like the Adidas miCoach SMART RUN, pairing with the EDGE is simple and I have no problem getting it paired – usually less than 15 seconds. You're good to go after that! Power on/off, volume control and take/end a call is intuitive and simple as it is built in the left side of the headset. On the right side of the headset are the controls for refusing a call, play/pause, and forward/backward tracks. The EDGE has a built in microphone – just speak in your normal voice and the party you are speaking to will hear you clearly.

If you run with your smartphone or smart watch with music playing and uses corded headphones, the Red Fox EDGE is indispensable. Once you go wireless, you will never go back, period. Now I even use the EDGE Bluetooth headphones even when I'm not moving – just being cord-free is priceless. Maybe the only corded headphones that will be worth using because of a more superior sound quality and being fully immersed is my Beats Studio Over The Ear headphones.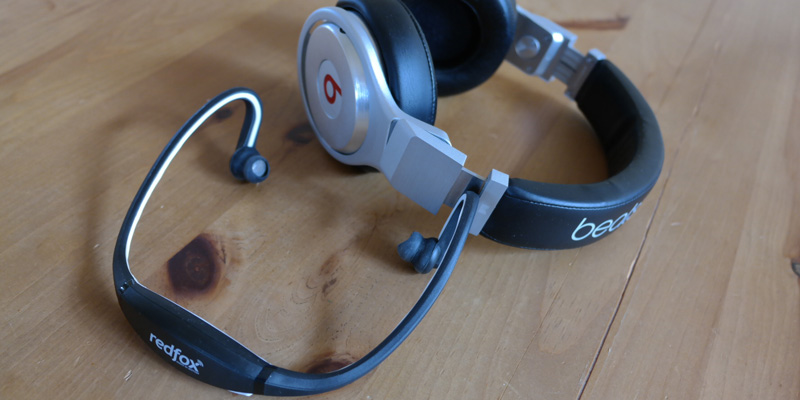 This brings a new dimension to running. And with a Sidekick Bluetooth Adapter (sold separately) from Red Fox Wireless, you can even Bluetooth-enable any music player like the iPod Shuffle and many others. Now I just have to get the FM tuner enabled on my GPS smart watch (Adidas miCoach and Motorola ACTV) so I can listen to the local news. weather, and traffic reports when running early in the morning.
If you plan to travel a lot with the EDGE wireless headphones, I highly recommend purchasing the system with a hard shell case to protect your investment. Additionally, you can keep the USB charger cable in the case so you won't forget or lose them.

Research finds that listening to music distracts athletes from the pain and that not just listening, but controlling and creating music in time to one's pace had an even more profound effect on perceived effort during a workout. So what's your excuse?
The Red Fox EDGE is currently available in six colorways.
The Red Fox EDGE Wireless headset is available online at: Red Fox.
*Product provided by Red Fox Wireless. CMP.LY/1 Review
If you have a product you'd like reviewed, contact me at info@weartested.org