From VIVOBAREFOOT, the lightest running shoe in the world has arrived!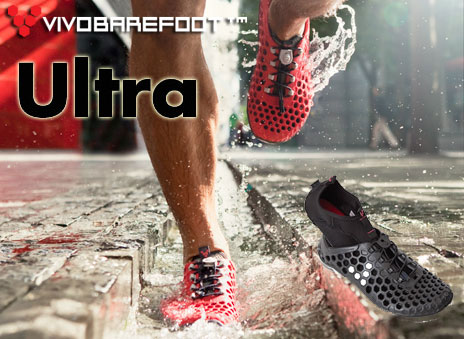 The Ultra, an amphibious three-in-one running, walking, camping, and water shoe. Weighing at 3.8 ounces without the insert sock-liner or tongue (0.2 ounces), and only 5.8 ounces with the sock-liner, the VIVOBAREFOOT Ultra is suitable for light trail cross training, water sports, long runs or general beachside and urban barefoot exploration.
EXCLUSIVE: Read our interview with Asher Clark here!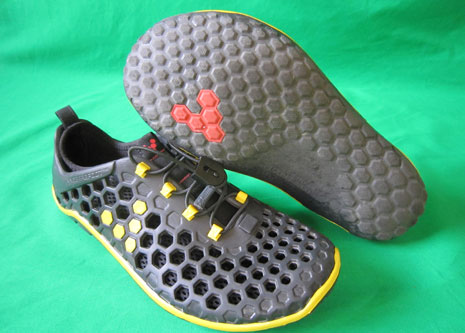 The complete VIVOBAREFOOT Ultra package contain 6 pieces: one pair of waterproof and lightweight shoes or 'cage', one pair of anti-bacterial plug-in sock liners, and one pair of plug-in tongues.
The package can then be configured as follows:
Pure Running – Basic shoe (cage) and plug-in tongue for the lightest and minimal run (amphibious)
Rough Running – basic shoe (cage) with plug-in sock liner for full protection and warmth in hard-core pursuits
Outdoor Activities – Sock liner worn by itself as a camp shoe or slipper for getting as close to the ground (2mm) as possible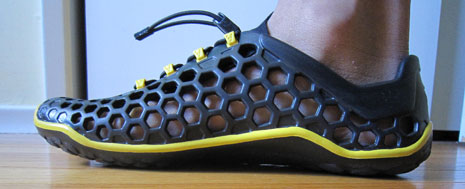 The shoe is 100% vegan, zero drop, and is a fully molded anatomically neutral running shoe. The outsole has a thickness of about 6mm whereas the puncture resistance sock liner (Nylon/Airpene/Neoprene) is about 2mm thick.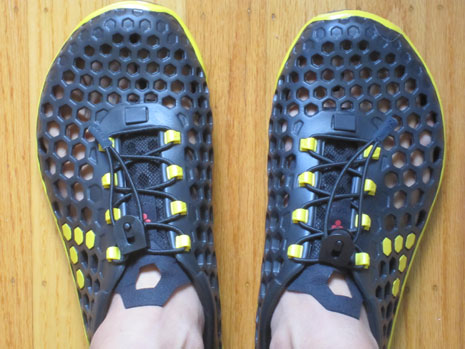 The basic shoe or the cage is made out of a single piece dual density amphibious  EVA – the outsole is denser than the upper for durability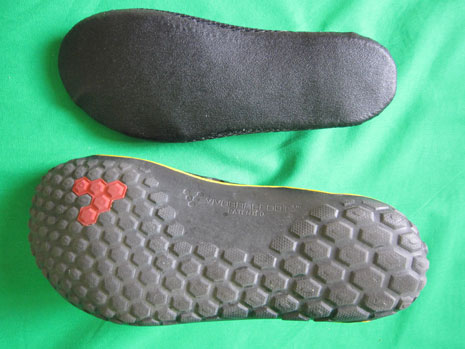 This is truly a remarkable and versatile shoe. Unfortunately, the sock liner insert was too tight for my wide feet (at least half and inch to an inch too narrow). With the sock liner, I can feel my plantar fasciitis starting to flare up. So I only use it the cage with the plug-in tongue for all my runs.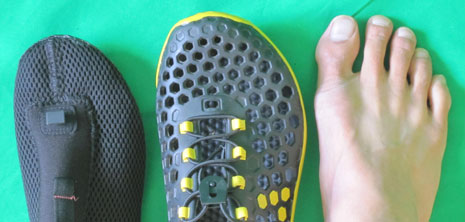 With just 6mm off the ground, my feet can feel the ground more than even the Evo II. Standing on a hot tartan track or asphalt while warming up, the heat is easily felt – my first in ANY shoe!
Running sockless and without the sock liner, the hexagonal holes in the forefoot sometimes allow a few small rocks and pebbles to get in. Fortunately, they are easily removed. Once in a while, my 4th metatarsal get caught in the holes.

The elastic cord and lock-lacing system provide a quick, secure and customized fit. Remember to tuck it under the first two loops to prevent it from flying around while running.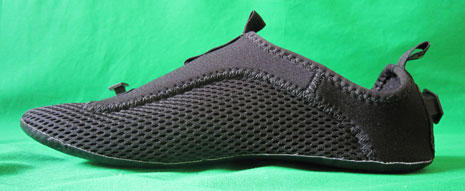 You could even run with just the sock liner – reminded me of the ZEMgear bootie! Only 2mm from the ground, puncture resistance, lace-less, and with a mitten-like snug fit. But I wish it was sized wider. VIVOBAREFOOT is already aware of the tight fitting sock liner and have already taken measures to improve it for the next release later this year.

I have taken the Ultra on runs in many different terrains. For tartan track and asphalt, it performed as well or better than any minimal racing flat (Mizuno Wave Universe 4 or Somnio NADA). Sprints including all out 400m was amazingly easy and with superb traction. However, I did get slight hot spots under a couple of my toes due to the 'pimpled' footbed and excessive sprinting!

I've been exploring this shoe as a running form training tool by running on packed trails with loose rocks or pebbles. These loose rocks or pebbles are big enough to cause pain when stepped-on directly with a foot strike.
So how does it work? Just like running barefoot, the feedback is instant. By running over these loose rocks or pebbles, you can either feel a sharp pain on your foot or toes and it will appear as just an annoyance. These are the 3 rules of good running form that can be tested.
Strike the ground below your hips and not in front of them to reduce braking.
Pick up your leg instead of pushing off the ground when starting a new stride.
Paw off on your forefoot.
If you are midfoot or forefoot striking correctly, you should be rolling over these rocks instead of landing on them especially when you foot strike below your hips and paw off in the new stride.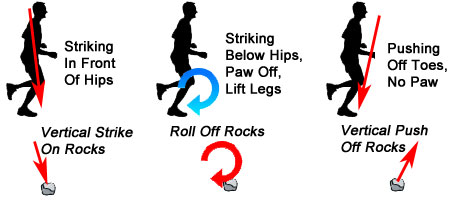 During the traditional toe-off or new stride phase, if you are pushing off your toes or foot instead of lifting your knees, that's additional pain feedback on your foot from these rocks.
Run lightly will be deeply ingrained in you!
Knee lift, run lightly, and paw off will results in zero or minimal pain when running in rough terrains wearing the VIVOBAREFOOT Ultra.
When you have perfected your running form, you would run as if you are a bicycle with perfect round wheels that never brake as it roll, does not bounce up and down, and always perfect strides. Remember the Road Runner cartoons? That's perfect running form…
With the mileage I'm putting on using the VIVOBAREFOOT Ultra, I might have to get a second pair before the Neo Trail arrives.
The VIVOBAREFOOT Ultra is available in 4 colors for men's: Black, Grey, Red, White. For women's, the VIVOBAREFOOT Ultra is available in 4 colors: Black, Pink, Purple, White.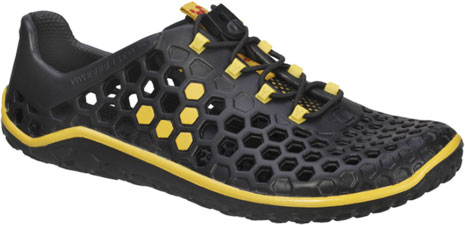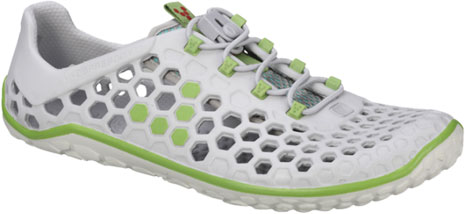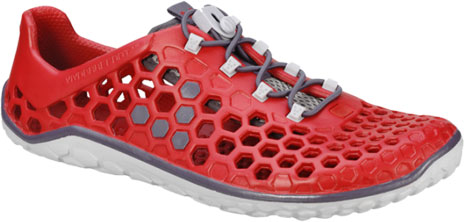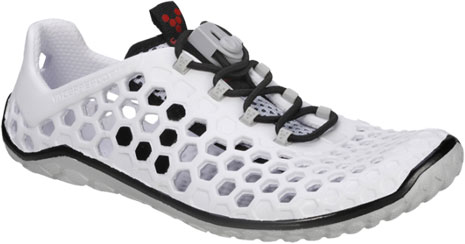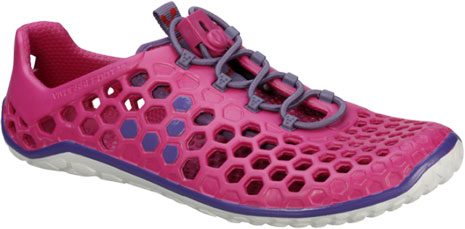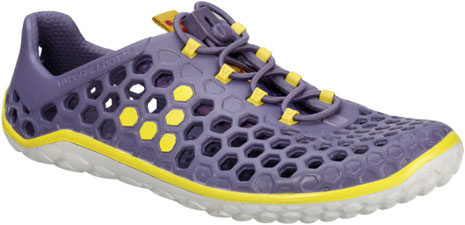 VIVOBAREFOOT Ultra is now available from VIVOBAREFOOT and Planet Shoes.
*Product provided by VIVOBAREFOOT (MSRP $90). CMP.LY/1 Review
If you have a product you'd like reviewed, contact me at info@weartested.org