Summer is coming and it is time to look for your old sunglasses for road and trail running. Or buy new ones since the new technologies are much more affordable now. With so many brands,  different models, frame and lens technologies, it is very hard for runners to decide without trying them on for a real run in similar weather conditions.

Sunglasses for runners need to be lightweight, offer protection from the sun and the elements, and they need to fit securely. Comfort and Fit is more important than just the Price.
We were fortunate that three major sunglasses manufacturers decided to participate in helping our quest to make some recommendations for our readers – Ryders Eyewear, Julbo USA, and Zeal Optics.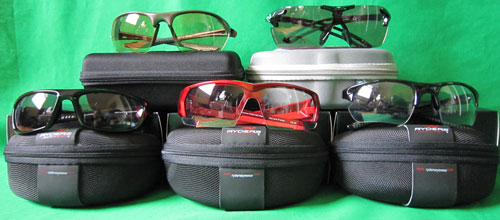 A brief refresher on the lens technology is next to help better understand the various models we tested.
Types Of Lenses
There are actually only three types of lenses, the fourth type being one with a series of interchangeable lenses.
Polarized (PL)
Polarized lenses allow the runner to see the light but not the glare. Polarized sunglasses allow only the essential light to pass through, eliminating glare and giving you clearer vision, better depth perception and accurate color representation.
These lenses are good for bright, glaring conditions while road running and cycling, doing water sports or alpine activities.
Photochromic (PC)
Photochromic lenses provide protection from the sun but is also powered by the sun. Here is how it works.
The brighter it gets, the darker the lens gets. And if it gets cloudy, the lens will lighten. This is because a Photochromic lens is infused with millions of organic molecules that change shape when exposed to sunlight. The new shape absorbs light, making the lens darker. When there is less sun, the opposite reaction takes place and the lens tint becomes lighter.
Different color Photochromic lenses perform differently. A Grey lens darkens colors while leaving hue unchanged. A Brown lens increases contrast and vibrancy of colors. A Orange lens drastically increases contrast and vibrancy of colors.
Photochromic & Polarized (PC+PL)
You get the best of both worlds with a Photochromic and Polarized lens. The Polarized technology eliminates the distracting glare that comes from roads, trails and water. The Photochromic feature of these lenses adjusts to light levels, getting lighter or darker depending upon the strength of UV light you encounter.
Interchangeable or Three-In-One
I've only seen this offered by Ryders. One frame, three sets of lenses. Each high-performance frame comes with three sets of easy-to-change lenses. A clear lens provides protection for your eyes in low light conditions. The orange or yellow lenses are ideal for when you require high contrast in the forest or on overcast days. The darkest lens is for bluebird days when the sky is clear and the sun is bright.
One pair of sunglasses for year round protection. The days are shorter in the winter, longer in the summer, some days you are in the trees, others you are on the road. Every day, every situation requires a different kind of eye protection.
Sunglasses For Running – Comparison Matrix
The following table will make the comparison results between all the sunglasses we have tested easier to view.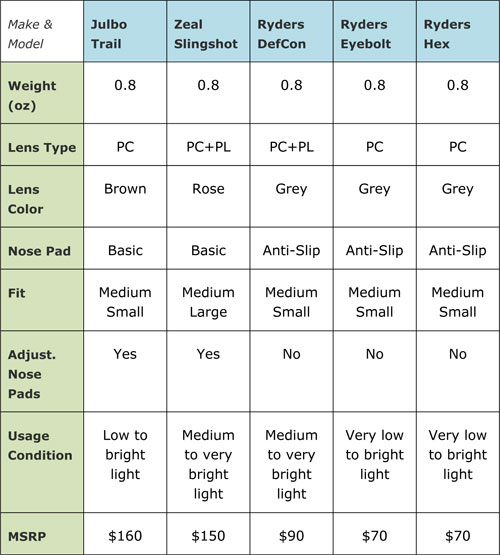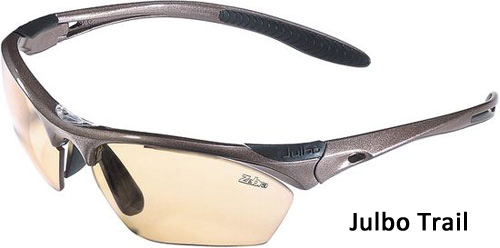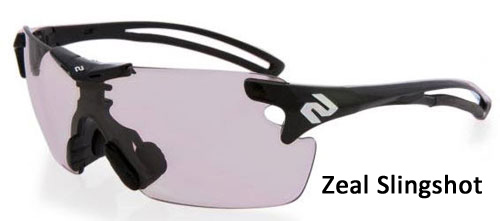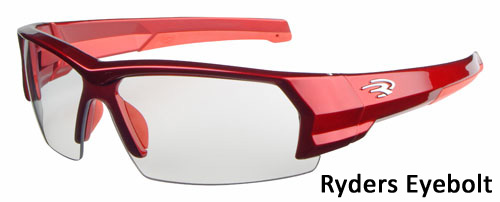 Our Recommendations
All the sunglasses performed perfectly for the quick changing and shifting weather conditions in Northern California area for the past few weeks. Running on trails, track, and road with them was a joy. But it all boils down to fit and comfort for me.
All of them provided a good fit but the Julbo Trail, Zeal Slingshot, and Ryders DefCon were not as comfortable on the bridge of my nose and slid once in a while even when I'm not sweating much. The adjustable nose pads on the Zeal Slingshot could be made of softer materials.
That leave us with the Ryders Eyebolt and Ryders Hex. The Eyebolt felt a little bulkier on the face even though they weight exactly the same. So the our pick goes to the Ryders Hex! I ran with each pair on 3 mile runs in the sun, shade, and changing weather in the San Francisco Bay Area on roads and trails.
The Julbo Trail has an aerated structure that allows complete air circulation to avoid fog in addition to temples shaped and cut for better hold with sharp and repeated movements.
The Zeal Slingshot has a shock-absorbing silicone temples and are ideal for comfort and venting. The Slingshot can also be ordered with a removable RX insert.
As for lenses (all made of shatterproof polycarbonate), I prefer the Grey over the Brown for both Photochromic  and Photochromic & Polarized lenses. This might have been a result of the weather here for the past few weeks. In the bright Summer sunlight, we might prefer the Brown!
The only negative issue raised by one of my wear tester is that she does not like Rose-colored lenses – she get a weird fatigue and uneasy feeling with them. I tested the same lens but found it to be fine.
A brief description of each company follows.
Ryders Eyewear
Founded by Brent Martin in 1986, Ryders Eyewear has built a sterling reputation in the industry for developing performance eyewear that is affordable enough to wear for training, competition and life.
All Ryder lenses are made using shatterproof polycarbonate through an injection process thus are optically correct to prevent distortion and eye fatigue. They all also provide 100% UVA, UVB + UVC protection.
*Product provided by Ryders Eyewear – CMP.LY/1 Review
Julbo USA
Julbo  is a 120-year-old brand is built from a rich history in alpine-mountaineering, high-altitude and glacier exploration optics. Julbo has been at the forefront of optical and action sports equipment for the mainstream athlete, including those using prescription eyewear.
Today, Julbo is an emerging multi-sport eyewear company that makes eyewear for elite outdoor athletes as well as mainstream users. Julbo is fully committed to creating a line of sunglasses with world-renowned optical quality melded with a bold sense of style.
*Product loaned by Julbo USA – CMP.LY/6 Review
Zeal Optics
Zeal Optics, named after the zeal in which life should be lived, is a company founded by athletes. State of the art designs, attention to detail, an Rx lens program and a lifetime warranty are testaments to Zeal's dedication to providing the finest quality product.
*Product loaned by Zeal Optics – CMP.LY/6 Review
If you have a product you'd like reviewed, contact me at info@weartested.org