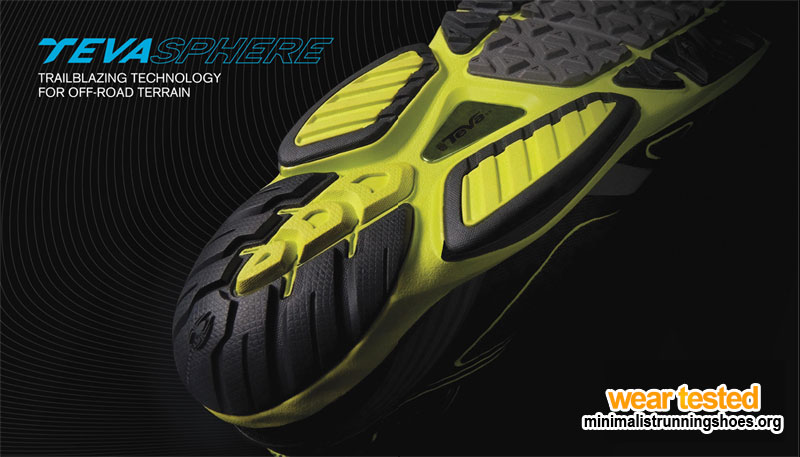 Teva defies convention by changing the shoe instead of the stride. The TevaSphere Speed & Trail collection  is designed to meet the performance needs of the outdoor athlete with a first-of-its-kind spherical heel and pod-arch system delivering a more natural point of impact, efficient transition and superior stability on varied terrain.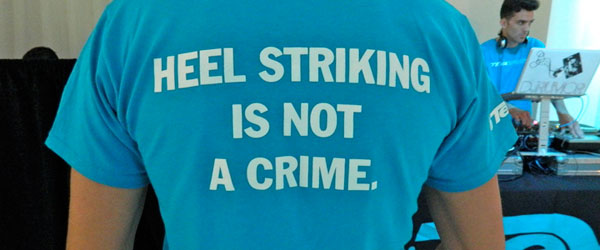 Teva spent more than four years developing the TevaSphere technology that solves a real problem for outdoor athletes who face a diverse range of terrain and obstacles in their outdoor pursuits.

The brand's product and design team collaborated with leading sports science and human performance institute P3 (Peak Performance Project) to create the first outdoor cross-trainer offering a spherical heel and pod-based arch support system. P3 proved through extensive testing that the spherical heel lowers the user's point of contact with terrain for a more natural point of impact and more efficient transition.  According to Teva and P3, "the pod-arch system provides specific support only where needed, offering phenomenal stability without restricting freedom of movement or adding unnecessary weight to the shoe."
The TevaSphere design stands in stark contrast to bulkier, squared-off heels and over-cushioned insoles of other traditional athletic shoes. Teva also claim to addresses the 'poor support' found in minimalist footwear that encourages consumers to change their stride to adapt – the support issue remains a contentious topic and we disagree here.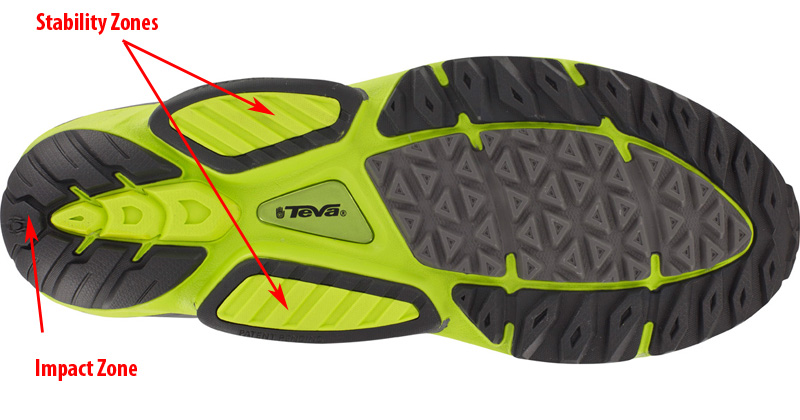 Structural minimalism, non-sew synthetics, flexible mesh and vibrant colorways makes the TevaSphere collection stand out. The TevaSphere products include:
TevaSphere Speed: Features quick-dry materials and lightweight design.  The Speed is available for men and women with a MSRP of $120.00.
TevaSphere Trail eVent: Features eVent breathable waterproof membrane, sturdy design and toe bumper for added protection. The TevaSphere Trail eVent is available for men and women with an MSRP of $140.00.
TevaSphere Trail: Built for women who prefer the benefits of a sturdy trail shoe and can forgo waterproof features. The TevaSphere Trail is available for women only with an MSRP of $120.00.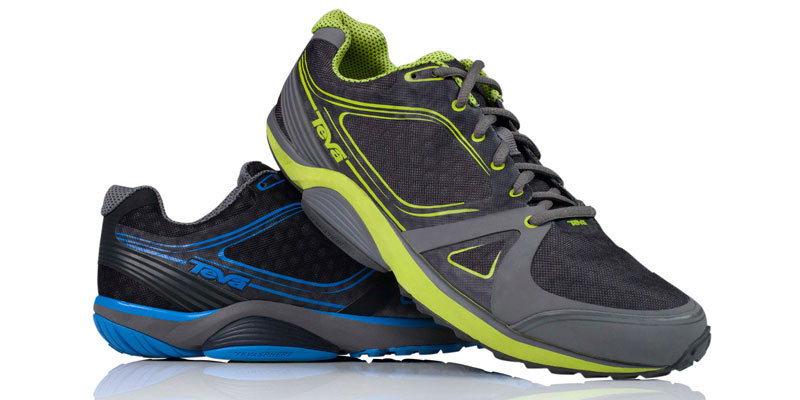 The TevaSphere outsole uses a spherical heel with two support pods to give you lightweight minimalism without sacrificing stability. A nylon shank keeps the foot stable and in control. Teva's Spider rubber is made to grip like crazy in wet environments. Quick dry materials are used to  keep you from getting bogged down. Their eVent models uses an eVent waterproof breathable membrane to keep your feet dry and cool. The uppers are made of synthetic and mesh.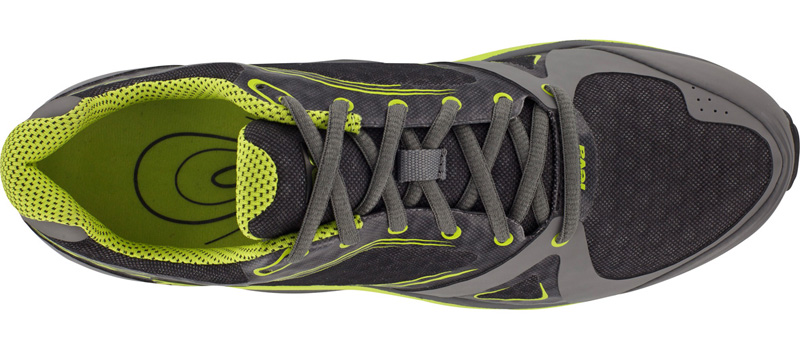 So how did TevaSphere Speed and Trail performed?
My pair of TevaSphere Speed (US Size 11) weighs in at 10.2 ounces and has a wide enough toe-box to accommodate my 2E+ width feet. I measured the heel stack height to be 23mm and midfoot stack height at 14mm. This gives a 9mm drop but you won't feel it – it does not affect my running form.
The first thing that came to mind when I put them on is: minimalist shoes on training wheels. No matter how you foot strike, you are forced to not supinate or pronate. Is this extreme motion control? My female wear tester ran in a pair of TeveSphere Trail and felt un-natural when she took her first few steps. She is a forefoot striker and said her ankles hurt after running a mile.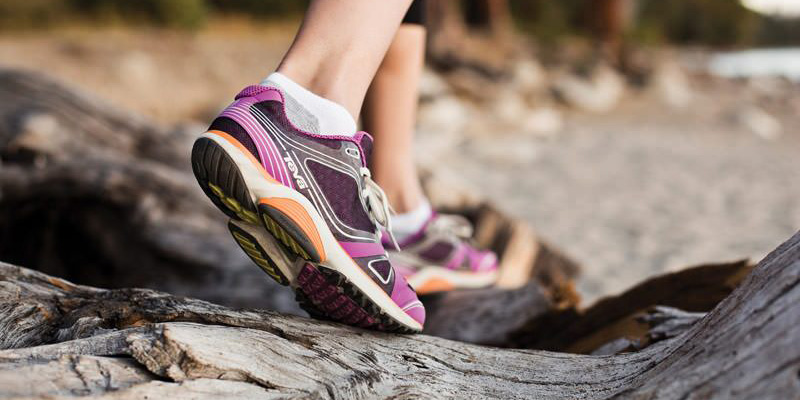 I must point out that I am no longer a heel striker and I have nothing against heel strikers. But I did try to simulate heel striking while wear testing the TevaSphere collection. Unfortunately it felt un-natural when I did that. It took me at least 9 months to fully transition to midfoot striking in minimal shoes and I'm not ready to un-learn that! I sometimes heel strike on steep downhills and the TevaSphere felt natural in these situations.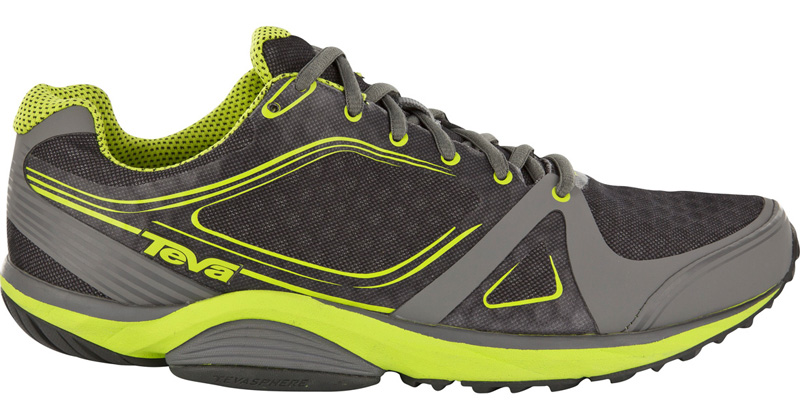 Teva quoted a recent study of where 69% of Harvard cross country runners heel strike. And 99% of us heel strike when walking. I'm sure there are many elite and recreational runners who also heel strike so there is a place for TevaSphere technology. Walking a few miles with my TevaSphere Speed felt natural though but I would have preferred not to have the support pods.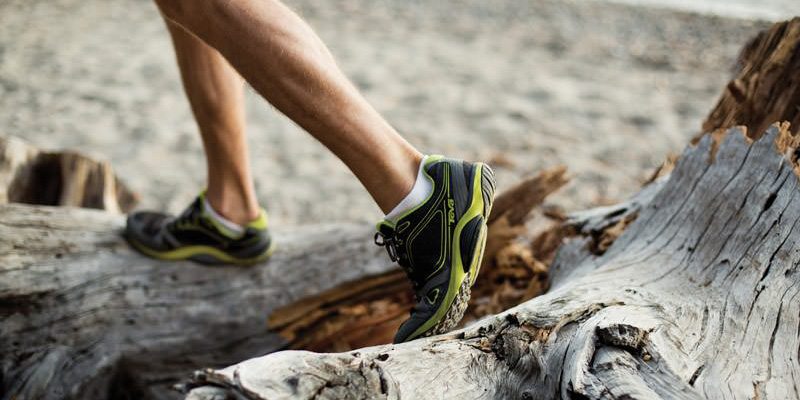 The funny thing is that I like this shoe for doing speed work – go figure. It forces me to stay in good form when doing a fast 400m or 800m. I've also used E3 Grips to help with my posture (stabilizing the shoulders, back and hips for more efficient muscle use) when sprinting so I can focus on peak performance injury-free. The TevaSphere technology gives me a better sense of stability and control when midfoot to forefoot striking at fast speed. Maybe it's the wide outsole and stability pods right next to the midfoot area where I land and take off? But I'm pretty sure I'm landing more on the forefoot area when sprinting (at least in the last 200m) so I'm baffled…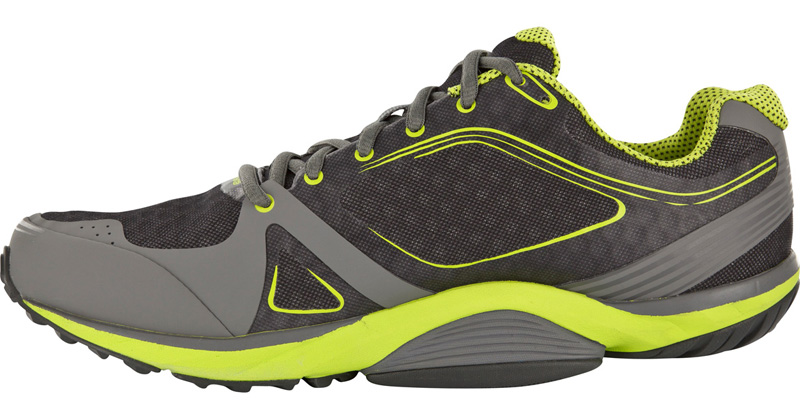 Bottom line is that for minimalist runners and those looking for a shoe that is less structured and prefer to adapt their running form, the TevaSphere is not for you. If you are a heel striker and you are not injured, this may be the transitioning shoe to something more stable on varied terrains. But it is by no means a minimalist trail or road running shoe – maybe a lighter weight trail or road running shoe. But with the flexible 14mm midfoot height, midfoot strikers can easily feel the ground pretty well – I give the TevaSphere that!
The TevaSphere men's collection comes in these colorways: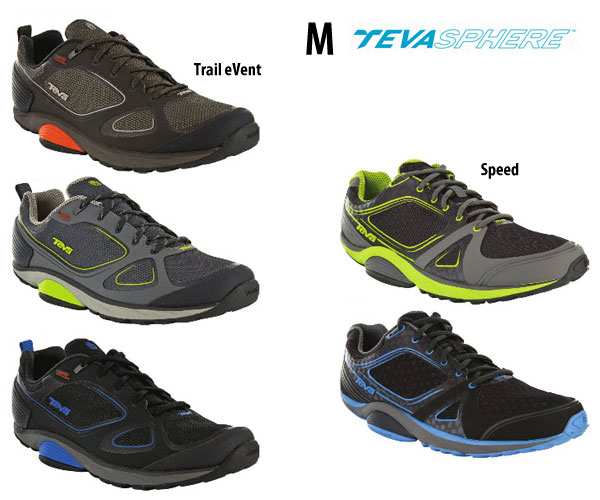 And the TevaSphere women's collection comes in these colorways: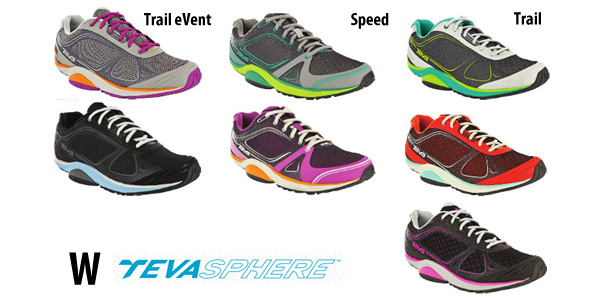 All models are now available on the Teva web site.
*Product provided by Teva.  CMP.LY/1 Review
If you have a product you'd like reviewed, contact me at info@weartested.org