The Smart Wool SS '13 PhD Run Collection drops in early next year and we're very excited to sample some of these upcoming products recently.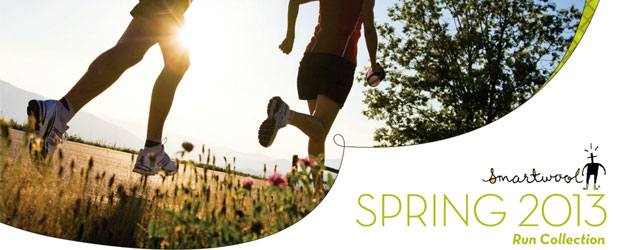 We wrote extensively about the benefits and advantages of Merino Wool earlier this year when we reviewed performance apparel products from Ice Breaker and Smart Wool. This time around, we checked out both men's and women's running apparel from the SS '13 PhD Run Collection: Run Zip T (W), Run Short Sleeve Crew (W), Run Capri (W), Run Short Sleeve Top (M), Long Run Short (M), and HyFi Training Beanie (M).


PhD Run Short Sleeve (M/W)
Seamless construction for comfortable with a semi-form fit, this Run Short Sleeve top is designed with offset underarm seams to eliminate chafing. Varied knit textures provide ventilation and fit. Made of 79% Merino Wool, it also has a reflective Smart Wool logo and body enhancing design lines.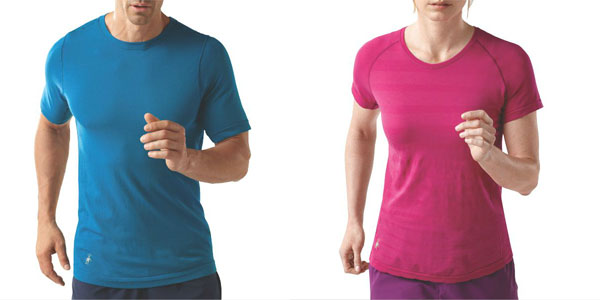 MSRP $85 each.
PhD Run Zip T and PhD Run Capri (W)
With an 8″ center front zip with semi-locking slider, the seamless construction on the Run Zip T provide for ultimate comfort and offset underarm seams eliminate chafing. Made of 79% Merino Wool, it also has a reflective Smart Wool logo and body enhancing design lines.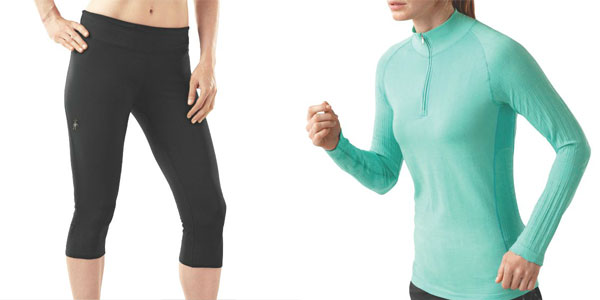 The form fitting mid-rise Run Capri has a wide waistband and crotch gusset for comfort. There is an internal draw cord for adjustability and sculpted back leg opening for increased range of motion and feminine look. Made of 24% Merino Wool and 56% Nylon, it also has a reflective Smart Wool logo and body enhancing design lines.
MSRP $80 for Capri, $100 for Run Zip T.
PhD Long Run Short & PhD HyFi Training Beanie (M)
The form fitting mid-rise woven outer Long Run Short with Merino Wool interior brief provide support, comfort, and temperature regulation. There is also a secure back zip pocket with a semi-auto locking zipper pull. The outer is made of 100% recycled polyester whereas the liner is made of 79% Merino Wool and 18% Nylon. It also has a reflective Smart Wool logo.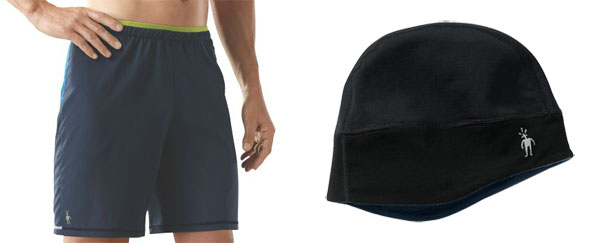 The HyFi jersey-knit Training Beanie is constructed for warmth and fit. A three-panel crown design provide an ultimate fit while a contoured drop-ear headband adds warmth and comfort.  Made of 45% Nylon and 39% Merino Wool.
MSRP $80 for Long Run Short, $32 for HyFi Training Beanie.
So did the Smart Wool PhD running apparel perform?
All the Smart Wool PhD run outfits are suited for both warm and cold weather conditions and we've had the chance to test them in the unpredictable Northern California Fall weather where daily temperature swings of 20 degrees Fahrenheit is common.
Briefly, Merino Wool wicks sweat from your skin to keep you dry – it keeps you cool when it's hot and it warms you when it's cold. And the PhD collection performed as expected. Not having to worry if my running outfit will keep me cool or warm as the weather changes is a godsend!
But I did notice that on really warm days, I do feel a little too warm or humid in the Run Short Sleeve top even though my female wear tester did NOT on the same test run with me. Her Run Capri also fared nicely – soft and comfortable.
The Long Run Short is a great alternative (without compression built-in) to my Ashmei 2-in-1 short with a super-comfortable Merino Wool brief. But it is also lacking additional elastic rear pockets to keep heavier devices close to your body so it does not bounce around as it currently does with just the back zip pocket.
My favorite is the HyFi Training Beanie. It is one of the most comfortable beanie I've ever worn and I own half a dozen from Brooks, Headsweats (x2), Ashmei, and C9 (x2). It is not too tight or too loose and of course really soft and comfortable yet breathable and warm.
After wearing Merino Wool running apparel, all other materials just does not feel as comfortable, period. They may have the same moisture wicking properties that perform well on hot weather but it usually does not keep you warm in cold weather. It will be interesting to compare the performance of Merino Wool to Cocona technology which has increased breathability, reduced drying times, UV protection, and odor management. Hopefully we will be able to wear test some products like the Mission T-shirt top from the La Sportiva Mountain Running collection which utilizes Cocona – by increasing breathability in both the summer and winter, Cocona active particles is supposed to deliver on the promise to accelerate performance. Will see..
The Smart Wool PhD Running Collection will be available for purchase at: REI
*Product provided by Smart Wool. CMP.LY/1 Review
If you have a product you'd like reviewed, contact me at info@weartested.org