Before I started investigating into Merino Wool technology, I had no idea how far wool technology has gone and what the benefits of Merino wool are. To find out, I decided to do a little research and check out some running outfits from two well-known woolen performance wear manufacturers: Icebreaker and Smart Wool.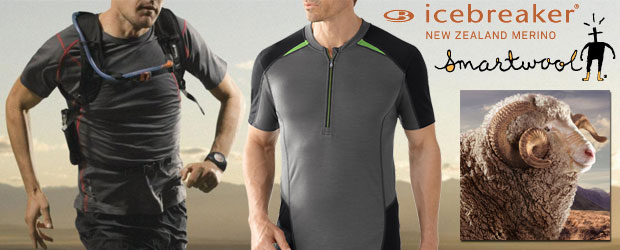 Merino Wool 101
You can skip this section if you are already familiar with Merino wool technology.
Merino wool comes from Merino sheep, originally the Saxon Merino sheep from Spain. These sheep produce very fine and soft wool. Merino sheep were introduced to Australia in the early 1800s. Today the majority of Merino sheep are raised in New Zealand, Australia, South Africa, and South America.
Merino wool wicks sweat from your skin to keep you dry – it keeps you cool when it's hot and it warms you when it's cold. Several properties contribute to Merino's popularity for exercise clothing, compared to wool in general and to other types of fabric:
Merino is excellent at regulating body temperature, especially when worn against the skin. The wool provides some warmth, without overheating the wearer. It draws moisture like sweat away from the skin, commonly known as wicking. The fabric is slightly moisture repellent (keratin fibers are hydrophobic at one end and hydrophilic at the other), allowing the user to avoid the feeling of wetness.
Like most wools, Merino contains lanolin, which has antibacterial properties.
Merino is one of the softest types of wool available, due to finer fibers and smaller scales.
Merino has an excellent warmth-to-weight ratio compared to other wools, in part because the smaller fibers have microscopic cortices of dead air, trapping body heat similar to the way a sleeping bag warms its occupant.
Wool is a natural dirt repellent, too. The scales and crimp that give wool its shape also prevent dirt from penetrating the fiber surface.
Keratin, the same protein that gives wool its great elasticity and strength, is also responsible for wool being a natural water repellent.
Wool's ability to retain moisture is also responsible for its static resistance. The retention of moisture within the fiber prevents a build-up of static electricity and the spark or "cling" associated with it – no static cling!
Personally, the biggest aha moment comes from the lack of itchiness with Merino wool. The "itchiness" associated with wool is determined by the diameter of the fibers used. Larger, broader fibers are less flexible and have less ability to bend, thus resulting in a prick when pressed against the skin, causing the sensation of itch. Merino wool has fibers that are smaller in diameter, or being "finer". These fibers are more flexible and bend softly when pressed against the skin thus lacking the itch sensation.
Performance Apparel Samplers
Now, let's check out a small sample of the woolen performance wear from Icebreaker and Smart Wool. I've been wearing them for all my training and competition in the state qualifiers track and field senior games events – yes, I'm OLD, AARP old! You have to be at least 50 years old to participate and I have met athletes from all around the US including a half a dozen that are 90+ years old!!! Keep moving is what they tell me. Stay Active. And minimalist running shoes changed my life – one of the many tools available to everyone today!
Icebreaker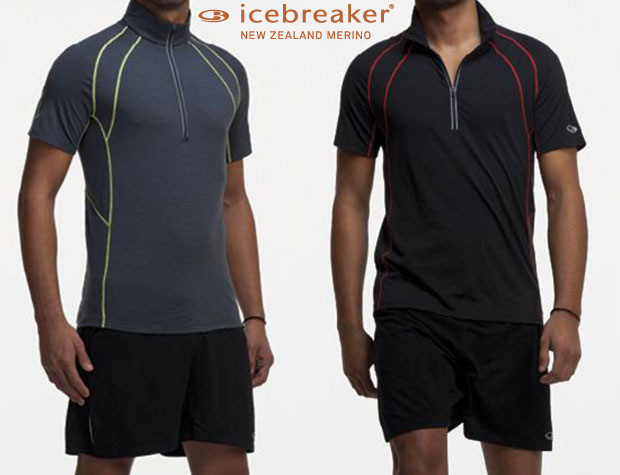 Launched in 1994, Icebreaker was the first company in the world to develop a Merino wool layering system for the outdoors. It was also the first outdoor apparel company in the world to source Merino directly from growers, a system it began in 1997. Icebreaker Merino clothing for the outdoors, technical sports and lifestyle includes underwear, mid layer garments, outerwear, socks and accessories for men, women and children. Icebreaker is based in Wellington, New Zealand, and is sold in more than 3000 stores in 43 countries.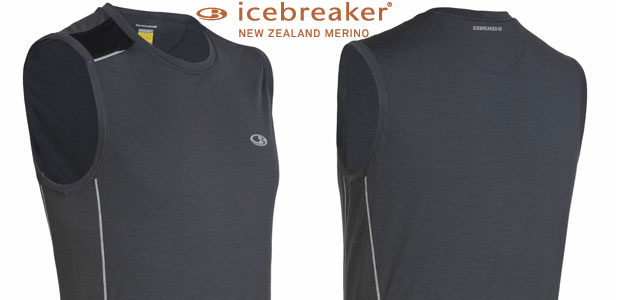 I've been wearing the Icebreaker Quest Zip Short Sleeve, Ace Sleeveless Tee, and the Tracer short for a lot of my training including long runs, weight training, and biking. And actually wore the Sleeveless Tee competing in the 100m, 200m, and 400m in Arizona last month. And in the 400m, 800m, Long Jump and Triple Jump in the California state qualifiers last week! No sweat, highly breathable, and super-comfortable. Race tested and loved it! And I'm going to Cleveland for the Nationals next year so I have a year to really train.

About 96% Merino wool with 4% Lycra, these outfits have body-contouring fit for breathability. Eyelet panels increases venting and odor resistant! Perfect for both cool and warm weather. What more can I ask?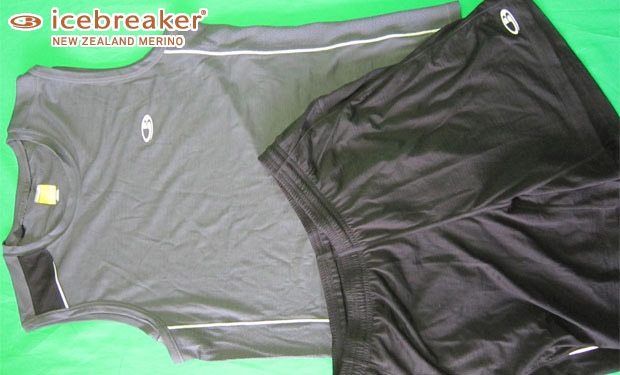 In 2008, Icebreaker introduced Baacode, a pioneering system that enables consumers to trace every step of their Icebreaker's evolution, starting from the sheep station from where the Merino was grown. Icebreaker garments now have an internal label bearing a unique Baacode number. A swing tag tells customers how to enter their Baacode on Icebreaker.com and trace the Merino fiber in their garment back to the sheep stations where it was grown. Customers see the living conditions of the sheep, meet the high country farmers who run the sheep stations, and follow every step of the production process.

Well, I had to try it out and here are the results below. Very impressive. Accountability indeed.

The latest Icebreaker running collection certainly has runners like myself excited. I'm sold on the benefits of Merino wool in running and performance apparel!
Smart Wool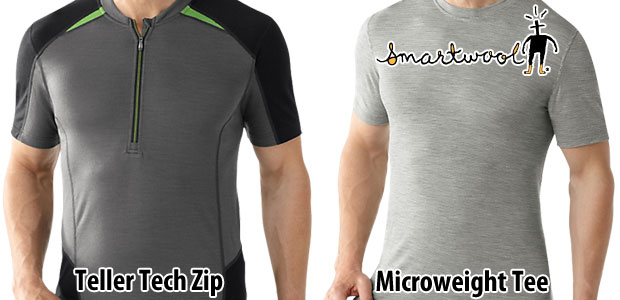 Based in Steamboat Springs, CO, Smart Wool is an apparel brand whose products are inspired by living and playing in the mountains. The company offers year-round apparel for an active life lived in unpredictable mountain climates. Smart Wool products are created to get the most out of the inherent benefits of Merino wool while delivering extraordinary comfort through intelligent and thoughtful products, allowing mountain athletes to do what they love to do longer. Smart Wool Corporation is a wholly owned subsidiary of The Timberland Company.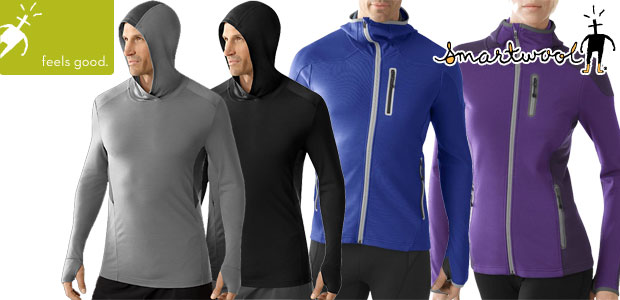 The Smart Wool Trail Collection does double duty, dealing with the body's heat of exertion during activity, while fighting chills as the body cools at rest breaks. The Trail pieces exhibit smart designs maximizing Merino benefits for breathability, moisture manage, odor resistance while adding synthetics to improve dry time, stretch and shape retention. With multiple style options, finding the right piece for warm weather activity and preference is made easy.
We tested the Teller Tech Zip and Hoody from the Trail collection in addition to the base layer Microweight Tee. The 100% Merino wool Microweight Tee features a snug fit and is a perfect base layer in cool to cold weather (late nights or early morning runs in the changing Northern California weather) and a great stand-alone piece for warm to hot weather activities. I was able to use the Microweight Tee for both training runs and casual wear – comfortable and warm!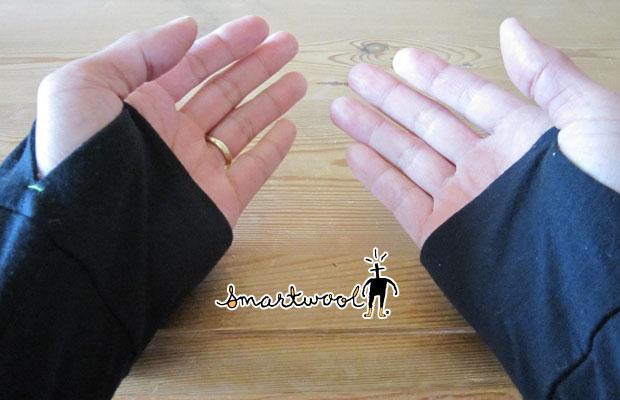 The Teller Tech Hoody is mostly worn by itself in milder weather here and I love the thumb hole panel on the sleeves. It provides extra warmth to the hands in addition to preventing the sleeve from sliding down when I'm putting on an outer jacket like a track suit or a heavier jacket after exercising.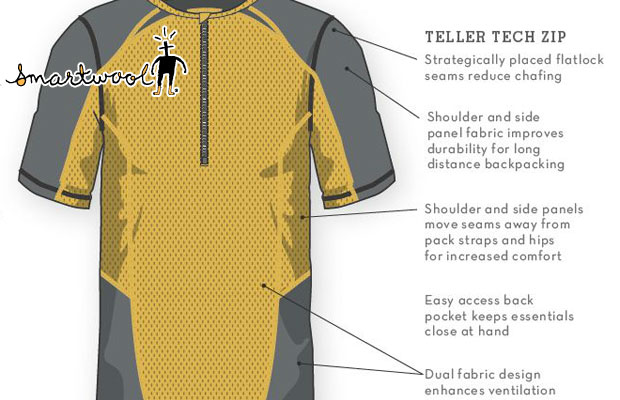 The thoughtful features of the men's and women's Trail tops include dual fabric design enhancing ventilation to help cool the core while shoulder and side panel fabric improves durability for longer distance outings and seams are away from pack straps and hips for increased comfort.
For the Teller Tech Zip, the 10″ zipper provide additional cooling in the hot and sunny trails of Northern California and long training runs. The body is made from an eyelet knit, which enhances ventilation, while shoulder and side panels have been covered with Jersey knit, to prevent abrasion.
Final Observations
I'm definitely convinced that Merino wool has its rightful place in performance apparel and my impression of wool, and Merino wool in general, is totally different than from a month ago – it's not the stodgy, itchy material found in sweaters of the yesteryears…
I actually mix-and-match between the two brands and can't really tell the difference in performance because they are both manufactured very well with almost 100% Merino wool (other than 4% Lycra in some).
There are other Merino wool collections for casual wear from both Icebreaker and Smart Wool. After seeing how comfortable and temperature-regulating the running apparel is, I'm ready to invest in more Merino wool based clothing for everyday wear.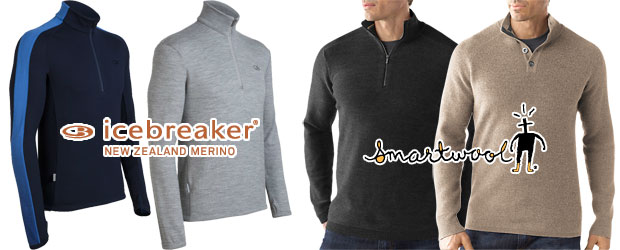 Most Icebreaker and Smart Wool apparel are now available (some designs may not be available yet) for purchase online.
*Product provided by Icebreaker & Smart Wool. CMP.LY/1 Review
If you have a product you'd like reviewed, contact me at info@weartested.org