Somnio Runaissance 2.0 Review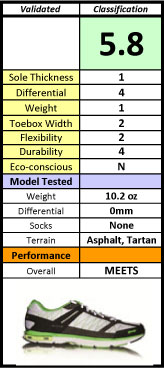 The zero drop running shoes are almost here! Somnio Running, a favorite of triathletes and marathoners, is launching three zero drop running shoes for Spring 2011. First off is the Runaissance 2.0, a neutral trainer, followed by Exact Change 2.0, a stability trainer. And in late Spring 2011, the much-anticipated lightweight NADA minimalist racer. NADA is acronym for No Anterior Drop Applied.
Somnio's design philosophy is to customize the shoe to meet the alignment needs of the individual. Every person's foot is different. Somnio's goal is to helping runners avoid injuries and improve their running and walking.
Through customization, Somnio's shoes work with each person's unique biomechanics thus creating shoes for every person's individual need. You can even create shoes that are different right to left.
With Somnio models and base parts, the combinations are almost endless. From customizable footbeds (match your arch height and foot shape), adjustable varus wedge inserts (fine tuning), and variable cushioning (based on weight and running surface), you can truly have a super, fully customized shoe that fully align your body. The primary causes of running injuries are faulty alignment and the way in which force is applied to that alignment. This ultimately results in excessive load on joint and soft-tissue structures.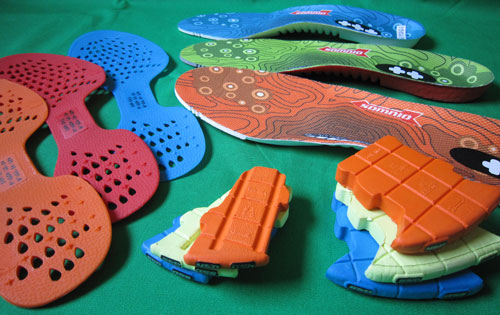 To align yourself, you need to select the correct varus wedge (biomechanical fine tuning) using the knee bend test (single leg squat). The footbed and variable cushioning are both straightforward as they are based on your weight, running surfaces, and foot arch height and shape.

For my configuration, I decided to strip it completely bare, almost. I removed the varus wedge insert, footbed, and the heel cushioning insert. I kept the medial midfoot cushioning insert (thinnest) on because I would have a funny unbalanced midfoot strike otherwise – there is a 0.25 inch by 1.0 inch hole to fill. The hole in the heel actually works toward your advantage because if you heel strike, you will feel the unbalanced ground impact due to an even wider hole than the midfoot section. So this will help you avoid heel striking – an unannounced feature of Somnio shoes!
Seriously, I did put the heel cushioning insert back after I finished my first test run. And did another 3 mile run with the inserts intact. It just feels great with a zero drop shoe and knowing that your running form should not be impacted. I'm also using the Runaissance for all my other tasks especially walking.

The Runaissance 2.0 has a 'StopCap' midsole providing extra support and cushioning for both neutral and supinated runners. It also has an injection molded heel counter, suede bonded laces, midfoot stitching, curved last, and blown rubber outsole.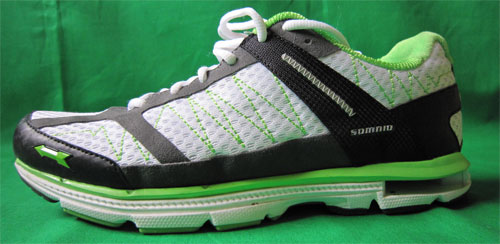 The Somnio Runaissance reminded me of the zero drop GoLite Amp Lite trail shoes – similar weight, similar bulkiness, and zero drop. They differ in that Runaissance is a running shoe and Amp Lite is a trail shoe – the outsoles are very different. When I tried running with the Amp Lite on a tartan track or on asphalt, there is too much cushioning. With the Runaissance, it is a different story. There is extra cushioning when you run on a tartan track but on asphalt, it is just right. This would be a great shoe for 10K or longer distances if you need a little cushioning but the extra weight might catch up with you for marathon or ultra distances.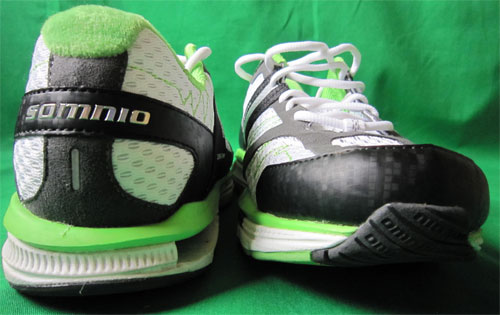 The wide toebox is a delight with even extra space for my wide feet! Besides the weight and thickness of the soles, this is a great training shoe. You will definitely have zero tendencies to heel strike with a zero drop shoe like this in normal running. But if you get tired, there is enough thickness in the heel for you to get away with heel striking. But please don't do it!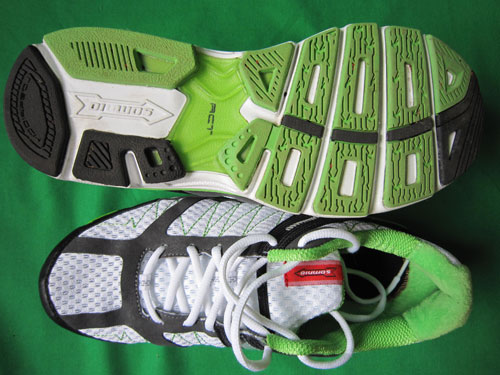 Even if you are just starting to transition from traditional running shoes to minimalist shoes or barefoot-style running, this is a good transitioning shoe because it still has cushioning, zero drop, and only slightly lighter – you'll feel right at home. Once you have a good part of your running form down with midfoot/forefoot striking, go to the next level.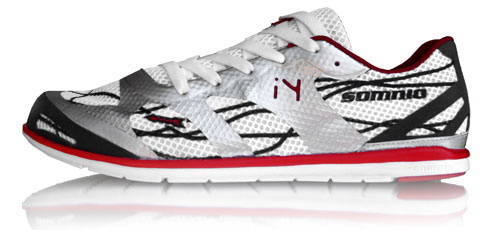 Somnio has a different weapon for a racing shoe – the NADA (barefoot in a bag) shoe. This minimalist lightweight racer (3.6 ounces) will be available late Spring 2011 but without the configurability typical of Somnio shoes. It is also very affordable (MSRP of $75) and you'll also get training & exercises DVD, an iPhone app, and a cinch bag. From what I have seen and touched (but not run) in the Somnio NADA racer at tradeshows, that is the shoe that can change the landscape of minimalist racers!
Overall, the Runaissance 2.0 is a great zero drop long distance trainer and walking shoe but too bulky and heavy for my taste. But I'll wear it for walking, hiking, and short distance running – perfect for my minimalist running lifestyle.
*Product provided by Somnio Running (MSRP $135).
If you have a product you'd like reviewed, contact me at info@weartested.org