You may not realize it but when you are transitioning from traditional running shoes to minimal shoes, you are embracing a big change in lifestyle for the better. Zero drop shoes have changed mine. I will probably never wear another pair of dress shoe or casual shoe with raised heels (1/2 inch or higher) ever again.
You will not look at another pair of sandals, flip-flop, dress shoe, or running shoe the same way again. Trust me. You question the materials used, the heel to toe differential, the roominess of the toebox, its weight, and the softness of the uppers. All configurable, just like software!
Your Current Lifestyle
In the current lifestyle, we use different shoes for different activities. We often have to change out our shoes from one activity to another. These shoes are designed with a single activity in mind – they are not multi-functional.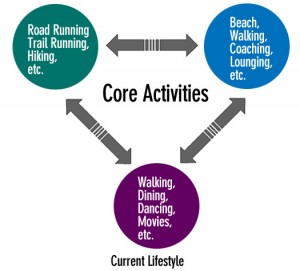 Running shoes are designed only for running and do not look good with jeans or casual clothes for work. Sneakers or sandals are meant for walking only and not for distance or trail running.
Worst yet, these traditional shoes have high elevated heels! Going from zero drop or minimal shoes to traditional shoes is going backwards.
And what a pain to have to own and carry multiple shoes (most likely heavy and bulky) with you everywhere when you are travelling or just going away for the long weekend at Disneyland or golfing.
Your Minimalist Lifestyle
But the lines between our core activities are blurred or being merged such that the latest offering of minimalist shoes can be used for multiple activities – they are designed to be multi-functional.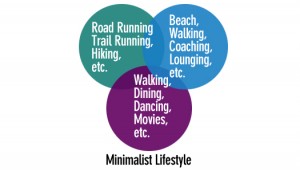 You get the best of both worlds – comfort and look. And you change your shoes between activities less often. But most important of all, you get better health by wearing zero drop minimal shoes that are better for your feet and posture.
Say goodbye to elevated heels!
The natural running revolution affects more than road and trail running. It is moving into the casual and fitness category – walking, cross training, aerobic, golf, yoga, martial arts, etc. These may be single or multiple activity shoes but they should all be embracing the zero drop or minimal drop platform.
Footwear manufacturers like GoLite and Vivobarefoot are also embracing the casual and wellness category with dress shoes, walking shoes, sandals, and flip-flops. Once the masses are used to zero drop and minimalist shoes and the health benefits that come with it, footwear manufacturers will have another battle to fight for the consumer's wallet.
What The Future Holds
Wouldn't it be great to own only one pair (optimal) of minimalist shoe so that you can wear it to run on the road, on the trails, hiking, and then not have to change your shoes to walk around town or have dinner in a nice restaurant and café, You also wind down in the hotel lounge or living room without feeling uncomfortable on your feet or feel out of place? I would love to have a shoe like that when I was backpacking through Europe!
Well, the future is year 2011 with some amazing products from Vivobarefoot, New Balance, Merrell, and countless others. Most of them are targeting the Casual and Wellness category and some in the Golf category. They may be single function or multiple function minimal shoes but they should all be either zero drop or close to zero differential – the barefoot platform.
Running, Wellness, Casual
The Vivobarefoot Aqua is an awesome shoe that can function as a lightweight and comfortable dress/casual shoe but also be used for running without thinking twice. And the new Vivobarefoot Achilles can be worn strapless as you walk the beaches in Hawaii. Put on the strap and you can run on the beach or nearby trails in a snap!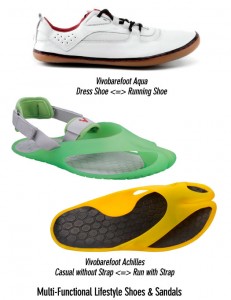 How about for the gym? There is a functional need for low profile footwear in the gym; it increases stability, reduces risk of injury and helps promote proper body alignment and form. New Balance will launch the Minimus Training shoe in 2011.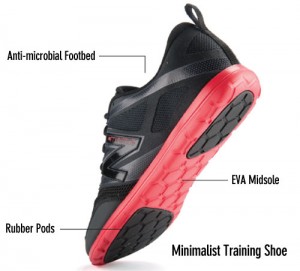 Could one of these shoes below (Evo II or Tara Lite) be the one minimalist shoe of the future that can at least embrace multiple categories (exercise, dress/casual, and running) in one? Time will tell.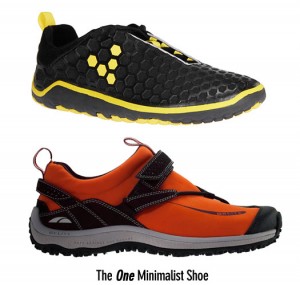 Golf
One area that is moving into the barefoot and multi-functional shoes thus going after the current establishments are golf shoes. And the debut of the TRUE Links Wear Tour 'barefoot' golf shoe. TRUE Links Wear is a company of passionate golfers who created a ground-breaking minimalist golf shoe that allows the golfer to truly feel the course.
TRUE Tour is a golf shoe so comfortable it feels like a slipper with traction and is the lightest golf shoe worn on the PGA Tour. It has no midsole and spike – this allows you to feel the course like never before. The TRUE Barefoot Platform has a toe box that allows your toes to function individually while the flexible outsole and cushioned foot bed allow your feet to work naturally during the swing.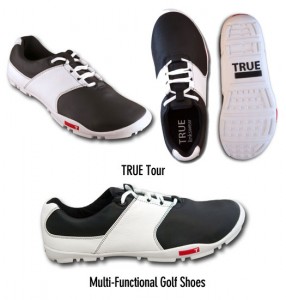 And for a typical golfer, you wear them while travelling on airplanes, while driving your car, enjoying the local scene and dining, morning exercise and run, and of course, golfing – multiple activities in a single pair of shoes!
I expect more and more shoe companies to go with a 'barefoot' platform (zero drop) and start making all shoes that way. At least that is what I hope. I can never go back to elevated heel shoes.