We at Wear Tested Gear Review have been fans of Knuckle Lights for many years ever since the founder, Dan Hopkins, launched it a few years ago. I personally use it everyday when walking my dogs at night or when running in low light conditions (early mornings or late nights). You can visit our review of the original Knuckle Lights Version 1 here and of Knuckle Lights Version 2 here.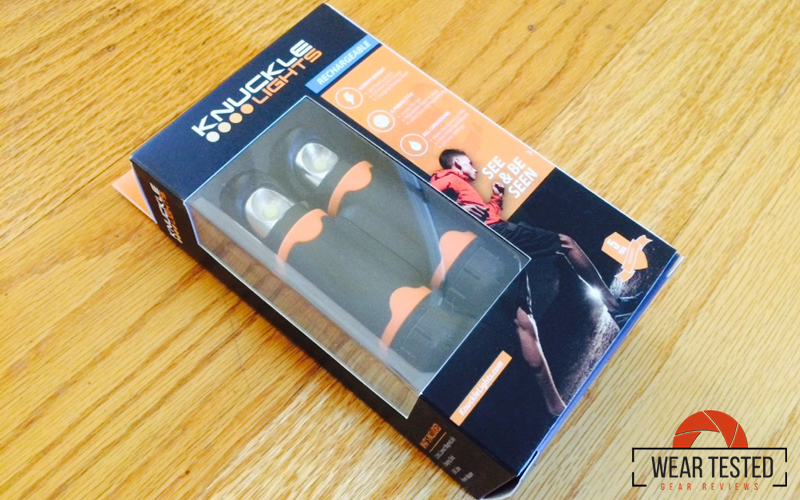 Out of the box, there are 2 rechargeable light units, USB cable, charging base, and wall adapter. Each light unit is 140 LUMENS and can be connected together magnetically for a 280 LUMENS power source. These light units are completely sealed and weatherproof (IPX-6). Though not rated for underwater use, Knuckle Lights can be submerged for up to 10 minutes with no leakage.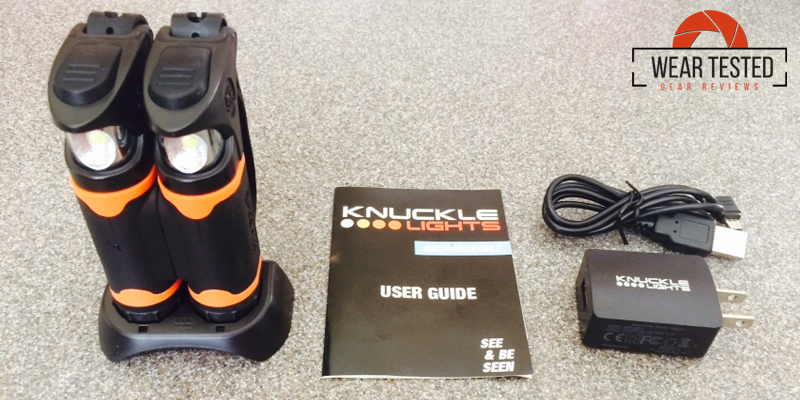 For those unfamiliar with Knuckle Lights, they are designed to be worn on the front of your hands, in the perfect position to light your path and be seen  on your next run or walk in the dark. The light units connect together magnetically so that they can easily be stored, and even used as one unit if preferred.  The units are super lightweight, less than 3 ounces each. The L.E.D. pattern is a WIDE FLOOD BEAM, so it puts out light in all directions, providing a steady, even light in front of you that does not bounce around, even with your arms moving.

Knuckle Lights are completely rechargeable with a unique, easy to use charging dock. Simply place the units on the dock after each use and they will always be fully charged and ready to go when you are. The base has a USB cord that can be plugged into your computer, but also comes with a wall adapter to fit a standard outlet. With the simple one button on the top of each unit, you have three power options via your thumb: first click for High Power, second click for Low Power, and third click for Blinking Mode. Hold the button for 2 seconds to Turn Off unit. Battery Life:
4 Hours on High Power
8 Hours on Low Power
14 Hours on Blinking
Three major improvements we have noticed after using the new version. First, the extended battery life with the new rechargeable battery. Second, a much brighter power source than previous versions with 140 LUMENS (versus 45 LUMENS). Third, and most important of all, the knuckle straps are easily adjusted and locked in place afterwards – does not slide like previous versions. It is also worth noting that the new light units are much nicer looking (design-wise), more compact, and durable.

After three full weeks of nightly usage of the redesigned Rechargeable Knuckle Lights, I can honestly say that this is the best running and walking power source or lighting system I have ever used, period. But they are not sitting still. In Q4 2016, Knuckle Lights will be launching their battery powered version. So if you are doing any ultras requiring more than 4 hours of power source, you have an alternative. Go light your path and be seen!