We have wear tested a few RecoFit products (compression calf sleeves and full leg compression sleeves) in the past few years and the shin splint therapy compression sleeves turned out to be our favorite RecoFit product because of its technology and multi-purpose usage (more on this later). And we have tested tons of compression calf sleeves and apparel in the past 5 years as we are true believers of compression gear! RecoFit products are made with Resistex Carbon, a yarn with unique technical features, composed of a continuous filament of conductive material based on active carbon and textile fibers. Resistex Carbon was created in the research laboratories of Tecnofilati, a textile firm specializing in the production of yarns with high technological content for sportswear, protective clothing and leisure wear.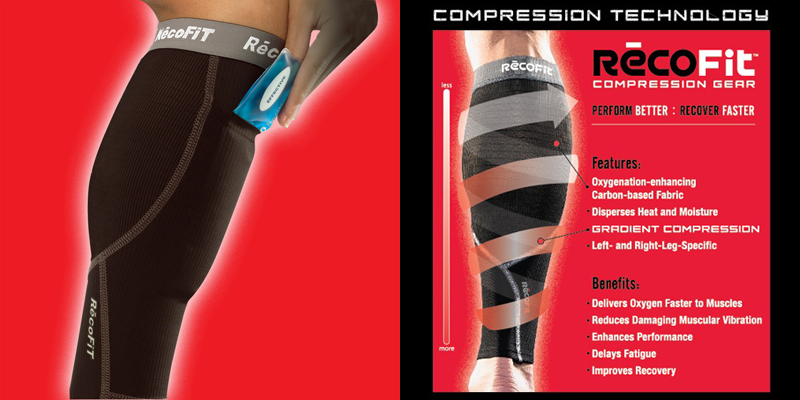 RecoFit's patent-pending shin-splint therapy compression sleeves combine its highly effective calf compression sleeves with a shin-splint icing pocket and flexible, custom-made freezer gel packs. This product offers two of the four elements of the R.I.C.E. treatment concept: rest, Ice, Compress and elevate. Combined with RecoFit's technical, carbon-based, high-compression fabric and left- and right-leg-specific design, these sleeves will be a useful tool to help combat shin splints.  If experiencing calf pain, the sleeve can also be adjusted, post-exercise, to place the icing pocket directly over the sore muscle.
RecoFit Shin Splint Product Features
Gradient Compression Calf Sleeves During Exercise
Healing Treatment Tool with Icing Post Exercise
Uses 2 of the 4 elements of the R.I.C.E Healing Concept: Rest, Ice, Compress and Elevate
Left- and Right-leg-specific
Designed and Developed in Boulder, Colorado and Made in USA
Includes 2 Calf Sleeves and 2 Freezer Gel Packs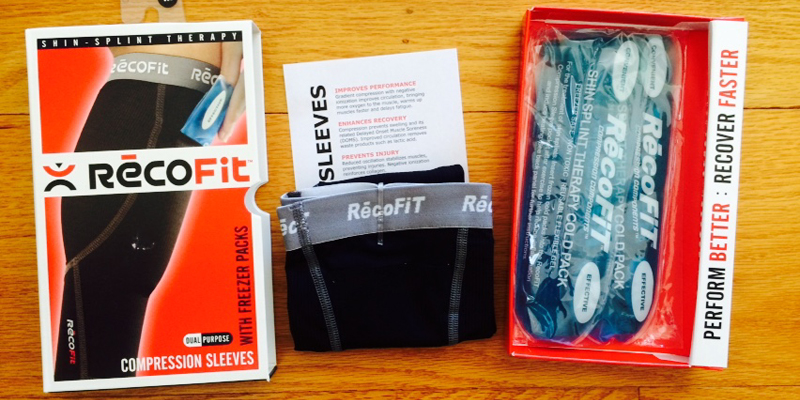 RecoFit Shin Splint Product Usage
RecoFit shin-splint therapy compression sleeves are recommended for use during exercise as well as post-exercise recovery. Wear the calf sleeves without the ice pack during your training sessions and races. Post-exercise, add the ice pack to enhance recovery. The sleeves are light enough to wear while sleeping and during extended travel.
Wear Test Summary
As mentioned in all my reviews of compression gear, the primary or key benefit for us is minimizing muscle vibrations during running – this will reduce wear and tear on my body in addition to muscle soreness the next two days. With compression calf sleeves as mandatory apparel, muscle soreness from any of these runs are non-existent. Additionally, the secondary benefit is that compression socks and calf sleeves circulate blood efficiently back to the heart. With properly circulated blood, your muscles gets the much need oxygen and nutrients needed to speed lactic acid removal.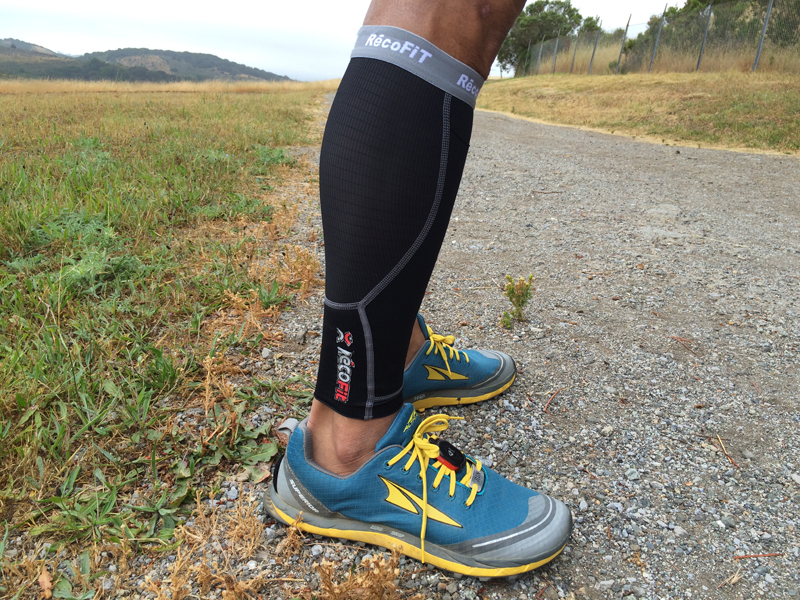 In terms of shin splints, icing helps for post-run but I like it better with prevention during the run by not braking on downhills – slalom (zigzag) or midfoot/forefoot striking form versus heel striking. So RecoFit shin splint therapy is a great post-run tool indeed.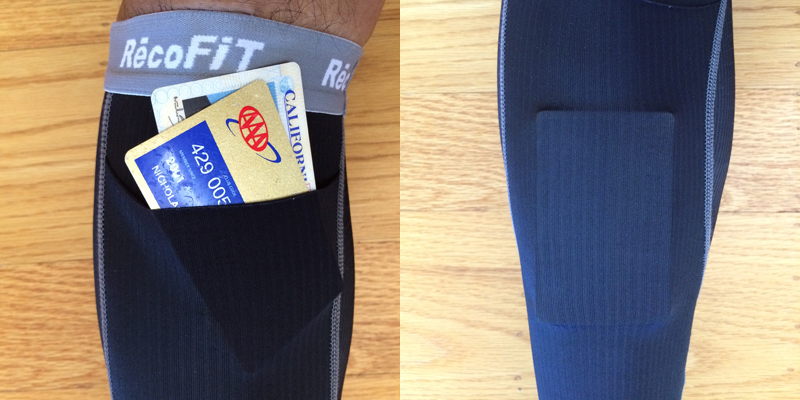 The kangaroo pouch in the front of the calf compression sleeves is designed to accommodate gel packs for recovery shin splint therapy or reversed for calf soreness. But it turned out to be even more versatile during exercise for securely storing your ID card, cash, or train schedules when the zippered pockets on your running or cycling apparel are already used for your keys or smartphone or other valuables. It is always nice to have additional pockets…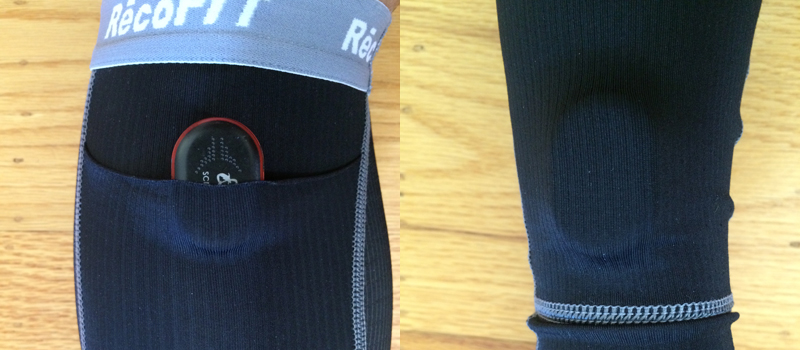 One unique usage of the pouch is the mounting of a runScribe tracker unit that I use for measuring the biomechanics of all my runs. I usually mount them on my shoe laces or on the heel counter. But for barefoot running or with huaraches or sandals, there are no easy mount points and since I always wear compression calf sleeves and sockless, this is the perfect solution!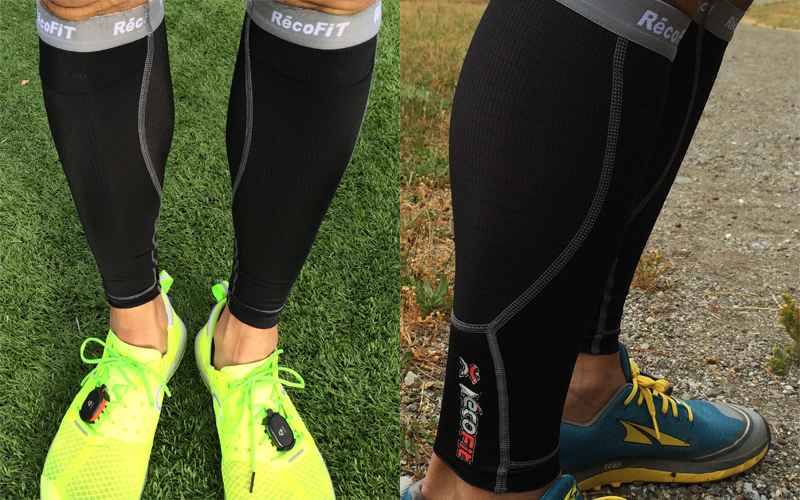 The RecoFit shin splint therapy compression sleeves is now my favorite compression calf sleeves for running and cycling. For obvious reasons, only the Black color is good for cycling usage. The RecoFit Shin Splint Therapy Compression Sleeves is available in two colors (black, white) for both men and women (unisex) and RecoFit products are available for purchase at: RecoFit
*Product provided by RecoFit. CMP.LY/1 Review
If you have a product you'd like reviewed, contact me at info@weartested.org