I had tested RecoFIT Sports compression calf sleeves before and they performed very well in our tests. And even months later, I'm still wearing them for all my runs! And RecoFIT is launching a new product in the next few weeks, a full-leg compression unit, the RecoFIT Compressors. The full leg unit offers gradient compression from the ankle to the top of the thigh, promoting circulation back up to the body while fully supporting the quadriceps and hamstring muscles.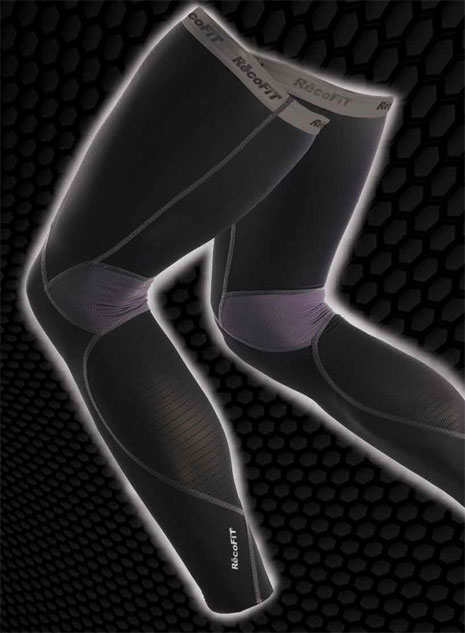 RecoFIT Compressors, an innovative full-leg compression sleeve, applies the benefits of gradient compression through technically advanced patterns and designs using advanced carbon-infused technical fabric. A sleeve instead of a tight, the RecoFIT Compressor offers versatility and comfort – they can be easily pulled on and off under running or bike shorts, before or after training or a race, and worn comfortably under clothing when sitting for long periods, such as while traveling.
The Compressors support not only the calf muscles, which provide 65% of the leg's venous return, but also the quadriceps and hamstrings in a muscle zone-specific compressive design.
According to RecoFIT (Move Sports):
"Beginning at the ankle, the Resistex™ carbon fabric offers negative ionization, compression, moisture management and ribbed massage as it supports the calf muscle; then, forgiving mesh fabric behind the knee allows the circulation to move uncompromised through the joint; finally, Resistex technical features continue the venous return and support across the thigh to the hip, where the torso takes over returning circulation to the heart."
They are not meant to be worn during running.
When I first received the full leg compressors, I was under the impression that it can be worn for running, like a running tight. You could but it didn't work for me! The whole unit started sliding down to my knees after a lap around the track. It was embarrassing as I had to reach into my track pants to pull it up but fortunately it is not visible to other runners.
They are for recovery only.
These were designed more for recovery rather than performance so they are recommended to be worn post-exercise. It's best worn when you are sitting down or not moving too much. I wore them on nightly 3+ miles walk with my dogs and usually the one on my right leg slides down more. I'm sure there are many creative ways to keep them 'up'. The gripper needs to be tight enough to keep the sleeves in place but not too tight to compromise venous return and comfort. Maybe a unit like a Capri pants or shorts will hold it up more.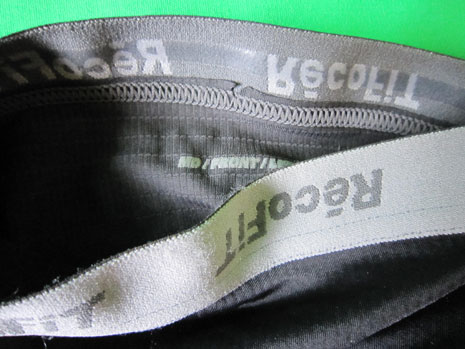 These compressors are recommended to be worn during travel with loose pants (such as track pants) to reduce any friction that could tug at them. There are athletes who have worn them running or biking (bike shorts hold them up) and they work fine but that's not the norm.
Observations
RecoFIT Compressors aren't the first full-length sleeves on the market but they are the only ones with all the essential features combined into a great-looking, truly functional product that delivers the recovery and benefits you need during rigorous training and racing.

Most are circular knit, like socks, and RecoFIT is a warp knit, which allows the fabric to be thinner, stronger and have specifically targeted gradient compression – quick wash and dry in the Summer months.  Plus RecoFIT is the only one with Resistex carbon-based performance fabric so this all adds up to four-season wearability; some of the others are pretty thick and may be more suited to cool weather.
And their pricing is reasonable – others run $90+ versus RecoFIT compressors at $75.  Great value for the money!
Does it work?
I'm a firm believer of compression apparel. I wear compression calf sleeves for every run and full compression socks for recovery in addition to recovery walking shoes. At my age (50+), any muscle aches or soreness from exercising should be minimized and recovery time diminished. And the solution is compression socks, a heart rate monitor, barefoot running style (good running form), and minimal shoes or barefoot.
RecoFIT compressors either prevented my thighs and hamstrings from soreness or minimized any potential injuries to these muscles. I do a lot of lunges (forward and backward for a total of 100) after each run. Before wearing full-leg compressors, I always feel some soreness  the next two days even though I do them almost daily. But not so with RecoFIT compressors. And especially speed work.
As I mentioned earlier, it's best used when you're not moving around a lot. After a short or long run or a tough workout, put them on and sit down to read a good running & fitness book like Phil Maffetone's 'The Big Book of Endurance Training and Racing'  or Bill Katovsky' 'Return To Fitness'. The RecoFIT compressors will do its magic as you rest – you can sometimes feel the tingling or warming on certain areas of your leg as your blood circulate actively.
So go for that long run, then pull these on and feel better!
Purchasing RecoFIT full-leg Compressors
Sizing is based on your height and weight from a petite (5'0″, 95 lbs) Extra Small to Extra Large Long (6'4″, 230 lbs). I wore a Medium but could have gone with a Medium Long so it might have held up better with the extra length. Available in Black only.
Primary fabric – 62% Nylon, 35% Spandex, 2% Carbon. Secondary fabric – 86% Nylon, 14% Spandex.
*Product provided by RecoFIT (MSRP $75). CMP.LY/1 Review
If you have a product you'd like reviewed, contact me at info@weartested.org