Running watches with GPR, heart rate monitors, and other bells & whistles  are one of my favorite toys. I've previously reviewed the Garmin 610 and the Motorola MOTOACTV. Recently introduced from Magellan GPS is the Switch and Switch UP. The Switch series of crossover GPS watches are perfect for athletes who run, bike, swim, or participate in a variety of outdoor activities.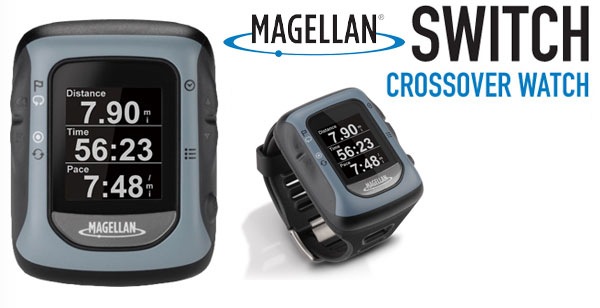 Whether you're training for a marathon, triathlon or getting in shape for the ski season, the Switch series provides a powerful, adaptable and customizable solution to meet the demands of your sport. The Switch Up model includes a barometric altimeter for precise elevation data and a thermometer to monitor and capture outside temperature ($70 extra).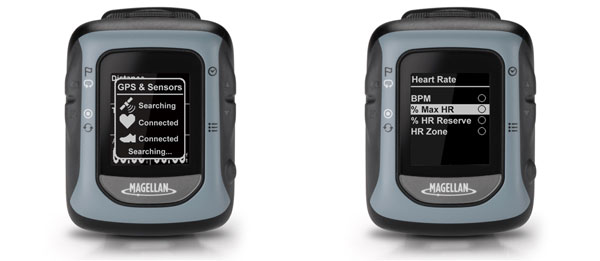 You choose the sport and Magellan Switch will guide you to peak performance with precise GPS satellite data by recording distance, speed/pace, and elevation. It's sleek, yet durable design with 50 meters water resistance will keep up in any condition.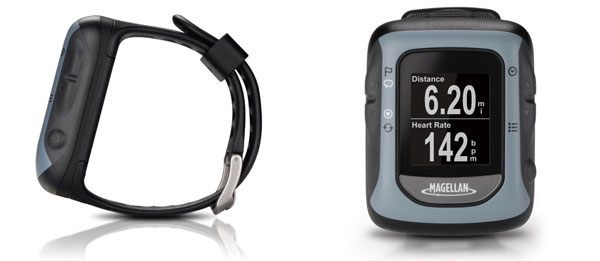 Switch breaks away from the pack by introducing a new training concept for GPS watches – Activity Pacer. Once a desired distance, time and speed/pace have been set, Activity Pacer not only shows the targeted progress, but more importantly, provides specific targets to attain or maintain the original goal.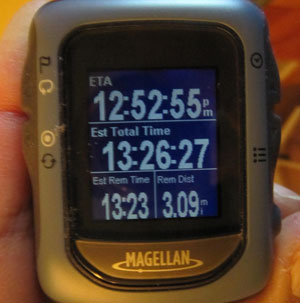 Switch Compatibility
Switch is compatible with any ANT+ sensors to provide additional information about your activity. Supported sensors include:
Heart rate
Foot pod
Bike speed/cadence
Bike speed
Bike cadence
Power meter
Switch Battery
Switch has an internal lithium-ion battery that is rechargeable using the Switch charging/data cable. Under normal training activities with the backlight off, the battery last up to 8 hours. An optional Battery Extender Pack is available as an accessory for Switch which can give up to 16 hours of battery life – great for ultras!
Switch Multisport Activity
Multisport is a special activity profile that combines multiple Activity Profiles into multisport event. You can record multiple activities into one recording. This is great for those training for triathlons or other multi-sport events.
Auto Pause or Recording Preferences
Auto Pause causes Switch to automatically pause when it detects no movement and to resume when it begins to move. Common usage is for biking when it is desired that the recording be paused while stopped for a traffic light and resumed when the activity continues.
Auto Lap or Recording Preferences
Auto Lap causes Switch to automatically finish the current lap and start a new one. The automatic lap trigger can be set for a  distance, time or location.
Switch Navigation
Switch has five buttons, all with multiple functions.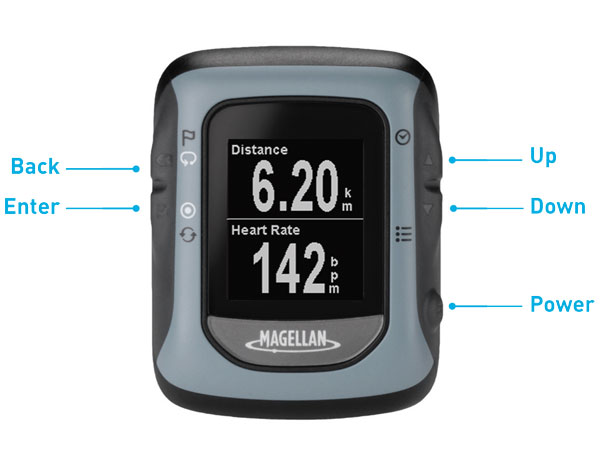 Magellan Active Website
There is no native app (PC or Mac or iPad or iPhone or Android) for managing or tracking your data. The Magellan team decided to focus on a web site instead (http://active.magellangps.com).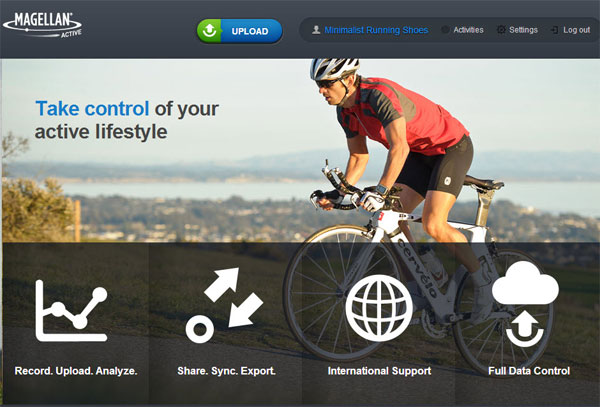 It lets you take full control of your data and work proactively with many of the third party websites to ensure compatibility. Activities can be uploaded to Magellan Active using the Magellan Active Web Widget. You may upload recorded activities directly from a Magellan Switch Series device connected to your computer with the included USB charging/data cradle. The interactive user interface makes it easy to sift through recorded activities on the device for uploading. You can also upload activities from files accessible from your computer – currently FIT and GPX file formats.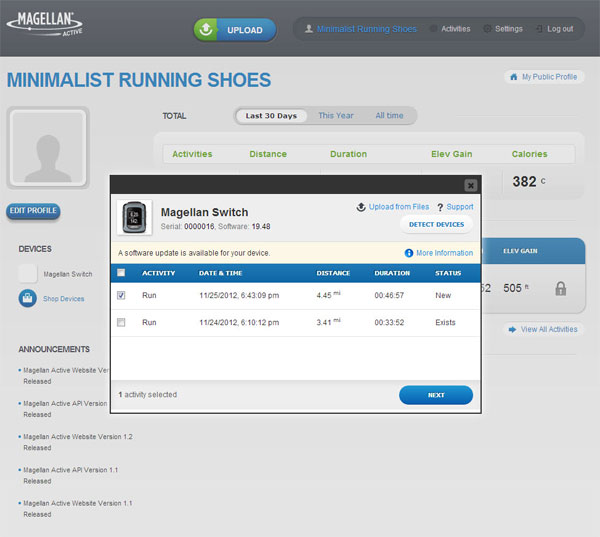 Once uploaded, the activities show up on the dashboard (also known as Profile page). The most recent activities, private and public, that you have uploaded are displayed as well as a listing of what updates have been applied to your profile.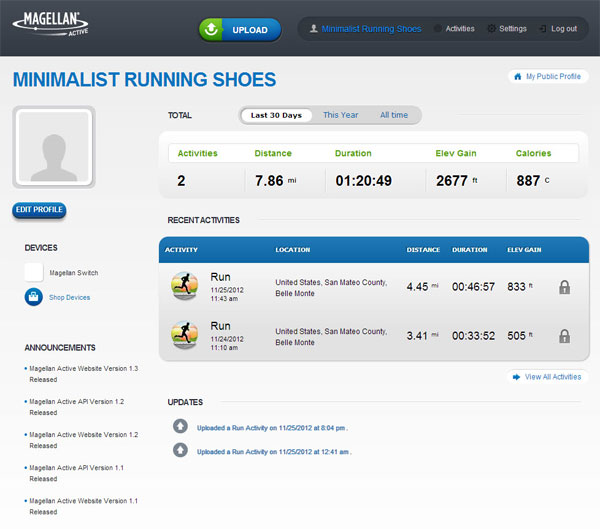 View an individual activity by clicking on the desired activity. All of the data for the activity are displayed, including a map with line of your activity. Even the data for the individual laps can be displayed by clicking on the lap from the listing of laps below the graph.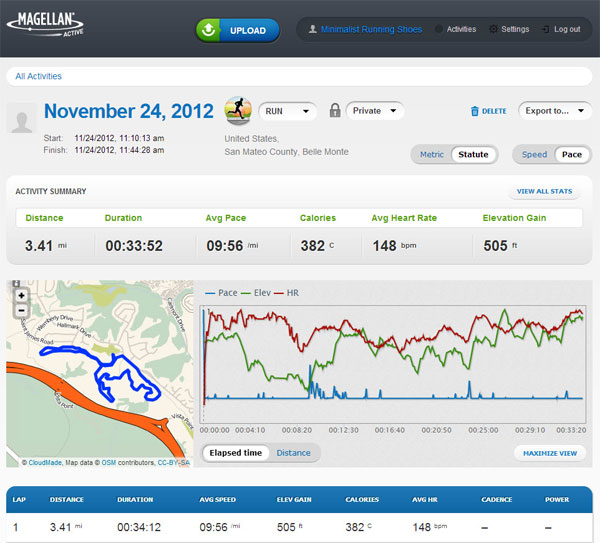 There is also a full screen mode to view the details.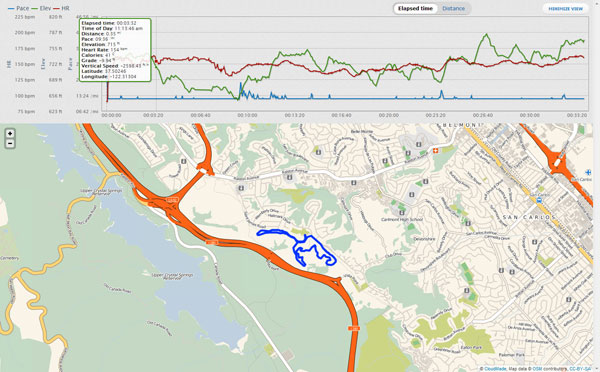 Exporting Activity Files
Activities that you have uploaded can be exported to different formats including GPX, FIT, CSV, and KML. I tested this out using both GPX and FIT formats into Garmin Connect web site. In order to transfer splits data, use the FIT format as I have minimal knowledge about these formats.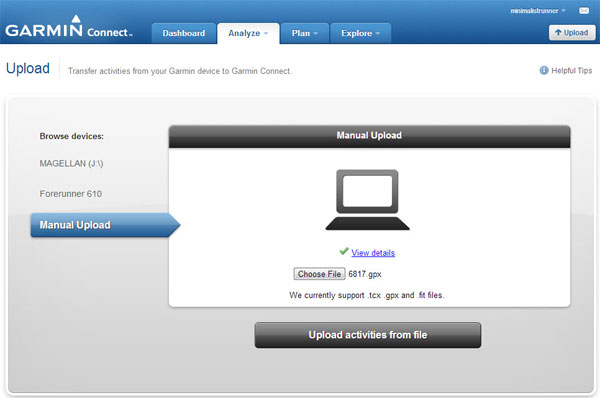 The activities uploaded completely and correctly onto Garmin Connect. You are free to choose to use either Magellan Active or Garmin Connect or any other third-party web sites to manage your activities as desired.
Conclusions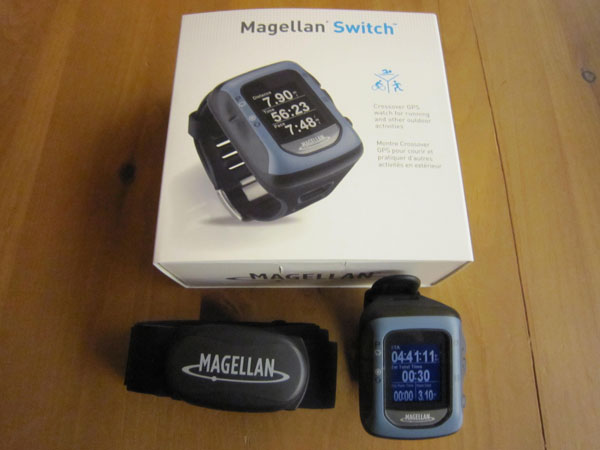 The specials features of the Magellan GPS Switch have been described above. Other features are standard to all GPS heart rate monitor watches and pretty much work the same way. Compared to the Garmin 610 and Motorola MOTOACTV, here are my observations:
The Magellan Switch is not an everyday watch. The Magellan team decided on Day 1 that this is a special function sports watch and proceeded from there. The upside of this for me is that I will not forget my chest strap when going running if I have to grab the Switch and strap versus already having a watch already on my wrist.
The Switch wrist strap is a lot more comfortable and flexible than that of the Garmin and Motorola.
The Switch user interface is not as intuitive and hard to read for my aging eyes. The Magellan team has done extensive testing with focus groups and athletes and decided on the font size and font style for the final display. Obviously I preferred a touch screen over push buttons and those usually have larger text displays.
The Switch lacks Wi-Fi uploads. It uses a USB/power cable currently. Maybe in the future…
The Magellan Active web site need to be able to let you name/rename each activity. I do that on Garmin Connect for all my activities by labeling them for location, terrain, and shoes worn.
Switch Auto Pause feature is awesome for those running on streets with lots of traffic lights, traffic, or crowds.
The Estimated Time of Arrival (ETA) is the best racing and safety feature I have seen in any GPS HRM watches. You can focus on your run without having to do any quick calculations or estimation while running when trying to attain certain goals or certain arrival back home for dinner or others.
Most of the Magellan product team came from Garmin so they know what works and how to design a better product. Magellan is generous in offering full access to the product team and I was fortunate to meet and talk to them in person at the Running Event in Austin early December. To me, it is a great first product but the deal killer for me are: not an everyday watch and no touch screen. Maybe Version 2 will seal the deal for me. For those who does not mind button navigation and not require it to be used as an everyday watch, this is a bargain at under $300 for the unique features that it has over other comparable GPS/HRM watches.

The Magellan GPS Switch and Switch UP are both available for purchase  online at: Amazon, Best Buy, and Magellan GPS.
*Product provided by Magellan GPS (MSRP $279.95). CMP.LY/1 Review
If you have a product you'd like reviewed, contact me at info@weartested.org